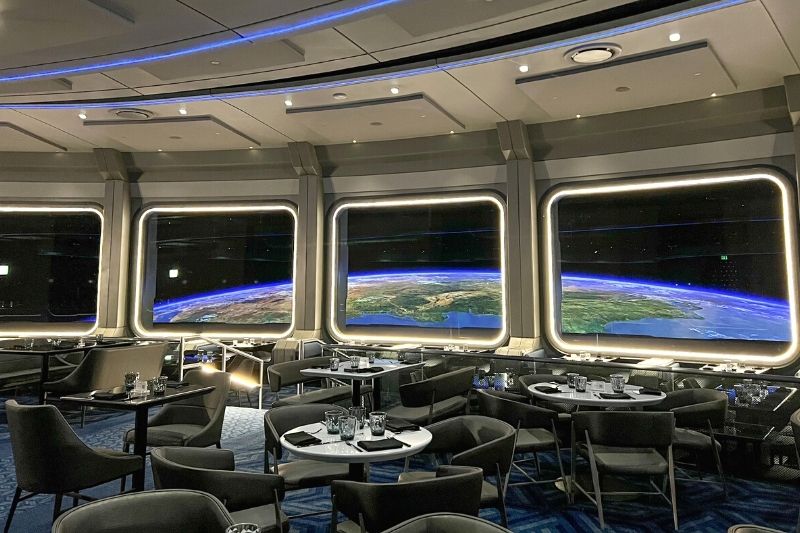 A date at Walt Disney World is the most magical when there's delicious dining involved. Now you have even more choices thanks to new restaurants and dining experiences at Walt Disney World Resort. Some restaurants are brand new, others are offering refreshed menus and new experiences. So, where should you eat at Walt Disney World?
Whether you're looking for casual burgers or fine dining, read on for a listing of new Walt Disney World restaurants as well as changing to longtime favorites. And we've included tips on which ones are best for each type of occasion.
And of course, since it's Disney, they're also kid-friendly in case you have little ones in tow.
Updated May 2023 by Brie Gorecki and Dani Meyering
Below you'll find some of the latest new restaurants and dining experiences at Walt Disney World. Before we dive in, get ready for two new exciting restaurants coming in 2023.
New Table-Service Restaurants at Walt Disney World
Location: EPCOT
Best for: Special occasions
The most anticipated new restaurant at Walt Disney World is literally out of this world. Space 220 is a fully immersive restaurant located at EPCOT. It's been open for a while now and can be tough to get reservations.
Imagine how impressed your date will be boarding a space elevator to travel 220 miles above Earth to dine in outer space. Only Disney could make a place like this. After departing the space elevator you'll walk into a modern dining room with picture windows that look out into space — keep an eye out for special moments. The picture of Earth down below even changes to a nightscape as the sun sets in real-time.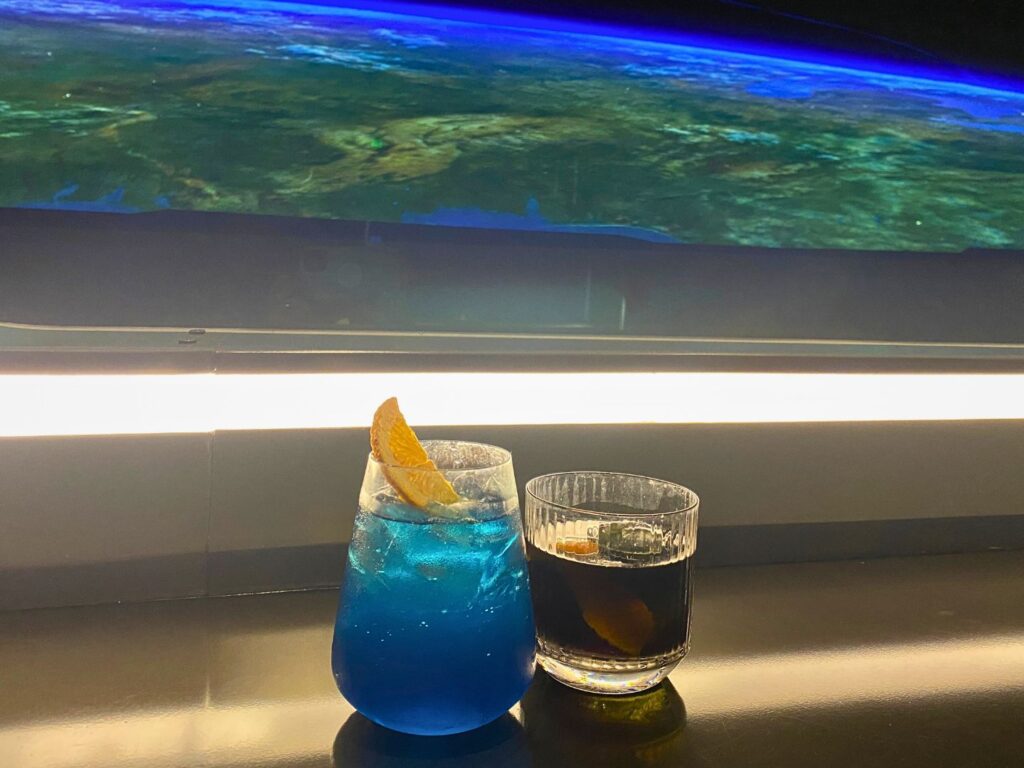 Space 220 offers a prix fixe menu for adults and kids for lunch and dinner. Prices are $55 for adults for lunch, $79 for adults for dinner, and $29 for kids for lunch and dinner. Their menu is filled with an array of meat, seafood, and vegetarian options.  And you'll received three courses: your choice of appetizer, entree, and dessert. A lounge is available as well, with a la carte ordering.
NEW MENU! In Spring 2023 Space 220 debuted a few new menu items, and reimagined a few favorites. We were able to try a few of the new dishes and highly recommend the Neptuna Tartare for an appetizer and the Tomahawk Pork Chop for an entree. These new dishes are absolutely delicious.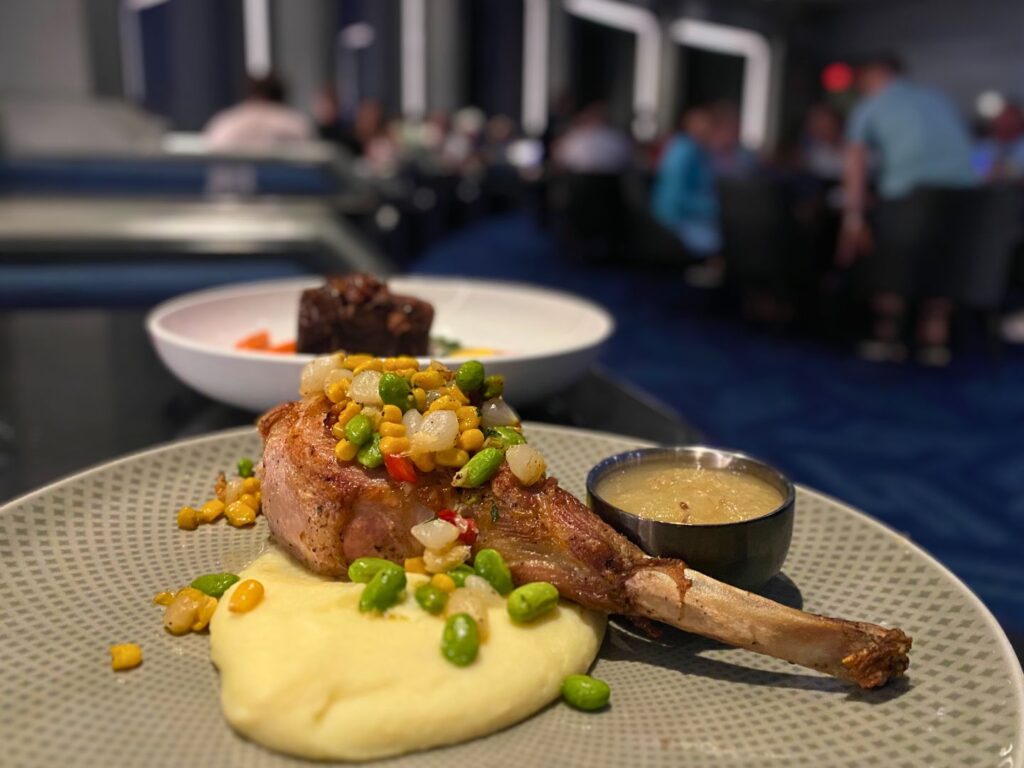 Dining reservations are required at Space 220. When making reservations you can select main dining or the lounge. If you do not wish to have the full three course prix fixe meal then select a lounge reservation and there you'll be able to order drinks, a selection of appetizers, and other a la carte dining options.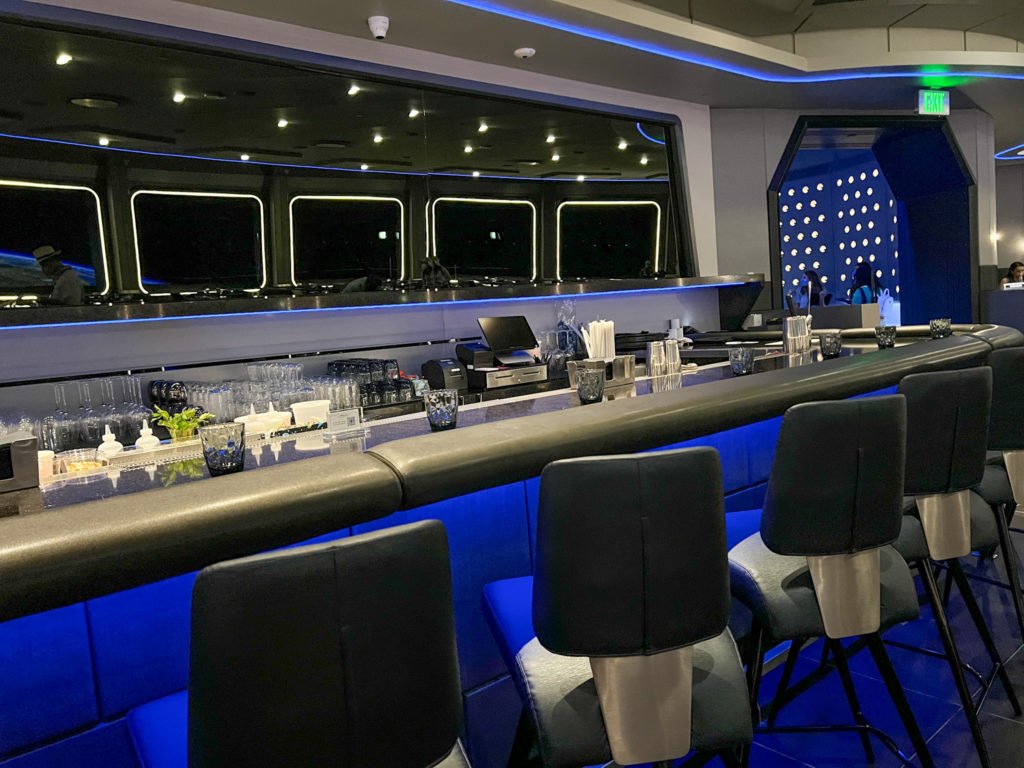 Location: Disney's Contemporary
Best for: Breakfast, lunch, and a nice dinner, or walk-up lounge
For many Disney fans it was hard to let go of The Wave, a popular restaurant at Disney's Contemporary. But now that Steakhouse 71 has opened in its place, many are rejoicing. Located on the first floor of the Contemporary, this casual steakhouse gets its name from the opening year of Walt Disney World.
Steakhouse 71 offers a menu of elevated American classics for breakfast, lunch, and dinner.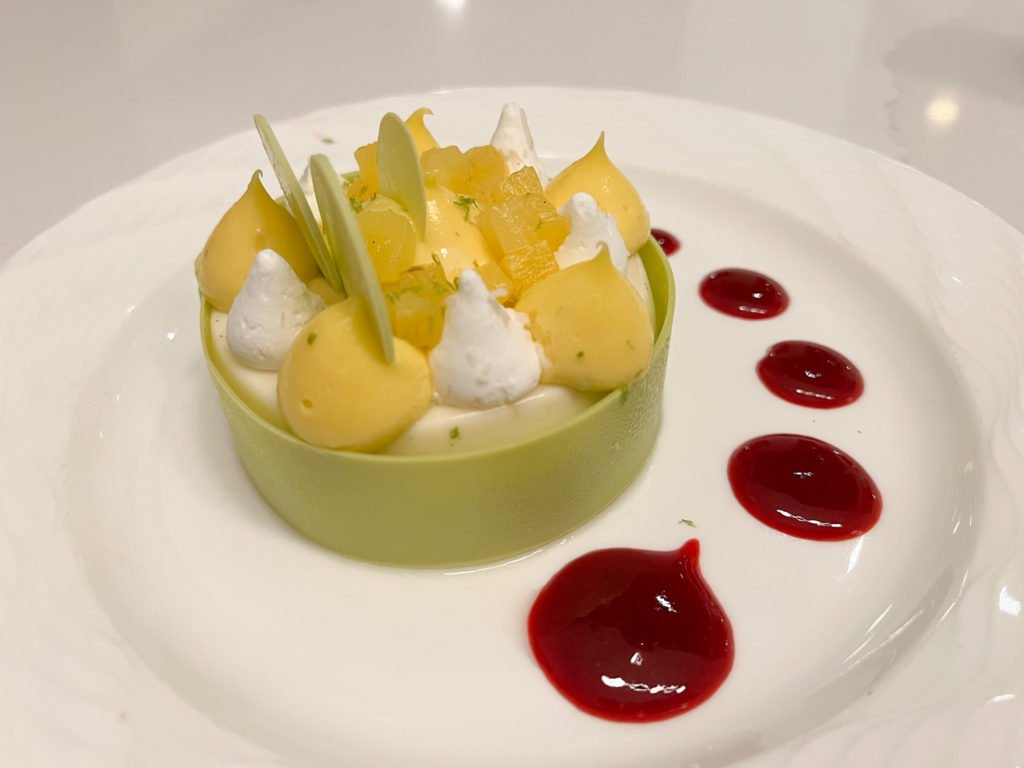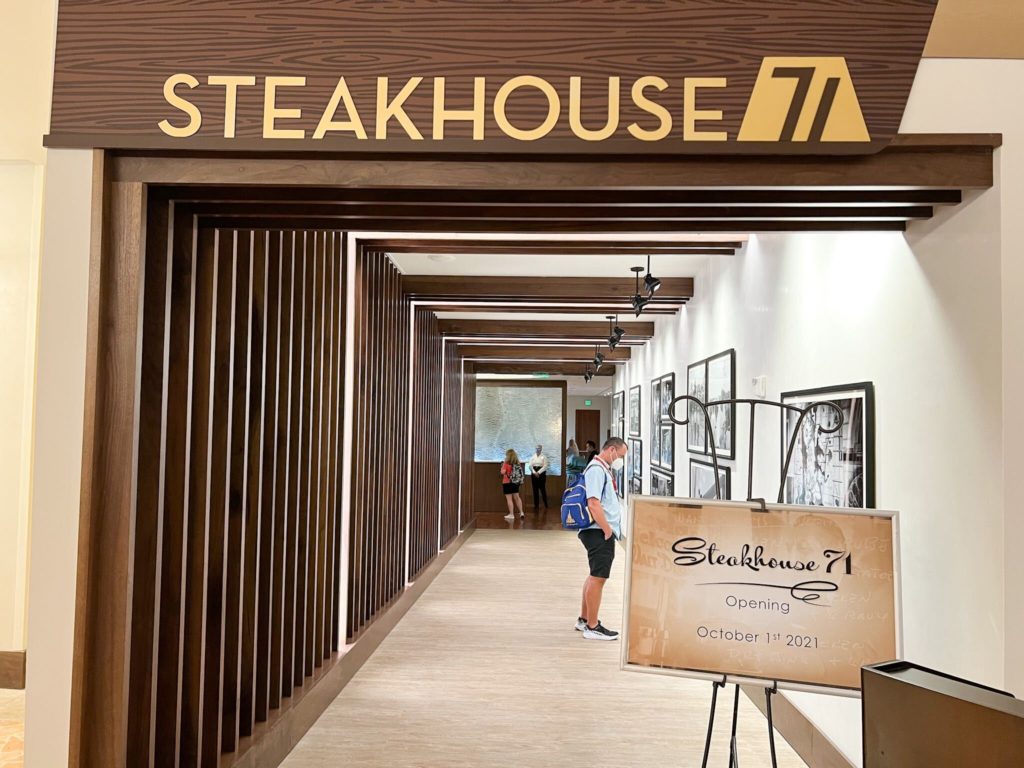 During its first year, Steakhouse 71 created a loyal fan base. It offers the right balance of casual sophistication, making it both approachable and special. Any Disney fan will love the decor and details paying homage to the early years of Walt Disney World. Even the menu has reimagined favorites from that era. In addition to steaks, other dishes include PB&J Chicken Wings and Loaded Macaroni and Cheese.
The specialty cocktails are not to be missed, especially the Tequila Sunrise for Two — just perfect for date night with Herradura Reposado Tequila, POG Juice, rosemary simple syrup, and house-made grenadine. Lounge seating is also available on a first-come, first-serve basis. The space is much brighter than its predecessor.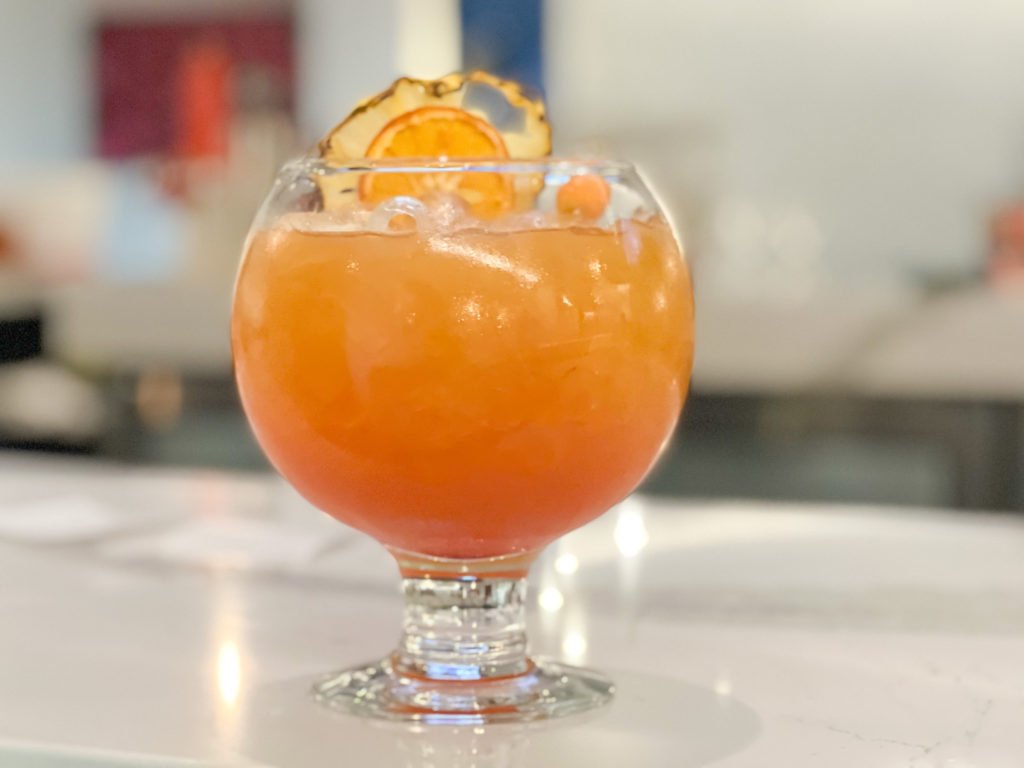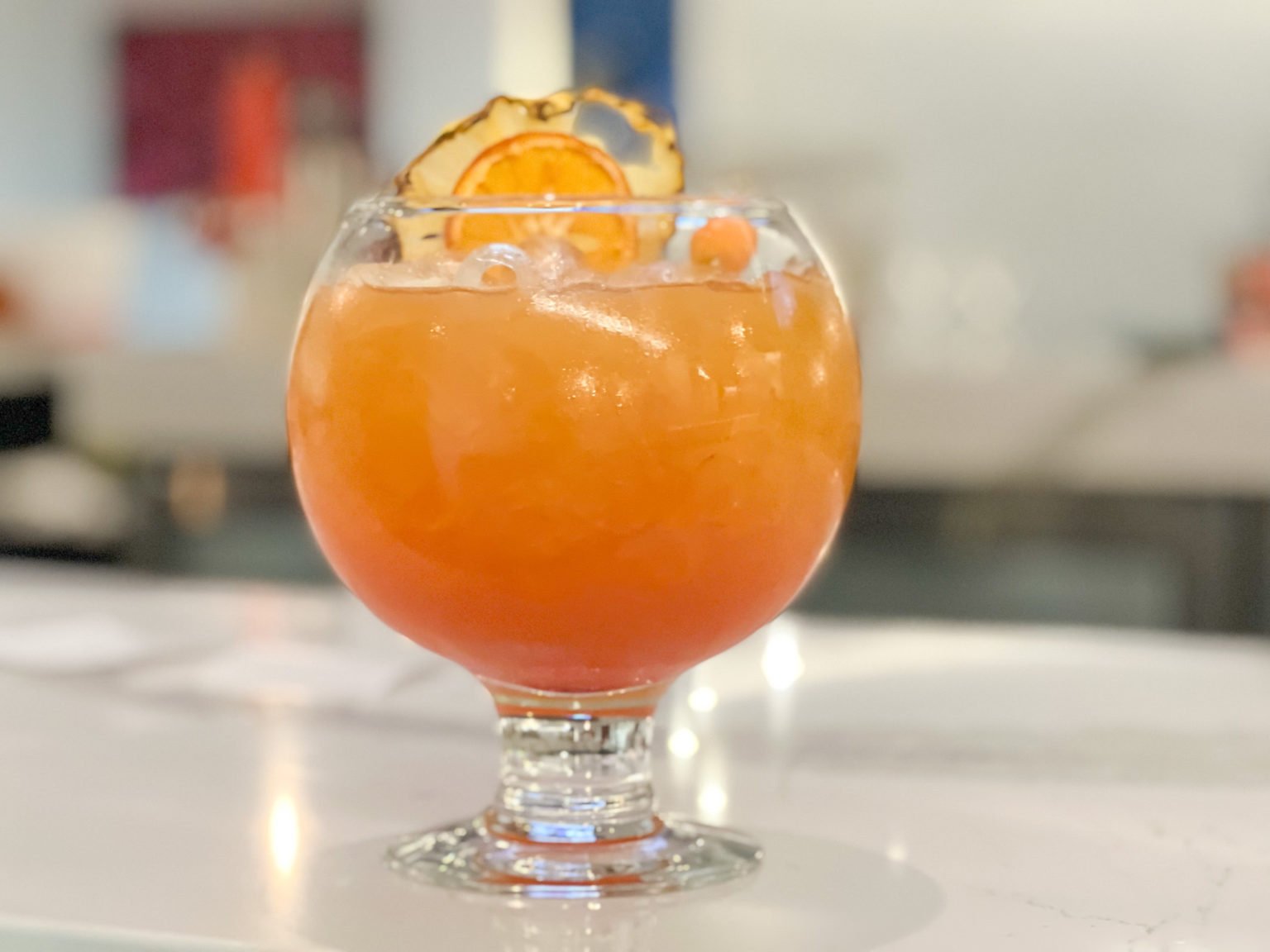 Location: EPCOT
Best for: An international casual date
It's a momentous occasion when a World Showcase pavilion gets an expansion. EPCOT's France Pavilion is now home to a new ride, Remy's Ratatouille Adventure, and a new restaurant. La Creperie de Paris offers a chance to enjoy casual French cuisine in the most approachable restaurant of the pavilion. There's also a snack and beverage window.
Order a savory crepe, known as a galette, with gluten-free buckwheat, or satisfy your sweet tooth. Or, instead of choosing between the two, go with the pre-fixe option enabling you to have soup or salad, one savory galette, one sweet crepe, and a beverage.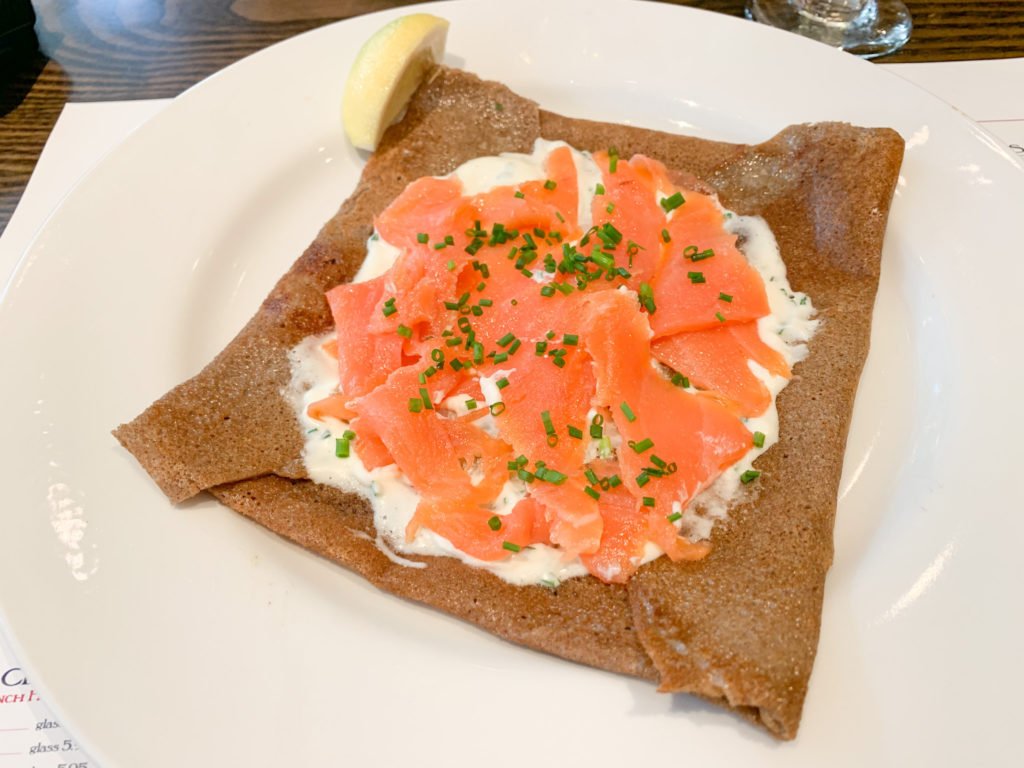 Location: Hollywood Studios
Best for: Families
Rustle up some tasty BBQ fare at this all-new western themed restaurant while you experience the world through the eyes of Andy's toys. Guests will be surrounded by Andy's rodeo at play with everything from western towns to train station playsets. You'll also encounter popular character decorations including a larger-than-life display of Jessie riding the back of a Trixie pull-toy and view a scene of Bo Peep and her sheep posed to perform at the rodeo.
Lunch and dinner will include pre-fixe menus ($25 per child ages 3-9/$45 per adult).
Entrees come served with The Prospector's Homemade Cheddar Biscuits with Sweet Pepper Jelly, salad, sides, and main dishes include a choice between a platter of house-smoked meats or plant-based items. Though this restaurant is mostly geared towards families with kids, their menu also includes Grown-up Drinks with Alcohol (try the Grown-Ups Peanut Butter & Jelly Cocktail or the Grownup Iced Chocolate & Rum).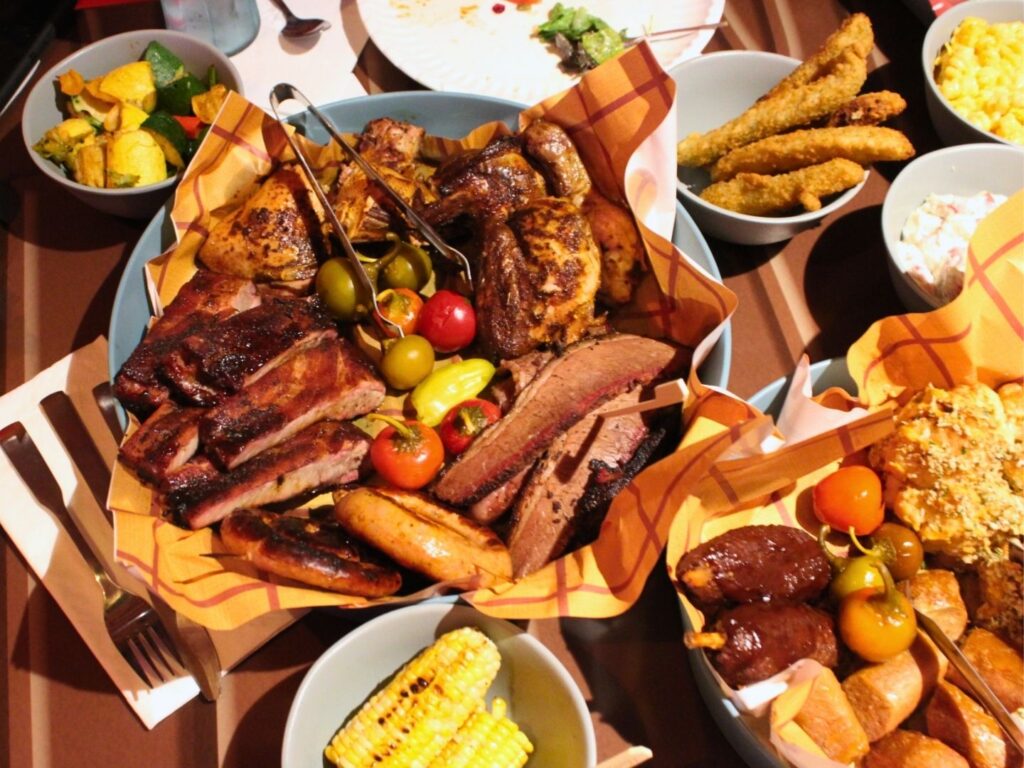 REVIEW: Head over to TampaBayParenting.com (one of our other publications) for a complete review of Roundup Rodeo BBQ.
New Disney Dining Experiences
Location: Grand Floridian Resort
Best for: Date night
Narcoossee's reopened in April 2023 with a refurbished interior and a full menu. The new space incorporates the concept of 'land and sea" which is the inspiration for the new menu.
Guests are greeted with an Artisan Boule of Sourdough baked fresh daily. New starters include Beef and Ricotta Tortelloni and an Ocean-inspired Charcuterie Board featuring ahi tuna pastrami, charred octopus, and house-made sausage from the sea. Main dishes will include an array of delectable meat, seafood, and vegetarian dishes with freshly made desserts like Almond Crusted Cheesecake to round it off.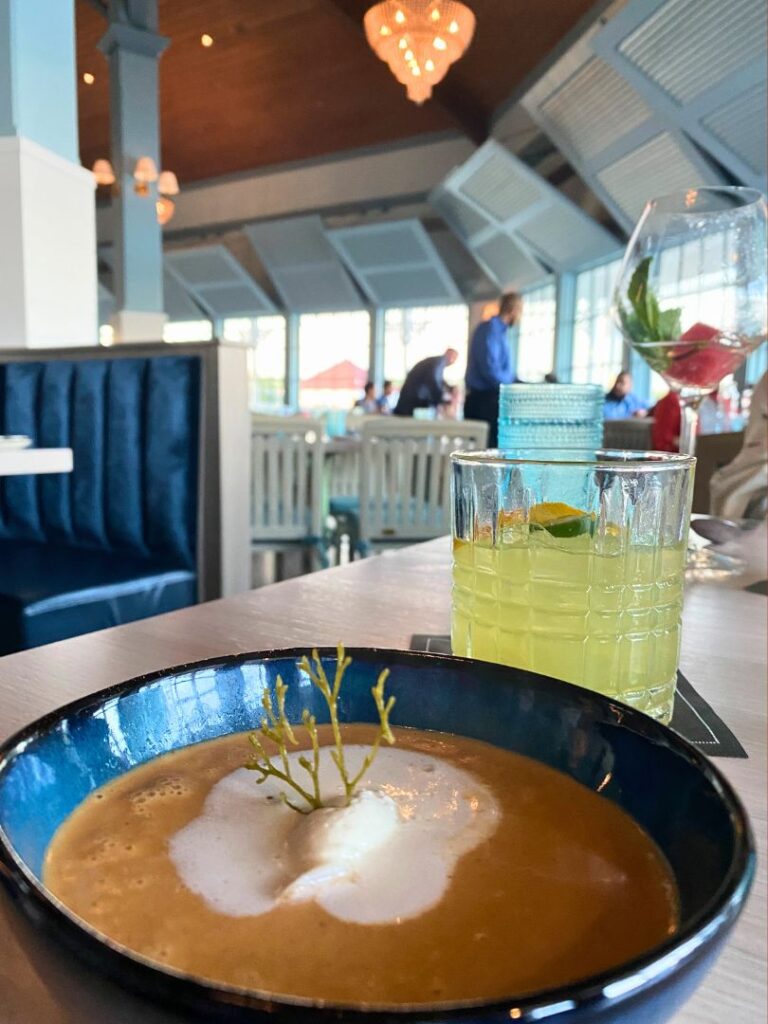 The drinks, like the Empress Lime Gimlet, are inspired by the Victorian Era.
This is a great Disney restaurant to see Disney fireworks over the water.
Location: Disney's Contemporary Resort
Best for: Special occasions
One of the best-known Disney restaurants now offers a limited-time dining experience. Perched at the top floor of Disney's Contemporary Resort, California Grill offers one of the best atmospheres at Walt Disney World. This signature restaurant has been a popular Disney date spot for decades, thanks to its panoramic views of Magic Kingdom and Bay Lake.
In honor of Walt Disney World's 50th anniversary, a special menu is being offered. This prix fixe menu includes 3 courses (appetizer, entree, and dessert) for $89 per adult and $39 per child under 10. Highlights of this special menu include The California Grill Sushi Classics Trio – Blue Crab California Roll, Shrimp Tempura Roll, Spicy Kazan Roll, as well as  Oak-Fired Filet of Beef. The House-Made Artisanal-Style Duck á la Orange Pizza is a recreation of an original menu item from the restaurant's days when it was known as the Top of the World.
Location: Magic Kingdom
Best for: The sweetest date
Treat your sweetheart to the sweetest Disney date with Cinderella's Castle as the backdrop. Head to Main Street Confectionery just inside Magic Kingdom for a dose of old-fashioned storybook sweets. The classic Disney candy shop has just reopened with a brand-new look, while keeping in touch with its classic roots. The modern space allows guests to move about in a better flow.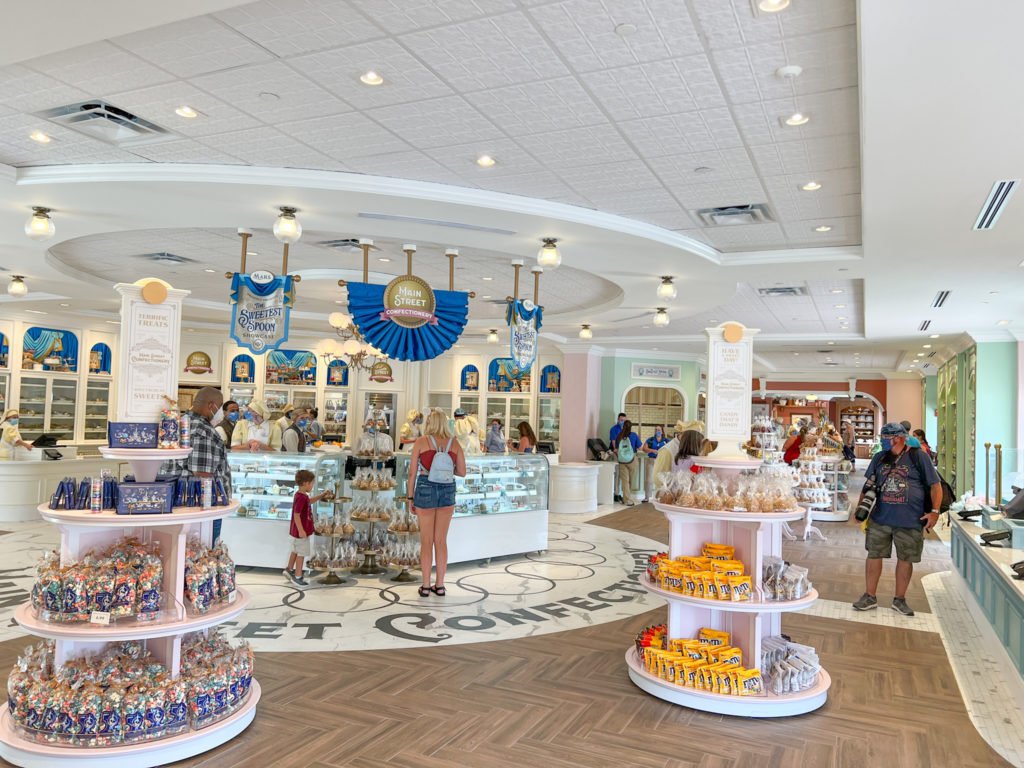 Keep an eye out for details and a heartwarming backstory of the shop's origins. The big hit of the Confectionery's new offerings is the make-your-own specialty popcorn. You can select from a variety of popcorn flavors as your base and add on toppings like chocolate syrup, marshmallows, cookie crumbles, and much more.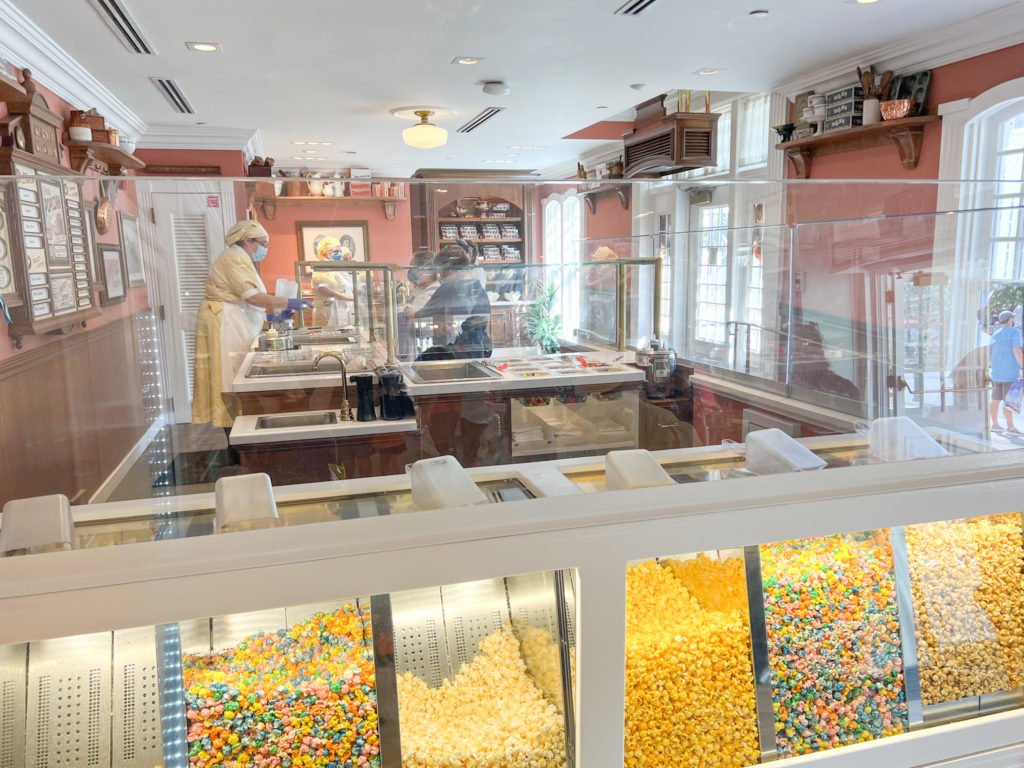 Recently reopened restaurants at Walt Disney World:
New Menus at Disney Hotel Lounges – No Theme Park Ticket Required
Location: Disney's Animal Kingdom Lodge
This intimate bar overlooks the Boma restaurant at the Animal Kingdom Lodge. Lounge fare is available from 5pm-10pm and includes tapas such as Spiced Goat Cheese Dip and Cape Town Slap Chips. Choose from a unique menu of specialty cocktails, beer, or wine. For an elevated date night when the weather is just right, snuggle up out by the outside fire pit.
Location: Disney's Wilderness Lodge
Snuggle up in this cozy, rustic, lodge-like bar. Snacks, small plates, sweets, and cocktails are all available from 4pm-10pm. Nosh on their Territory Popcorn Sampler (spicy, caramel, sea salt, truffle, and BBQ popcorn), or their Loaded Macaroni & Cheese. Choose from cozy cocktails like the S'more Old Fashioned or the Orange-Spiced Sangria.
MORE IDEAS: Romantic Disney Restaurants at Disney Hotels
How to Plan Your Disney Dining Date
Make a Park Pass Reservation if you're dining inside any of the theme parks
Make a Dining Reservation, they can fill up fast
Food allergies and special requests: Let your server know right away
Plan your budget; experiences marked "special occasion" can run $50 – $80 per person
Dress code: All Disney restaurants are pretty relaxed when it comes to dress code, still, it's nice to dress up a little once in a while