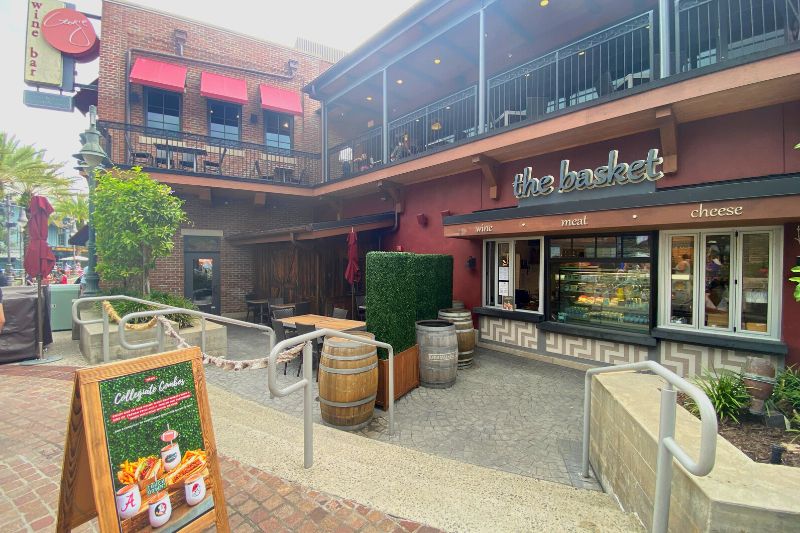 Imagine being able to walk up to a window and order a glass of wine, from a Master Sommelier selected menu, and stroll around Disney Springs. Better yet, imagine ordering an entire bottle of wine to share as you walk around Disney Springs. Or a frozen DOLE Whip Cocktail. It's a real thing! All this and more awaits at The Basket at Disney Springs.
We're big fans of Wine Bar George at Disney Springs. It's one of the most romantic spots at Walt Disney World. The "George" in Wine Bar George is Master Sommelier George Miliotes, and this is the only Master Sommelier-owned wine bar in the state of Florida.
While you're likely aware of Wine Bar George already, many overlook the quick service section attached to the main restaurant. Called The Basket, it features wines on tap and small plates to go.
And now there are NEW menu items that make The Basket at Wine Bar George an even better Disney Springs date idea. We're sharing the highlights of the menu as well as the best places at Disney Springs to bring your yummy goodies for a romantic picnic for two at Disney Springs.
Updated by Beth Bell and Dani Meyering, May 2023
The Basket by Wine Bar George at Disney Springs
The Basket offers a selection of savory snacks to-go, including cheese and charcuterie pairings, and some of the appetizers off the Wine Bar George menu. A variety of wine, beer, cider, and cocktails are also available for purchase. 
Although the baskets that were offered are no longer available, these gourmet goodies are perfect for a spontaneous Disney Springs date night! You can preview the current menu here.
The New Menu also features two items that are perfect for picnics: a new meat & cheese box and housemade spiced nuts that are gourmet, glorious, and a great balance of sweet, smokey, and a tad spicy. Both of these new items are packed to go and ready for a picnic.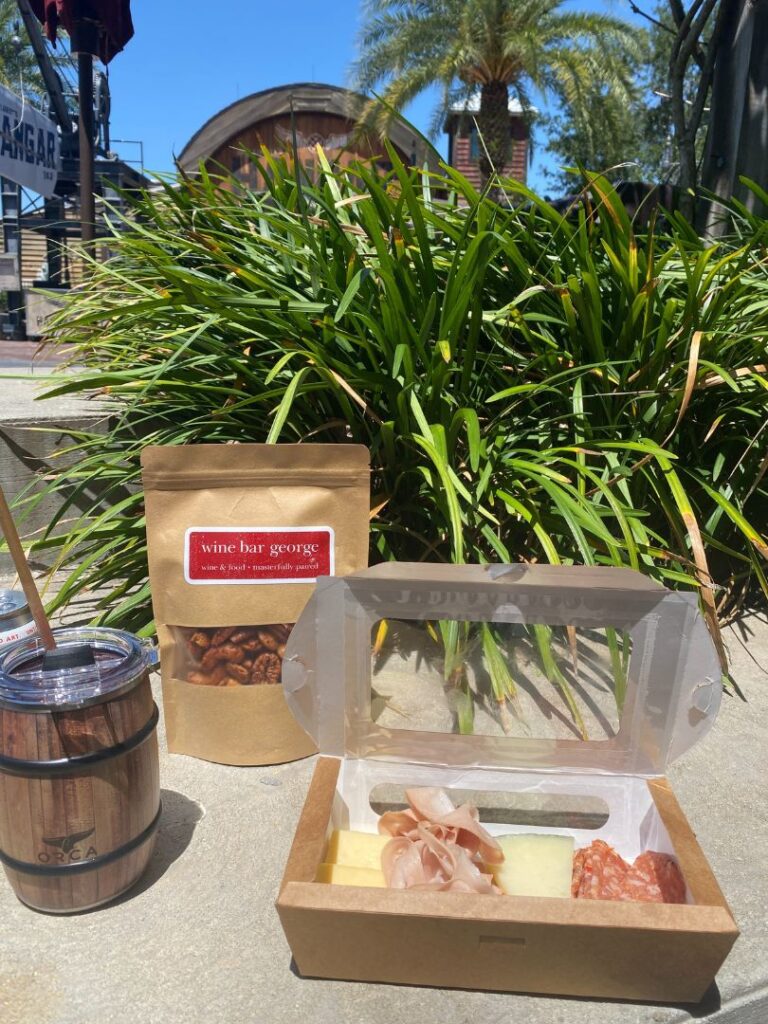 Disney World annual passholders are eligible for a 10% discount on everything but alcohol until 3 PM.
Food & Drink at The Basket
While The Basket once offered a few sandwich and cookie options to round out a picnic, today it primarily serves snack foods. For the best value, snag the crispy mac and cheese bites or the house-made hummus and naan, both of which are featured on the Wine Bar George small plates menu.
The french fries, topped with Queso or plain, are another high-value option, simply because the portions are huge!
DATE NIGHT PRO-TIP: You can order an entire bottle of wine to go!! That's right you can have an entire bottle of wine to take with you through Disney Springs!
The wine bottle is poured into a plastic carafe that you can take with you around Disney Springs.
You can also purchase 1 oz pours of any wine, including rare and exclusive wines. A variety of craft beer is also available, as well as non-alcoholic beer.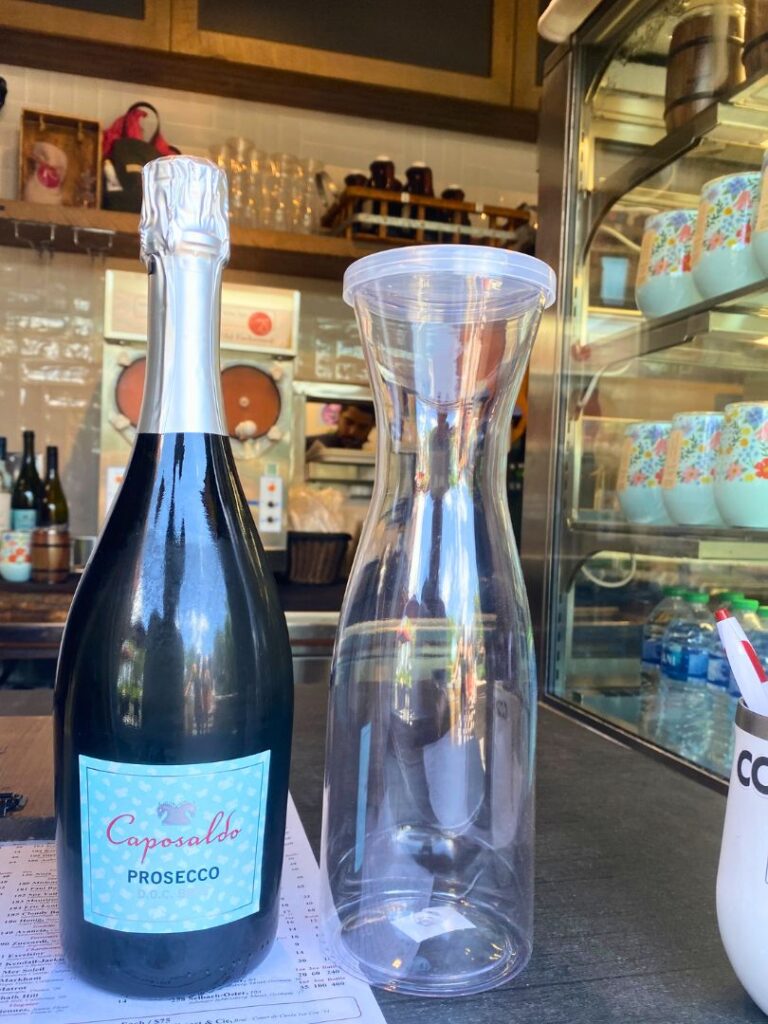 New menu items at Wine Bar George The Basket
Starting at the end of April 2023 some new menu items debuted at The Basket:
Strawberries and Cream éclair
Meat and potato hand pie
House-made spiced nuts
Meat and Cheese box
Bacon Jam
Besides the aforementioned meat and cheese box, and spiced nuts that are perfect for a picnic, the seasonal éclair is only $5 and it is one of the best desserts available at Disney Springs, especially for the price!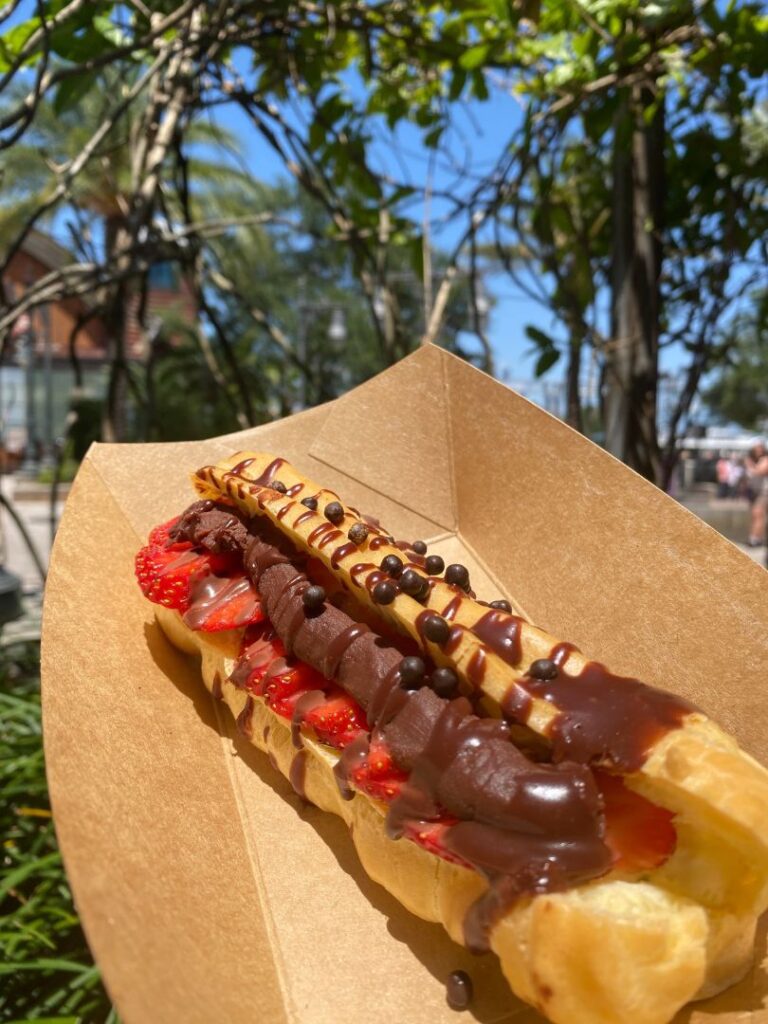 The bites menu also features a variety of small bites including Landjäger German-style jerky, crackers, and a fresh baguette.
Secret menu item: Ask about "The Big Board." This is another item normally served inside Wine Bar George, but you won't find it listed on the menu for The Basket! The Big Board includes six artisanal cheeses, five artisanal meats, and condiments.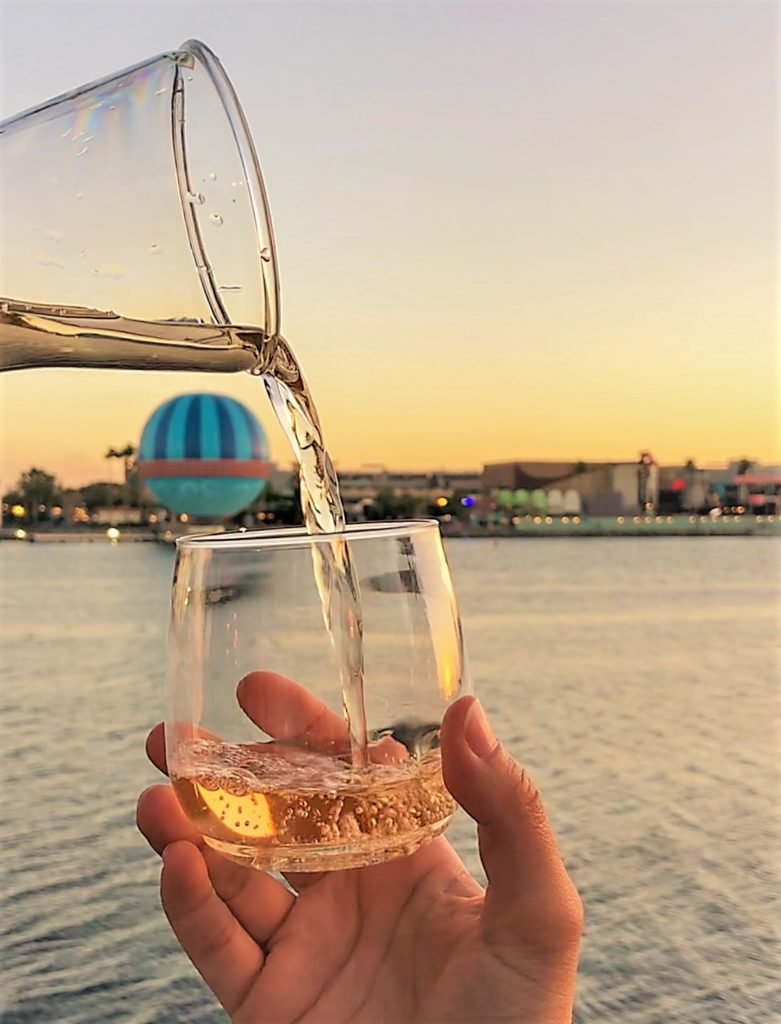 Of course, the highlight of visiting Wine Bar George is the incredible wine selection from Master Sommelier George Miliotes. While the Basket advertises only a select handful of wines on tap, if you ask, you can order a carafe of almost any wine from the full Wine Bar George menu.
If wine isn't your thing, no worries! The Basket also has a small selection of beer, cider, and incredible frozen cocktails available. Disney fans (myself included) are especially wild for the Frozcato, a sweet blend of moscato, vodka, and pineapple DOLE Whip.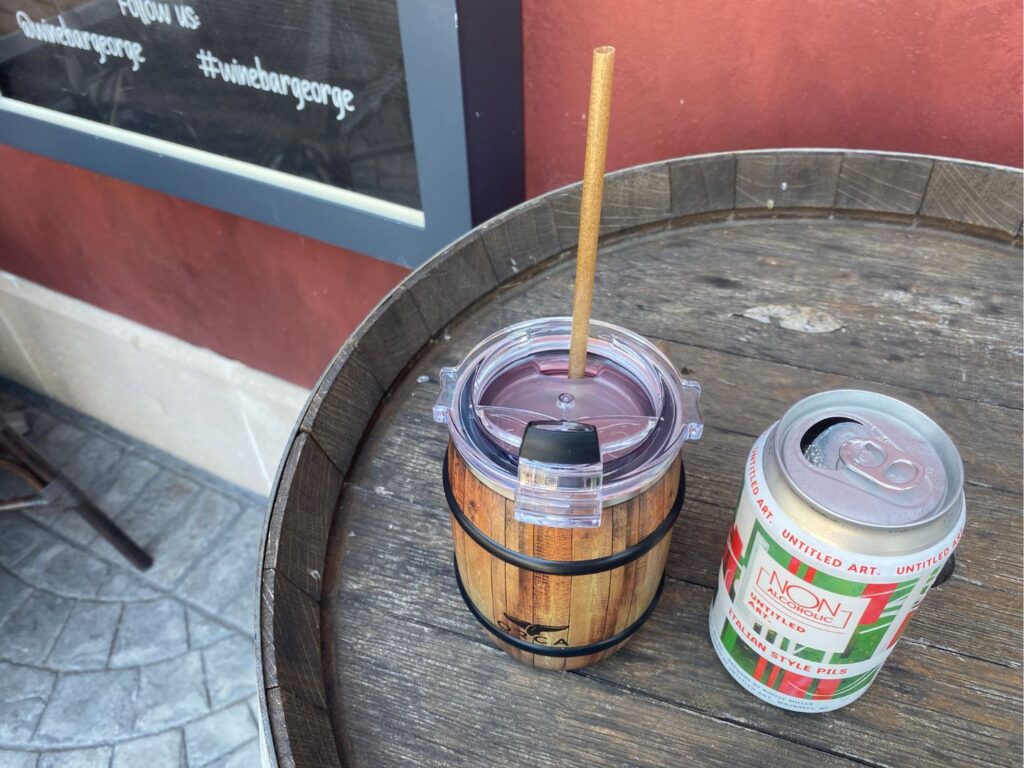 The Frozen Old Fashioned is made with orange DOLE Whip and aged whiskey – and it is divine, especially if you love the taste of an Old Fashioned. The Basket usually runs an offer in which you receive a complimentary frozen cocktail of your choice with a purchase of one of their CORKCICLE cups.
Related: Sophisticated Spots to Sip Wine At Walt Disney World
---
Where to Set up Your Disney Springs Picnic
Once you collect your goodies, pick a place and settle in for a romantic Disney Springs picnic date. If convenience is your number one priority, grab a table at one of the Disney Springs locations listed below and dig in while your fries are still hot. If you prefer a more intimate "picnic on the grass" feel, simply walk, bus, or take a boat to one of the nearby Disney hotels.
Best Picnic Spots in Disney Springs
The performance area directly across from The Basket is perfect for catching an intimate performance or admiring the waterfront views as you dine.
The performance stage across from World of Disney has plenty of bench seating, and you'll almost certainly find an open bench where you can enjoy dinner and show.
The outdoor dining area for Ghirardelli, right next to the stage, has several roomy tables and chairs along with a lovely waterfront view.

The old Wolfgang Puck Express location closed in 2020, but you'll still find several tables there, tucked away in a relatively quiet nook of Disney Springs. Find them nestled between Disney's Days of Christmas and the Spice & Tea Exchange.

The food trucks on the West Side have a nice outdoor dining space with a mix of standing and seated tables. The area is packed at night, making it harder to score a table, but it's fairly quiet during the day. Enjoy a delicious picnic and then take a stroll along the scenic Disney Springs waterfront. This is an especially convenient option if you're seeing a show nearby at Cirque du Soleil or House of Blues.
Best Picnic Spots Close to Disney Springs
Disney's Old Key West Resort

– Head to the boat dock across the street (between Paradiso 37 and Jock Lindsay's) and take a relaxing boat ride to your destination.

Disney's Port Orleans French Quarter

and

Port Orleans Riverside

Resorts – Walk to the Marketplace end of Disney Springs and continue past The Art of Disney. Turn left after security, and you'll arrive at a second boat dock with free transportation to Port Orleans.

Disney's Saratoga Springs Resort

– catch a boat from the boat dock near the Basket, or walk to the resort by continuing past the Port Orleans boat dock

For even more gorgeous picnic locations, head to the bus loop (located between the Lime and Orange parking garages) and catch a free Disney bus to the Grand Floridian, Polynesian, Riviera, or any other resort that catches your fancy. Carafes of wine come with a lid, and you can also ask for a bag at The Basket if you are worried about bringing wine aboard Disney transportation.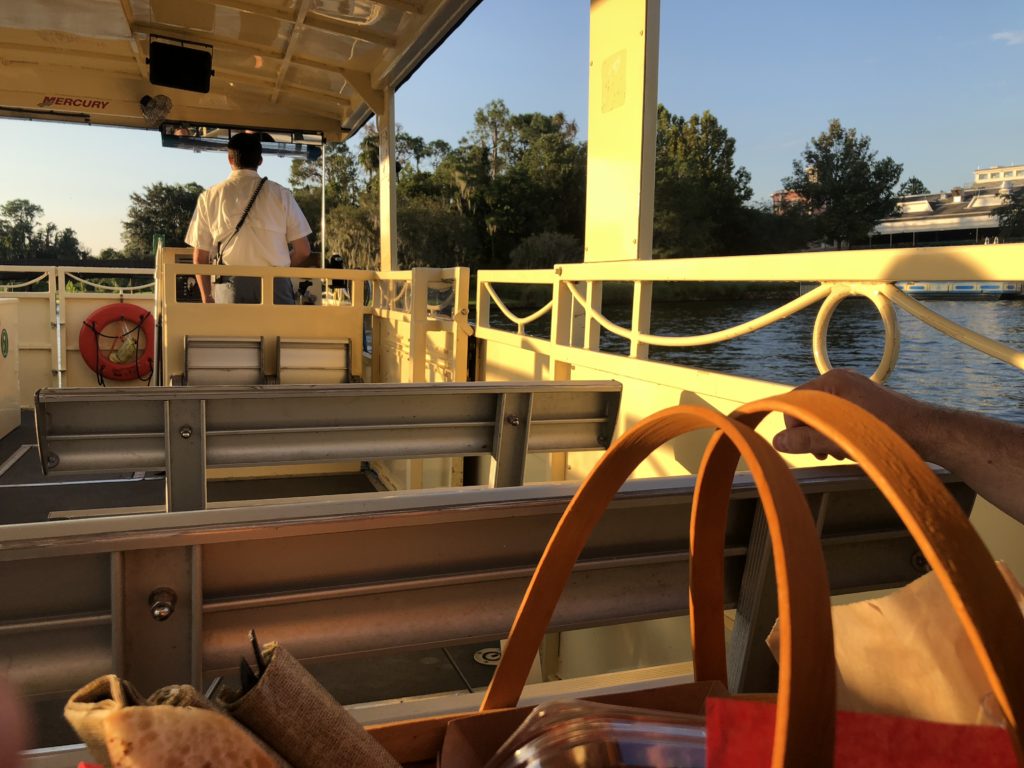 May we suggest a stroll over to Saratoga Springs? Enjoy a breezy picnic in a couple of Adirondack chairs facing the water. Enjoy the lovely view of Disney Springs across the water, accented by the occasional passing boat.
Overall, we love the unique concept of this Wine Bar George picnic date. It's simply perfect for a fun, spontaneous date night at Disney Springs.
Please note the new Springs 2023 menu items at The Basket were provided at no charge to the writer. 
More ideas for a Romantic Picnic in Orlando
Video by Hey Team Kelly from original experience in 2018