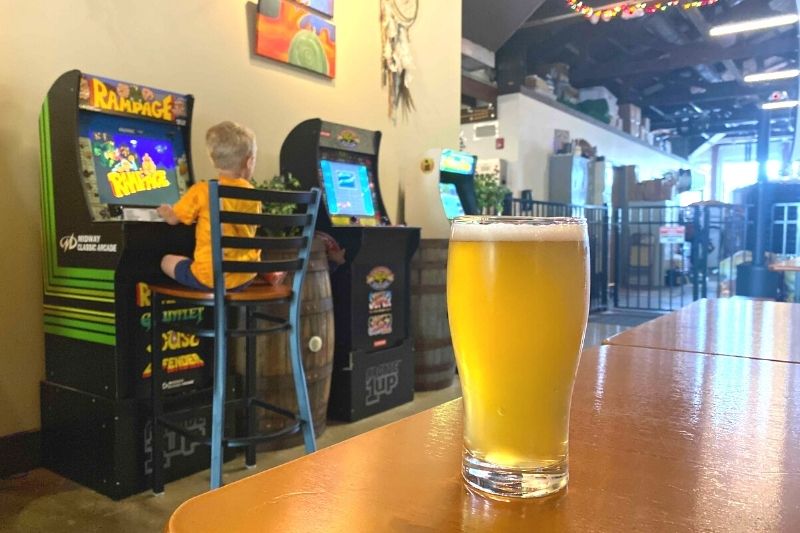 Let's face it– the 4th of July holiday calls for some ice cold beers, but if you're parents it can be hard to find a sitter. Lucky for you, Orlando is home to several awesome breweries, and many of them are family-friendly! Put these breweries in Orlando to visit this 4th of July on your list.
Kid Friendly Breweries for 4th of July
Gatlin Hall Brewing
Highlights: Large beer garden, food on-site
Location: Conway/Edgewood, South Orlando
Gatlin Hall Brewing, located in the Conway/Edgewood area of South Orlando, has everything you need to spend a fun afternoon with the family. Walk inside their large taproom and you'll find plenty of room to sit to watch the game on TV and enjoy some beers. This brewery also has a unique "food hall" off to the right.
 Da Kine offers poke bowls and a few other fun menu items. You can either build your own bowl, or choose from one off the menu. They have unique flavors and toppings, from Maui onions and pineapple to crispy rice and green curry coconut miso sauce.
Your mouth will start watering once you take a look at the juicy burgers, crispy chicken sandwiches, and more on the menu as well. 
Outside, you'll find a spacious beer garden with games to play and plenty of space for the family to hang out for lunch or a sunny afternoon!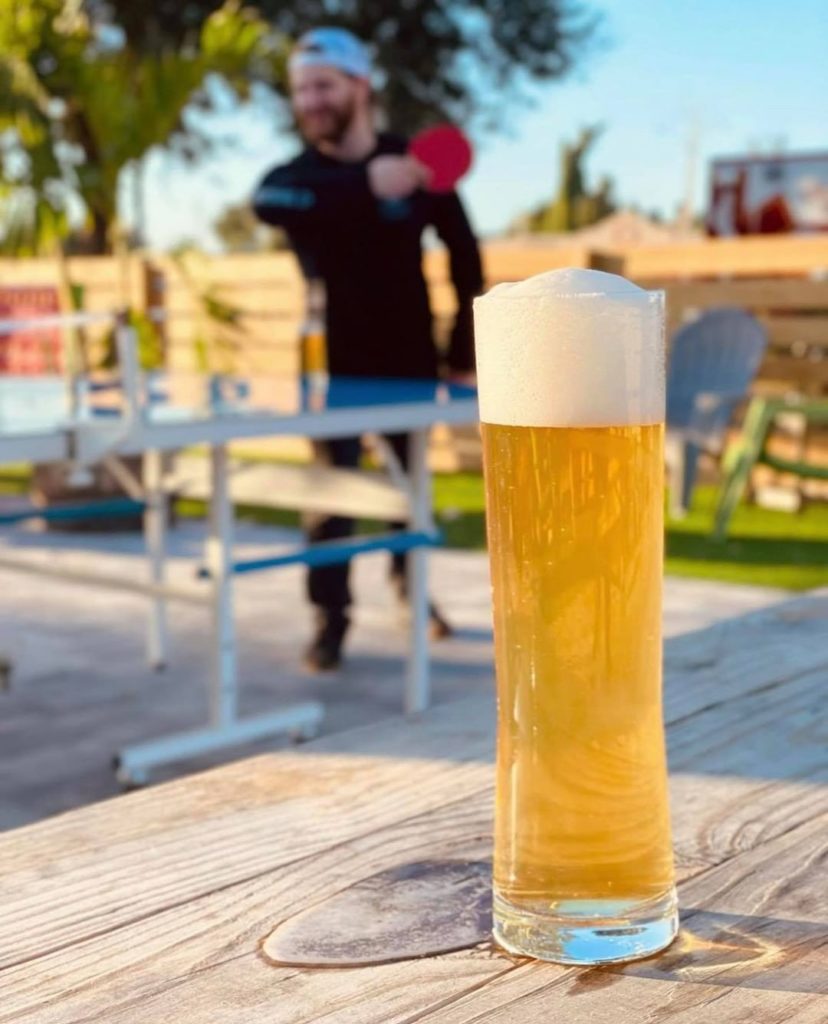 Park Pizza Brewing
Highlights: food, patio seating
Location: Lake Nona
Pies and beers for all! Take the family to Park Pizza Brewing in Lake Nona for a mouth-watering lunch and some cold ones. This spacious pizzeria and brewery welcomes the whole family with plenty of indoor and patio seating. The menu offers appetizers such as wings or dough poppers, or a big, soft, salty pretzel. You can get classic pizza or something with a little extra flavor, or even build your own! They have beer styles from lagers to stouts and everything is brewed in house (unless specified that it is a guest tap). Park Pizza even has the beer in cans, so you can take some home with you.
Related: A Culinary Map of Lake Nona
The Ravenous Pig Brewing Co.
Highlights: Beer garden, food
Location: Winter Park
The Ravenous Pig is a popular restaurant in downtown Winter Park, but did you know they have a gorgeous beer garden out back?
They do! The Ravenous Pig Brewing Co. has the brewing facility behind the restaurant and the garden and there's also a separate menu. Oysters, juicy pub burgers, hot and crispy chicken sandwiches will undoubtedly have you dying for more.
The tap list here has a great variety of classic styles and they also create small-batches with eccentric flavors.
The garden has games and you'll often find families enjoying their time outdoors on the weekends as you drive by. Next time you're in the area, make sure you stop in and check it out!
Crooked Can Brewing
Highlights: food on-site, beer garden
Location: Winter Garden
Crooked Can Brewing is a must-visit stop you need to add to your list! Crooked Can is a well-known brewery in Central Florida and you can find their beer distributed throughout the state. Nothing compares to drinking in the taproom in Orlando, though! It's a great kid-friendly spot with a gorgeous beer garden and patio. Families line the outside area on the weekends to hang out in this picturesque downtown area of Winter Garden. There is so much room to play and hang out, you could truly spend a whole day here!
Located inside this rustic, red brick building, you'll find Plant Street Market with the brewery at the very end. The market offers food from pizza to fresh, pressed juices with additional shops.
Take some goodies (and beers) home with you to capture the memories of a fun day out with the family!
4th of July tip: There are lots of 4th of July Events near Crooked Can, making it an easy addition to your holiday weekend.
Hourglass Brewing
Highlights: Arcade games, food, beer garden, patio seating
Location: Longwood, Hourglass District/Orlando
Hourglass Brewing is one of the original breweries of Orlando and they have two locations: their main brewery in North Orlando in Longwood, and a taproom in the Hourglass District off of Curry Ford Road in Orlando. The brewery in Longwood has arcade games and pinball and sometimes hosts kid-friendly events during the holidays. They hold art shows monthly and have occasional market days where local artists and creatives gather to showcase their hand-made goods.
Hourglass Brewing has an impressive list of 40 taps in Longwood and 42 at the Hourglass District taproom! With such an array of beer styles, there's something for every kind of palate.
The brewhouse in Longwood sits next to Wako Taco, a Tex-Mex spot with tacos, nachos, and more. Papa Bee's is just one more door down the plaza and they are well known for their specialty: chicken wings. Both restaurants pair perfectly with all of the unique flavors of Hourglass' award-winning craft beer.
Over in the Hourglass District, they have a pretty patio just outside of the taproom and they also have food trucks that pop-up weekly. Follow their social media to stay up-to-date on the latest information for food. The taproom is also walking distance to various restaurants, so you won't go hungry! 
Both locations offer several cans of craft beer to take home. After a few sips of these brews, you'll definitely want to go back soon!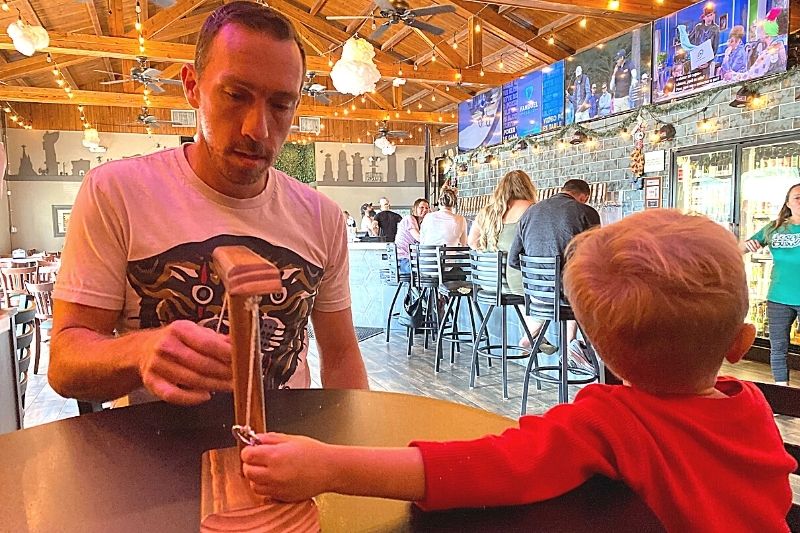 Related: A Beer Lover's Guide to Breweries in Orlando
Breweries Near Disney World for 4th of July
Whether you visit the Disney theme parks often or you're showing family around town while they visit, there are a number of new breweries opening nearby. The Disney area is home to a few kid-friendly breweries.
Persimmon Hollow at Flamingo Crossings:

One of several locations, Persimmon Hollow has a location near Disney with food and outdoor seating. 

Home State Brewing Co:

This brewery is a favorite in the Horizon West area, not too far away from Disney. This gorgeous taproom has space for families with additional seating outside.
By the way, if you're looking for 4th of July fireworks, you can view Disney fireworks without a ticket to the theme parks.
Persimmon Hollow
Highlights: beer garden, games, food, patio seating
Location: DeLand, Lake Eola, Flamingo Crossings
Sip on some flights and pints while spending time with the family at Persimmon Hollow Brewing. There are multiple locations around the Greater Orlando area including one close to Disney. Each Persimmon Hollow location has food, outdoor seating, and a welcoming atmosphere for the family. Any Persimmon Hollow location is a great choice for 4th of July breweries.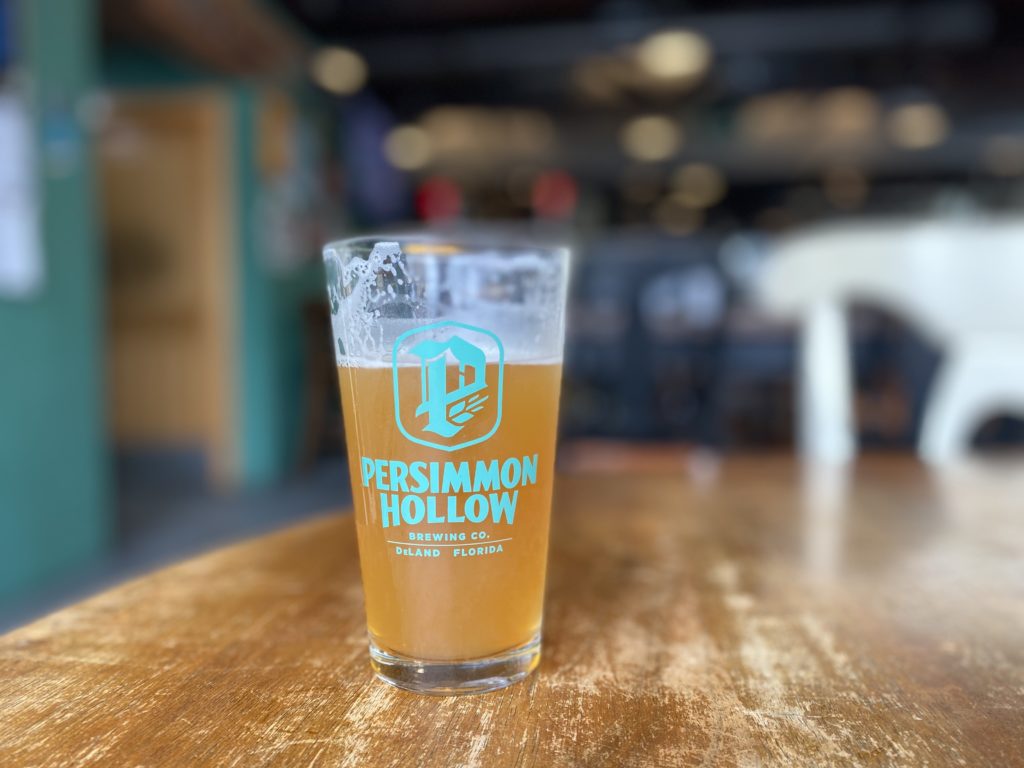 Home State Brewing Co
Highlights: patio seating, coffee, food
Location: Horizon West
Where's your home state? Here, it's in Orlando! Home State Brewing Co has outdoor seating, coffee, and food. Take the family here to drink some good brews. The interior is modern and welcoming with some lovely artful touches. 
Overall, if you are a local or just stopping in, you'll definitely want to visit some of these kid friendly breweries in the Orlando area. You'll love the atmospheres and beers and get the wheels in your head turning to plan your next night out for a pint, with or without the kids. Cheers!
If you enjoyed these kid-friendly ideas get ready for Orlando-Parenting.com now in soft launch!
One more 4th of July idea: Breweries in Sanford for a pub crawl
There are a few destinations at which you can easily hop from one brewery to another. Our pick for such a day is downtown Sanford, which has the most craft breweries within close proximity to each other than any other city in the Orlando area. You could easily hop around from one brewery to another with these breweries in Sanford.
They are listed in order of proximity to each other. If you decide to enjoy a pub crawl by hopping around these breweries remember to pace yourself and be safe.
(Featured image is of Dees Brothers Brewery in Sanford, credit Dani Meyering)