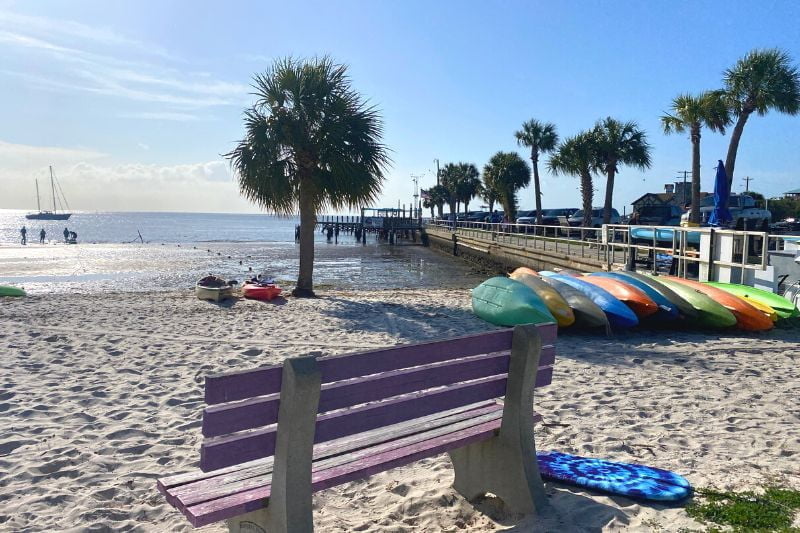 The beautiful Cedar Key beaches are a lovely way to get some sun and be outdoors on a warm day. You can make a day out of it or simply see an amazing sunset. See how to enjoy Cedar Key's best beaches right here.
This charming, small island is a two-and-a-half-hour day trip from Orlando. However, the main reason to visit Cedar Key, Florida is to slow down from our rushed pace of life. And that is best done with a full weekend getaway in Cedar Key.
Hungry? Jump over to our full list of the BEST Cedar Key Restaurants.
EDITOR'S NOTE: Cedar Key has experienced extensive damage from Hurricane Idalia and storm surge. This blog post will be updated soon to reflect pertinent changes.
Cedar Key Beaches
Cedar Key City Park
G Street Beach
Cemetary Point Park
Does Cedar Key have a beach?
There is actually only one main beach on Cedar Key. The City Park at the end of 2nd Street serves many purposes. Here you'll find a playground, basketball court, picnic pavilions, restrooms, and the beach.
The address for City Park is 188 2nd St, Cedar Key, FL 32625.
Remember, this is a small island, so the main beach may not be as big as what you have in mind. Still, there is plenty of sand and plenty of room to set up some chairs and towels for some time at the beach. This is where you can splash around and swim in the Gulf of Mexico.
Can you swim at Cedar Key?
The only beach on the island of Cedar Key where you can swim is the beach at City Park. Swimming here is nice and easy because there are no rushing waves.
Bring your towels and enjoy a beach that is much quieter than the beaches near Orlando. You can easily rinse off at the outdoor showers. There are restrooms and picnic facilities just steps from the sandy beach.
The City Park beach is also the most popular place to launch kayaks in Cedar Key.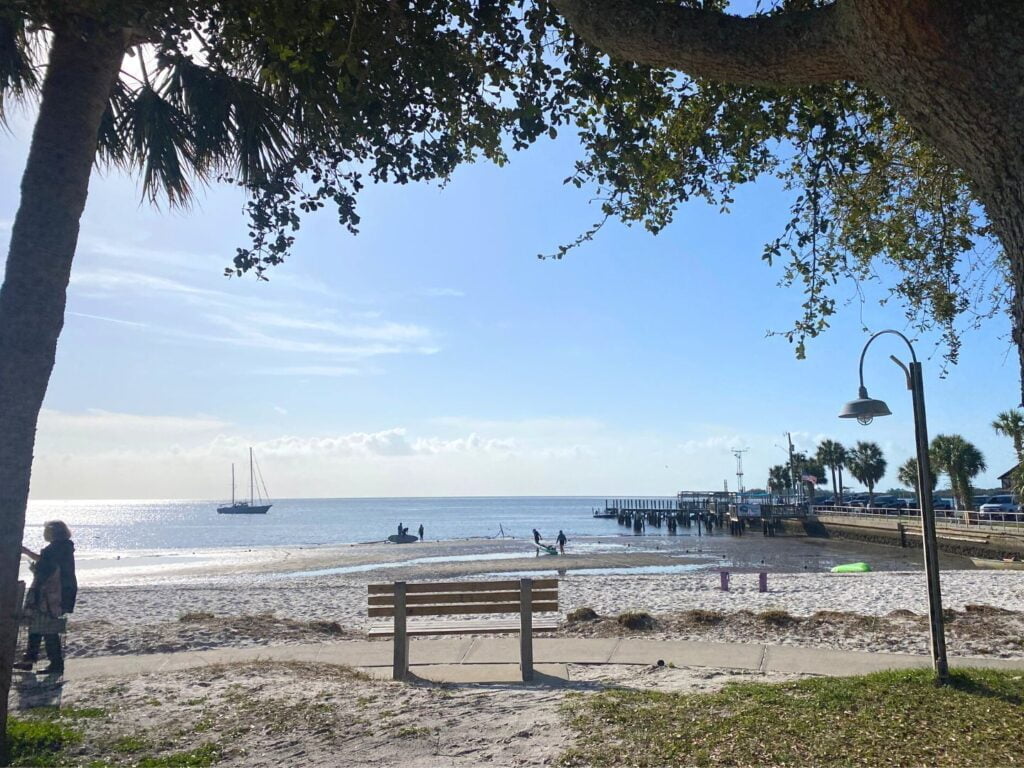 Keep reading to find out what the beach is like at Cedar Key. It is much different than your typical Florida beach, so be prepared with our expert tips below.
What is the beach like at Cedar Key Florida?
City Park has the largest Cedar Key beach. There is fresh sugar white powdery sand that will feel so nice on your toes. However, once you dip your toes in the water you will notice that the sand is heavier and the water has a brown tinge to it. More on that in a moment.
There are many oyster beds in the water, so I recommend wearing water shoes or water sandals to help protect your feet. Trust me, I have been going to Cedar Key for 30 years.
Check the times of high tide and low tide in Cedar Key is an expert idea. When low tide strikes the water seems to be sucked away leaving wide stretches of muddy banks. It's not great for swimming. But, it is fun to walk out into the gulf and see little tide pools.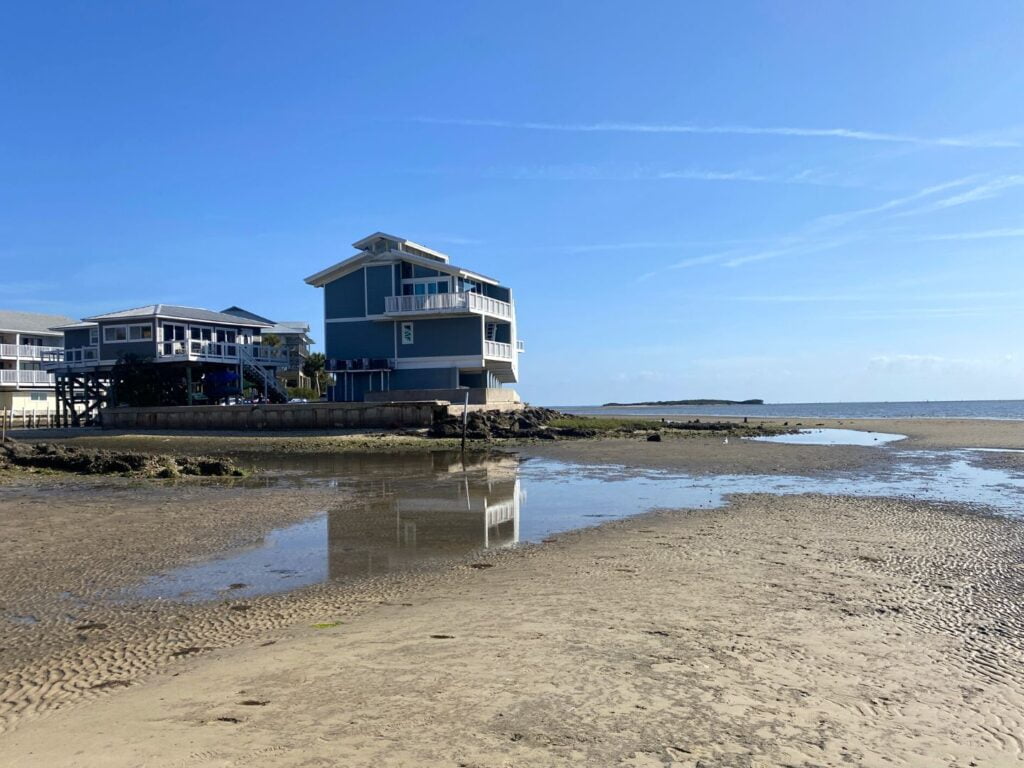 G Street Beach
Another great Cedar Key beach is along G Street as it bends and hugs the water. The G Street Beach is full of rocks, and oyster beds. It's not ideal for swimming, though it is possible.
The address for G Street Beach is 866 4th St, Cedar Key, FL 32625. This beach stretches along G Street between 3rd, 4th, and 2nd street.
G Street Beach is best for sunset. At the end of each day, residents and visitors alike gather along G Street to watch a spectacular Florida sunset.
When visiting please do not park on the sidewalk. Also, keep an eye out for private property signs including on docks.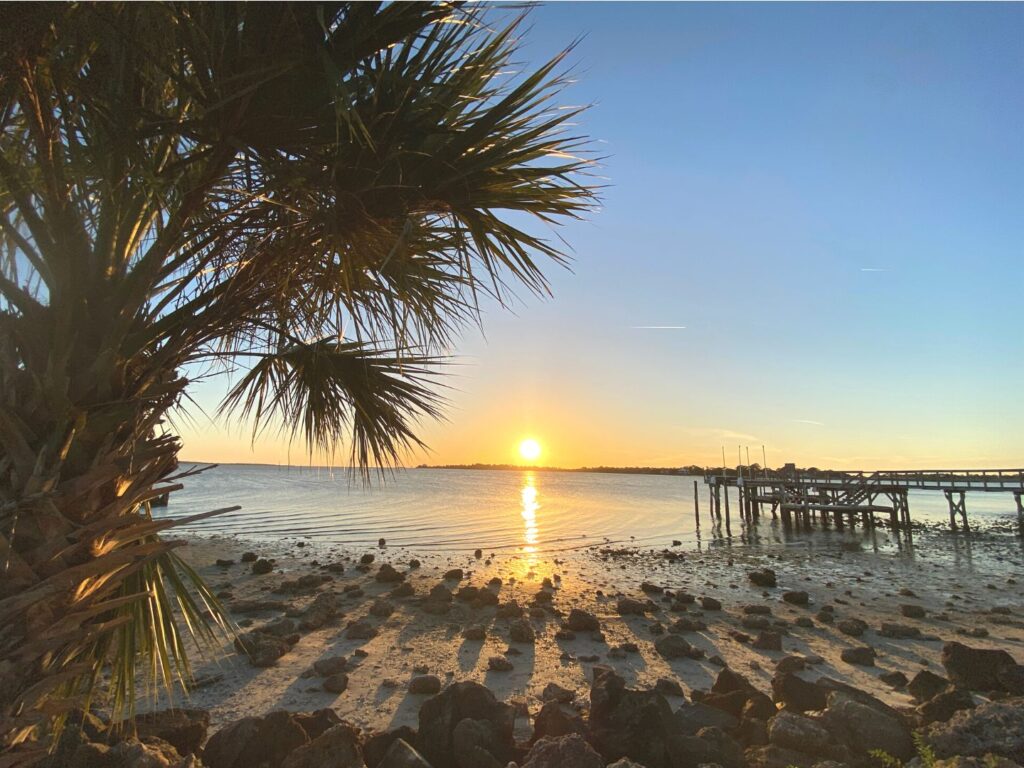 Finally, there are small segments of beach inside the Cemetary Point Park. These small beaches are skinny and short, and best for fishing and launching kayaks.
Is the water clear at Cedar Key FL?
Although many beaches on the Gulf of Mexico are known for the beautiful clear water, such is not the case here. While the water is not clear at Cedar Key it can be a lovely shade of sapphire during certain times of the year. And at sunset it reflects the golden hue just right.
Why is Cedar Key water brown?
Cedar Key is just a few miles away from the Suwannee River which deposits lots of minerals into the Gulf. This leads to the water being a little murky. It's still perfectly good for a swim, kayaking, and other outdoor fun.
More getaway ideas: