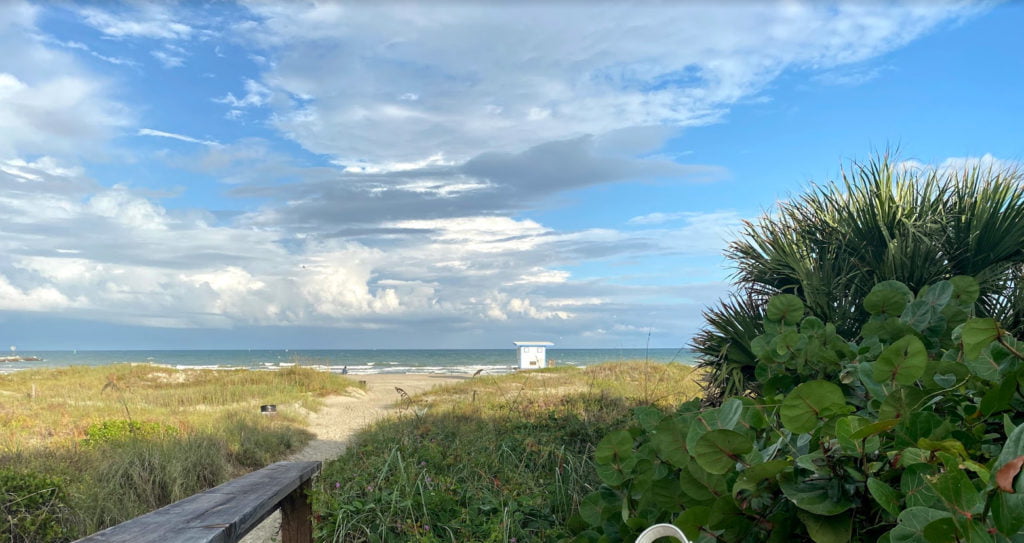 Feel that change in the air? Relief from the summer heat has finally arrived and now is the perfect time for a Florida beachside camping getaway together. Spending time outdoors is a great way to bond and have quality time together. But, if you prefer a camping experience that still offers modern conveniences there's a great option near Central Florida. And the best part? It's beachside!
Updated October 2022
Beachside Camping at Jetty Park
Just about an hour from Orlando is Port Canaveral, where you'll find Jetty Park and its beachside campground. Jetty Park offers a famous location on the edge of Florida's Atlantic shoreline. Here you can camp and watch cruise ships and other large boats come and go from Port Canaveral. Tent camping, RV sites, and small cabins are all waiting to be enjoyed.
Anyone who has sailed on a cruise ship leaving from Port Canaveral has sailed past Jetty Park and its fishing pier, where spectators often gather to wish the ships safe voyage. It's also an awesome spot to watch a rocket launch.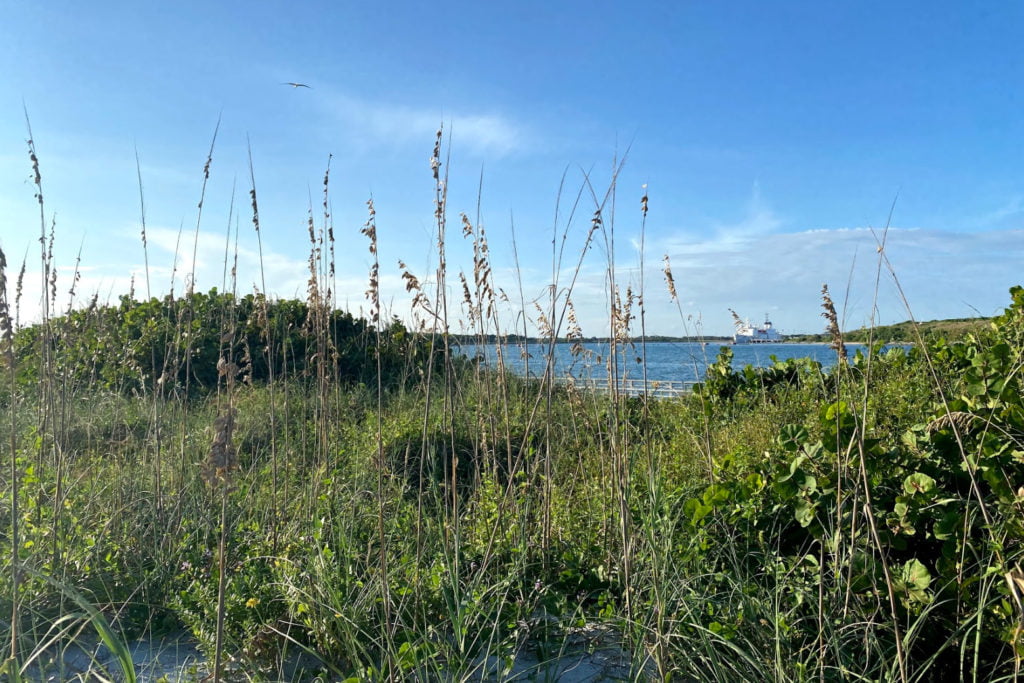 It's become an annual tradition to stay at Jetty Park Campground with our small family. On past visits, we've witnessed one of the SpaceX capsules being towed on its famous landing barge for some testing a few days before a launch. It stood towering above us all as it slowly sailed past Jetty Park beach and the campground. A moment you won't get anywhere else!
And during recent trips the Carnival Mardi Gras sailed off right after its naming ceremony — this ship features the first roller coaster at sea! There is much to see at this unique location.
Jetty Park is accessible as a beach, without having to use the camp sites, if you wish. It is a popular beach but does not attract as much attention and other big names nearby like Cocoa Beach and Daytona.
I enjoy it because of its namesake, the jetty, which helps provide a buffer and adds some nice scenery too. The Atlantic Ocean may not get as much love as the Gulf side, but the convenience from Orlando is hard to beat. It's very easy to get to, just drive down the "Beach Line" Toll Road 528 straight to Port Canaveral and exit as if you are going to Terminal B.
Planning a Jetty Park Camping Trip
Choosing a Campsite
There are multiple options for beachside camping at Jetty Park. Available campsites include:
Full hookup sites for RVs and campers (known as Improved Sites)
Primitive sites for camping in a tent (no electricity or plumbing at the site)
Small cabins that sleep up to four people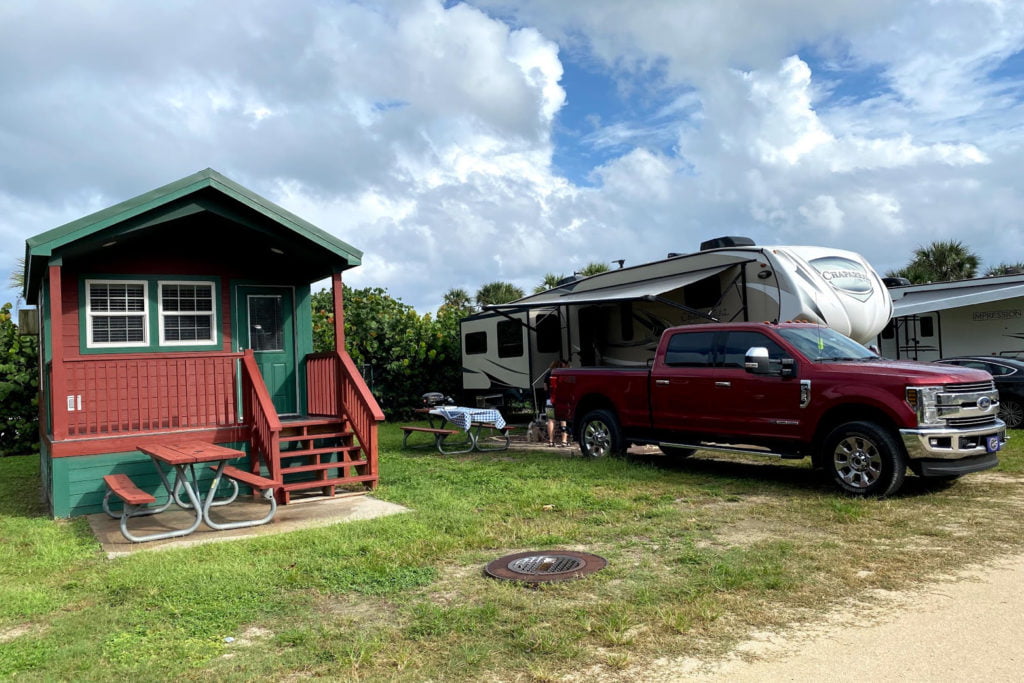 The campsites nearest to the beach have lots of lovely shade. It felt so relaxing walking among the trees on the hardpacked sand roads of the campground. Mornings and evenings are filled with fellow campers strolling or biking about the campground.
Each campsite has a picnic table which I used as a desk for working on occasion. I enjoyed sipping on my morning coffee, getting a little work done as pelicans and seagulls soared above and the ocean breeze lightly rustled the leaves on the seagrape plants around our site.
Beachside Amenities
The campground itself is within walking distance of the beach. It is a wonderful feeling to wake up in the fresh ocean air, stroll through the cozy campground and head out on the boardwalk to the beach.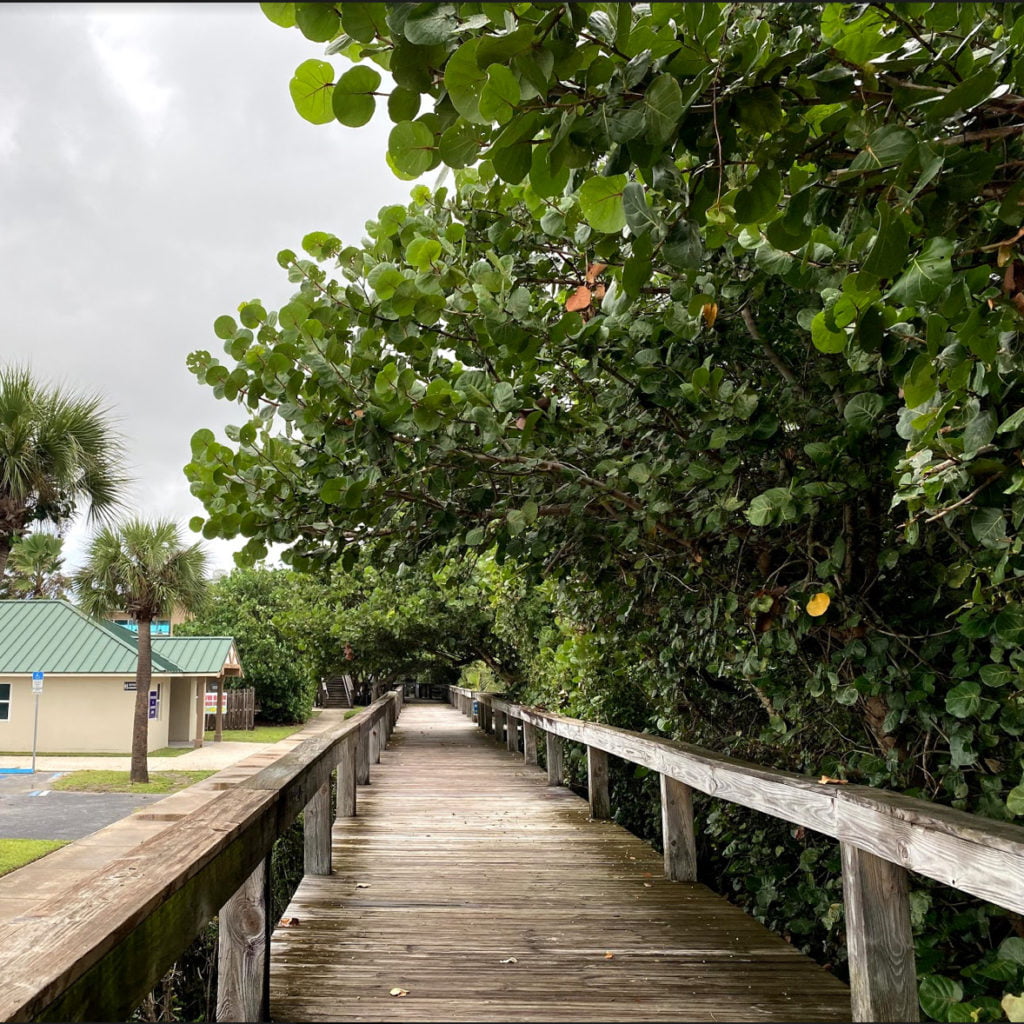 For a relaxing, affordable and safe getaway, beachside camping at Jetty Park is a wonderful choice. I felt so content being able to walk out onto the beach and return to our campsite within minutes. We could enjoy the beach without having to worry about getting in our car and driving back home.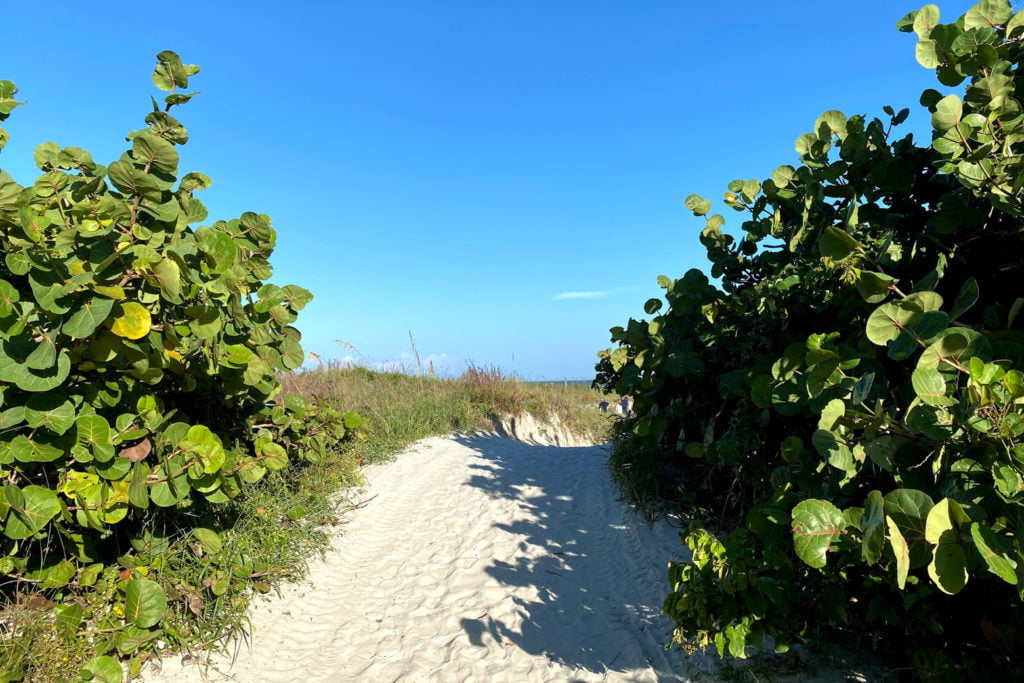 Campground Facilities
In the center of the campground there are restroom and shower facilities. Each time we've camped here I have been pleased with the cleanliness of the bathhouse.
There is also a communal firepit, a lane for playing horseshoes, and a few shuffleboard courts.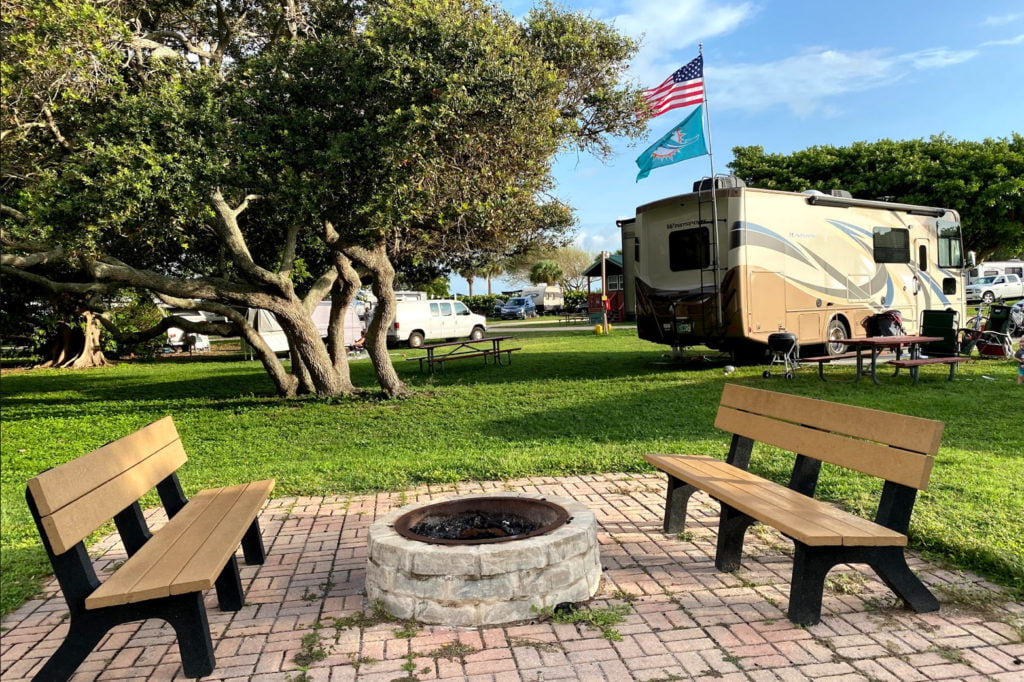 Near these facilities, you'll find the check-in building and a camp store. Practically any of the essentials you might need are available for purchase here.
There is also a boat ramp near the campground. Water's Edge serves as a supplies shop and a cafe. Water's Edge Cafe is currently closed every Wednesday, but otherwise you can grab a casual breakfast or lunch here. The hours can vary, but on our most recent visit, the cafe served breakfast 7am – 11am and lunch 11:30am – 1pm. It is super casual so expect a small-town diner feel. Sit outside and look out among the port.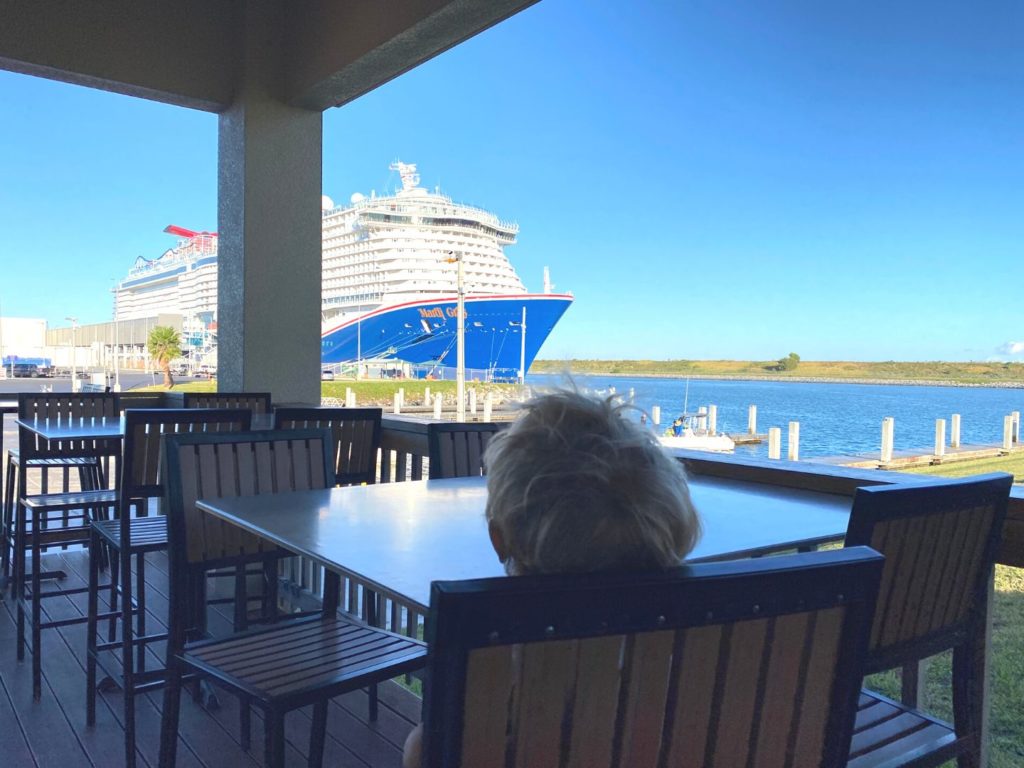 The bait and tackle shop at Water's Edge is open every day from 6:00 a.m. – 6:00 p.m. The main supplies here are for fishing and boating since it is right on the boat ramp. Chilled beverages are also available for purchase to quench your thirst or stock your campsite.
There is a playground on the edge of the campground for kids. We had fun letting our son play here while catching views of the Vehicle Assembly Building at Kennedy Space Center in the distance and cruise ships at the port.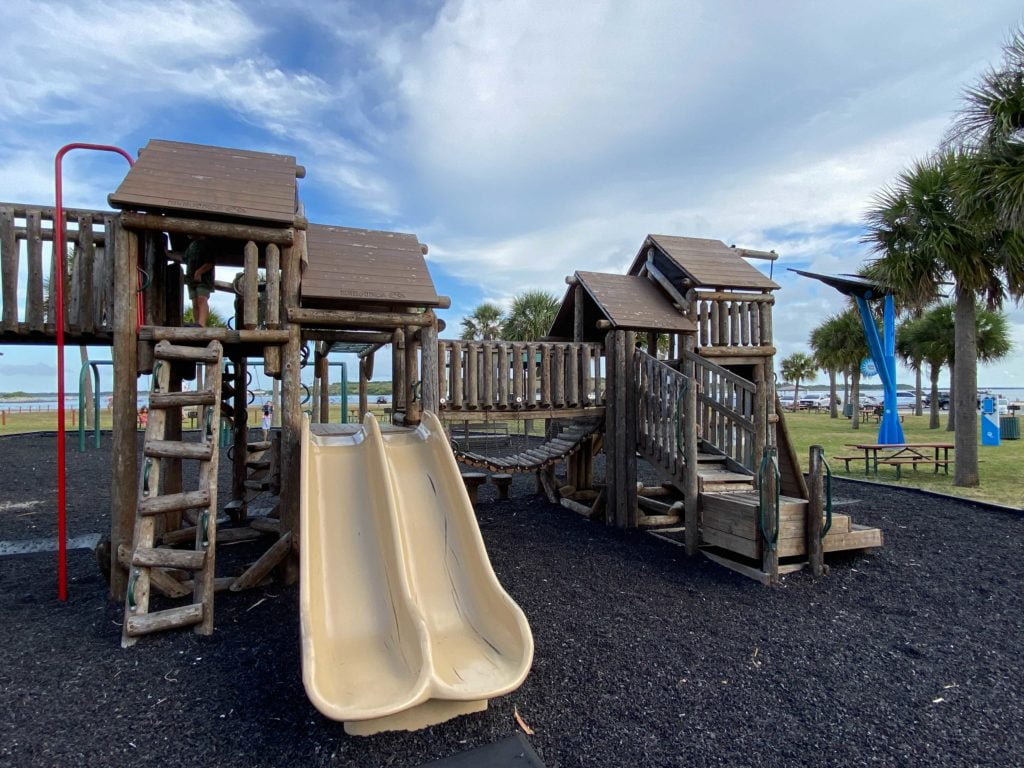 One of my favorite features of Jetty Park is the pavilion which has clean restrooms and used to have a restaurant and a shop. This pavilion is just a few steps from the beach and is available to beach and campground guests alike. Sadly, the restaurant Fishlips at Jeyy Park closed as a result of the pandemic. The original Fishlips location in Cape Canaveral remains open.
Restaurants Near Jetty Park
Another great feature of Jetty Park is the abundance of nearby restaurants. George King Blvd boasts a collection of waterside restaurants less than a 5-minute drive or a short walk from the campground.
My personal favorite restaurant is Rusty's Seafood and Oyster Bar. We've camped at Jetty Park multiple times, and we've often dined at Rusty's. Should you decide to dine at Rusty's there is a fantastic back deck for outdoor dining with a spectacular view of the port and the water. There is also a small outdoor bar and a stage for live music.
On another trip, we decided to grab brunch. I had been eagerly awaiting the chance to try 4th Street Fillin' Station, which is about a 15-minute short drive from the campground and within the city limits of Cocoa Beach. The drive itself was scenic as we passed beachy neighborhoods and small businesses.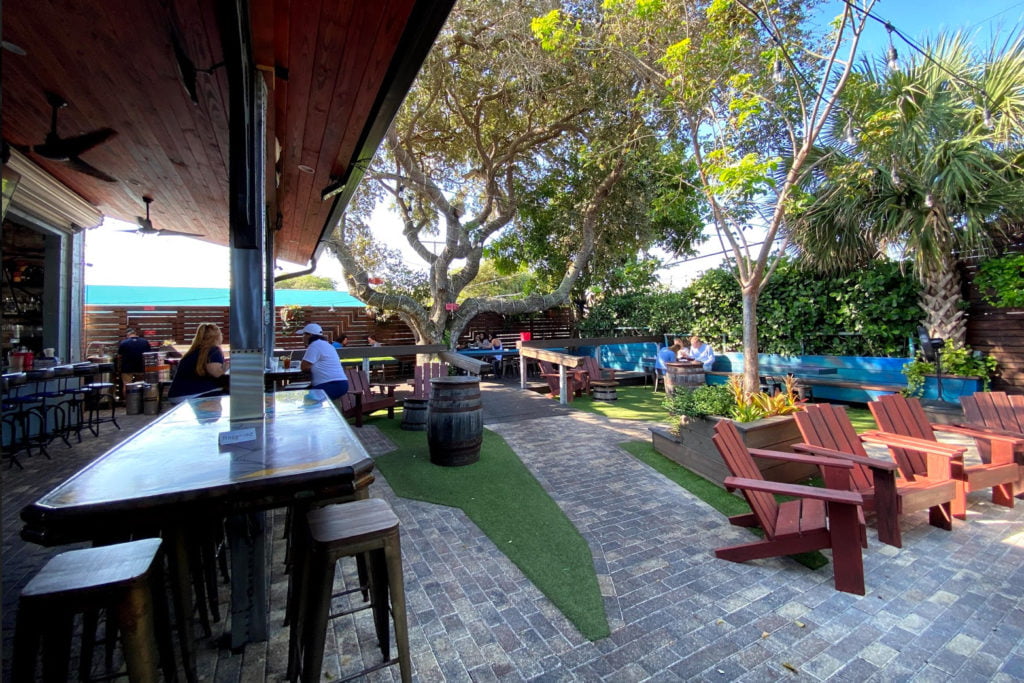 We ordered our brunch from 4th Street Fillin' Station to-go and brought it back to our campsite. It is an open-air venue with indoor dining and a lovely outdoor dining area. The food was absolutely delectable. Their menu offers creative twists on American classics. My husband had the Pork Hash and devoured it with pleasure. He barely spoke a word and seemed so contented with his order. I opted for the Cauliflower Tacos which surpassed my expectations.
Other nearby Cocoa Beach restaurants include: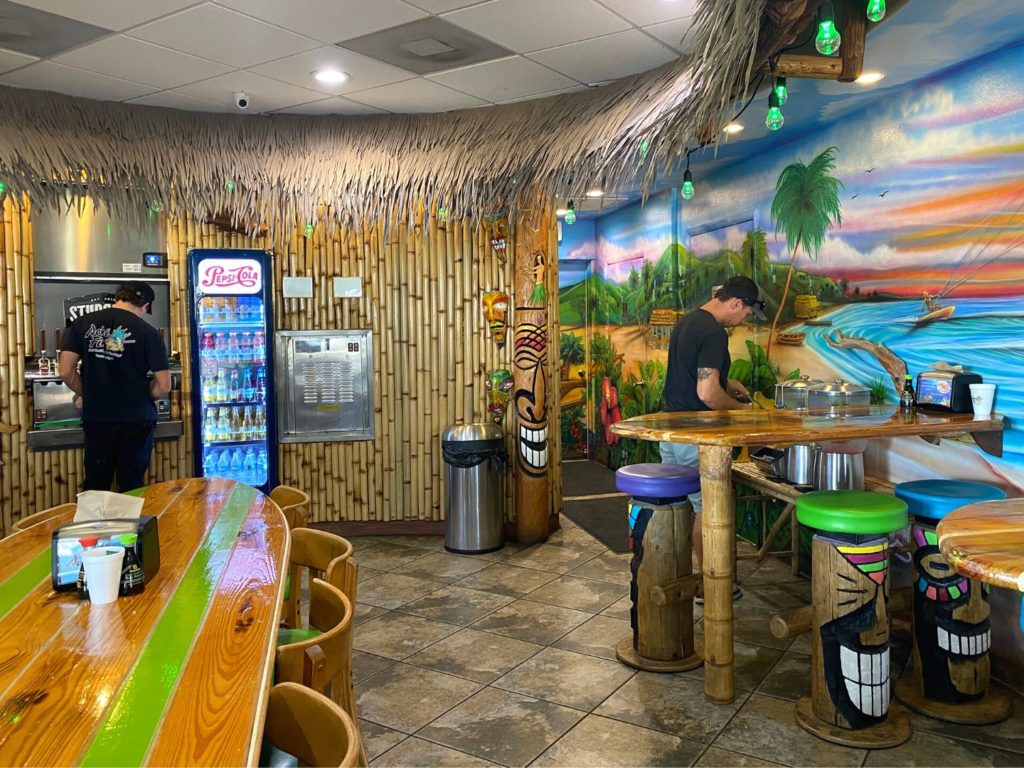 Reservations at Jetty Park and Other Information
Parking is available at Jetty Park with a pre-purchased pass or annual pass. No credit card or cash transactions can take place at the entrance gate. Visiting Jetty Park without camping requires a day pass, which must be purchased in advance online. It is $15 per vehicle and is valid for the entire day. Jetty Park is open daily from 7am – 8pm.
Reservations for camping can be made online. A two-night minimum is required for Friday night arrivals. Saturday is not available as a check-in day.
The cabins are $140 per night and sleep four people total. Camping fees range from $45 – $55 in the summer season and $49 – $64 in the winter season. If you do not have an RV or camper of your own, consider renting one.
Are Pets Allowed at Jetty Park?
They do have a pet policy. Only registered campers are permitted to bring pets. Pets are prohibited in the day park area and on the beach, with the exception of trained service animals (as defined by the Americans with Disabilities Act and under §413.08(1)(d), Florida Statutes). Therapy, comfort, or emotional support dogs are not permitted. Proof of rabies vaccination is required.
Is Alcohol Allowed?
There are no restrictions on alcohol however, no one should enter or remain within the confines of Jetty Park or the surrounding while in a visible or obvious intoxicated or drugged condition.
Can you Fish at Jetty Park?
Fishing (rod or reel only) is permitted at Jetty Park throughout the year with the appropriate license and permit in designated areas. Beach and shore fishing is prohibited. Common catches include mullet, bluefish, and ladyfish. The pier is open 24 hours a day and has fish cleaning tables to use. You can even catch a glimpse of manatees and dolphins swimming in the water right off the jetty!
All images by Dani Meyering