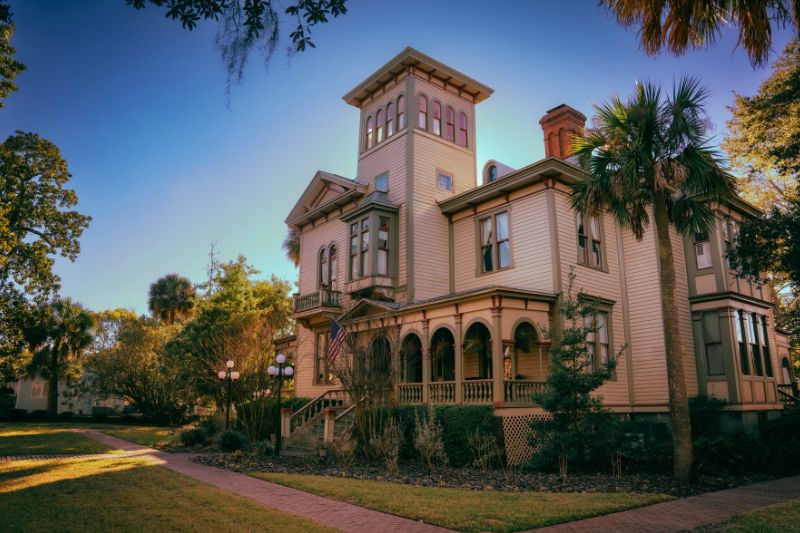 Boutiques, beaches, and world-class dining await on historic and romantic Amelia Island. Hop in the car headed north from Orlando and two-and-a-half hours later, just a few miles from the Georgia border, you'll find Amelia Island. After a few trips to this Florida island, we're sharing our tips to plan a romantic getaway to Amelia Island, Florida complete with where to stay, what to eat, and what to see.
Amelia Island Florida
Named after Princess Amelia, the daughter of Spain's King George II, the 13-mile-long barrier island hugs the coastline of Nassau County and was once the shrimping capital of the world and a haven for pirates, bootleggers, and smugglers. It's one of our favorite romantic getaways from Orlando.
While today's island "invaders," seek boutiques, cafes, and beachfront views over pirate treasure, the island maintains its character and rich history, particularly in its downtown Historic District. 
Amelia Island is the name of the barrier island, but Fernandina Beach is the name of the city on the island. There's a lot to see and do on this 13-mile stretch of sand.

Here's what we recommend.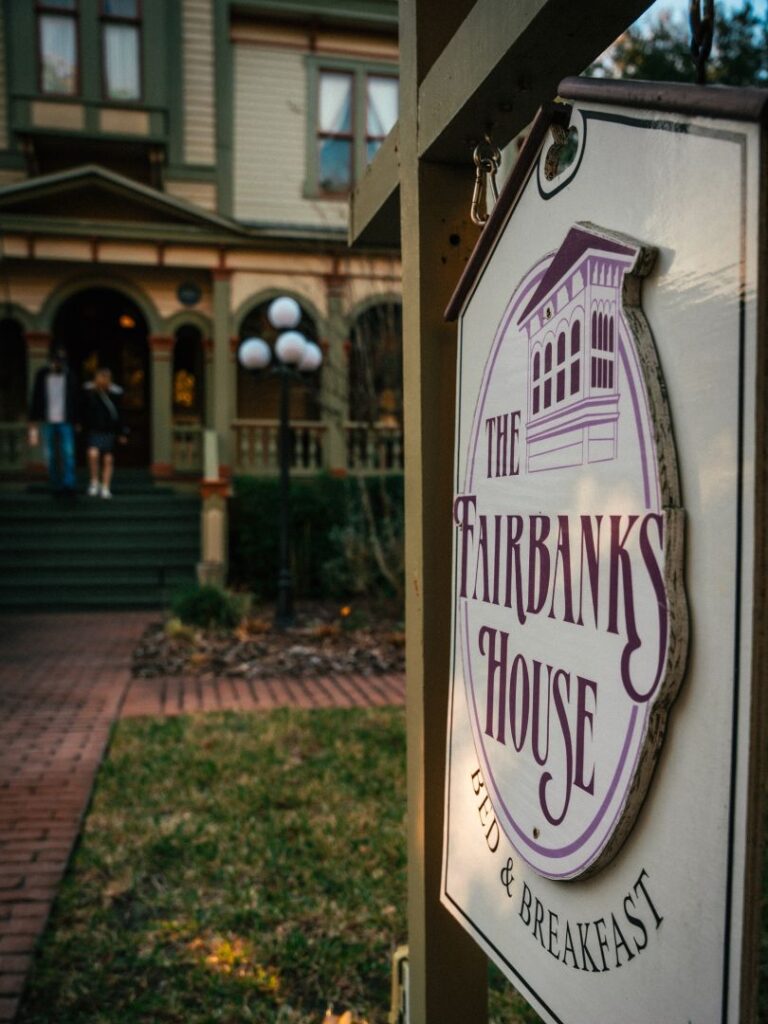 WHERE TO STAY ON AMELIA ISLAND
Before you get too enchanted by the island and its many offerings, get comfortable at one of the island's hotels or resorts.
If you're looking for that luxury resort experience, you have two excellent options – the Omni Amelia Island Resort or the Ritz-Carlton Amelia Island. Both oceanfront properties are a great choice for those looking for an elevated getaway experience.
For something more unique and special to Amelia Island, check in to one of the island's historic bed-and-breakfasts, historic mansions transferred into cozy B&Bs in the downtown district. You'll enjoy personalized service and rooms that are romantic, nostalgic, and one-of-a-kind.
The Omni Amelia Island Resort: 
The Omni Amelia Island is a 1,350-acre master-planned community and resort featuring 54 holes of golf, 23 tennis courts, pickleball courts, and 21 swimming pools. Boasting 402 oceanfront, beach-inspired guest rooms, each with views of the sparkling Atlantic Ocean and glorious morning sunrises for those lucky enough to be awake for them.
The Ritz-Carlton Amelia Island:
You can't go wrong with the Ritz. The hospitality experience at the Ritz is unmatched. The modern and spacious coastal-luxe hotel has many amenities onsite, like boutiques, a spa, and several gourmet, award-winning restaurants.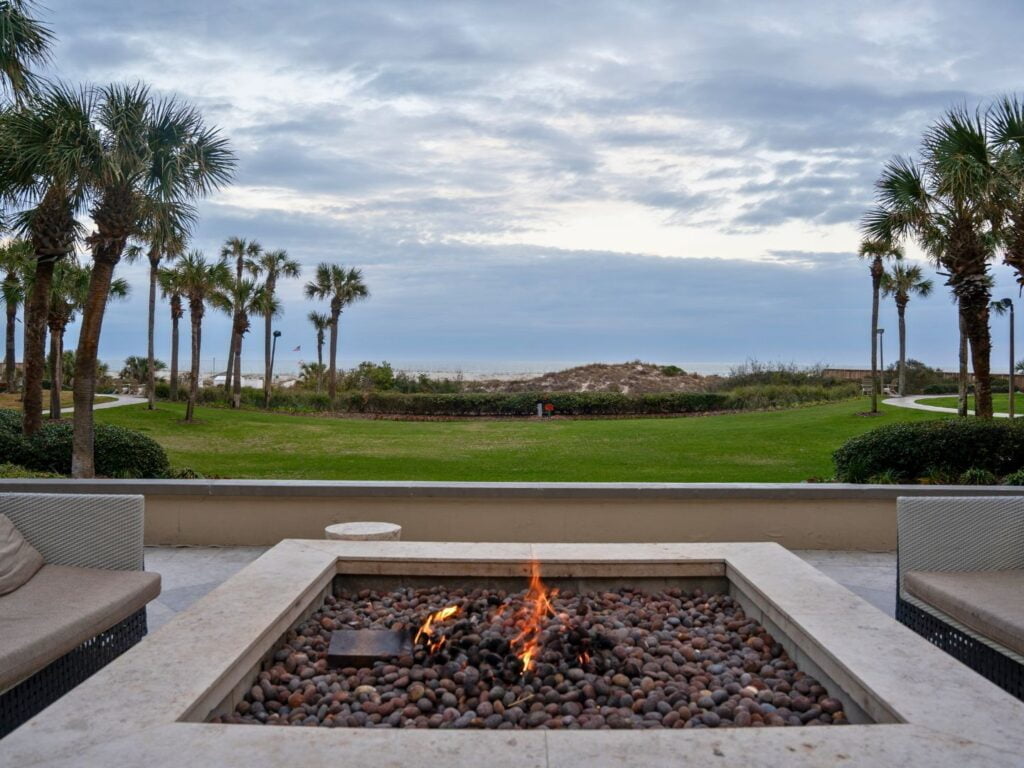 The Fairbanks Hotel:
Winter Park-ians might recognize the name "Fairbanks," as the street that runs through their beloved downtown and Park Avenue. And the Fairbanks House in Amelia Island was built and owned by the Fairbanks of the same name! Staying at this Italianate mansion is like stepping back in time, into a mystery novel or historical romance.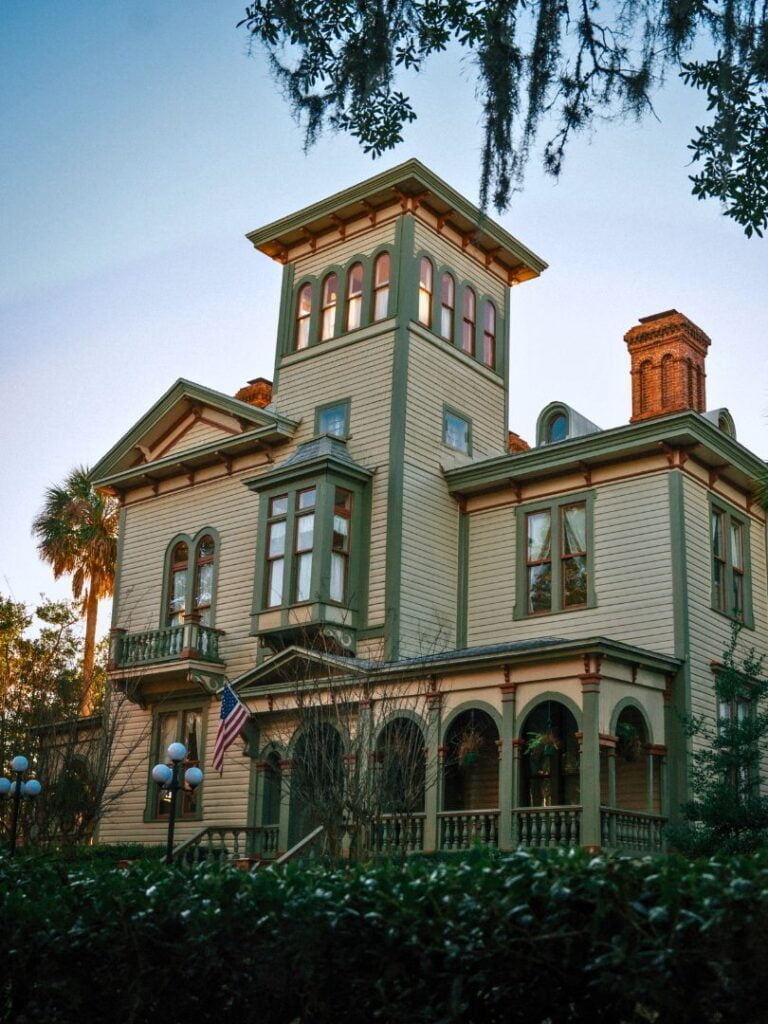 Enjoy breakfast each morning on the heating wrap-around porch. Chat with other guests or the consummate hosts that manage and own the historic hotel. Don't hesitate to ask for bike rentals for exploring, or have them arrange a dinner reservation for you – they know all the best places. 

Explore more Amelia Island Bed & Breakfasts.
WHAT TO DO ON AMELIA ISLAND
Learn the history at Amelia Island Museums
Amelia Island's story begins with the Timucua Native Americans and "Napoyca," – the indigenous name for this northeast Florida coastline. This harbor and coastline have seen many settlers over the years, which has earned the isle the moniker "Isle of Eight Flags."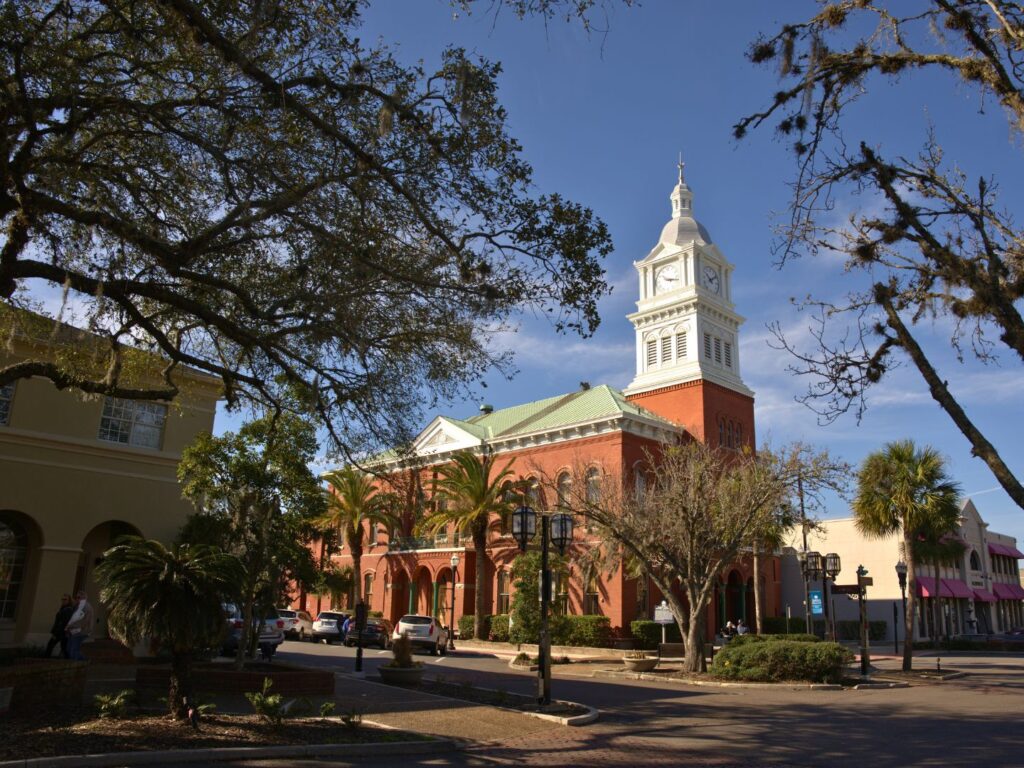 Learn about all who've called this barrier island home at The Amelia Island Museum of History, located in the old Nassau County jail. This museum uses storytelling and walking tours to teach all ages about the island, from its piracy to its architecture and more. 
The Amelia Island Museum of History
233 S 3rd St, Fernandina Beach, FL 32034
Phone: 904-261-7378
Website: https://ameliamuseum.org/ 
The A.L. Lewis Museum, a must-stop along the Florida Black Heritage Trail, educates visitors about the island's rich African American heritage. Abraham Lincoln Lewis (A.L. Lewis) was an entrepreneur and integral figure in establishing American Beach – a vacation haven for the Florida African American community prior to the passing of the Civil Rights Act in 1964.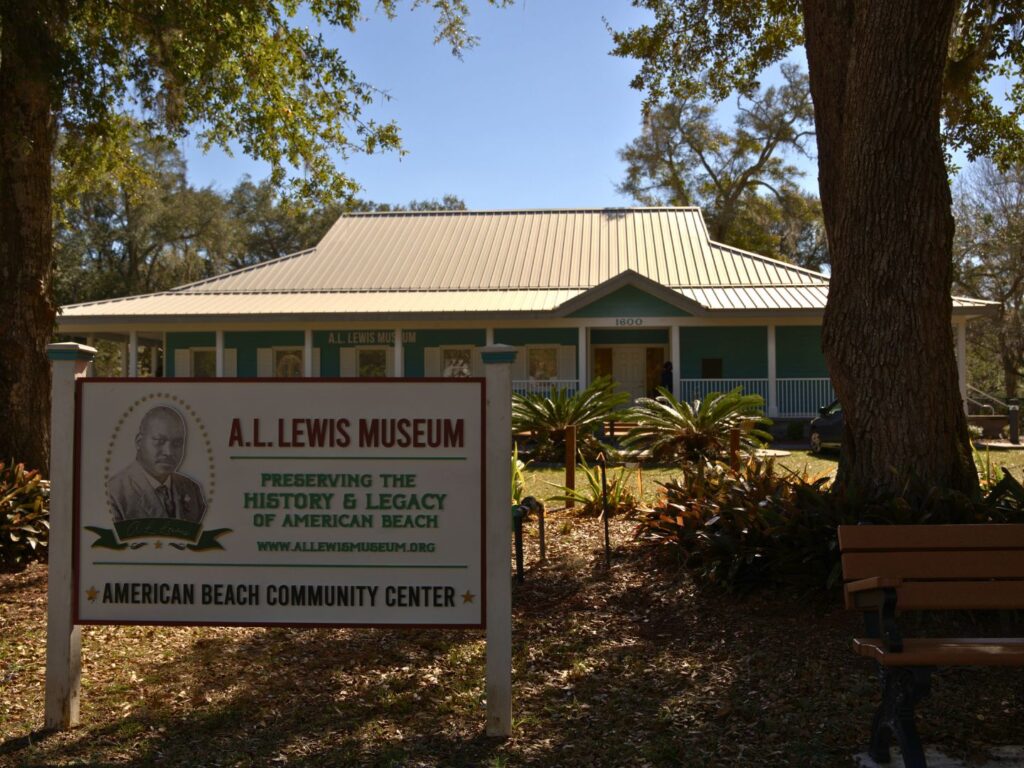 Artifacts, photos, and videos commemorate the island's African American stories, and highlight critical figures in northeast Florida's arts, industry, entrepreneurship, and development. 
A.L. Lewis Museum at American Beach
1600 Julia St, American Beach, FL 32034
Phone: (904) 510-7036
Website: https://www.allewismuseum.org/ 
Get Active
There are many ways to get moving on Amelia Island. It is an excellent place to visit if you're looking for a variety of ways to explore the outdoors. 
Ride a Horse
Amelia Island is one of the few places in Florida you can ride horses on the beach. Take advantage of the location and book a horseback tour along Amelia Island's beaches. 
Visit ameliahorsebackriding.com for more details.
Play Ball
Golf, tennis, and pickleball are island favorites. The Ritz and the Omni both have golf courses. Learn more about the golf community on Amelia Island with Florida Golf.
The Omni is a mecca for tennis enthusiasts with beautiful shaded courts and year-round retreats and camps.
Pickleball enthusiasts will also find courts at the Omni, but if you're not staying there you're still in luck! Meet up with the Fernandina Beach Pickleball Pirates at the public courts in Central Park. The group welcomes visitors and promises great matches and friendly play.
Central Park Pickleball Courts
1200 Atlantic Ave, Fernandina Beach, FL 32034 
Explore on Wheels
Amelia Island is a fantastic destination to explore by bicycle or e-bike. The Egan's Creek Greenway is the island's main artery for cyclists looking to ride through nature and get from one tip of the island to the other. The Greenway is both hikable and bikable and showcases 300 acres of coastal nature preserve where you're sure to spot Florida native wildlife.
Don't miss exploring Fort Clinch State Park. Cycle beneath miles of old oaks and dripping Spanish moss. Trails wind through coastal hammock too if you're keen to get off-road.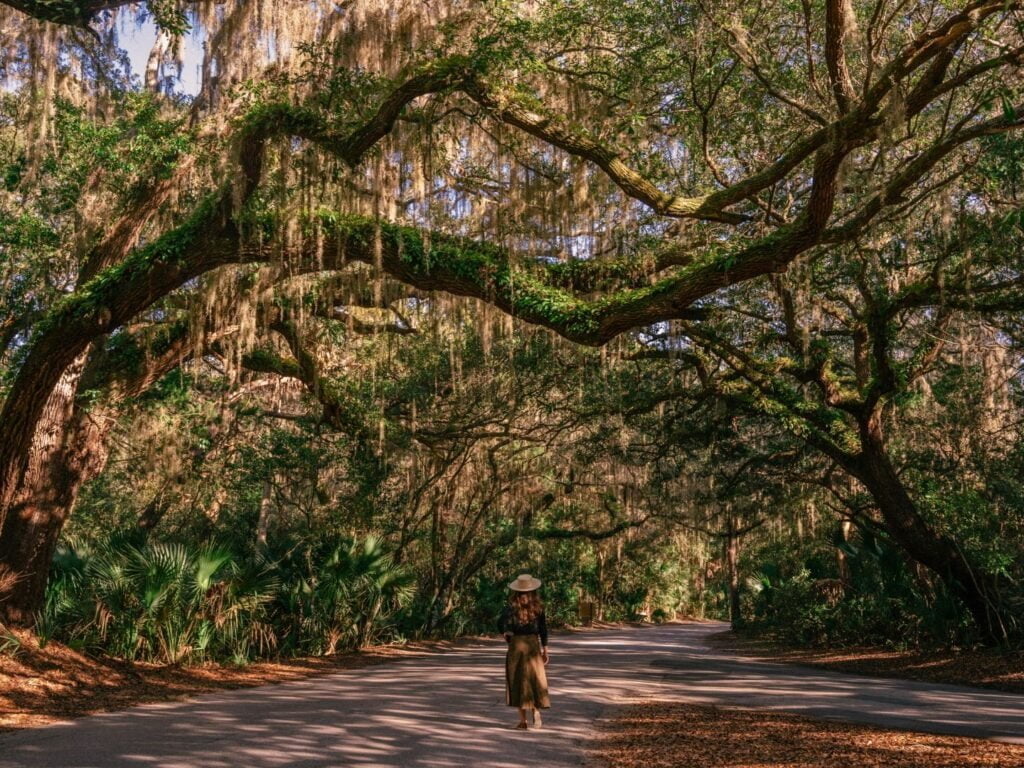 At the tip of the island is the old fort where you can learn about the military outpost from costumed historians.  The old fort is a great way to see Florida history up close.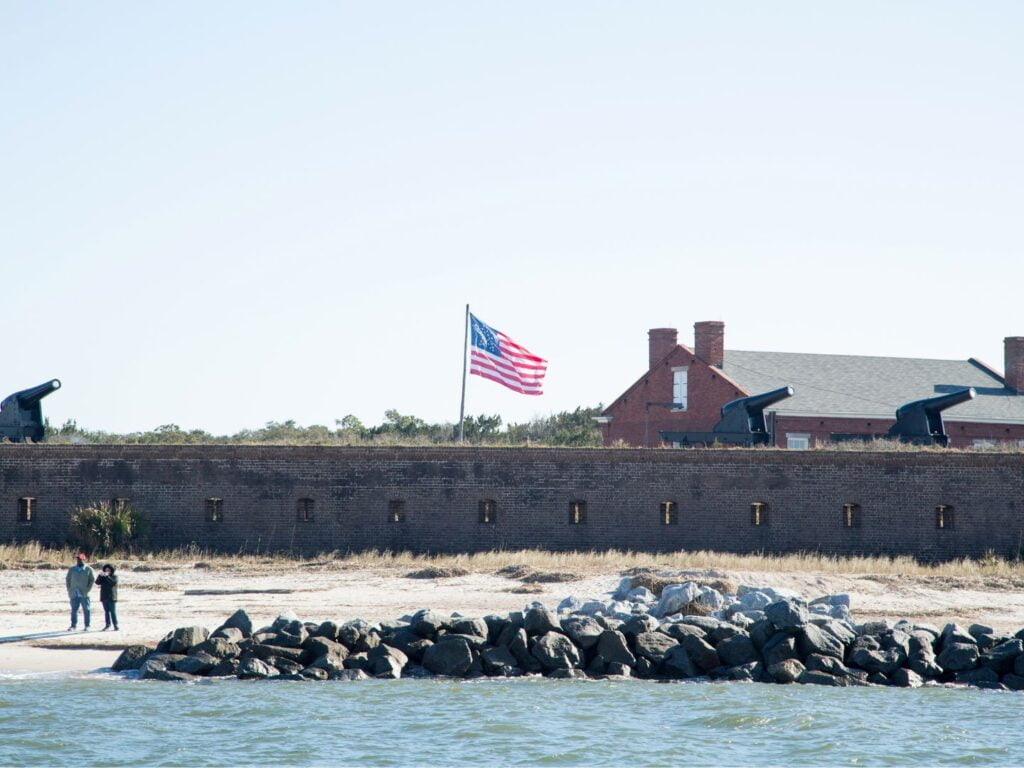 Rent bikes at Bike Amelia.
Shop and Stroll
If your idea of exercise is a brisk walk with ice cream in hand, then head to downtown Fernandina Beach. Over 50 blocks of antique stores, galleries, and boutiques await curious shoppers on foot.
Enjoy wine and charcuterie at the Decantery. Then head next door to the Palace Saloon, Florida's oldest bar, to imagine what it was like to rub elbows with pirates and overhear tall tales of the sea at the bar.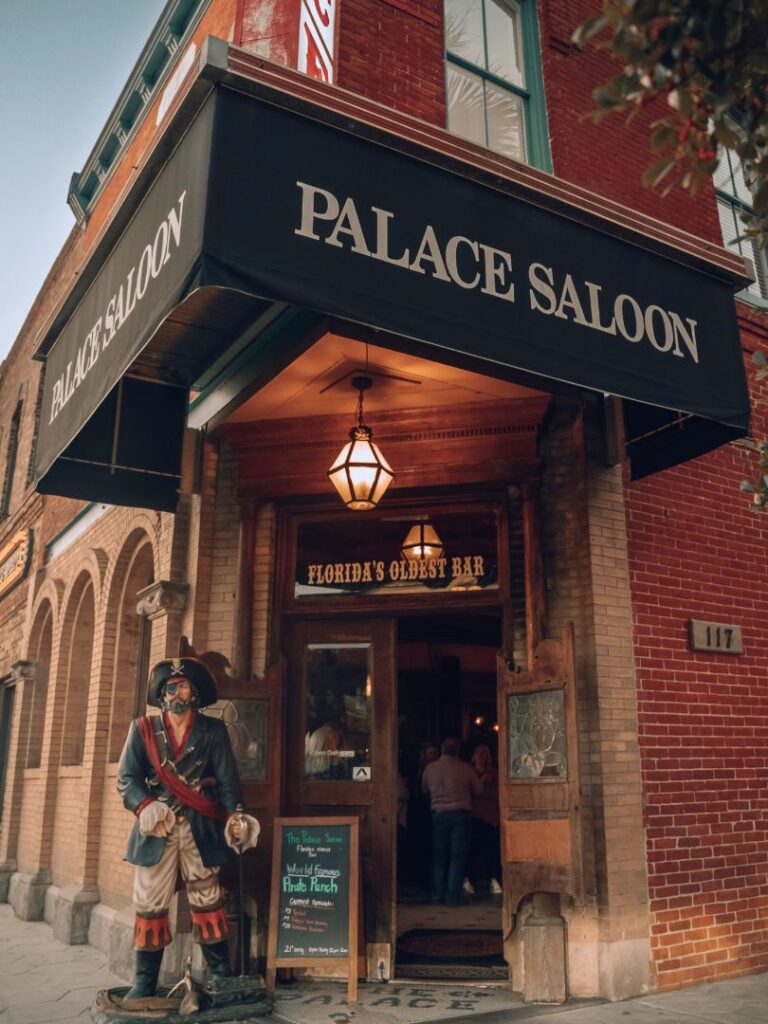 Get Out on the Water
At only 13 miles long, Amelia Island doesn't take long to explore. For more fun and an alternative way to see the area, charter a boat and enjoy the island from the water. Book with Follow That Dream Sailing to enjoy Captain Bud and Mer's luxury catamaran for the day.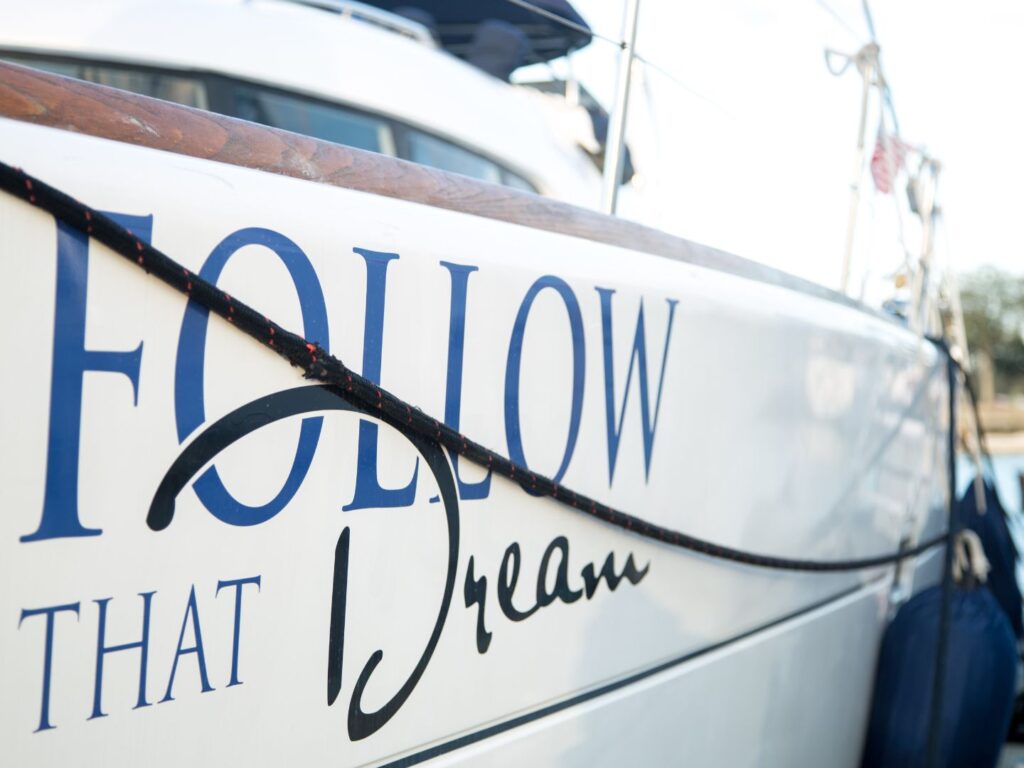 You'll see the shrimping marina, Fort Clinch, and even the wild horses along the nearby shores of Georgia's Cumberland Island, all while enjoying drinks and lounging on the catamaran's overwater net. In the winter months, you might get lucky and spot Humpback or Right whales playing in the harbor waters. You're almost certain to spot dolphins and coastal birds at any time of year.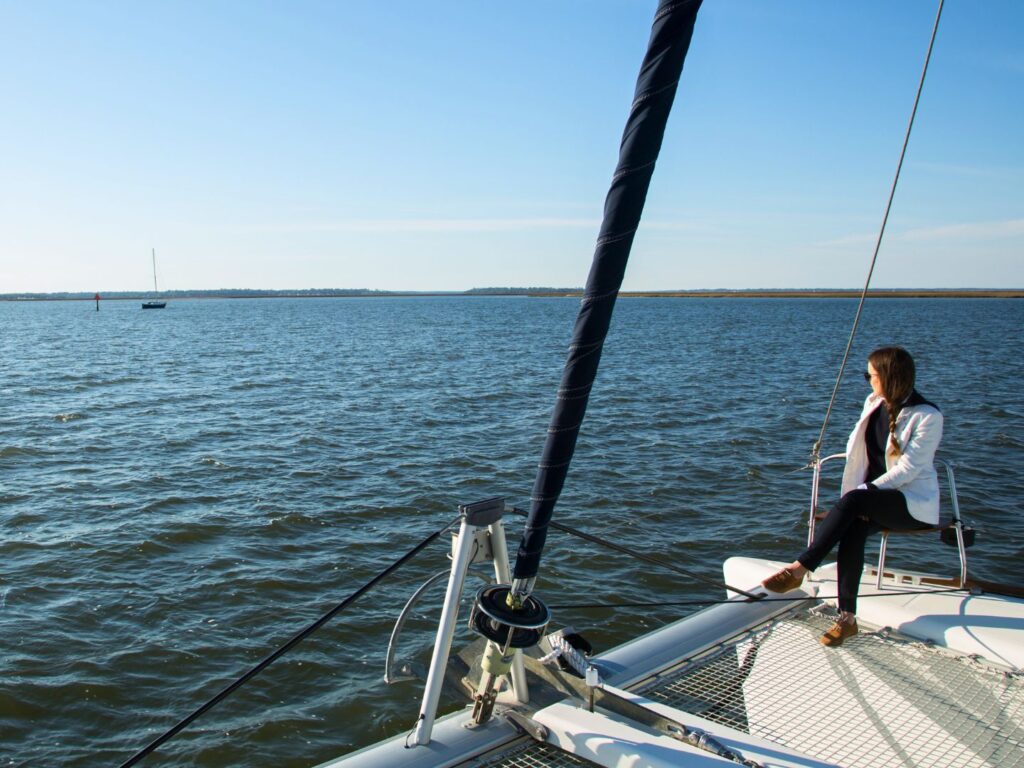 On Saturday mornings, don't miss the Amelia Island Farmer's Market across from the Eight Flags Antique Market.
Eight Flags Antique Market
602 Centre St, Fernandina Beach, FL 32034
WHERE TO EAT 
Amelia Island has made a name for itself in the food and beverage world. You'd be missing out not trying seafood at every chance you get, but there are plenty of menus that feature regional specialties and diverse cuisines. 
Casual Restaurants
Head into Fernandina Beach for lunch at Timoti's Seafood Shak. Located on 3rd Street, this unfussy café with counter service features baskets, wraps, sandwiches tacos, and bowls with fresh, wild-caught seafood taking center stage. I sampled the fried oysters, a smaller but local variety that delivered on flavor, and the fresh fish rice bowl.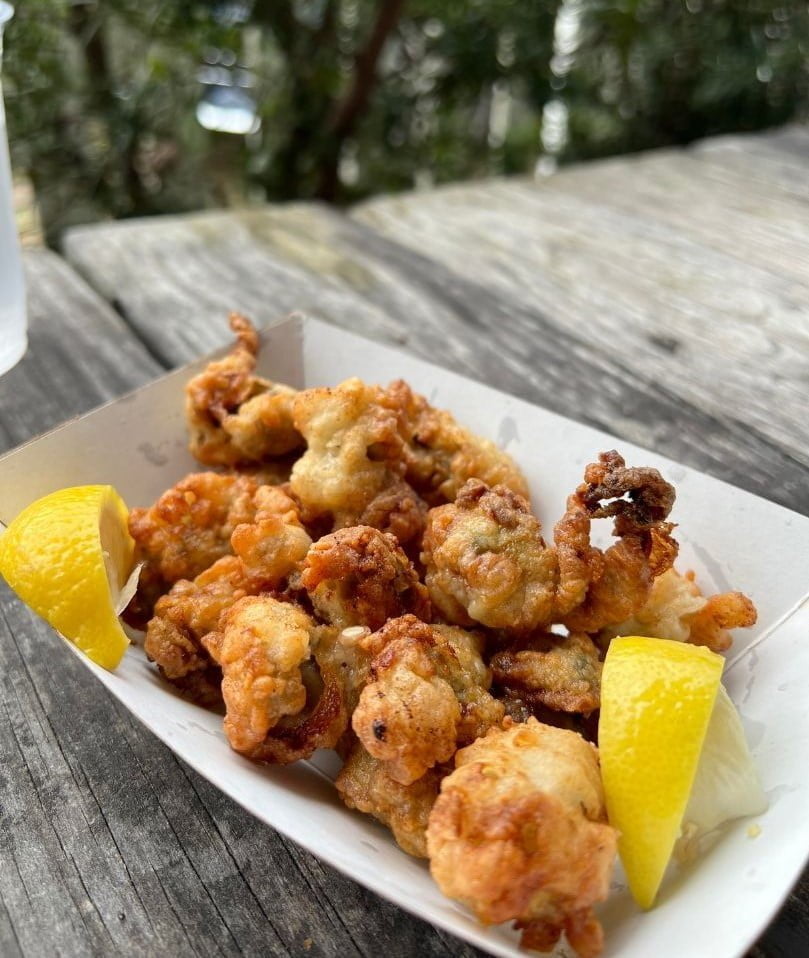 Another great lunch or dinner spot that's beloved by locals is Wicked Bao. The menu features rotating seasonal takes on bao and noodles made with locally sourced produce. 
Stop at Patio on 5th & Ash for key lime pie dessert, and to savor cozy outdoor vibes with bistro lights, firepits, and live music.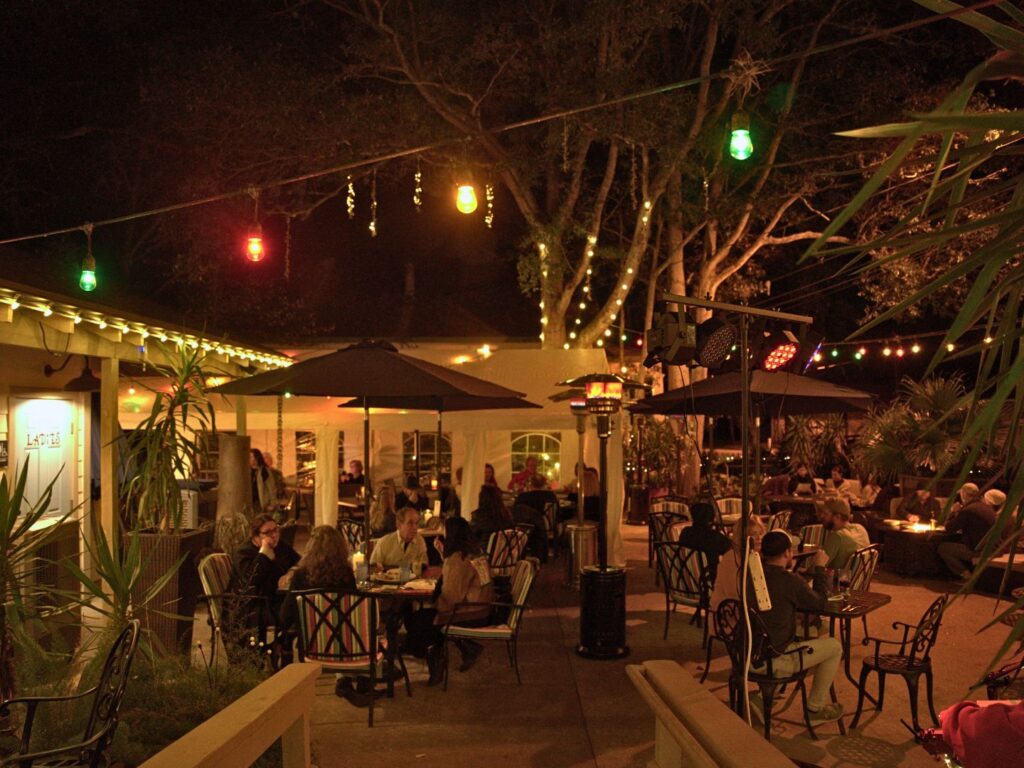 Upscale Dining
Purchase tickets to the Omni's monthly Sprouting Project Dinners – an intimate 5-course dinner that celebrates food and produce grown onsite. The Southern-inspired dinner includes a tour of the resort's onsite aquaponic greenhouse, organic garden plot, barrel room, and apiary. Don't miss this unique chef lead event in a beautiful outdoor setting.
At the Ritz-Carlton, indulge in a night at SALT, their five-star restaurant that celebrates "simple elements from the earth and sea."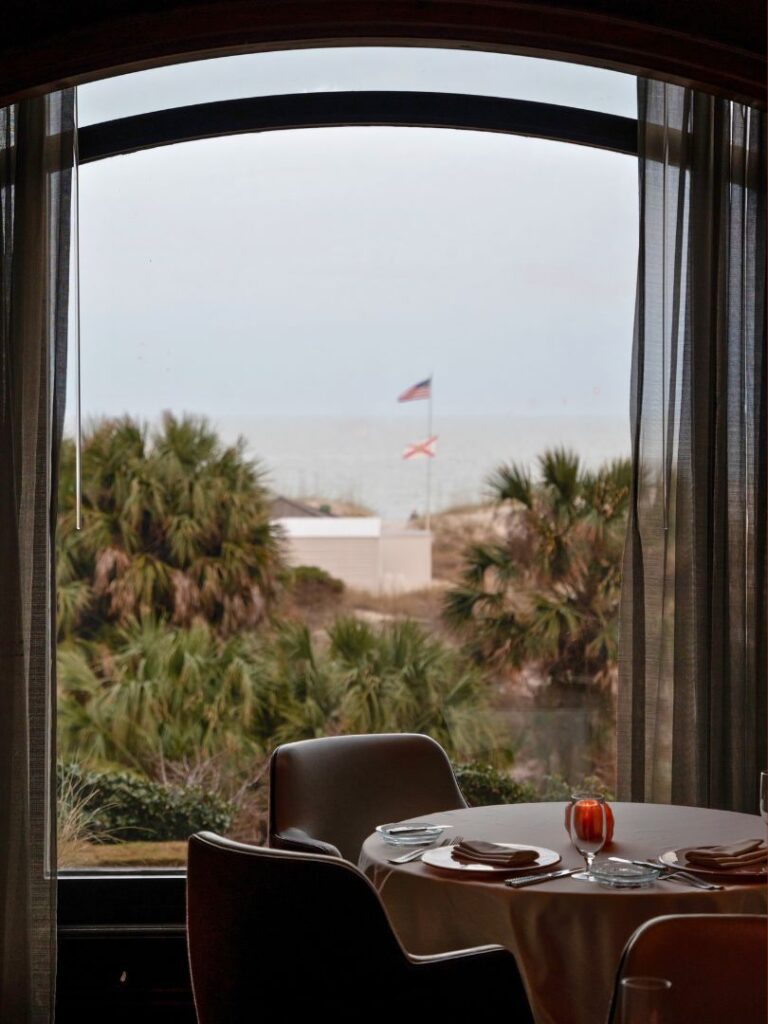 Pogo's Kitchen on the south end of the island also keeps the menu small but fresh. Try here for brunch, or for an intimate date night.
HOW TO GET TO AMELIA ISLAND
Amelia Island is an easy, 175-mile drive from Orlando up Interstates 4 and 95. For a slower, more scenic journey, head out to Daytona and take the A1A up the rest of the way.
For more information, such as getaway ideas and planning tools, visit ameliaisland.com.