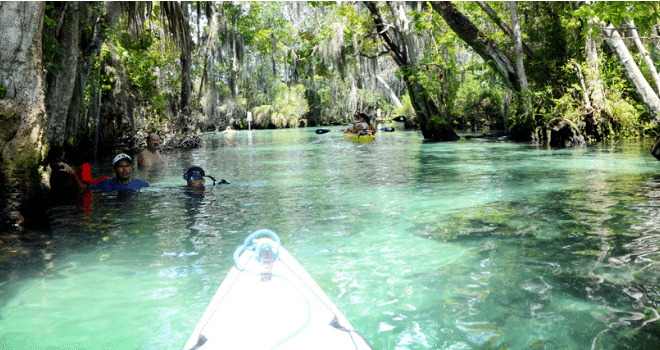 Some days you just need to get away from it all and experience nature. And, Labor Day weekend is the perfect excuse to do so. While there are plenty of ways to get active and enjoy Mother Nature, kayaking in Orlando for Labor Day is ideal.
Discover Central Florida's diverse lakes, rivers, bays, and springs all while spotting local wildlife. We've listed five Labor Day Weekend ideas for your next kayaking adventure below – all a reasonable drive from Orlando.
Merritt Island Refuge Bioluminescence
Lido Key Mangroves
Crystal River/Kings Bay
Weeki Wachee Springs State Park
Wekiwa Springs State Park
1. Merritt Island Refuge Bioluminescence
Kayaking in Orlando will never be the same after you've experienced this nighttime kayaking adventure under the stars. Even the tiniest disturbances in the water activate the bioluminescence making the water around you come alive with blue light.
While you can stir up the water yourself, seeing a dolphin or fish light up the water while swimming is a surreal sight. To add to the excitement, schools of flying mullet fish congregate in certain areas and may just jump into your kayak to hitch a ride.
This is a leisurely trip led by a guide, and you'll have plenty of time to paddle around at your own pace. When you're not admiring the bioluminescent organisms, known as dinoflagellates, drift with the current while looking up at the night sky. One of the most popular kayaking tour companies for this is A Day Away Kayak Tours. Tours start at $55 per person.
Drive time to the Merritt Island Refuge is about 1 hour from Orlando, though it could be a little longer for Labor Day Weekend. Leave early to allow a little extra time to locate the launch site.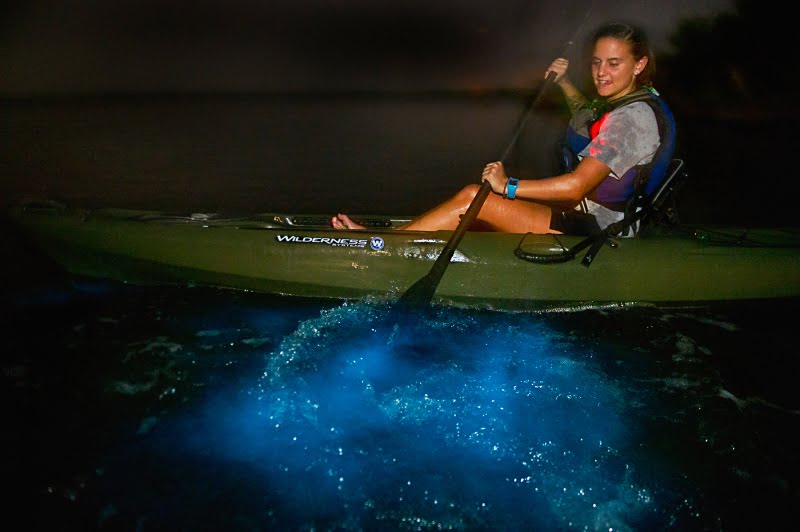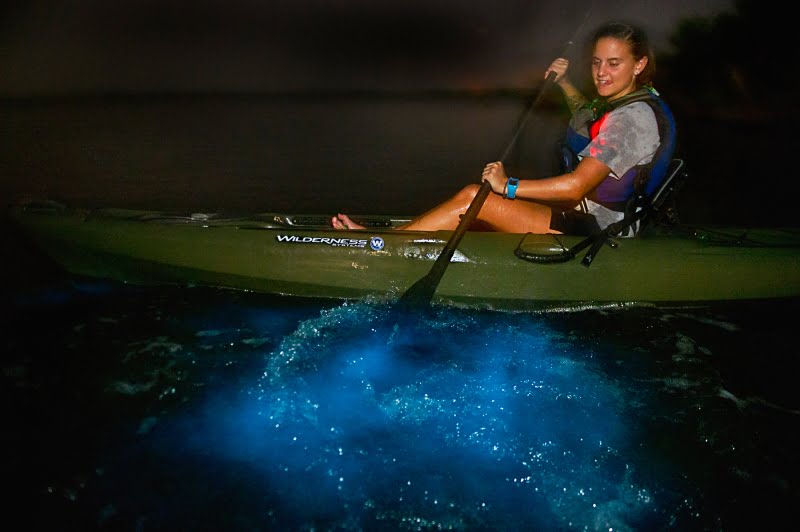 2. Lido Key Mangroves
Labor Day weekend kayaking in Orlando, and nearby is great, but sometimes you need a little adventure. If you're looking for a day trip for Labor Day Weekend and don't mind a bit of a drive, make the 2.5-hour road trip to Lido Key, south of Longboat Key. South Lido County Park is home to a series of mangrove tunnels facing Sarasota Bay.
While kayaking in the shallow mangroves may at first seem a bit intimidating (and you may be worried about the likelihood of getting lost, I know I was) the tunnels are surprisingly well marked and easy to navigate. The currents will do most of the work for you, making this an easy paddle even for beginners. If you're lucky, you may even spot a manatee.
Choose from a guided tour or rent kayaks for a half day and explore on your own on Labor Day Weekend. Either is a great option for enjoying the scenery. Kayak rentals begin at $39, and tours start at $59 per person.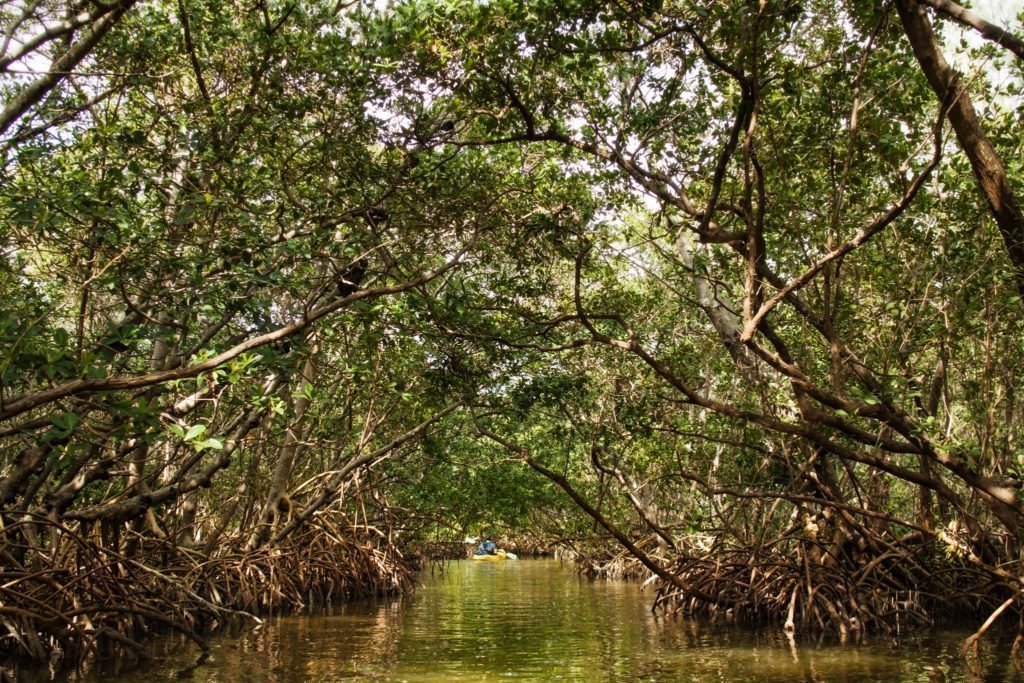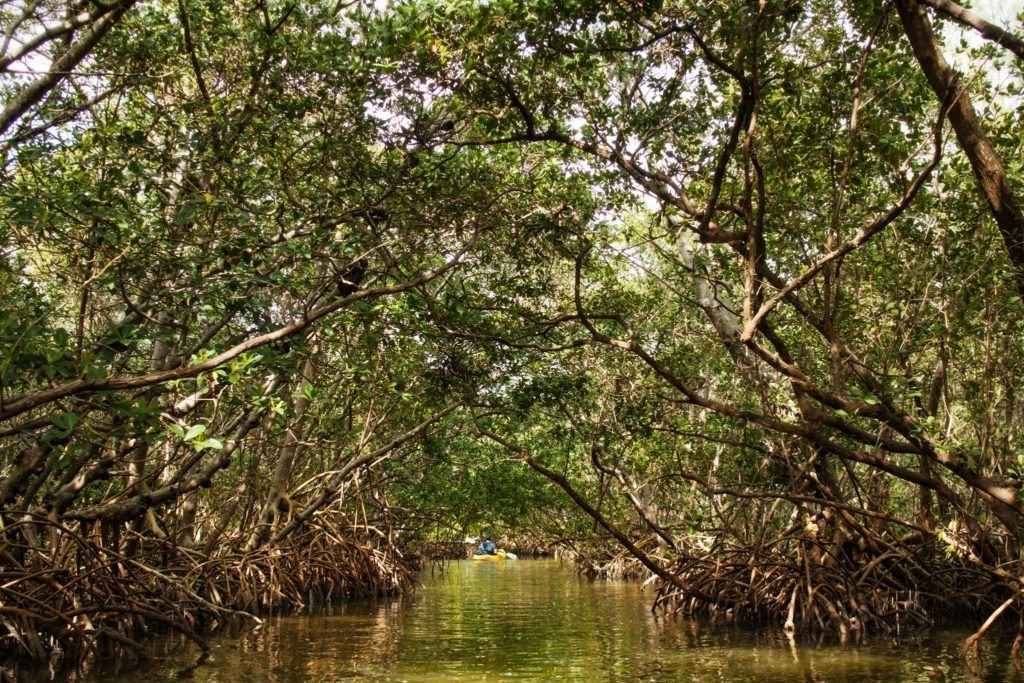 Spotting a manatee in the wild is exciting in its own right but imagine seeing one in the water right next to you. The Crystal River area, a 1.5-hour drive from Orlando, offers your best chance at doing just that, as it's home to manatees year-round. Gulf waters have warmed by Labor Day Weekend, so some manatees remain.
Opt for a guided tour with a reputable company instead of attempting to find manatees on your own.
4. Weeki Wachee Springs State Park on Labor Day Weekend
Less than a 2-hour drive from Orlando, the clear, winding waters of the Weeki Wachee River are ripe for exploring and wildlife viewing. Weeki Wachee State Park is also home to the famous Mermaid Show. It will be very busy for Labor Day Weekend so plan ahead and get there as early as possible.
After renting single or tandem kayaks, the journey begins in the state park and is a self-guided, 5.5-mile trip that will take about 3 hours without stopping. Make sure to bring along water and a picnic lunch if you'd like to travel at a slower pace. The clear water makes wildlife sightings easy, and you may see manatees, otters, turtles, and more.
Kayak rentals are available in the state park along with a shuttle service to take you back to the park after you reach the designated stopping point on the river. Rentals begin at $35 or you can launch your own kayak for $8.
Expect the shuttle to be busy on Labor Day Weekend. Make sure to stick around for the Mermaid Show. Park admission is $13.00 and includes shows.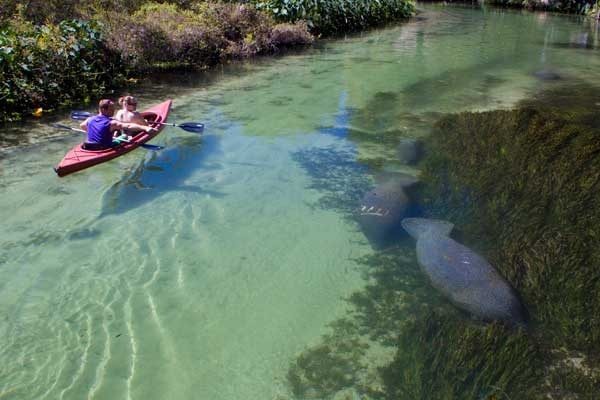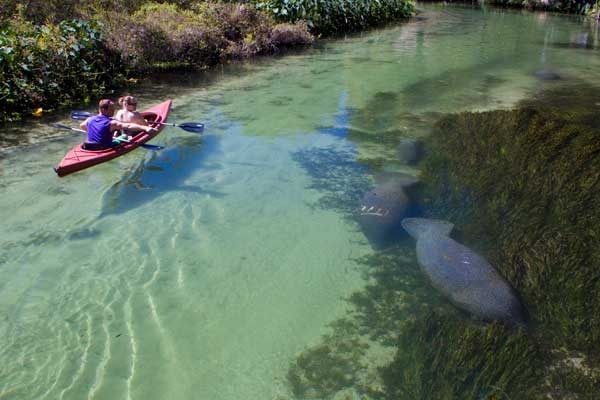 If you want to stay close to home, there's no better place for Labor Day weekend kayaking in Orlando than Wekiwa Springs State Park. Just make the 25 – 30 minute drive for a day of kayaking the river and cooling off in the cold spring.
As you make your way down the Wekiva River, keep your eyes out for alligators sunning themselves on the riverbank. You'll also spot many of Florida's native birds, turtles, and maybe even otters. It's going to be very busy for Labor Day weekend so get there first thing in the morning.
Single and tandem kayak rentals are available within the park at Wekiwa Springs State Park Nature Adventures. The cost for a tandem kayak is $40/hour. Two hours is plenty of time for a peaceful paddle down the Wekiva River. After your paddle and cool down in the springs, celebrate with a drink at nearby Wekiva Island, where you can also rent kayaks and swanky river cabanas – which should be reserved far in advance for Labor Day Weekend.
Wekiwa Springs gets especially busy on Labor Day Weekend, so arrive early in the morning to kayak and beat the crowds. Make sure to bring along plenty of water.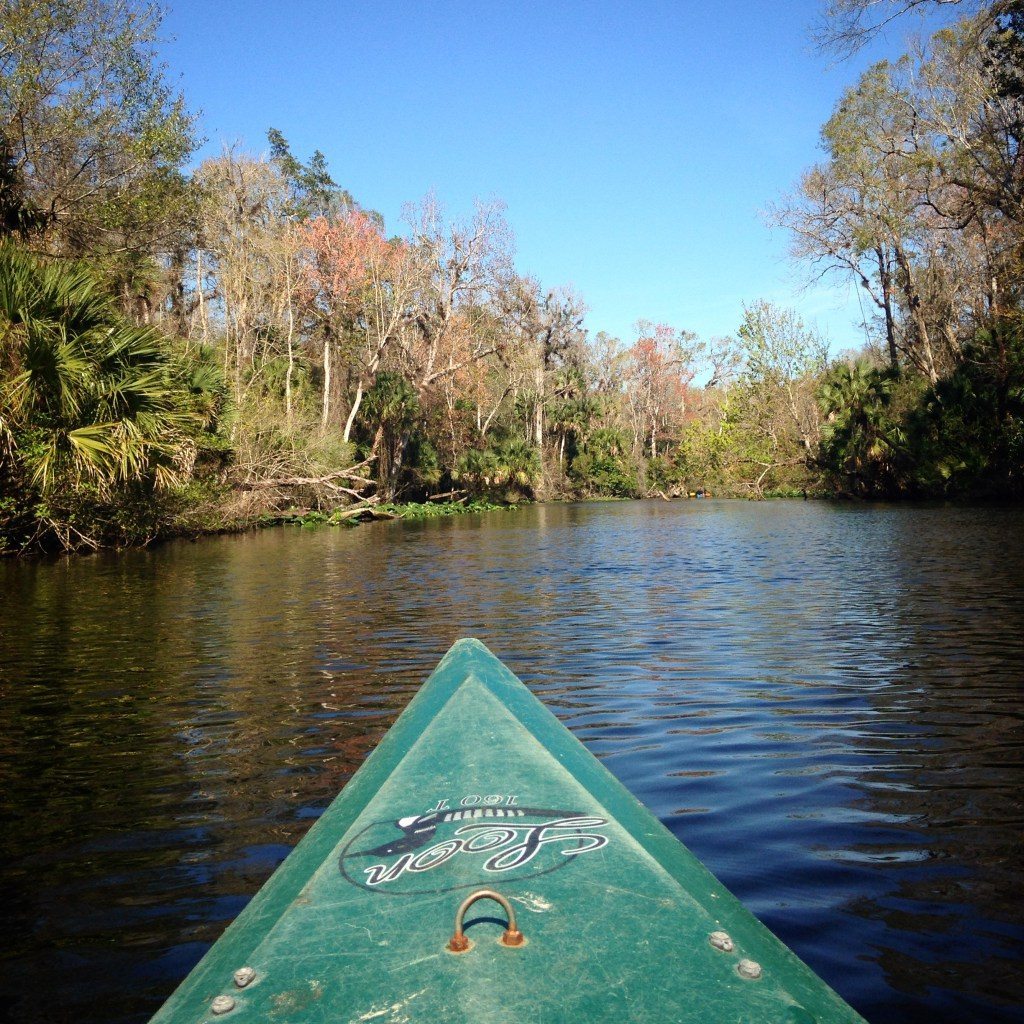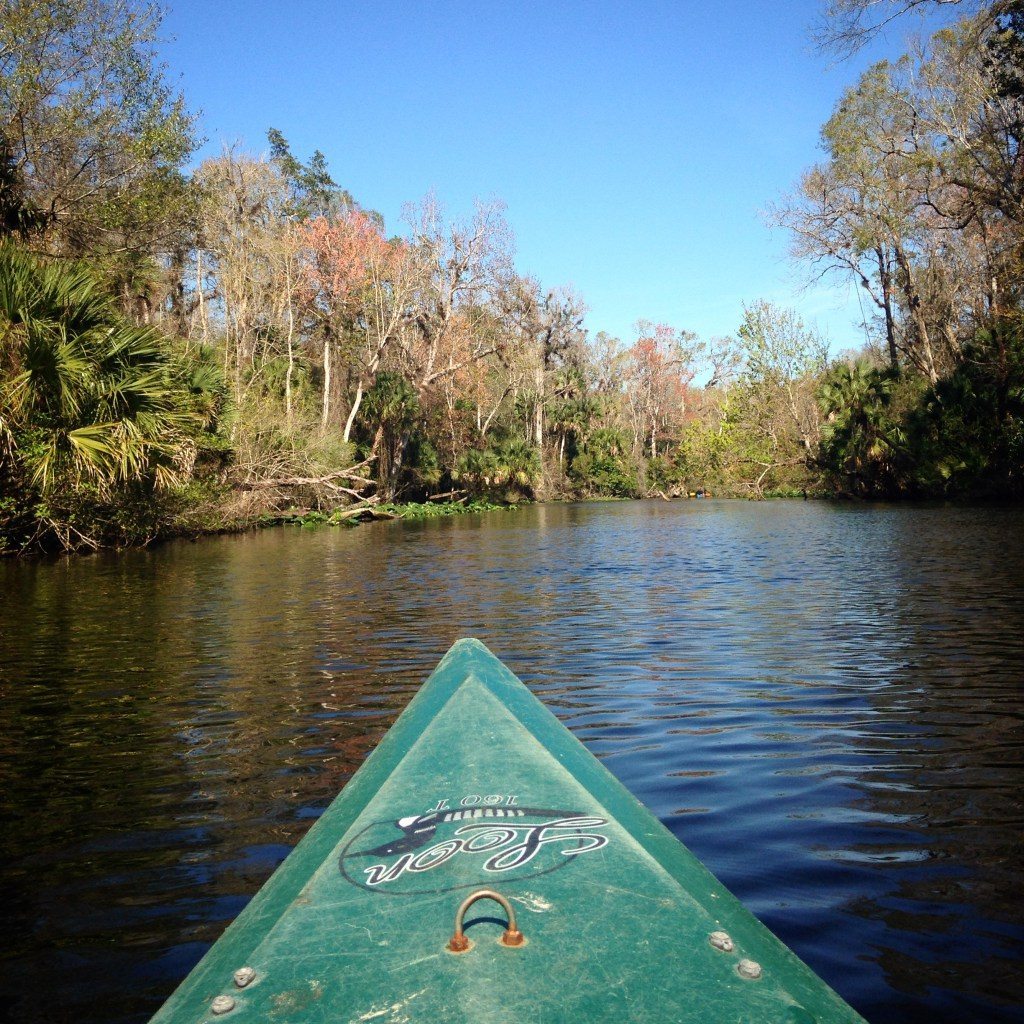 Honorable Mention: King's Landing near Apopka
King's Landing in Apopka is another Labor Day weekend kayaking in Orlando area favorite. Picture a crystal-clear, stunning waterway that weaves past large oaks draped in Spanish moss. Be sure to bring your binoculars. There is no shuttle service with this option, so be prepared to paddle back to the launch site.