I balked at the price the first time I saw it. And as we prepared for our date night at Soseki Modern Omakase I felt inadequate. Do I have a nice enough dress and jewelry? Would I be comfortable among the fellow diners seated at the chef's counter? That all faded away the moment I stepped inside – welcomed warmly by the caring staff. Come with me as I dine at Soseki, a distinguished Michelin-starred restaurant nestled in Winter Park.
Date Night at Soseki Modern Omakase
Keep reading for a first-hand look at what to expect at Soseki Modern Omakase. Plus we share some news about a new lunch offering at Soseki, and what makes the Chef, staff, and sommelier so special.
At an omakase dining experience, you can expect an exquisite culinary journey curated by the chef.
A multi-course meal: Indulge in a series of meticulously crafted dishes, typically ranging from 10 to 20 courses
Fresh and seasonal ingredients: Omakase menus often feature the freshest ingredients sourced from local suppliers
Artistic presentation: The chef carefully arranges the dishes to appeal to both the eyes and taste buds.
Personalized experience: The chef typically interacts with guests, explaining the dishes and the inspiration behind them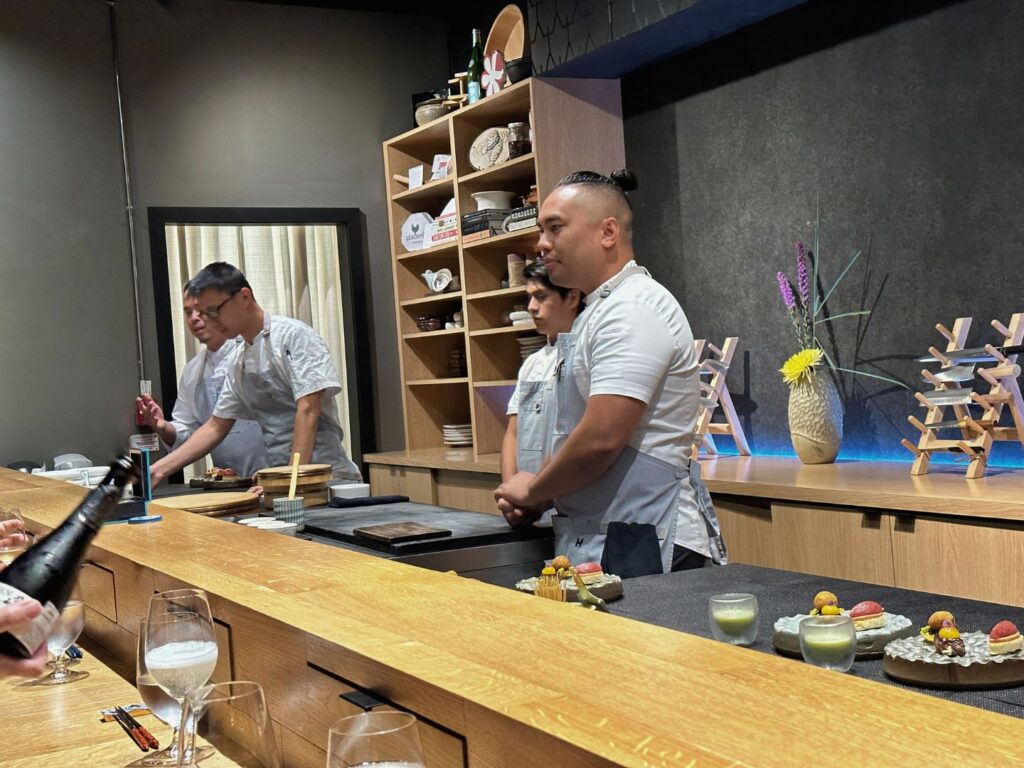 And if you're nervous about an omakase experience understand that everyone at Soseki is welcoming and friendly. Not only do they explain each course, they also explain how best to enjoy each course including any utensils to use – or not.
Soseki Modern Omakes Experience
The exterior of Soseki is unassuming. Located along Fairbanks Avenue in Winter Park, bordering Orlando itself, Soseki combines elegant and cool. I love Fairbanks in Winter Park, and Soseki is right next to an icon of this part of town, Austin's Coffee.
We parked in the back parking lot, Soseki's entrance faces the parking lot and not Fairbanks itself. The lobby is small and cozy.
The friendly greeter checked us in and explained a little about what to expect. Essentially we only needed to decide what to drink, including whether or not to journey on a beverage pairing or just order a la carte. Soseki offers an extensive wine, sake, craft beer, and local tea menu.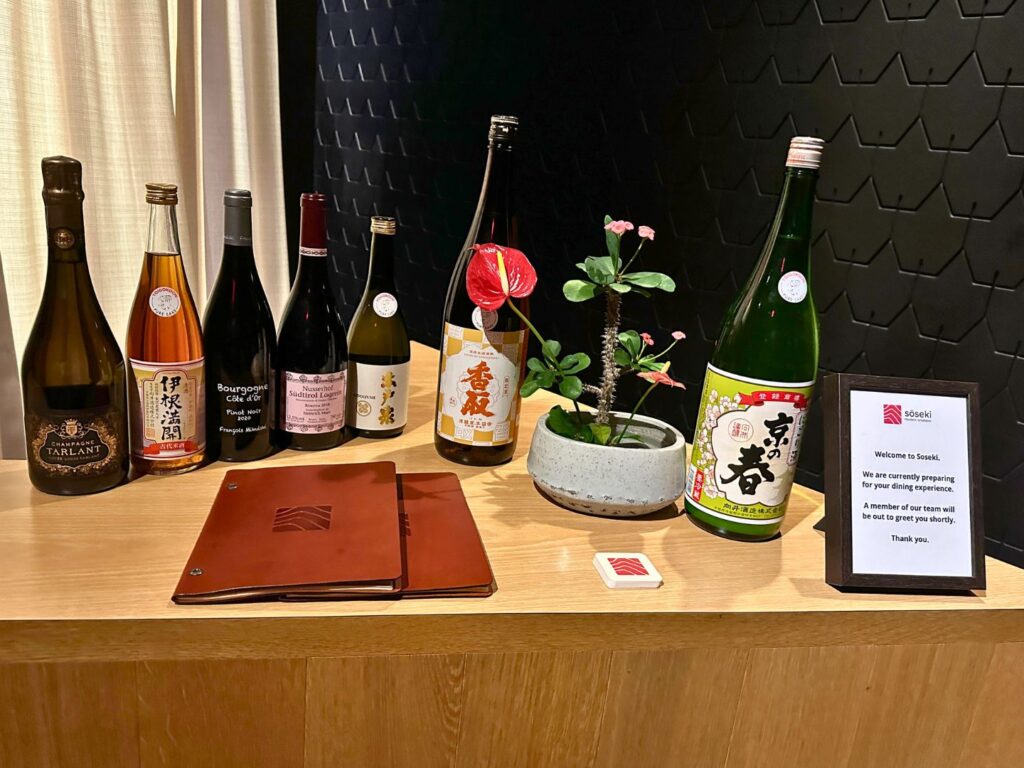 Additional guests began to arrive and gather in the small lobby. And soon we each were asked to head to the dining area.
The ambiance tailored for discerning adults washed over me as we entered the dining area. Truly Soseki is crafted for those seeking an extraordinary date night experience.
With only ten seats, Soseki ensures an intimate setting.
The Soseki Difference
When I learned about Soseki months ago I wrongfully assumed they offered similar Japanese-centric flavors that are offered at other Orlando omakase dinners. While there are some Japanese cuisine influences, there are plenty of vibrant flavors of local Florida, and international influences too.
They passionately collaborate with esteemed farmers, fishermen, cheese makers, and ceramic artisans. The chef's choice dinner showcases the freshest ingredients sourced from their trusted partners, resulting in an adventure that is both captivating and indulgent.
We experienced multiple delights during our dinner. The chefs and staff provided impeccable service and made the environment much more approachable than I anticipated.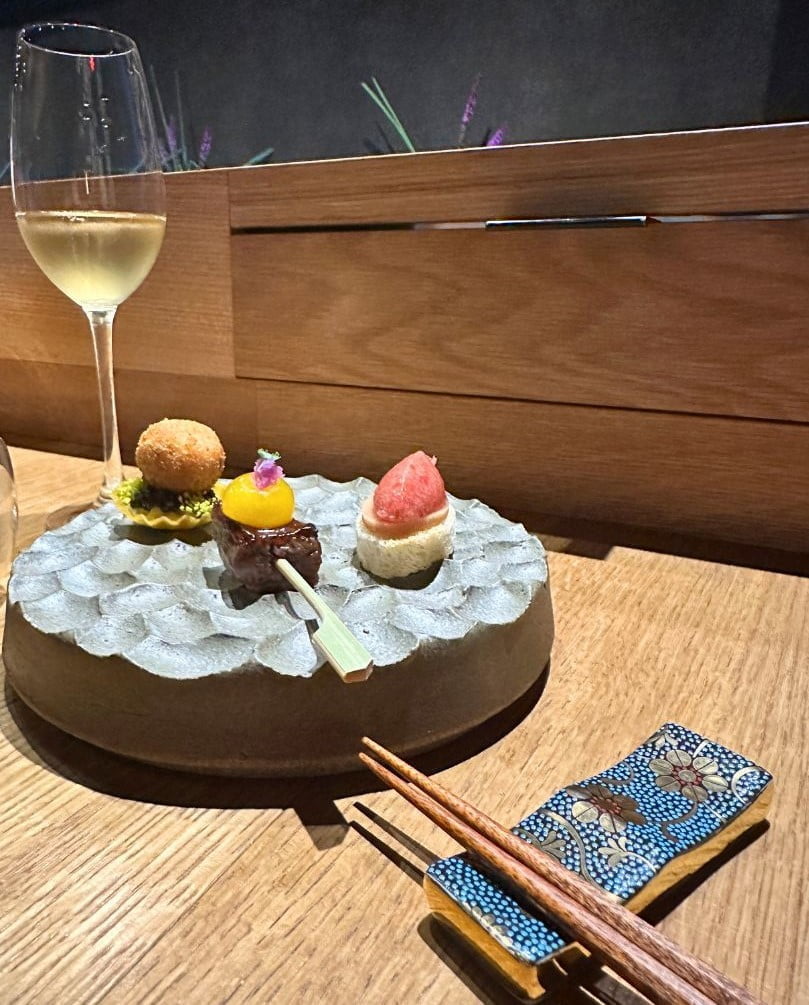 Complementing the culinary delights, their expert beverage director and dedicated service team have carefully curated a remarkable selection of global sakes and wines. This thoughtfully crafted program accentuates the flavors of each dish. But the beverage pairing is much more than traditional wine pairings.
Michelin Sommelier of the Year, Benjamin Coutts, crafted an incredible selection of unique wines and sakes that would be near impossible to find anywhere else in Orlando.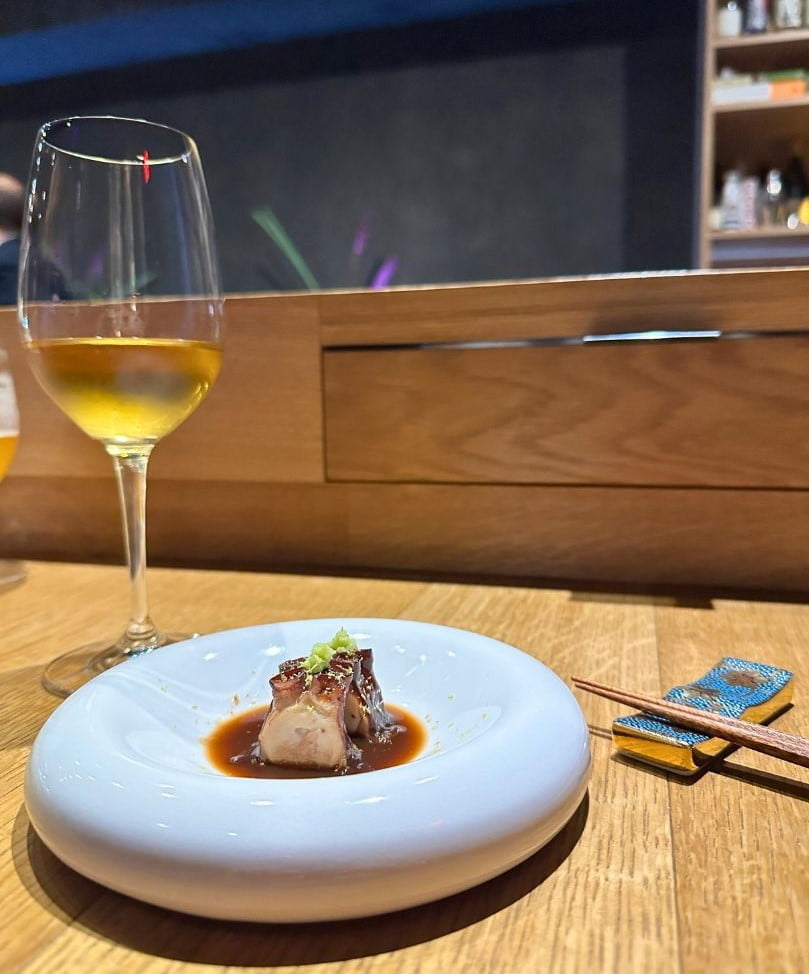 Soseki Dinner Menu July 2023
It is very important to keep in mind that the menu at Soseki changes seasonally and sometimes even week to week. I am sharing the menu we experienced in July 2023. Your menu will be different, but you can definitely expect fresh and local ingredients.
Opening course Otoshi* – tart with corn, caviar, plus tuna on top of foie gras, and Sukiyaki Australian Wagyu topped with quail egg
Oyster Trio* –  Cypress Point- Panacea, FL with little honeys – nude lime, second oyster topped with summer salt watermelon margarita, third oyster Prince Edward Island, Canada, topped with curry leaf and swiss chard
Nimono* from Ishikawa, Japan –  tako | lemon zest mirin | soy | wasabi
"S(s)am I Am"* –  egg | english pea | mushroom xo | ham dashi
"Melonballer" – cantaloupe | galangal | makgeolli lee, watermelon | yuzu | cucumber | tajin
Sushi course – Sawara* (Wakayama), Toro* (Spain),  Akami* (Spain), Uni* (Hokkaido)
"Happily Ever(oak) After* – chicken breast | murasaki | ramps | scallion pancake | maitake
Dessert course – foie gras, caramel, clove, star anise, fig, black pepper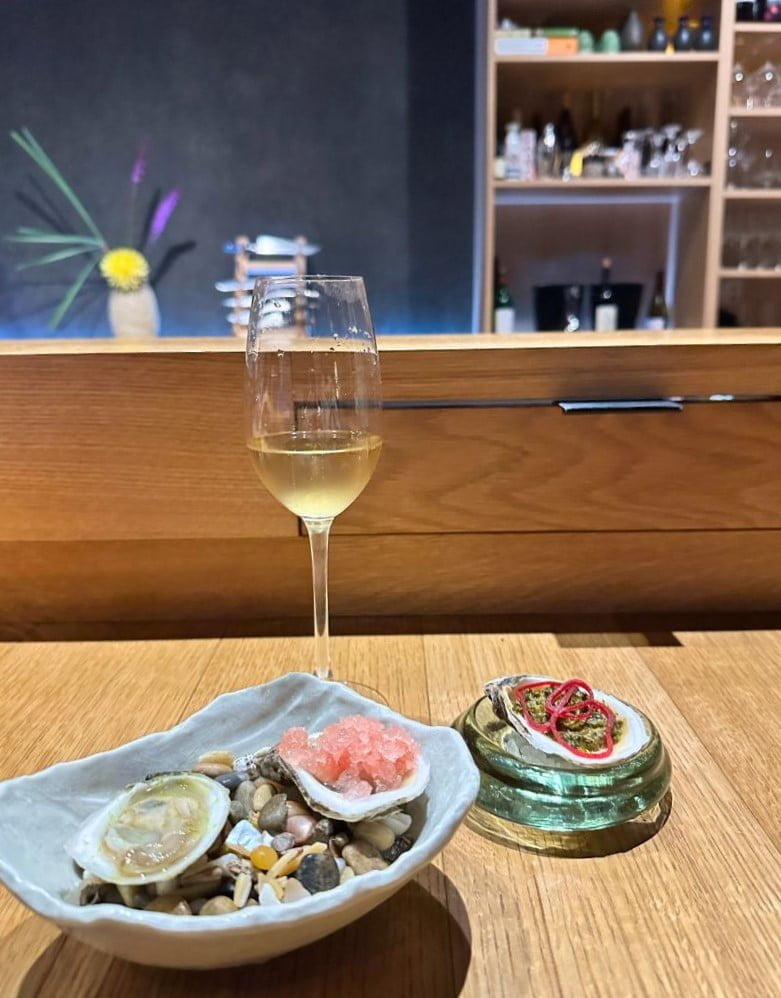 If I had to pick favorites the opening course, oyster trio, "Melonballer", sushi course, and the dessert course topped my list. The final course before dessert is the standout surprise of the night for me. Chicken? At an Omakase dinner?? It actually blew me away!
Spending the $110 on the wine and sake pairing proved worth every penny. Unique flavors in wine and sake that I am personally unlikely to ever experience again made for an unforgettable evening.
Soseki Modern Omakase is a pricey experience. But the talented folks who not only prepare the food but interact with guests on a personal level are worth it. Let's learn a little bit more about two of the stars.
With over 20 years of experience in the hospitality industry, Chef Michael's culinary journey began in his hometown of Winter Park, Florida. Inspired by the world's finest chefs, such as Wolfgang Puck, Joel Robuchon, Eric Ripert, Masa Takayama, and Jennifer Carroll, he has honed his skills and expertise to deliver an unforgettable dining adventure.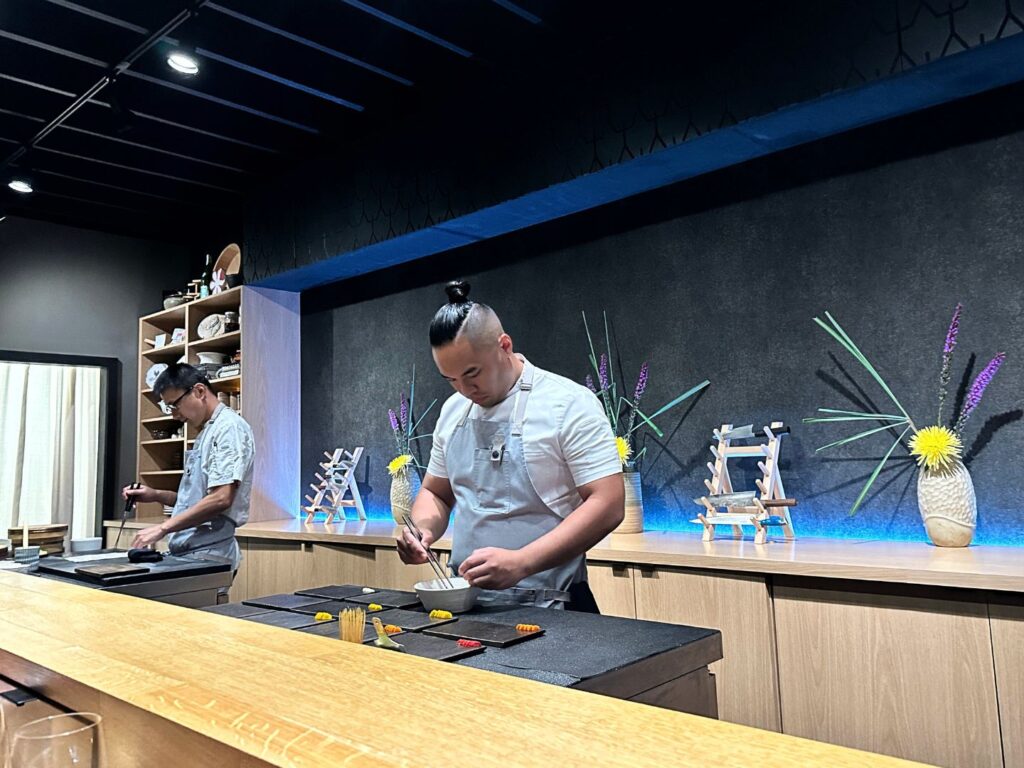 Throughout the evening, Chef Michael's passion shone through as his team personally interacted with each of us. Executive Sous Chef Kevin shared the stories behind each dish and the inspiration that drives the team's culinary creations.
Michelin Sommelier of the Year, Benjamin Coutts
I tried to resist indulging in a beverage pairing, trying to keep our budget in tact. But it would have been a shame to miss out on letting Benjamin Coutts work his magic. You see Beverage Program Director, Benjamin Coutts, won the prestigious Michelin Sommelier Award 2023. That's a pretty big deal!
As the wine and sake worked their magic I felt bold enough to remark out loud how much I absolutely loved the music. "I would love to have this entire playlist on Spotify," I shamelessly stated. The staff kindly informed that not only is there a Soseki Experiment playlist on Spotify, but it was crafted by Benjamin Coutts himself.
A Michelin Sommelier who artfully masters wine, AND the art of the playlist? Pure magic in my world.
New Lunch at Soseki
If you're looking to enjoy Soseki in a way that is perhaps more budget-friendly, lunch is now available on Saturdays, as a six-course lunch experience. This sixty-minute excursion will highlight dishes of the ever-changing bounty from the land and sea.
View this Reel from Soseki to learn more.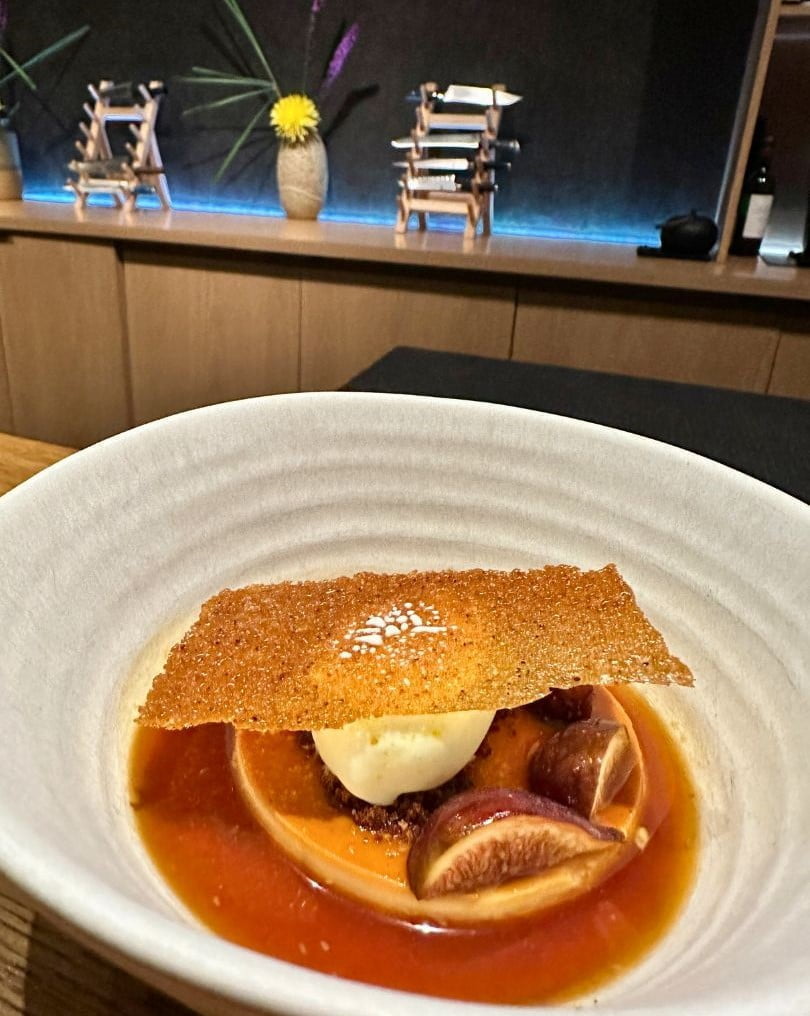 Important details
Open: WED – SAT
Reservations Only
955 W Fairbanks Ave
Winter Park, FL 32789
Featured image from @sosekifl on Instagram
Please note our dining experience was provided at no cost to us, we did pay for our drinks and gratuity to the staff.