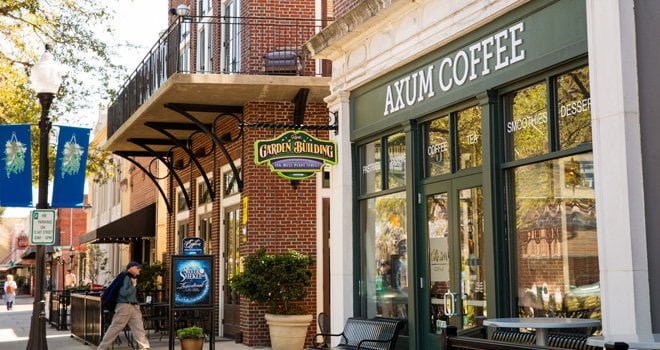 The fall season is (finally) within reach. With chilly temperatures and pumpkin patches right around the corner, you're going to need a go-to spot to grab a toasty pumpkin spice latte or enjoy an intimate, cozy date night.
Coffee shops are ideal for productive hours in front of your laptop, affordable and low-key first dates, snug Sunday mornings with your significant other, and of course, seasonal treats. Orlando is home to several coffee shops where the environment is just as delightful as the warm beverages being served, especially with autumn on the horizon.
Here are some of the coziest coffee shops in Orlando serving seasonal drinks you'll love for a fall date.
Updated August 2023 by Dani Meyering
Festive Fall Coffee Shops in Orlando
Vespr Coffee Bar
New City Coffee Co.
Propagate Social House
Prometheus Esoterica
Vanessa's Coffee
Barnie's Coffee Kitchen
Axum Coffee
Lineage Coffee
Stardust Video & Coffee
There are even more places for pumpkin spice coffee in Orlando, so keep reading!
Pumpkin Spice Coffee Orlando
VESPR COFFEE BAR
Address: 626 N Alafaya Trail Suite 105, Orlando, FL 32828
Vespr is a relaxed family-owned coffee bar nestled in the Waterford Lakes region of Orlando. The vibe in this coffee sanctuary is so laid-back and minimalistic, decorated with simple rustic wood tables, pops of greenery, and tons of cozy seating. This is an idyllic spot to get some work or reading done while sipping a London Fog tea or Cortado. 
Vespr Coffee Bar offers unique, fall-inspired latte flavors year-round that you can't really anywhere else in Orlando. Try their Iced Butterscotch and Bourbon Maple Latte (also known as the Mariah Carey) or orange-infused cold brew to switch up your regular coffee order.
NEW CITY COFFEE CO.
Address: 124 N 4th St STE 1500, Lake Mary, FL 32746
Why settle on one tasty seasonal latte when you can try four at once? New City Coffee Co. is all the rage in the Central Florida area for their unique coffee flights that change with the seasons and holidays. This autumn, you can sip each of their creative, festive fall flavors launching August 22 with their new fall flight – Pumpkin Spice, Stroopwafel, White Macadamia, Praline.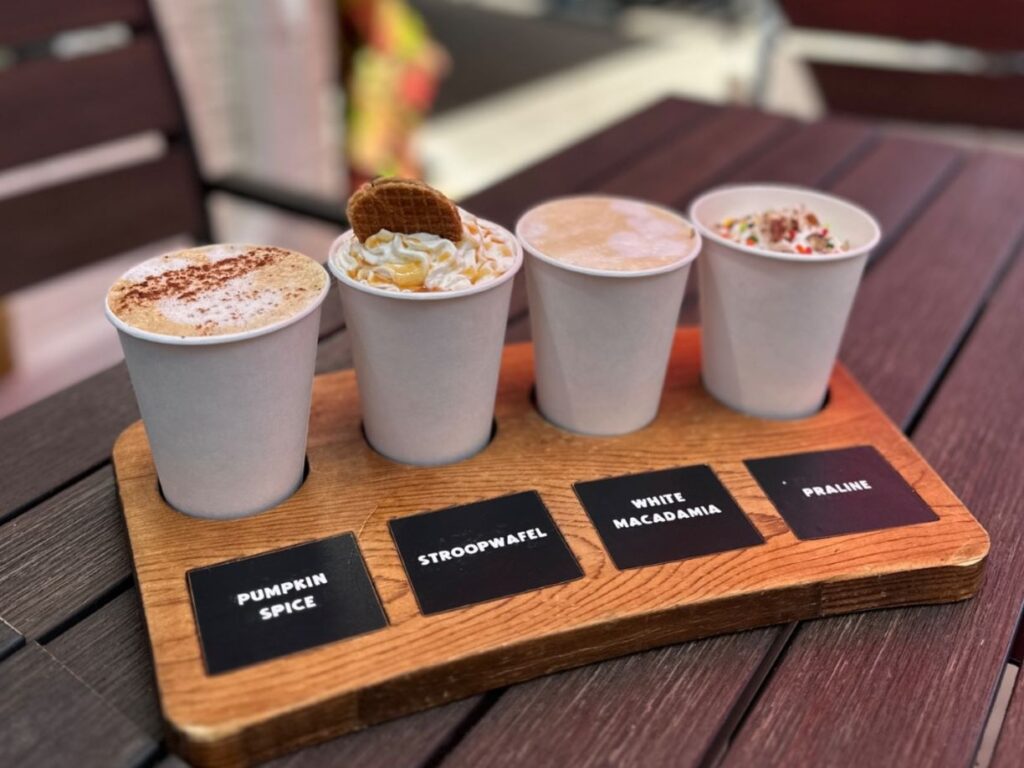 This one-of-a-kind coffee house isn't located directly in Orlando, but it's only a quick drive north to Lake Mary. If you head there on a Saturday, you also peruse the Lake Mary farmer's market right outside.
Warning: there might be a long line out the door since their coffee flights are so popular, especially if you stop by on the weekend. However, it's worth the wait for their vibrant indoor and outdoor seating, and unique fall treats you can't find anywhere else. 
BONUS – Right next door is Pangea Gastropub, by the same ownership, and they offer a delightful Fall Sangria Flight!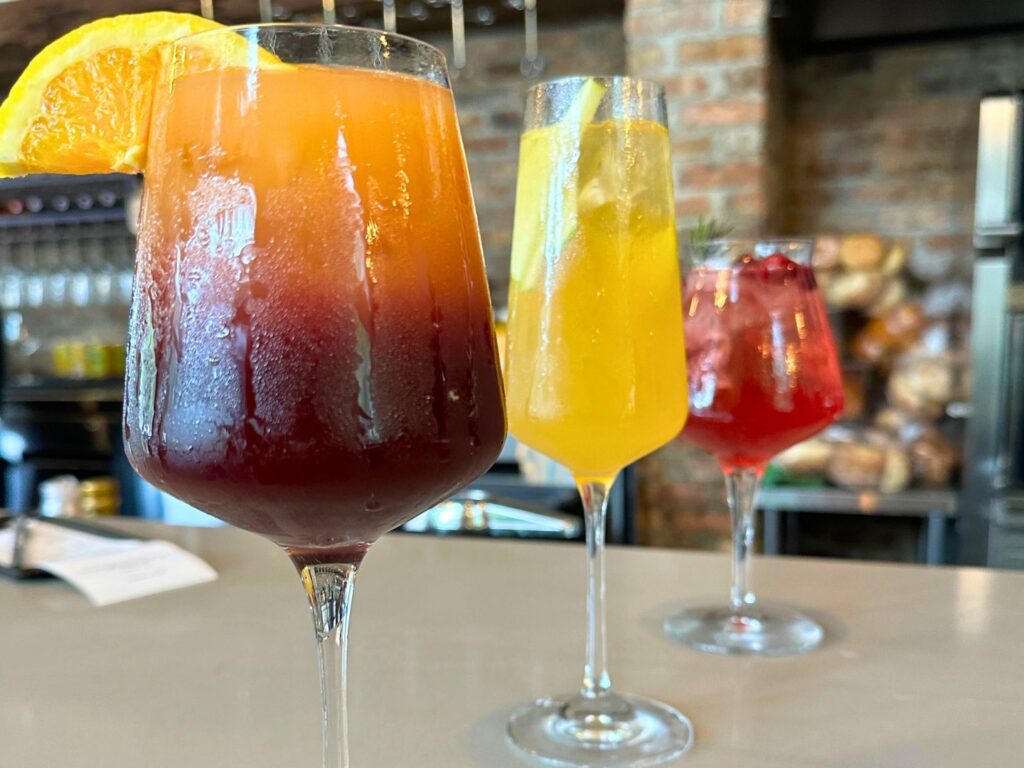 PROPAGATE SOCIAL HOUSE
Address: 40 E 5th St, Apopka, FL 32703
There's nothing cozier than sipping a cup of coffee in a haven of plants and greenery. Propagate Social House in Apopka is a vibrant sanctuary decked out in indoor plants and wall murals, making it the perfect spot for a unique and intimate date. The atmosphere is like a breath of fresh air. 
Plus, if you're dying for a Pumpkin Spice Latte in August, this cute cafe usually releases it pretty early. The summer may still be sweltering in Florida, but that doesn't mean you can't dive head-first into fall flavors.
If pumpkin isn't your jam but you still want to get festive, you can also try their gingerbread latte, butter pecan latte, or s'mores latte.
Prometheus Esoterica
Address: 3744 Howell Branch Rd, Winter Park, FL
Dubbed "Orlando's Weirdest Coffee Shop" you'll see why as soon as you set foot inside Prometheus Esoterica. This little shop sells all kinds of weird oddities and unique items. You'll get some Hot Topic vibes mixed with Knockturn Alley from the Harry Potter franchise, all wrapped up in a friendly package.
Prometheus Esoterica is locally owned and operated, and the folks there are so welcoming.
Sit at the small counter and enjoy a piping hot cup of coffee. Prometheus Esoterica sells bags of Coffee Shop of Horrors flavored coffee, as well as by the cup. There are usually three flavors each day and the vast majority of them are cozy fall flavors.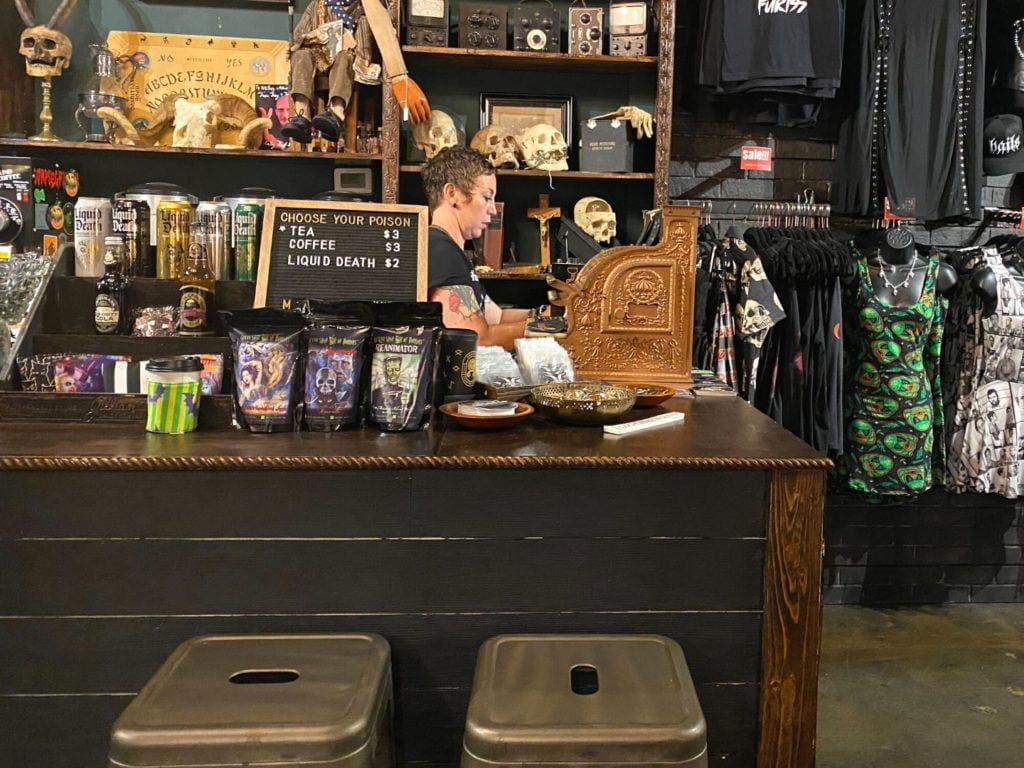 Chilled bottled and canned non-alcoholic beverages are also available.
VANESSA'S COFFEE
Address: 9474 Narcoossee Rd, Orlando, FL 32827
If you're searching for an Instagram-worthy coffee drink or brunch treat, Vanessa's Coffee has an abundance of creative menu items to indulge in and snap a photo of. From Cinnamon Roll Pancakes decked out in whipped cream and pecans to a Frozen Banana Nut Latte topped in graham cracker crumbles, your sweet tooth will definitely be satisfied.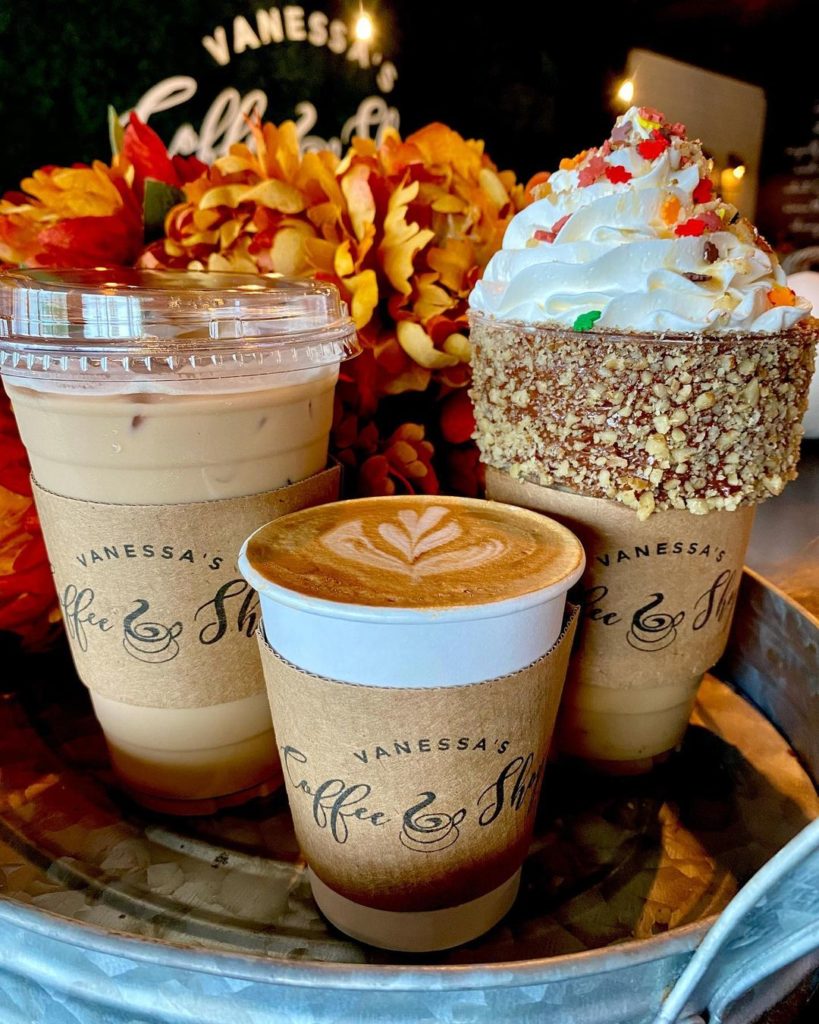 The pumpkin spice latte at Vanessa's is one of the best in the area. You can get your PSL iced, hot, or frozen. The frozen option is one of my favorites because they roll the cup in caramel and nuts, then top the coffee with little candy fall leaves.
Either of their locations, Lake Nona or St. Cloud, is an incredible spot to truly indulge in sweet autumn flavors.
Barnie's Coffee Kitchen
Address: 118 S Park Ave, Winter Park, FL 32789
Winter Park is well-known for its brick-lined streets, courtyard hideaways, and excellent food. Wander along the aforementioned streets long enough and you'll eventually find yourself outside of Barnie's Coffee & Tea Co., a quaint cafe and coffee haven. After ordering at the counter, pull up a chair indoors or out. The outdoor seating area oozes charm with a fountain, patio tables, historic buildings, and scenic views of Park Avenue that never get old. 
At Barnie's, you can indulge in a full espresso bar, cold brew, drip coffee, signature teas, wines, and craft beers. Their classic Pumpkin Spice Latte should be hitting the menu in early September, so mark your calendars. Their Pumpkin Spice drip coffee and coffee beans to take home are ready now.
Axum Coffee
Address: 146 W Plant St STE 110, Winter Garden, FL 34787
Axum Coffee is where small town charm, good food, and great coffee collide. Everything about this neighborhood coffee shop will tempt you to cozy up on their comfy suede couch and bask in the chill atmosphere for hours. Curl up with a warm chai tea latte and watch the comings and goings of locals, then wander the picturesque streets of Winter Garden, which feel worlds away from the city hustle of Orlando. Axum also serves sandwiches and heavenly desserts if you're hungry.
RELATED: A Culinary Map of Plant Street Restaurants 
Pumpkin spice and fall flavors are coming soon to Axum Coffee.
Lineage Coffee
Address: 3201 Corrine Dr, Orlando, FL 32803
A bustling neighborhood staple, Lineage Coffee is a small but inviting coffee shop located within East End Market in Audubon Park. While you won't find much seating inside the market, the outdoor courtyard is the perfect place to pull up a chair and stay awhile while enjoying a signature cold brew. Succulents and plants of all shapes and sizes from Porch Therapy adorn every corner, and there's live music on certain weekends.
When the chillier seasons roll around, they offer seasonal drinks such as a latte with orange peel, clove syrup, nutmeg, and cardamom (fall in a cup) and of course, a Pumpkin Spice Latte.
They also have two additional locations in the Mills 50 District and by UCF on University Blvd.
Stardust Video & Coffee
Stardust Video & Coffee is a longstanding staple of the Audubon Park Garden District. It may be tough to find a parking space, but the effort is totally worth it. In addition to coffee, Stardust serves up a variety of creative cocktails and a healthy food menu. The interior is colorful and eclectic with plenty of seating throughout several dining rooms, serving as the perfect getaway for hipsters and artists alike.
Try visiting on a Monday when the parking lot is abuzz with the weekly community market. Fall flavors should be debuting soon.
MORE FALL FLAVORS:
The cool vibes and awesome fall flavors at Qreate Coffee + Studio start soon!
Near the attractions area head to Dixie Cream Cafe. Their pumpkin-flavored coffee and iced coffee usually start in September
And Three Birds Cafe in Winter Garden is super cute and cozy, with a delicious Cinnamon Toast Crunch Latte served year-round.
And, if you're heading to Walt Disney World anytime soon, multiple Jeoffrey's Coffee and Tea locations around Disney are already serving their pumpkin spice coffee drinks.
OTHER MUST-TRY FALL PUMPKIN SPICE COFFEE SPOTS
Achilles Art Cafe:

2869 Wilshire Dr #103, Orlando, FL 32835

Craft & Common

: 47 E Robinson St Ste. 100, Orlando, FL 32801

Calypso Coffee Bar: 1466 Rock Springs Road, Apopka Fl. 32712
Dixie Cream Cafe:

434 Main St, Windermere, FL 34786

Cups and Pups Coffee

: 1307 Edgewater Dr, Orlando, FL 32804 

Blackbird Comics & Coffeehouse: 500 E Horatio Ave STE 3, Maitland, FL 32751
Foxtail Coffee: multiple locations
For more caffeinated date ideas, check out our list of Orlando coffee hotspots perfect for serious coffee lovers.
Feature image by Stephanie Patterson