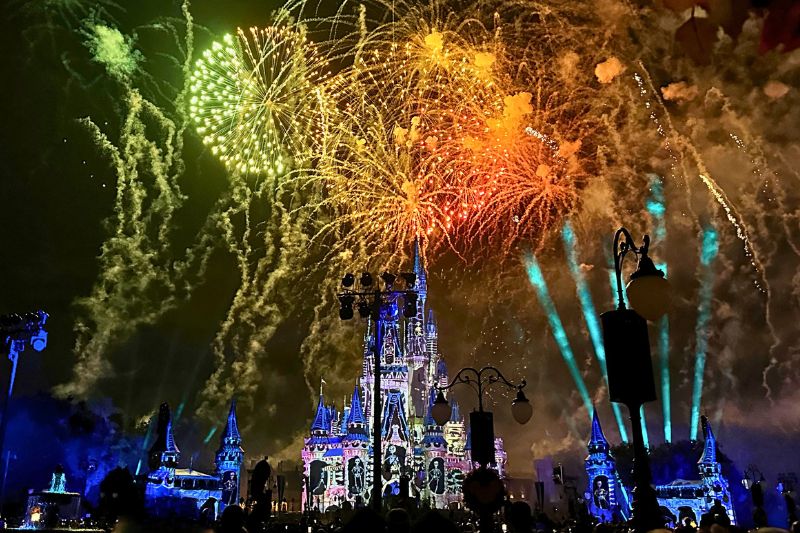 Step into a world where Halloween magic is all around you! Mickey's Not So Scary Halloween party would not be complete without fireworks. The charismatic Jack Skellington takes the stage weaving a whimsically eerie tale featuring favorite Disney characters. These Disney Halloween fireworks are a highlight of the special after-hours party, but you can also watch them outside of the parks – no theme park ticket required. Keep reading for essential tips for watching the Halloween fireworks at Magic Kingdom, and outside of the parks.
Disney's Not-So-Spooky Spectacular Halloween Fireworks
Enjoy a mesmerizing fireworks extravaganza as Mickey, Minnie, Donald, and Goofy embark on a fun and spooky journey. Transported to a mysterious haunted house, they encounter enchanting dancing skeletons, waltzing ghosts, and a chilling assembly of iconic Disney villains! Get ready to be spellbound by this breathtaking spectacle, enhanced by cutting-edge projection effects, dazzling lasers, vibrant lights, and the explosive wonder of fireworks.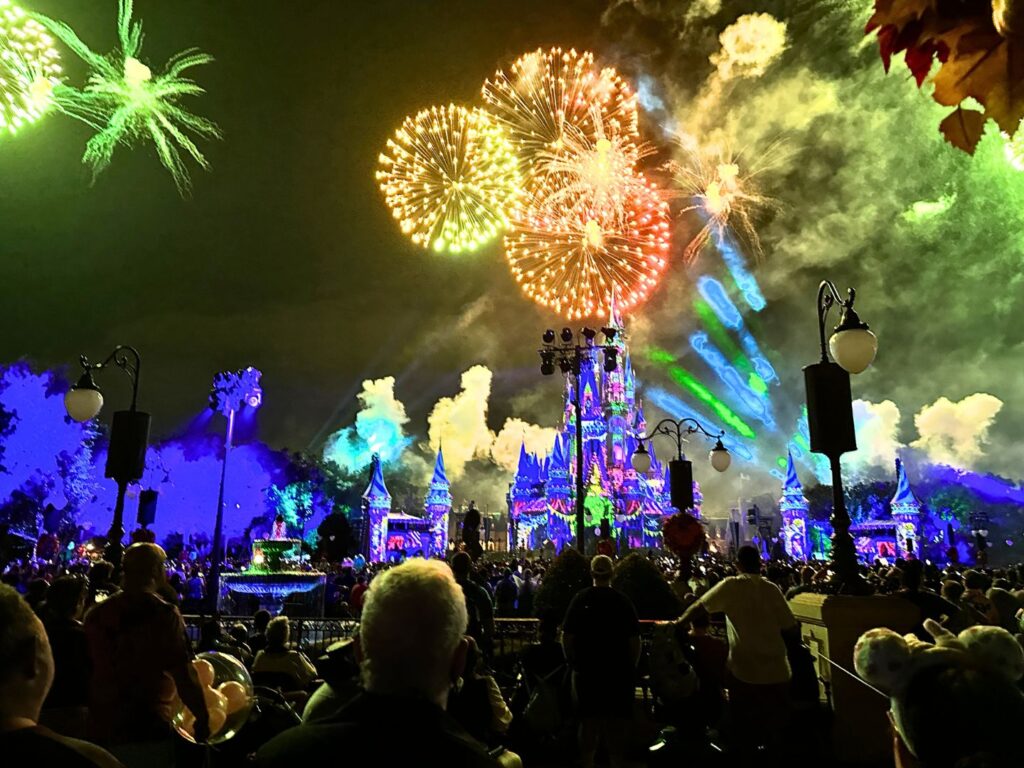 These Halloween fireworks take place during Mickey's Not-So-Scary Halloween Party, a spellbinding event on select nights from August 11 through November 1, 2023. Even better, portions of the show are inspired by Tim Burton's The Nightmare Before Christmas.
5 TIPS FOR WATCHING MAGIC KINGDOM HALLOWEEN FIREWORKS
In front of the castle is one of the best viewing areas
Book the dessert party for less stress and reserved viewing
Secure your spot 20 minutes before hand
Get a snack before finding your spot so you can enjoy it while you wait
See the 11:15pm parade
Prime Positioning in Front of the Castle: To witness the enchanting display in all its glory, secure a spot directly in front of the castle. You can also see the projections and fireworks just fine if you are further back on Main Street USA.
While glimpses of the fireworks can be caught from various areas like Tomorrowland, Adventureland, and Fantasyland, the unobstructed view from the castle's forefront promises an unparalleled experience. However, beware of getting too close. The projections can be overwhelming up close and you can miss the panoramic view of the fireworks.
Elevate Your Experience with a Dessert Party: Opt for the ultimate VIP treatment by booking the Fireworks Dessert Party. Choose between Terrace and Plaza views, both offering delectable desserts and drinks. The Tomorrowland Terrace view grants you seated comfort at Tomorrowland Terrace, while Plaza Garden view treats you to an open-air standing experience on a viewing lawn. Remember to secure your tickets early, as they tend to vanish like ghosts.
Get a Snack Before or as Post-Fireworks Treat: Stay within the magical ambiance by getting some snacks or drinks. Save yourself from navigating through crowds during the show and savor your treats while others hurry to exit.
Embrace the Afterglow: Don't be in a rush to leave immediately after the show concludes. Take advantage of the post-fireworks serenity to savor your snacks, explore the park, or indulge in a ride. You can also stick around for the 11:15 pm Boo to You Parade, and then the 12:00 am midnight performance of the Hocus Pocus Villain Spectacular, which means you'll get even more time in the park!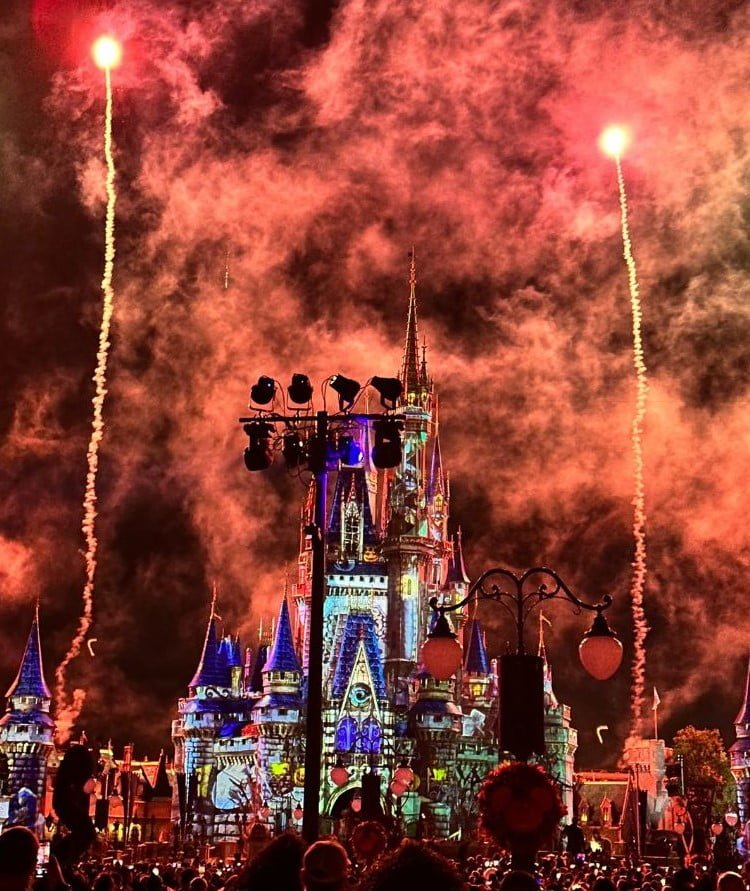 As the night sky awakens with enchantment, the Disney Halloween fireworks involve a spooky adventure with Mickey and friends during Disney's Not-So-Spooky Spectacular.
The Disney Halloween fireworks are at 10:15 pm each night of Mickey's Not So Scary Halloween Party, which takes place on the following dates:
2023 Event Dates
August 11, 15, 18, 22, 25 and 29
September 1, 4, 8, 10, 12, 15, 17, 19, 22, 24, 26, 28 and 29
October 1, 3, 5, 6, 9, 10, 12, 13, 15, 17, 19, 20, 22, 24, 26, 27, 29 and 31
November 1
**Note some nights are sold out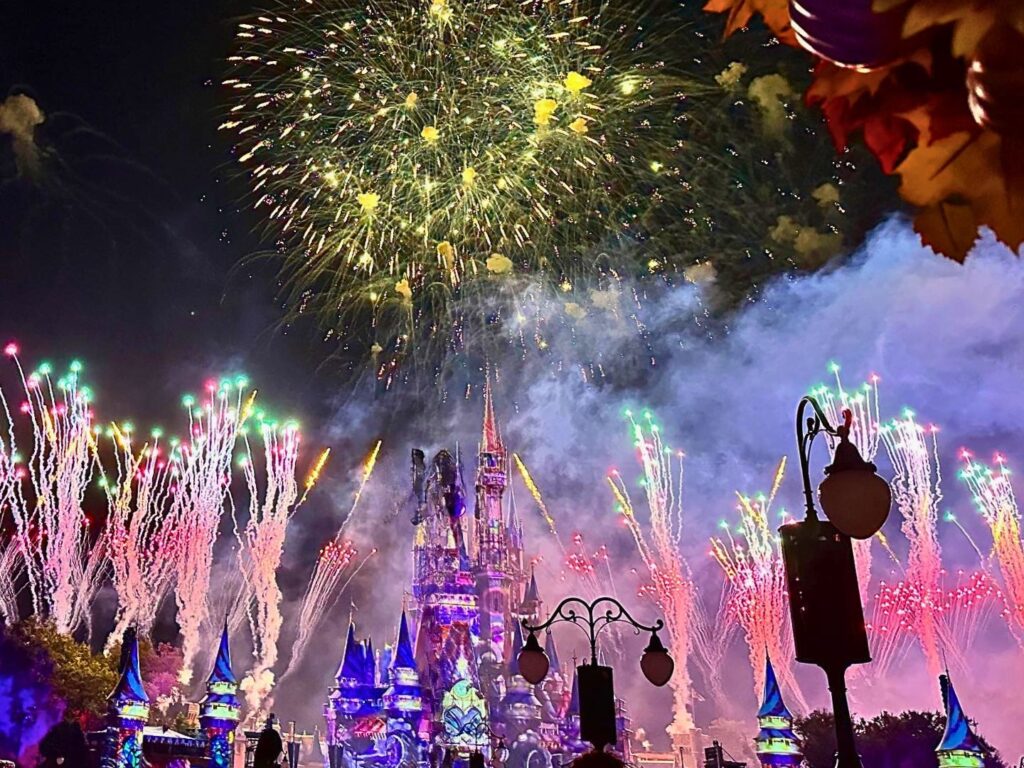 While the fireworks are undoubtedly the star of the show, don't forget about the enchanting projections and lights that are part of the fun. And the Jack Skellington puppet is an enchanting addition, though he can be quite difficult to see – so don't stress too much about having a good view of the stage in front of the castle.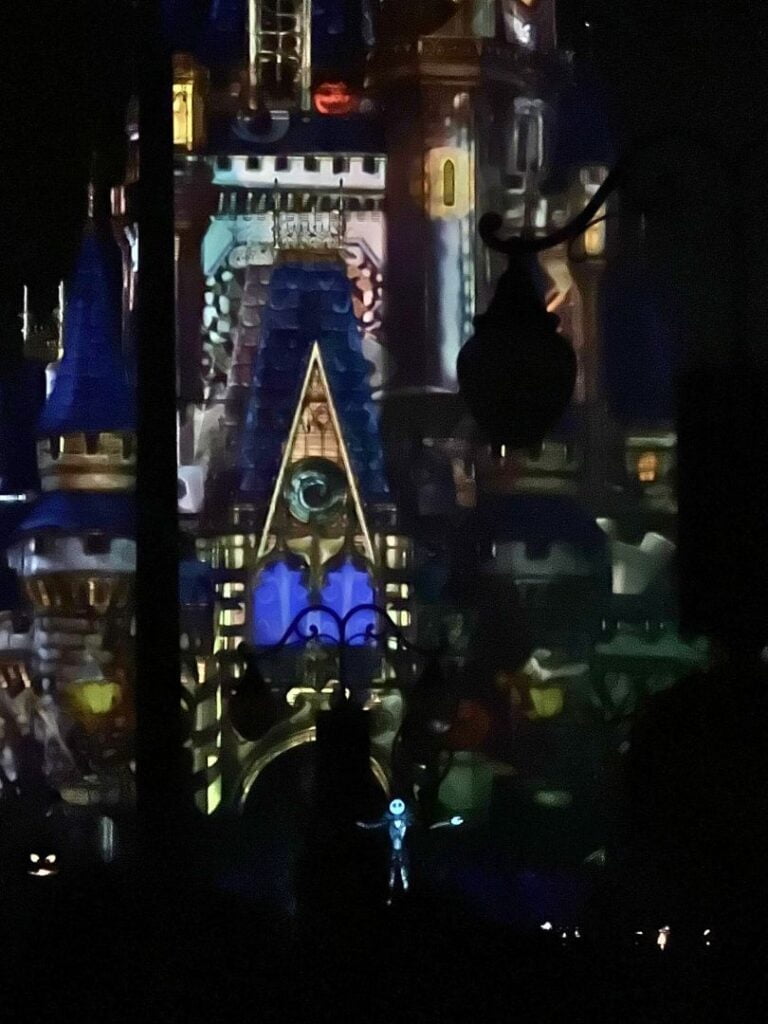 For a unique vantage point, time your rides on attractions like Big Thunder Mountain, Tomorrowland Speedway, or The People Mover. The sky will fill with color as you enjoy these rides.
Extend the Magic Beyond the Park
For those seeking an alternative view, explore the Guide to Watching Disney Fireworks Outside of the Parks. Whether you're relaxing by the water's edge or dining at a rooftop restaurant, these off-park locations provide an exceptional way to witness the wondrous fireworks, without a park ticket.
With these five tips in hand, your viewing experience at Disney's Not-So-Spooky Spectacular Halloween Fireworks will be spooktacular.