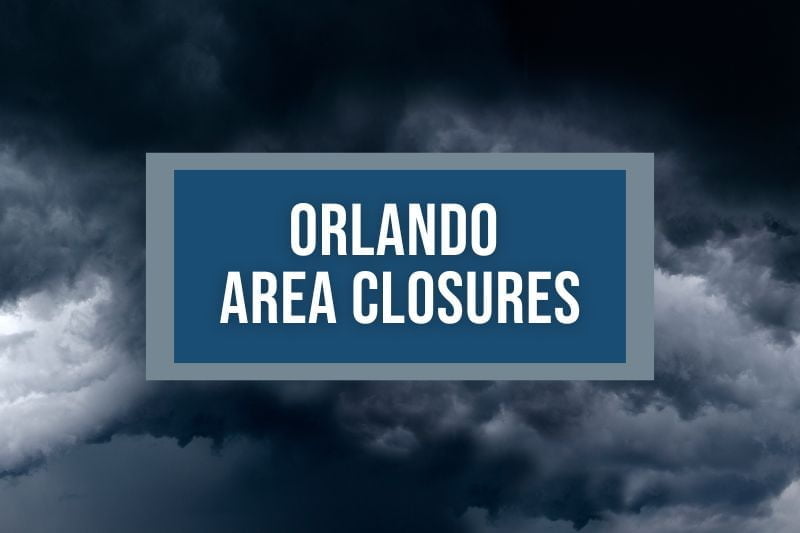 As Hurricane Idalia nears, businesses and schools are updating their plans. Some places are closing, and we encourage our readers to monitor the latest reports. While the impacts of Hurricane Idalia are unknown, many businesses and attractions are taking precautions. Additionally, there are lots of closures closures in the Tampa Bay area too.
We will continue to update when we can and as announcements are made. And if you have kids to take care of, here are the Orlando schools that are closed, plus review these Hurricane Kit and Activities To Do with Kids.
Hurricane Idalia Orlando Closures
All Disney theme parks and Disney Springs  will remain open and operating under normal conditions. Please continue to check back for updates.
Disney's Typhoon Lagoon water park will be closed on August 30.
Due to the inclement weather, Winter Summerland Miniature Golf and Fantasia Gardens Miniature Golf will be closed on August 30.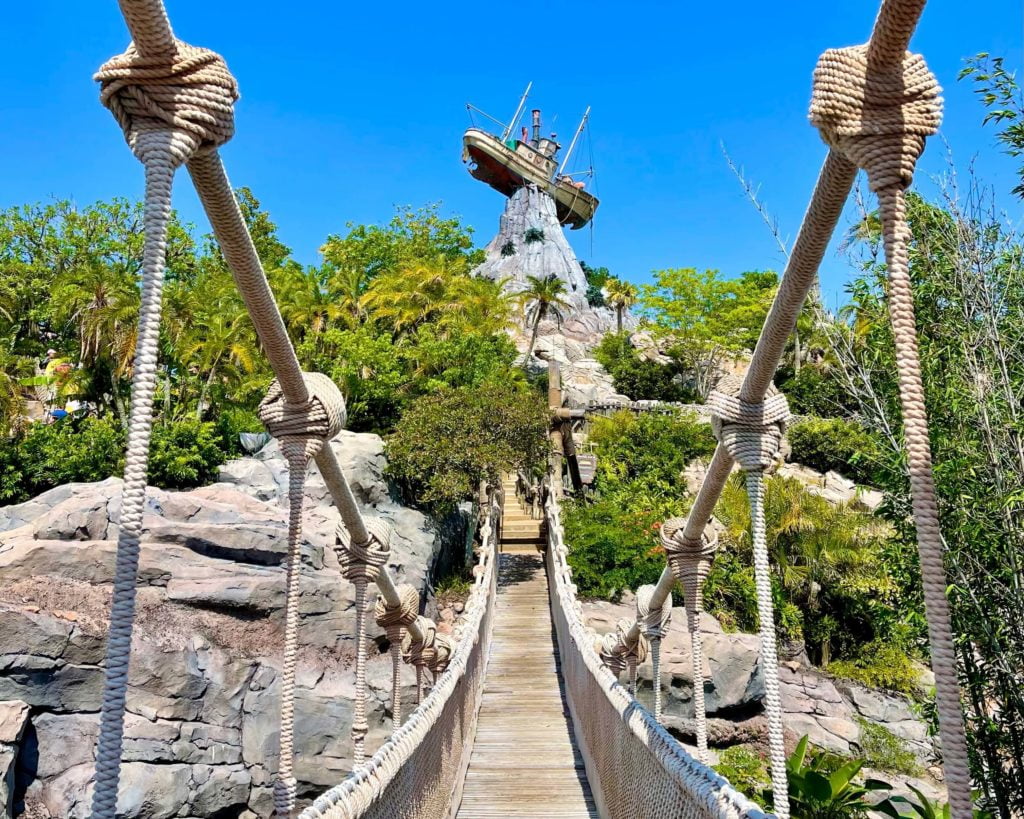 Statements from Walt Disney World:
For Guests staying at Fort Wilderness Resort & Campground: As we continue to monitor the weather, we are asking that all Fort Wilderness Guests remove and stow all outside items, including décor, and take in camper awnings by 6 PM on Tuesday, August 29. If you'd like to depart early or discuss alternate options for your vacation, please contact us at (407) 939-2744.
Travel Flexibility: At this time, change and cancellation fees imposed by Disney will be waived for check-in dates of August 28, 2023 through September 5, 2023. Guests currently staying at our Disney Resort hotels whose travel plans have been impacted by the storm may receive a discounted rate to extend their stay through the evening of August 31, if needed, by visiting the front desk.
Evacuees & First Responders Support: Florida residents evacuating from the storm and first responders assisting in storm-related recovery efforts may also receive 50% off Disney Resort hotel stays on the evenings of August 29-31, 2023. For evacuees, please call (407) W-DISNEY for details. For first responders, please call (407) 828-3200 (Option 3). This applies to new bookings only and is based on availability.
Storm Recovery: Walt Disney World is prepared to once again serve as a staging area for storm-related recovery efforts for the state of Florida.
Universal Orlando theme parks
Universal Orlando theme parks and CityWalk have not announced any closures at this time. However, the Early Park Admission benefit will not take place (for on-site hotel guests, select Annual Passholders and other select travel trade clients),
Some preparations for Halloween Horror Nights have been modified, but overall the event should run as planned.
SeaWorld Orlando Parks
Due to the projected path of Hurricane Idalia, SeaWorld Orlando has enacted its Named Storm Policy and will open at noon on Wednesday, August 30.
Precautions are in place following the parks' comprehensive weather preparedness plan to ensure the safety of our animals & ambassadors during this time
Orlando International Airport
Statement: "Our airport is open and operational while we continue to monitor Hurricane Idalia. A friendly reminder that with safety in mind, delays/cancellations are likely to occur with heavy rainfall and gusty winds to tropical storm force in the area. Please check directly with your airline for any updates in regards to your flight. For general airport delays, please visit: https://nasstatus.faa.gov/"
Orlando Sanford Airport
The Orlando Sanford Airport – no announcements
SunRail Services
Statement: SunRail services will be suspended Tuesday, 8/29, as SunRail will begin working to prepare the corridor and render it safe prior to the impending storm. For more information on how SunRail prepares for severe weather, visit: http://bit.ly/3sohi0y
Central Florida Zoo & Botanical Gardens
The Central Florida Zoo & Botanical Gardens will be closing at noon on Tuesday, August 29, and will remain closed on Wednesday August 30.
The current plan is to hopefully reopen on Thursday, August 31.
Florida State Park Closures
Multiple Florida State Parks are closed due to Tropical Storm Idalia. Get updates at floridastateparks.org/StormUpdates.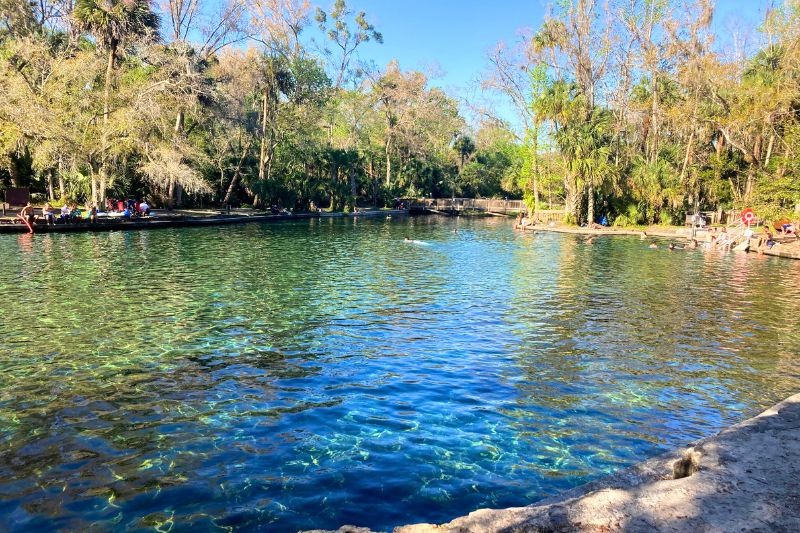 Leu Gardens
Leu Gardens will be closed on Wednesday, August 30.
The museum will be closed on Wednesday, August 30.
Orlando Science Center
The Orlando Science Center is closed on Wednesday, August 30.
Wekiva Island
Wekiva Island – Currently, no closure has been announced.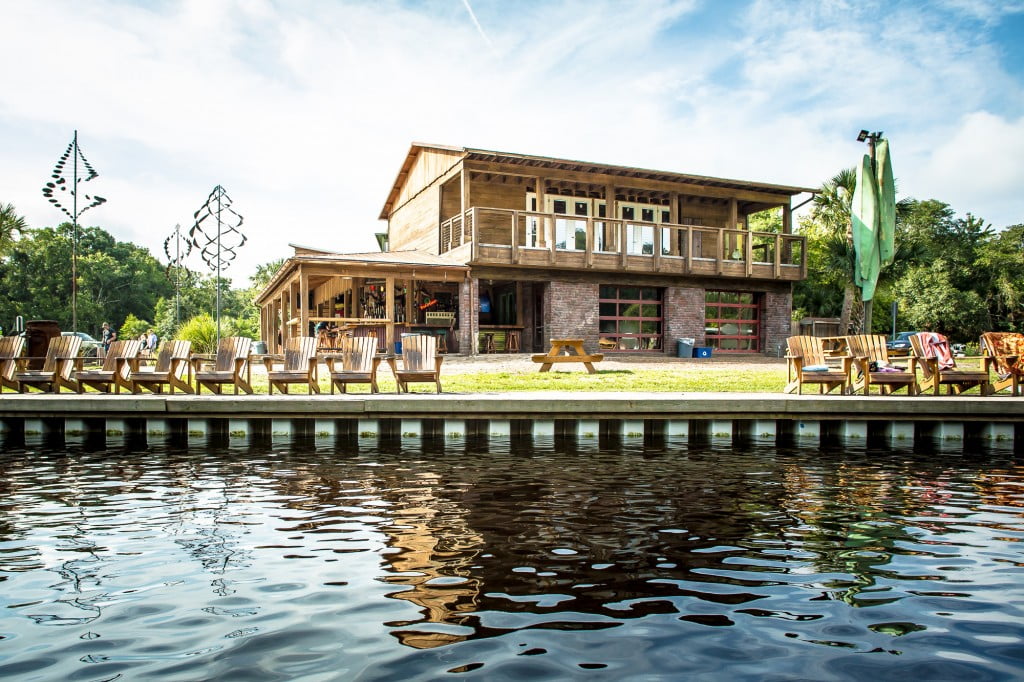 Kennedy Space Center Visitor Complex
Kennedy Space Center Visitor Complex – Currently, Kennedy Space Center Visitor Complex will remain open. A portion will be closed, the bus tour and the Apollo/Saturn V Center will not be operating on Wednesday, Aug. 30.
School Closures
Lake County Schools has announced there will be no classes Aug. 30 and expects to reopen Aug. 31.
Orange County Public Schools will close on Aug. 30
Seminole County Public Schools also will close on Aug. 30
The School District of Osceola County will remain open on Aug. 30, as of 11 a.m. on Aug. 29, per an announcement.
Some colleges already have canceled classes. Lake-Sumter State College will close all of its campuses at 5 p.m. on Aug. 29 and remain closed on Aug. 30. Valencia College and Seminole State College of Florida will have the same closure.
Nova Southeastern University will close its Orlando Regional Campus at the end of the business day on Aug. 28.
---
Please stay safe during Hurricane Idalia, Orlando. As announcements are made, we will provide updates as we can.
Important note – Please exercise caution! Roadways will have debris and other dangerous conditions. If a road appears to be flooded, turn around. Do not touch any downed power lines. Please be extra safe out there.
And, please continue to monitor the latest weather information.