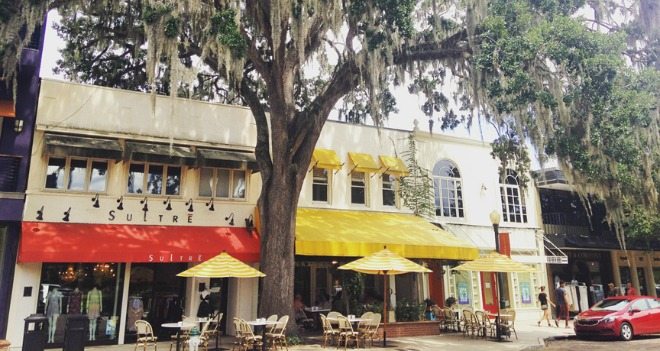 A local hub for dining, shopping, and exploring, Park Avenue in Winter Park is no secret to Orlando locals. Offering up everything from popcorn drizzled with chocolate to pontoon boat tours, the area is popular for good reason. While small in size, Park Ave. boasts unique eateries, upscale shopping, and multiple cultural activities.
Spend an afternoon discovering what makes Park Ave. so special by choosing a few options from our guide to the area.
Updated August 2023 by Dani Meyering
THINGS TO DO
Central Park
It may not be a park of NYC proportion, but our local Central Park is a great spot for an afternoon walk or picnic. You'll find a stage at one end and a beautiful rose garden at the other end, with walking paths, large trees, benches, and a fountain in between.
Also, be sure to catch Popcorn Flicks in the Park, a free outdoor movie series in collaboration with Enzian usually held on the second Thursday of each month at Central Park, Winter Park.
Scenic Boat Tour
A convenient and fun way to explore the Winter Park chain of lakes, the Winter Park Scenic Boat Tour is less than a five-minute walk from Park Ave. The tour is a relaxing, 1-hour pontoon boat ride narrated by a knowledgeable guide (who will likely provide a steady stream of humorous jokes).
You'll cruise along Lake Osceola, Lake Virginia, and Lake Maitland, navigating narrow canals between each lake while learning about numerous estate homes, Rollins College, and Winter Park history. Boat tours run hourly from 10am-4pm, and are first come, first served. The cost is $16 per person.
Important tips:
Bring along some water
10am and 11am tours are less busy, so are weekdays
Most of the tour is in the bright sun so dress comfortably
Gratuity for the boat driver is appreciated
Related: Orlando's Most Romantic Experiences
Shopping
The shopping is what attracts most visitors to Park Ave. in the first place – endless boutiques, specialty stores, and upscale offerings can be found around each corner. For the full Park Ave. experience, combine shopping with another local activity and a meal at one of the area's top restaurants.
Charles Hosmer Morse Museum of American Art
Located on the north end of Park Avenue, away from the main hustle and bustle, this art museum is home to a large collection of American art along with an extensive collection of Tiffany glass. Admission to Charles Hosmer Morse Museum of American Art is $6 for adults, and free for children younger than 12.
And admission is FREE on Friday nights November-April, which is ideal for couples looking to have a memorable but budget-friendly date night.
Other Options:
---
EATS
French Bakeries
Love French pastries? Then you're in luck. NYC-based French bakery Financier Patisserie serves up an assortment of French pastries. Menu items by day and the lovely space transforms into a charming bistro by night. You'll also find oodles of French pastries and delights at Croissant Gourmet, just off of Park Ave.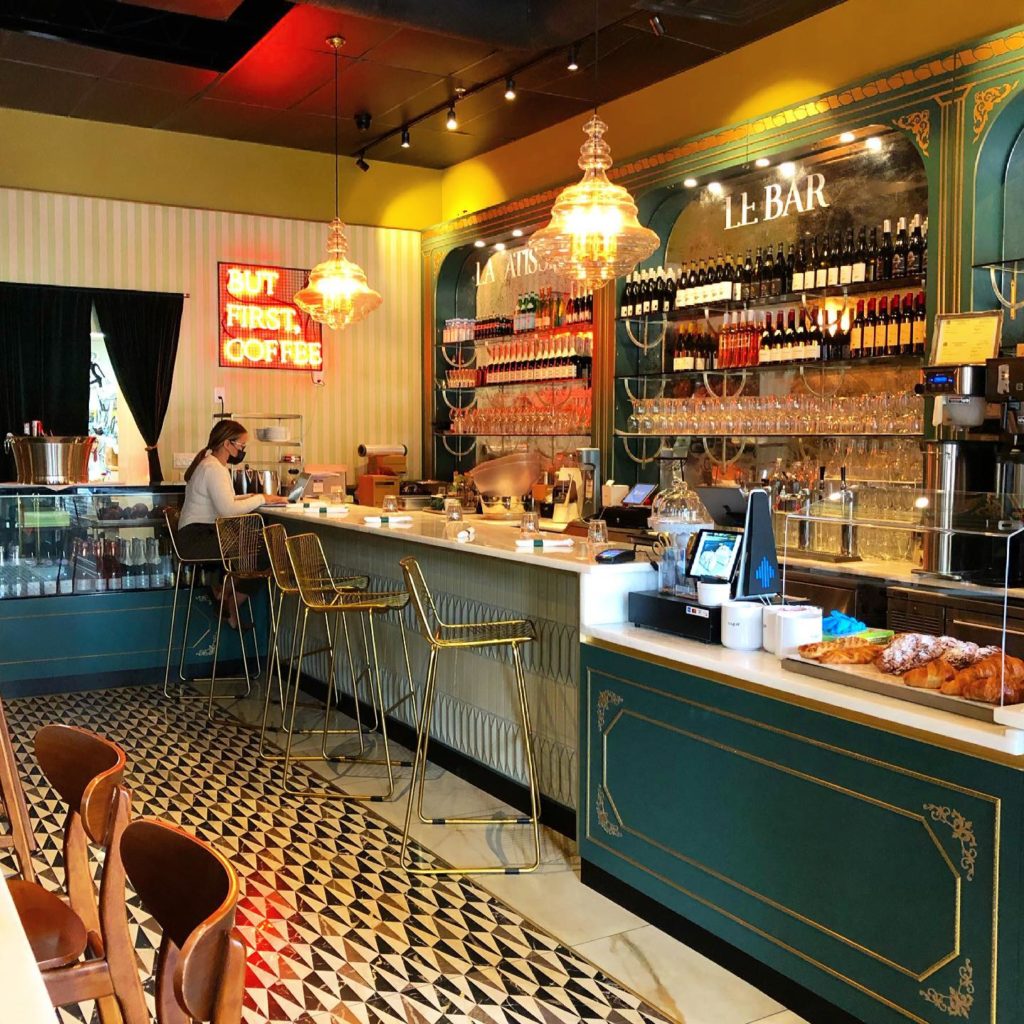 Weekend Brunch
Briarpatch is your go-to for breakfast or brunch. Sunday brunch draws a big crowd, so be prepared! Briarpatch also serves lunch if you're not a morning person.
Other ideas for brunching on Park Ave:
Boca Winter Park: Saturdays and Sundays
Hamilton's Kitchen at The Alfond Inn: Saturdays and Sundays
The Parkview: Saturdays and Sundays
If you love brunch then you've got to check out these Best Restaurants for Brunch in Orlando.
Romantic Dinner Options
There are so many restaurants on Park Ave that we made a culinary map to outline our favorites for couples. A few highlights include Rome's Flavours for an authentic Italian date night (the pizza is incredible!), Garp & Fuss for courtyard dining, and BoVine Steakhouse for an upscale night out.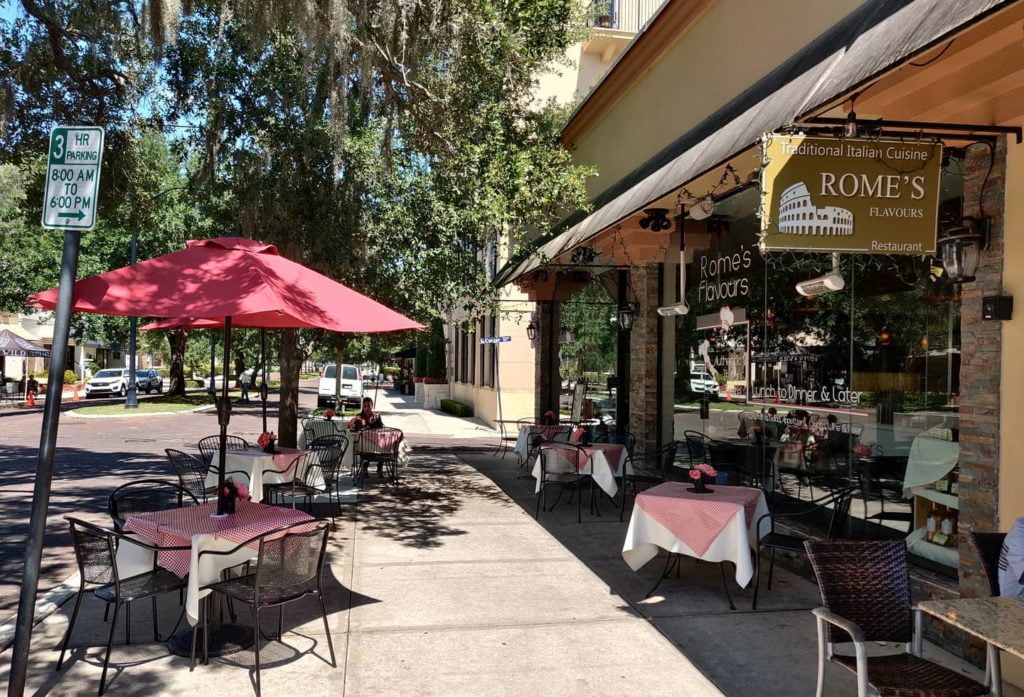 Pizza at Prato or Braccia
You can't ever go wrong with pizza, especially on Park Ave. For authentic Italian check out Prato, a rustic Italian eatery serving up creative pizzas like "The Widowmaker." Prato also offers a great happy hour, or you could follow our Prato + Gelato date night itinerary.
For pizza with a Brazilian twist, take a quick step off Park Ave. to Braccia to enjoy crispy, thin crust pizza in a cozy indoor/outdoor environment. The Chicken with Catupiry (a Brazilian soft cheese) pizza is out of this world.
Related: A Local's Favorite Places for Pizza
Sweets and Desserts
Peterbrooke Chocolatier of Winter Park is small but full of tasty treats ranging from chocolates to gelato and chocolate shoes (yes, really) to chocolate covered popcorn. Speaking of the chocolate covered popcorn, it's a local favorite and bestseller, so make sure to take a bag home with you. And by taking a bag home, I really mean take a bag to consume during the car ride home (oops).
Gelato-go in Winter Park serves up authentic Italian gelato along Park Avenue. All flavors are made fresh in-house. Pair your cup or cone with an espresso and then stroll Park Avenue to awaken each of your senses.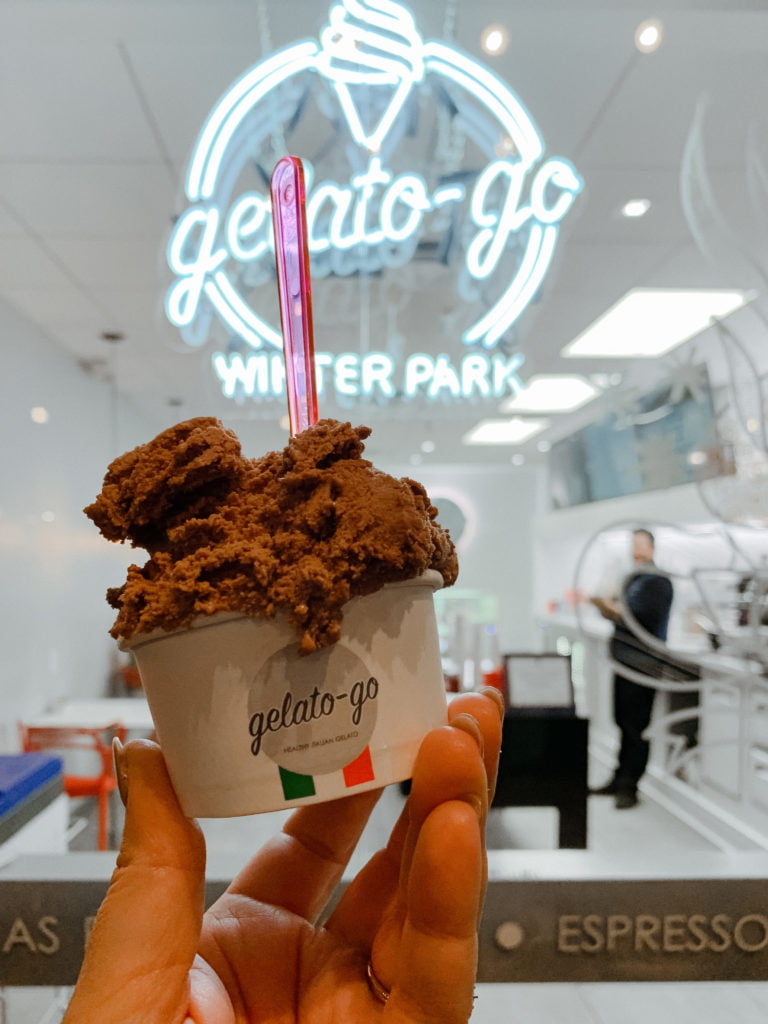 And the newest sweet spot along Park Avenue is AJ Chocolate House. At the south end of Park Avenue inside AJ Chocolate House you'll find chocolates, specialty coffee, scrumptious cakes, and indulgent breakfast items.
Related: Over the Top Orlando Desserts to Blow Your Mind
---
DRINKS
Barnie's Coffee Kitchen
Located in a picturesque courtyard along Park Ave. known as Greenada Court, Barnie's is where to go to get your coffee fix. They make a great iced latte to help you cool down on those hot late summer days and the breakfast offerings are spectacular.
Imperial Wine Bar
This wine bar is Imperial's third location in Central Florida. A furniture store by day and wine bar by night, the menu includes wines, beers, cocktails, and a savory food menu.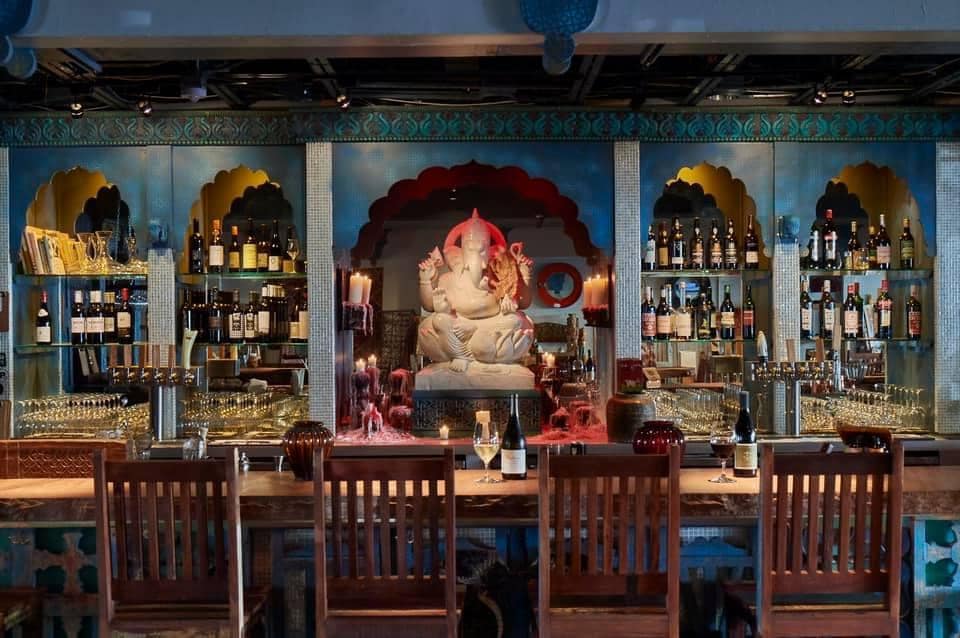 The Parkview
Also a fabulous restaurant (with a weekend brunch), The Parkview offers an impressive selection of craft beer and wine. If you visit during brunch, make sure to try the mimosa flight.
Other Options
Drinks at The Alfond Inn, located just a short stroll from Park Avenue
Sample wines to your heart's content or attend a tasting event at The Wine Room