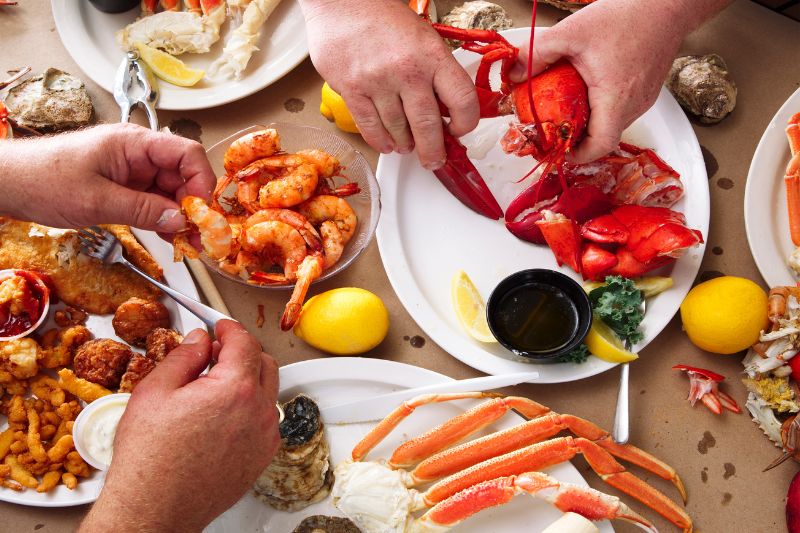 From mangrove snapper to spiny lobster, Florida is a seafood lovers' paradise. But you don't need to retreat to a dimly lit upscale restaurant to savor these flavors. Throughout the Sunshine State, including Central Florida, you can feast on fish and shellfish while enjoying fun-in-the-sun seafood festivals.
Here's a round-up on where you and your beloved first mate can catch the best seafood festivals in Orlando and beyond, starting with spring time, then summer, fall, and a look ahead into 2024.
And if you just can't get enough scrumptious food from the ocean, scope out our favorite seafood restaurants in Orlando.
 Seafood Festivals in Orlando and Beyond
August's Best Seafood Festivals
When: August 10-13
Where: Various island locations
Admission: Varying ticket prices
Florida's lobster season opens in August, thus baiting an ongoing north versus south battle about this crustacean. You see, there are two types of lobsters. American (aka Maine) lobsters have large front claws and are often called cold water lobsters due to their northern habitat. Florida Spiny (aka Caribbean) lobsters are clawless with long antennas and harvested in warm waters. The only edible part of the Florida Spiny is its tail, which has a softer-textured meat with a mild, sweet taste. Yum!
The Key West Lobsterfest features days of foodie fun spread out across the island. Thus far, the schedule of events includes the Original Lobster Boil at the Porter Mansion Courtyard at Caroline's Café, a pool party at the Marker Resort, five-course lobster dinner at La Mer Dewey House, the Lobsterfest Duval Pub Crawl and the Lobsterfest Street Fair with a free concert.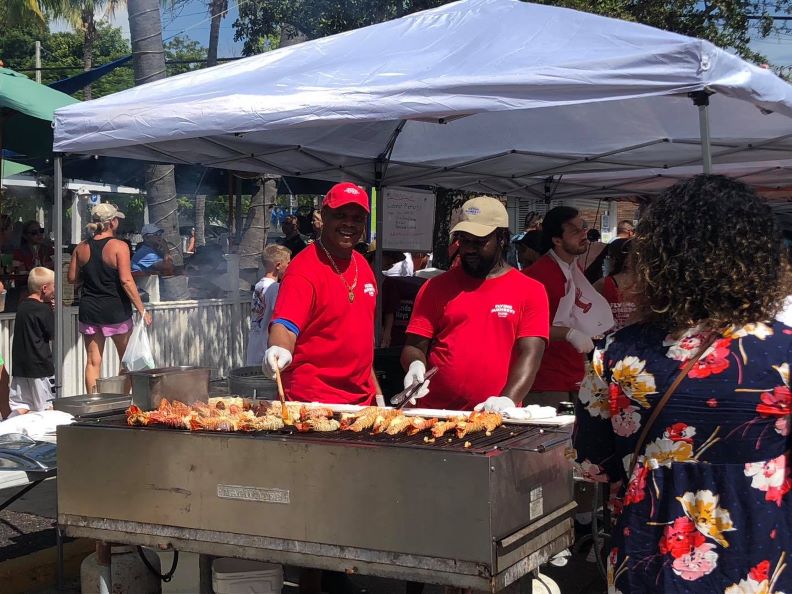 September's Best Seafood Festivals
When: September 1-3
Where: Shores of St. Joseph Bay, Port St. Joe
Admission: $5-10
For seafoodies craving a flavorful Labor Day getaway, know that historic Port St. Joe is the place to be. That's because the Florida Scallop, Music and Arts Festival is an epic celebration that sort of wraps up our region's scallop season, which typically spans July through September.
Aside from scallops, music and arts galore, this festival includes an interactive cook-off, bocce ball tournament and plenty of seaside views of the water and lighthouse.
Also:
October's Best Seafood Festivals
When: October 21 & 22
Where: Beach-side City Park
Admission: free
When you're ready to slow down to island time to bond with your fellow foodie, spend a few romantic days in Cedar Key to enjoy the Annual Cedar Key Seafood Festival. This charming, sleepy village town — which has just about 800 full-time residents — comes to life when its historic 2nd Street boasts over 100 arts and crafts exhibitors, live music by local musicians and, of course, plenty of seafood and downhome fare.
Pro tip: get the clam chowder! Because, surprisingly, this little gem of a place shines in the commercial clamming market. Who knew, right?
Discover – The BEST Restaurants in Cedar Key
 Also:
November's Best Seafood Festivals
When: November 4; noon to 10 pm
Where: Historic Downtown Crystal River
Admission: $15
You'll pinch yourself if you miss this seafood festival. Picture fellow seafoodies dancing in the street to music by six cool bands rocking out on three different stages. The main dish is, of course, fresh stone crab, which can be washed down with beer, wine and, if you prefer, non-alcoholic beverages. If dancing makes you feel like a fish out of water, then coast along the various booths to cast your sights on arts, crafts and more.
Also:
December's Best Seafood Festivals
When: December 1st (noon-9 pm), 2nd (11 am-9 pm) & 3rd (11 am-6 pm)
Where: Siesta Key Pavilion, Siesta Beach
Admission: $5
Fresh (and we mean fresh) catch is on the menu at this seafood festival, held annually on the popular barrier island of Siesta Key. That's right… seafood dishes are prepared onsite using fresh, local and sustainable ocean resources from the Florida Gulf Coast. If you're a pescatarian dating a vegetarian, know that your love will also be able to enjoy vegetarian dishes, plus sweet treats too.
Casting Ahead to 2024
January
February
March 2024
April 2024
May 2024
June 2024
Bon appetite, seafoodies!