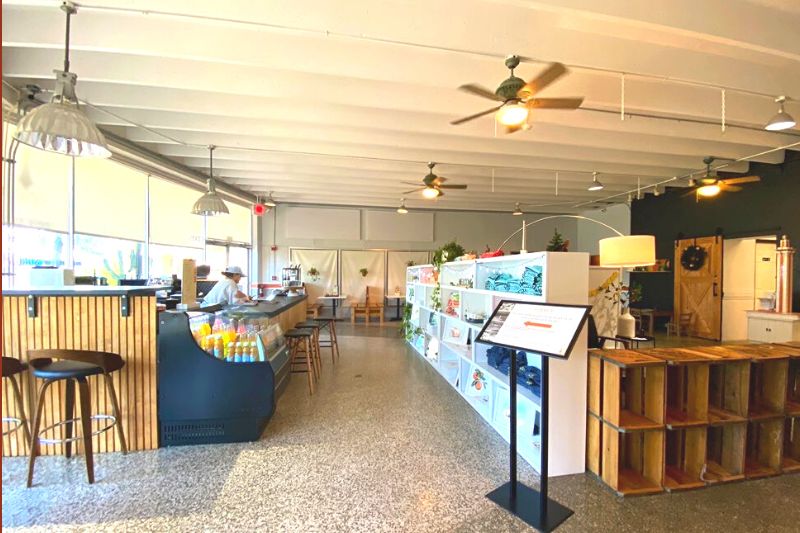 Coffee, the fuel of our workdays, and often our weekends too. Hitting up a coffee shop together is a great idea, especially for a first or second date in Orlando. In fact, Orlando has been ranked as having the most coffee shops per capita according to WalletHub.
But, it can be hard to filter through the countless coffee shops in Orlando. If you're looking for a unique coffee experience, beyond the basic, this list is for you. After much caffeinating, I've put together this list of the must-visit unique coffee shops in Orlando and surrounding areas.
And if the time is right for seasonal sips, check out these Cozy Coffee Shops Serving Fall Flavors and these Festive Coffee Shops with Holiday Drinks.
Updated August 2023 by Sarah Bradley
Best Coffee Shops in Orlando for Unique Atmosphere
Location: Audobon Park – 1842 Winter Park Rd, Orlando, FL 32803
Get in touch with your creative side at Stardust Video & Coffee. This place is legendary, with the artsiest, most offbeat atmosphere of any coffee shop in Orlando. It's a coffee shop, dive bar, and art studio all in one. Stardust is an Orlando staple that everyone should visit at least once. They are open late into the evening and some nighttime events have a small cover charge. Check it out during the weekly Audubon Park Community Market, which takes place every Monday evening in Stardust's parking lot.
Location: Creative Village, Downtown Orlando – 448 N Terry Ave, Orlando, FL 32801
The latest concept in coffee shops is an experience that goes from coffee house to relaxing lounge from sunrise to sunset. The Monroe is the star at producing this concept. Many remote workers cite The Monroe as their favorite spot to spend the entire day, starting with unique coffee creations and winding down at the end of the day with wine, a cocktail, or a nibble from the restaurant. It's an elegant, yet approachable coffee bar with evening lounge vibes.
Location: 400 N Primrose Dr, Orlando, FL 32803
One of the coolest new restaurants and bars in Orlando is Primrose Lanes. And many are surprised that this hopping nightlife spot actually opens at 8:00 am each day. The Robinson Cafe inside Primrose Lanes serves a marvelous breakfast and delicious coffee. Whether you choose to bowl or not, this coffee shop is definitely unique.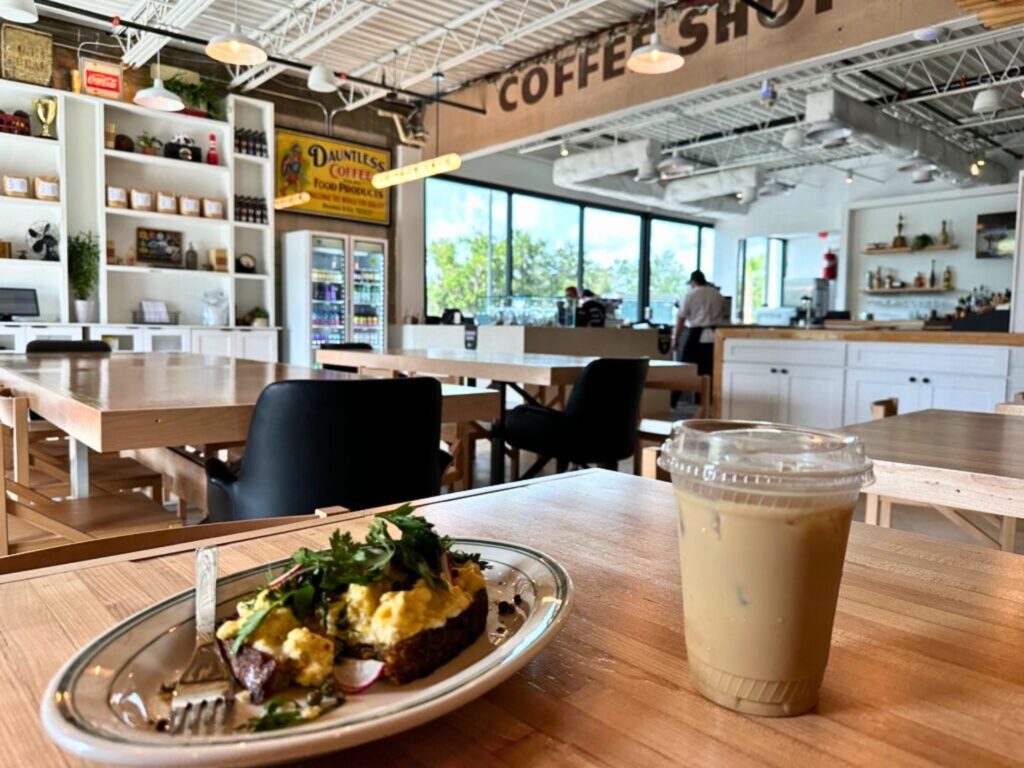 Plus this gorgeous place pays homage to Colonial Lanes, the previous incarnation that last many decades. They even kept some of the old signage and materials.
Location: The Milk District – 201 N Bumby Ave, Orlando, FL 32803
The concept of combining Foxtail Coffee with other local offerings is a hit with multiple locations around Orlando. This concept is expanded even further at The Milkhouse. Foxtail is joined by Kelly's Homemade Ice Cream and The Ravenous Pig. Swine & Sons, a Central Florida foodie staple, rules the kitchen with their mouth-watering sandwiches and gourmet Southern menu. 
Grab an Espresso Martini made with Foxtail espresso, or one of the many other craft cocktails at the full bar. This is the ideal spot for a trifecta of coffee, cocktails, and conversation.
Location: 1201 N Mills Ave, Orlando FL 32803
Framework Craft Coffee House comes across as a regular trendy coffee spot in the Mills 50 District, but their compassionate and community-driven mission truly sets them apart. Framework follows the #NOTAFLOF policy–No One Turned Away For Lack of Funds.
As an equal access coffee bar, you are welcomed to pay whatever you want and whatever you can. Their staff believes that everyone deserves a good cup of coffee or tea, no matter their situation or financial hardships.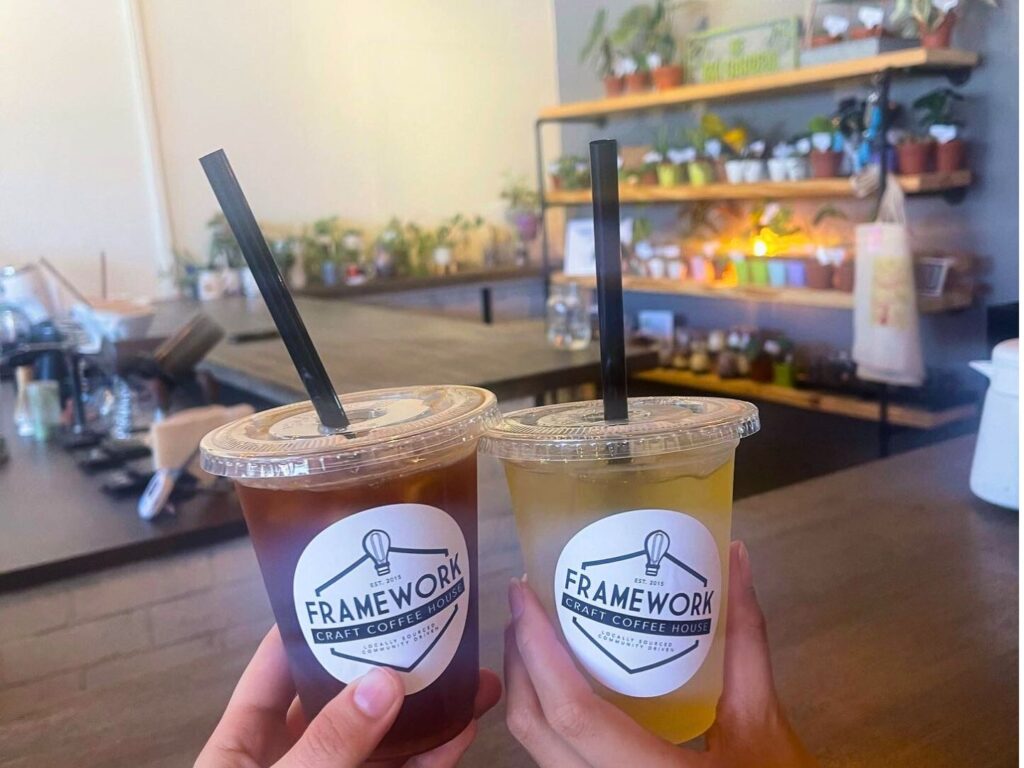 The atmosphere is cozy, artsy and inviting, with plenty of seating to sit back and sip on their locally-sourced coffee. I always go for their classic Iced Americano, but their menu is full of unique sweet drinks like the Baklavatte or Honey Cinnamon Iced Latte. 
Location: Winter Park – 929 W Fairbanks Ave, Winter Park, FL 32789
You'll feel like you've been transported to a Seattle coffee shop upon walking into Austin's Coffee in Winter Park. Cushy seating allows you to be surrounded by books and art as you sip on fresh roasted, fair trade, shade grown & organic coffee. Or enjoy some tea, beer, or wine. The food menu is extensive, especially for lunch and into the evening. Catch open mic nights, poetry slams, live jazz performances, and more throughout the week.
Location: Orlando – 2842 S Alafaya Trail, Orlando, FL 32828
DUO58 is more than a typical coffee house. The cafe and their catering business are built to do good in the community. The cafe is the main vehicle behind DUO58's jobs program. The 8 to 12-month program seeks to provide life and jobs skills to those who are having trouble finding or maintaining employment through part-time work at the cafe. Their catering business helps support Mission of Hope, a Christian missionary program that provides support to Haiti. Enjoy breakfast or lunch in the cafe with classic offerings like Avacado Toast, a Sunrise Sammy, a Cheese Plate, or Chicken Salad.
Location: 3025 Corrine Dr, Orlando, FL 32803
The Salty is well-loved for their delicious and unconventional donuts, but their coffee menu is just as intriguing. I can't get enough of their year-round Cinnamon Cereal Milk Latte, which truly tastes like the remnants of a Cinnamon Toast Crunch bowl. And their seasonal coffee creations change to match the vibes of each time of year.
Their funky and eclectic interior is also worth mentioning. This Audubon Park staple took over an old auto repair shop and gas station, so there's a massive renovated garage door at the entrance. The repurposed look gives this space so much character. 
Location: 1212 Woodward St #1, Orlando, FL 32803
For all of the artsy souls, Qreate Coffee + Studio is definitely your spot. This premium coffee shop doubles as a creative photography studio and collaborative workspace. You can sip your cup of joe while simultaneously using their 24/7-access studio and top-notch WiFi. Don't worry–you don't have to be an artist to hang out here. Qreate's diverse coffee menu is super unique on its own, especially their vibrant Purple Pearl taro latte, which can be iced.
Don't forget to stop by for their seasonal summer drink, the Samoa. It seriously tastes like a Girl Scout cookie in a cup, made with coconut mocha, vanilla foam, caramel drizzle, and coconut flakes on top. No matter the season, they have tons of interesting lattes, cold brews, teas, and small bites from which to choose.
Location: 2869 Wilshire Dr #103, Orlando, FL 32835
Achilles Art Cafe is the coziest spot to get your caffeine fix and have an eclectic, campy date night. This art-filled coffeehouse is located near the Metro West area, within close proximity of the Mall at Millenia and Universal Studios. Not only does this cafe offer an extensive coffee and lunch menu, but its walls are decked out in art that is for sale by local Orlando artists. The homey, European-inspired atmosphere is the perfect spot to bring a first date or stop by for your regular Sunday morning roast.
Their specialty lattes are also unlike any other, from peanut butter cup to cinnamon crumb cake to butterbeer flavors.
Unique Coffee Shops Near Orlando and Worth the Drive
Location: Two locations – St. Cloud and Lake Nona
Any coffee shop can offer you food and coffee, but the best unique coffee shops have a variety of food and coffee drinks to tempt you. Vanessa's Coffee Shop offers two locations, each with an array of eats and over-the-top specialty drinks. Any of the sandwiches or the Sunrise Tacos are sure to hit the spot, and the Cinnamon Roll Pancakes are Instagram-worthy. Many of the specialty coffee drinks have delicious toppings and sweet rims, like the Caramel Latte with Nutella & Peanuts.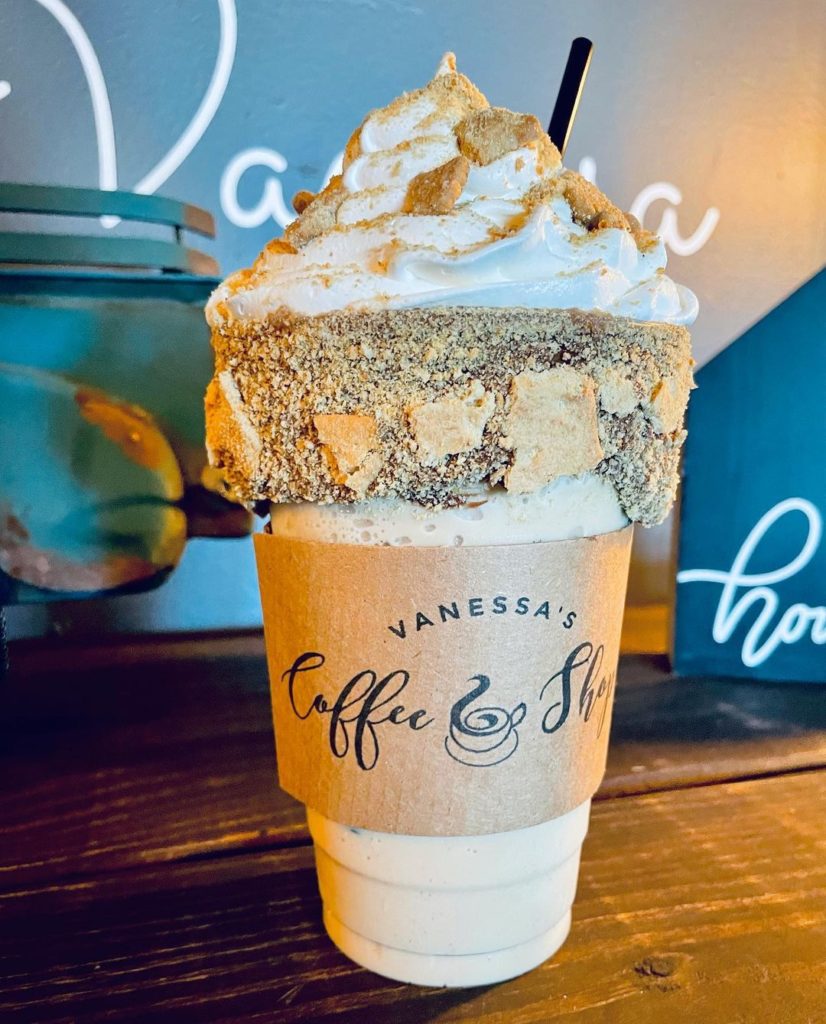 Location: Clermont – 532 Cagan Park Ave, Clermont, FL 34714
What could be cuter than sipping on coffee with your sweetheart while snuggling with the good kitties of the Orlando Cate Cafe? Welcome to Minch Coffee, named after the city of Arba Minch, a city in Ethiopia known as the birthplace of coffee. The coffee shop is attached to the Orlando Cat Cafe, where you can make a reservation to play with adorable cats and kittens available for adoption.
Enjoy a variety of specialty and espresso drinks served in the classic European style or keep it simple with drip coffee or a tea. If you want to play with the cats, it's best to make a reservation online in advance at this unique coffee shop for cat lovers.
Location: Clermont, inside the Florida Citrus Tower – 141 S Hwy 27, Clermont, FL 34711
This is my favorite coffee house on this list in terms of something that is truly unique, and something only Central Florida can offer. The Florida Citrus Tower is a classic Orlando attraction that has been around since 1956. Once upon a time it offered panoramic views of Florida's endless citrus groves. Though those groves have given way to modern developments, the views are still spectacular.
Citrus Coffee is located in the lobby plaza and offers a small coffee, tea, and refresher menu. I enjoyed the Orange Creme Latte, with a mild citrus flavor and a unique taste you can't find elsewhere. Enjoy coffee and conversation in the adorable coffee shop with plenty of setting areas as history about the tower decorates the walls. You can also take your coffee up to the top level of the Florida Citrus Tower.
There is an $11.00 fee per person to go to the top, Adults aged 55+ are $10 and children 3-12 are $7.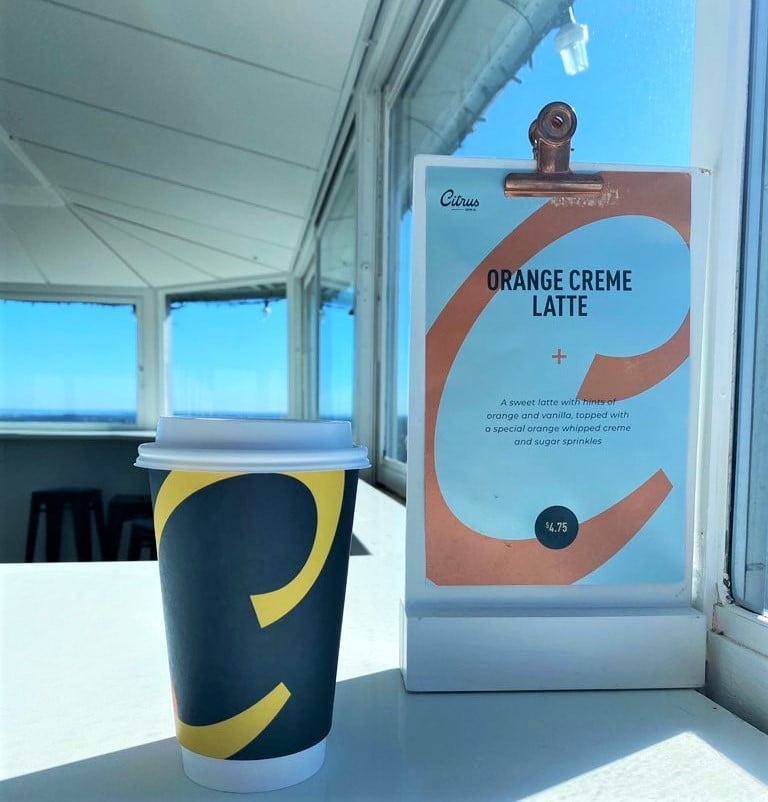 Location: 2 W Plant St, Winter Garden, FL 34787
This is one of the newest additions to Winter Garden's quaint historic downtown district. While Three Birds Cafe is much more than a coffee shop, locals are always gushing about their unique, seasonal lattes. Their most well-known coffee drink is the Cinnamon Toast Crunch latte, which I ordered (and absolutely loved) last time I stopped by, but their drink menu is always changing.
For the blazing summer months, grab a Fairy Garden Matcha Latte, Samoa Sweet Foam Cold Brew, or even a mimosa in an adorable hummingbird-shaped glass. Plus, their brunch, lunch, and dinner options are to-die-for.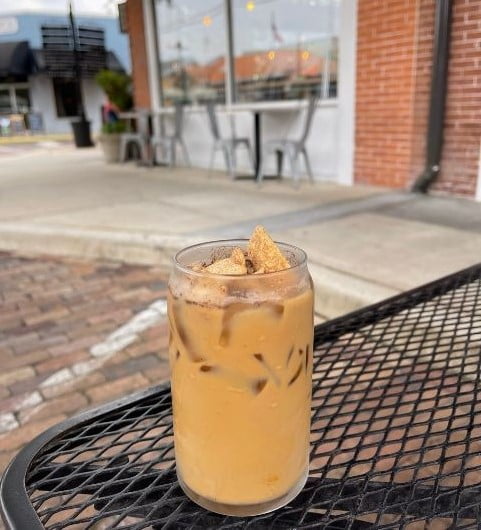 Location: Historic Downtown Sanford – 105 W 2nd St, Sanford, FL 32771
Palate Coffee Brewery is a quality mission-based coffee shop located in Historic Downtown Sanford. All profits are dedicated to the abolishment of human trafficking. On the menu you'll find traditional drip coffee, espresso drinks like lattes, unique seasonal flavors, and even kombucha. There is plenty of space inside this cozy shop, and a few sidewalk tables and chairs.
Location: Apopka – 40 E 5th St, Apopka, FL 32703
Plant lovers will be in heaven at Propagate Social House, which is lush with live plants and greenery. The atmosphere is relaxing, inviting, and sociable. The menu is delightful with plenty of options that are budget-friendly, as well as indulgent choices. Get a traditional coffee, an espresso drink, a specialty latte, or might I suggest the Cold Whipped Coffee. Wine and tea are also offered here as well as grazing boards made to order. Check the events calendar for happenings like plant swaps, live music, outdoor movies and pop-ups.
Location: Casselberry/Winter Park – 2451 Howell Market Ln Suite 1105, Winter Park, FL 32792
As much as I love Foxtail Coffee, most of their locations are like many other coffee shops. However, the Howell Branch location on the edge of Casselberry, near Winter Park, is special thanks to its Kelly's Homemade Ice Cream Counter as well as some Ravenous Pig offerings. The atmosphere is conducive to working or romancing, with plenty of space inside and a nice little patio. Get an affogato if you want the delightful combination of espresso and ice cream, and a delicious way to cool down. Or stick around for wine and craft beer in the afternoon and evening.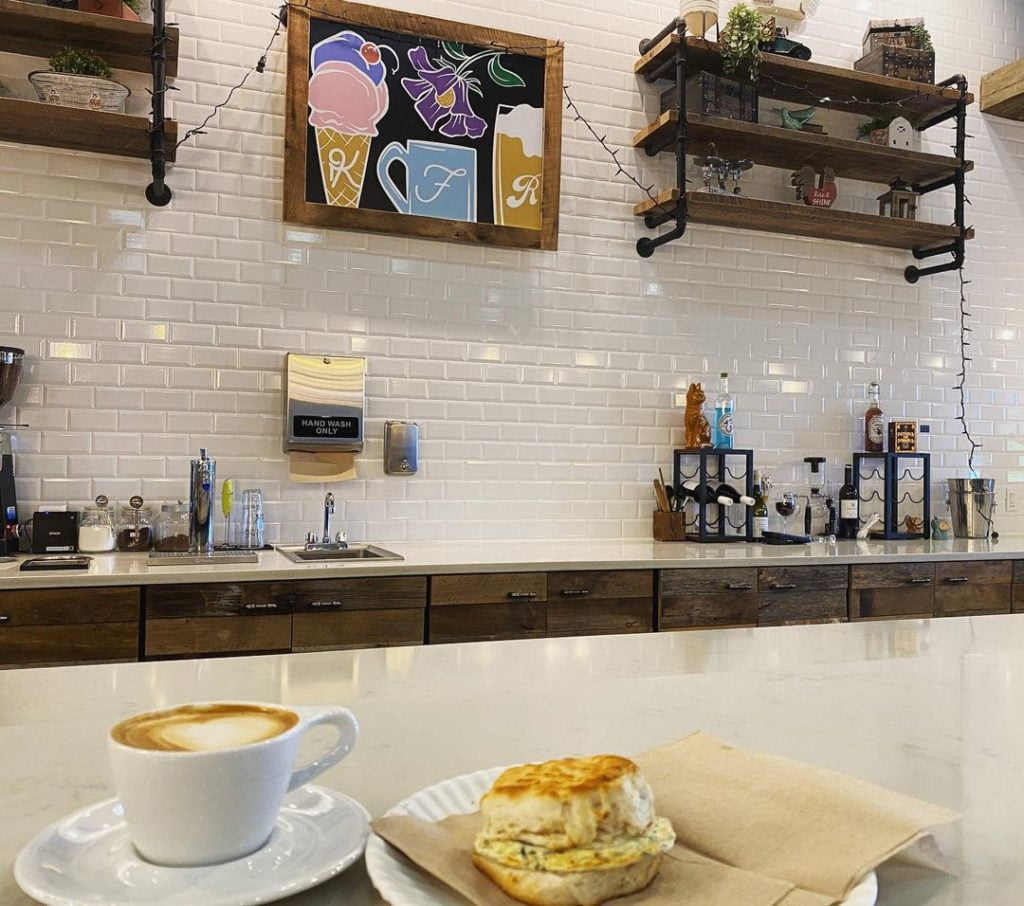 Summer cool down idea – If you can't decide which brew to order, all Foxtail locations offer a coffee flight to sample three of their cold brew flavors. You can get a little taste of their original brew, vanilla caramel, coconut mocha, or any other sweet seasonal brews–why choose just one?
Location: Lake Mary Town Center – 124 N 4th St STE 1500, Lake Mary, FL 32746
Although the atmosphere of New City Coffee is not all that unique, I could not resist including this Lake Mary coffee shop because of their coffee flights. Throughout the year they offer seasonal coffee flights, with four small cups of specialty coffee. There are four flavors in each flight, available hot or iced, and you can switch to alternative milk like oat milk for a small upcharge.
How cute would it be to share a coffee flight and an order of one of the specialty toasts that come with two slices of toast and mounds of toppings? Smoothies, tea, and milkshakes are offered too.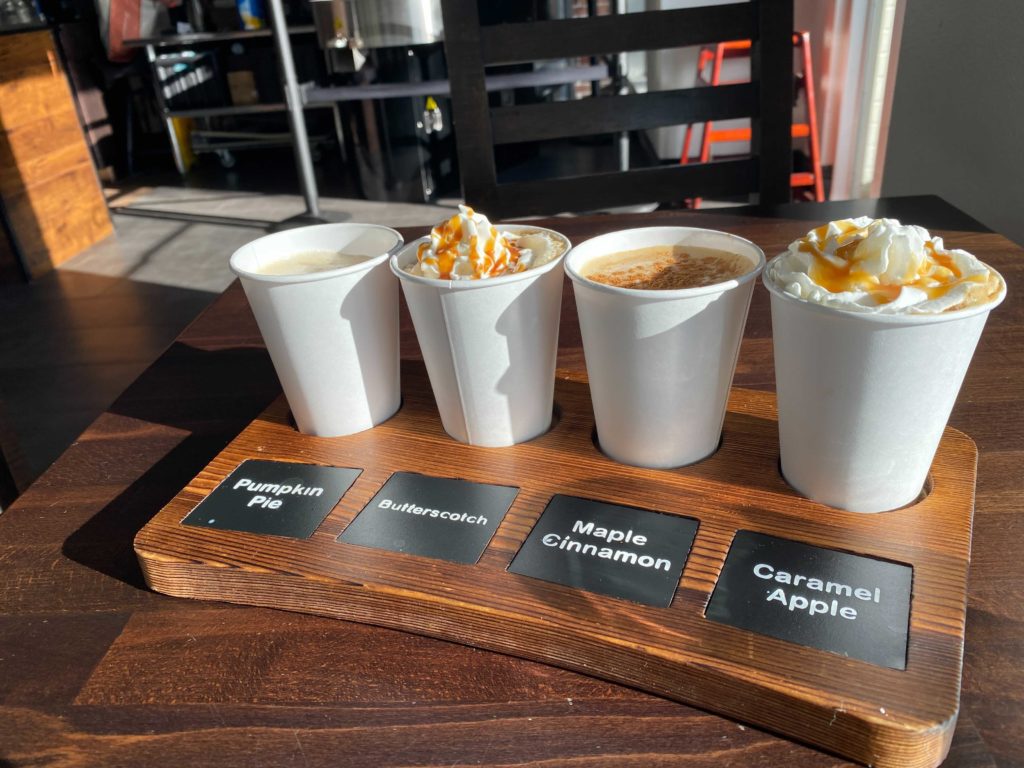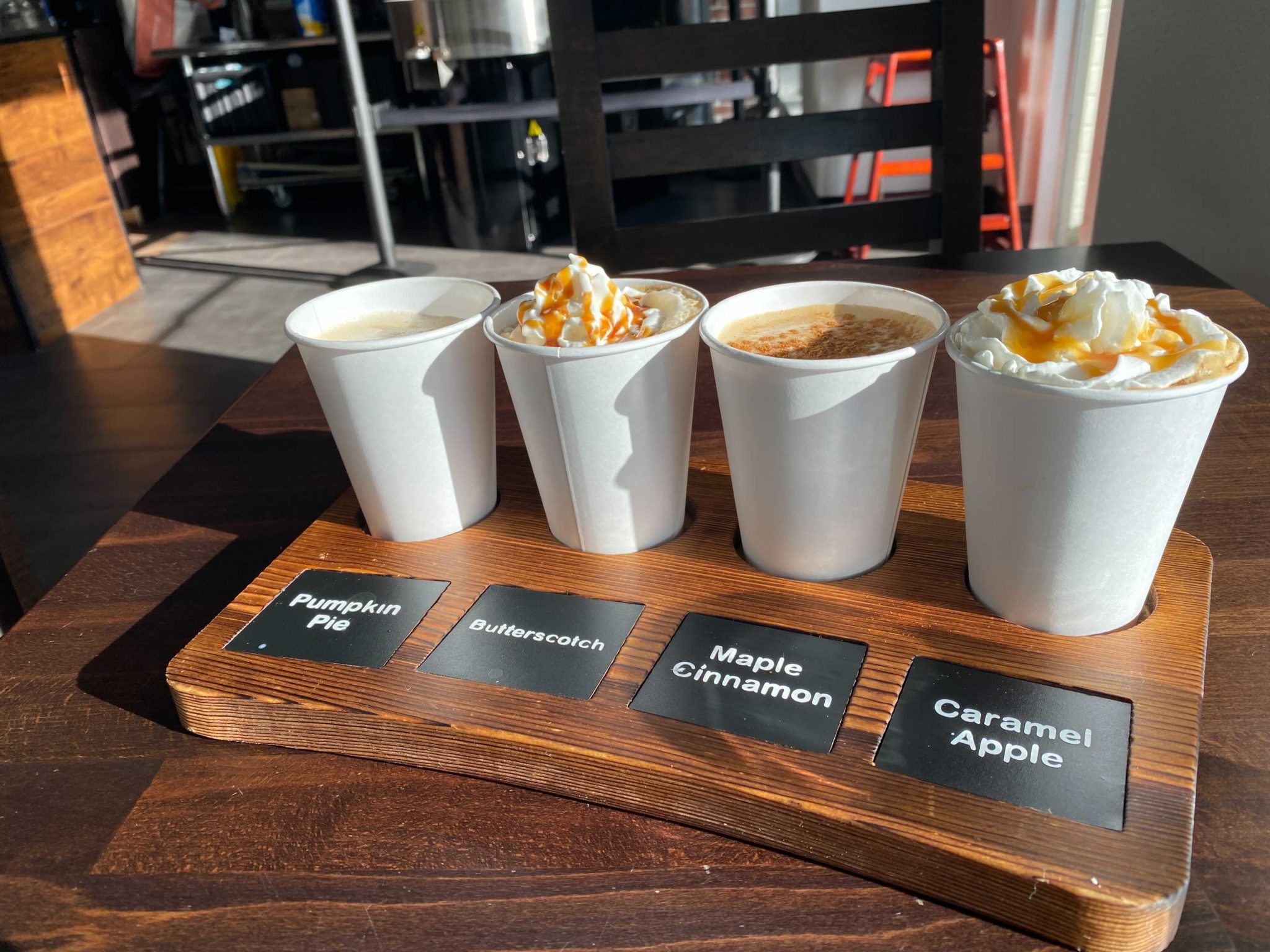 Location: Lakeland – 204 E Orange St #102, Lakeland, FL 33801
As if the caffeine in coffee isn't enough, liven up your date with some axe throwing. Ax-Caliber is a lively coffee house that feels more like a restaurant with its impressive food menu. In addition to axe throwing, there is a new virtual gun range with multiple options ranging from virtual targets to zombies, all on screen.
Caliber is both a lively coffee house and a full-service restaurant with breakfast, lunch, and dinner dishes. Beer, wine, and late-night bites are also available.
Tips and Information About Orlando Coffee Shops
Please review each coffee shop's website before your visit as hours and offerings are subject to change.
Most coffee shops in this guide do have wifi, please confirm on their website and be aware of privacy and security when using public wifi.
Don't forget to ask about seasonal flavors–most coffee shops rotate their flavors and syrups depending on the season and holiday.
Be sure to ask about milk alternatives and any upcharge.
Most beverages are available hot or iced.
Feature image of Citrus Coffee at the Citrus Tower.