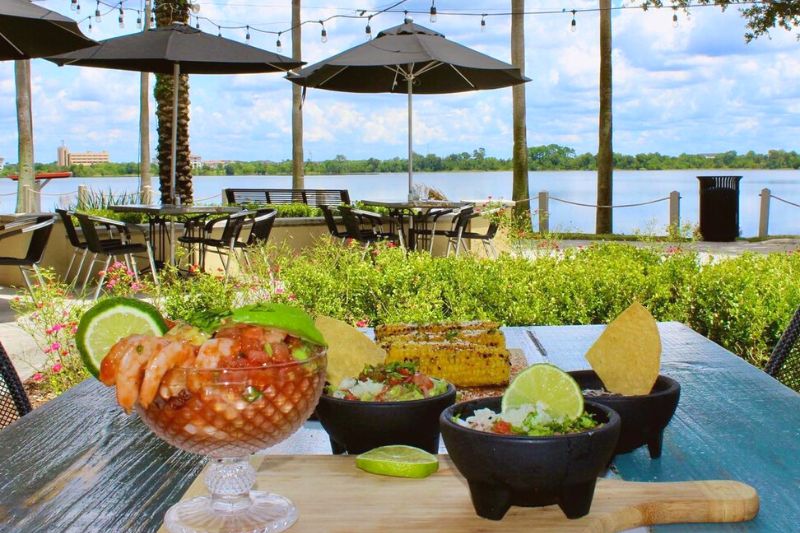 Celebrate the Florida lifestyle in the tastiest way possible, with a meal on the water. Orlando has no shortage of outdoor dining restaurants, and even though we aren't on the beach, there are numerous waterfront restaurants. Level up your date by dining at one of these scenic restaurants.
You're about to discover the best Orlando waterfront restaurants, plus a few that are nearby and worth a little drive for dinner with a view.
Waterfront Restaurants Orlando
4201 S Orange Ave, Orlando, FL 32806
You'll feel like you've escaped to the beach when you head to this waterfront restaurant in South Downtown – the SoDo District. In fact, you'll be at The Waterfront Orlando.
This is one of our favorite seafood restaurants in Orlando and during the day it is a kid friendly restaurant. By night, it becomes a lively but relaxed hangout spot with cold drinks and laid back vibes.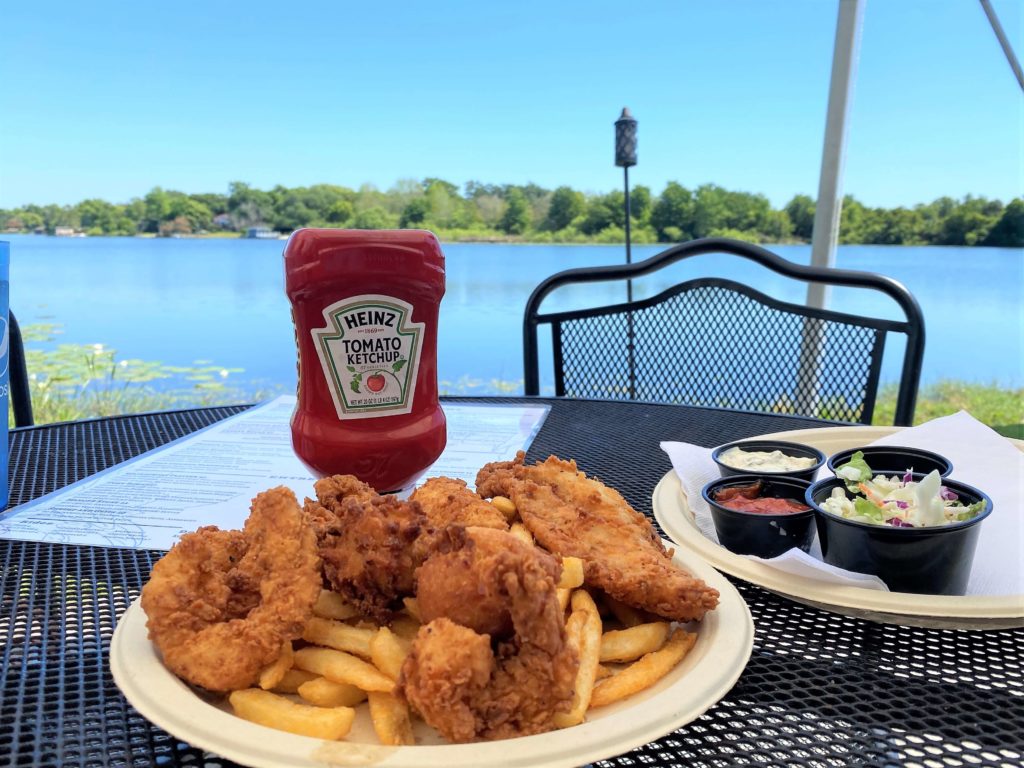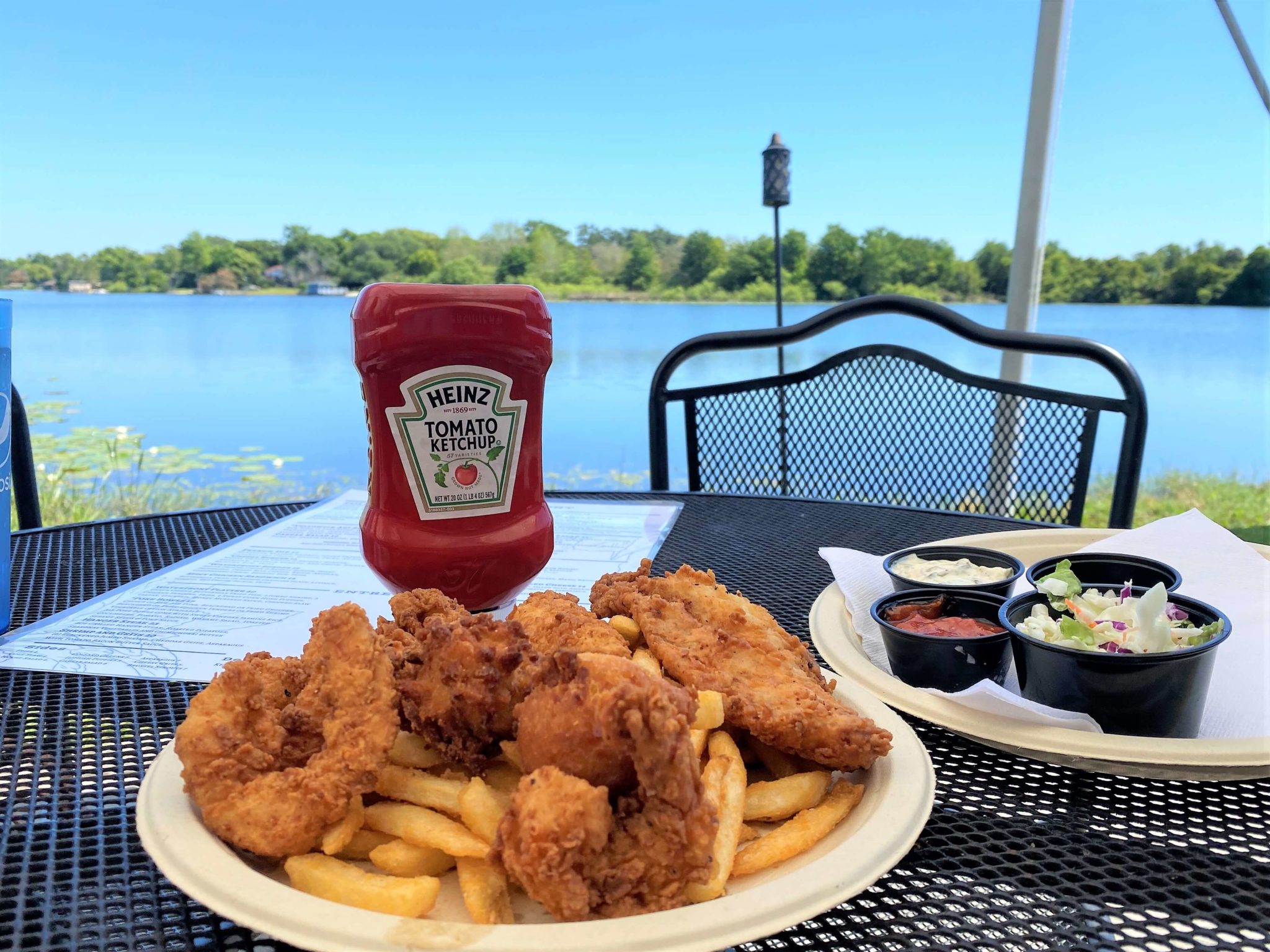 211 Eola Pkwy, Orlando, FL 32801
Locals love Relax Grill. This Lake Eola restaurant is popular at the end of a long workday or during the weekend. It is especially popular each Sunday thanks to the nearby Lake Eola Orlando Farmers' Market.
On the menu you'll find American Mediterranean cuisine with lots of lighter fare that is perfect for dining outdoors with a view of the lake.
215 S Orlando Ave, Winter Park, FL 32789
Welcome to one of the most romantic restaurants in Orlando. Hillstone Restaurant has been a staple of the date-worthy dining scene for many years. If you're looking for a date idea to get all dolled up and live the good life, this is the place.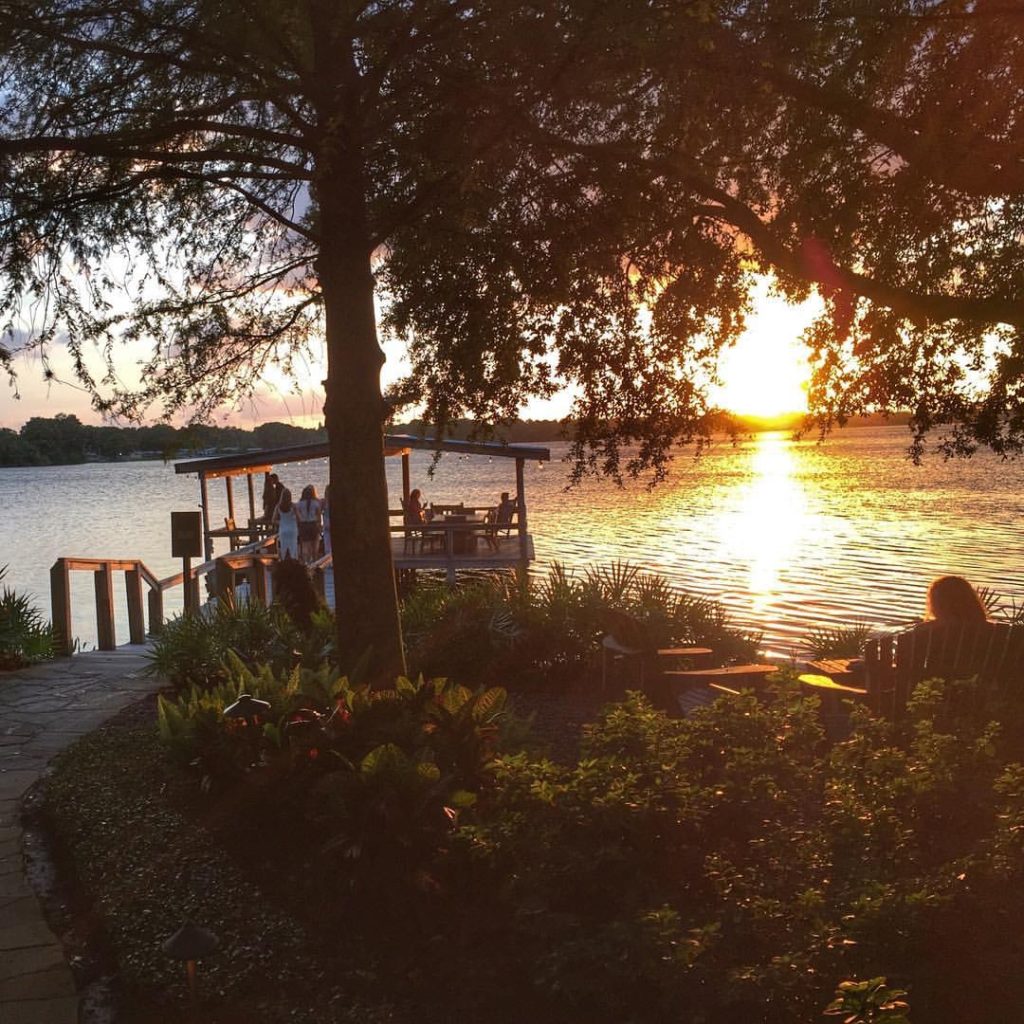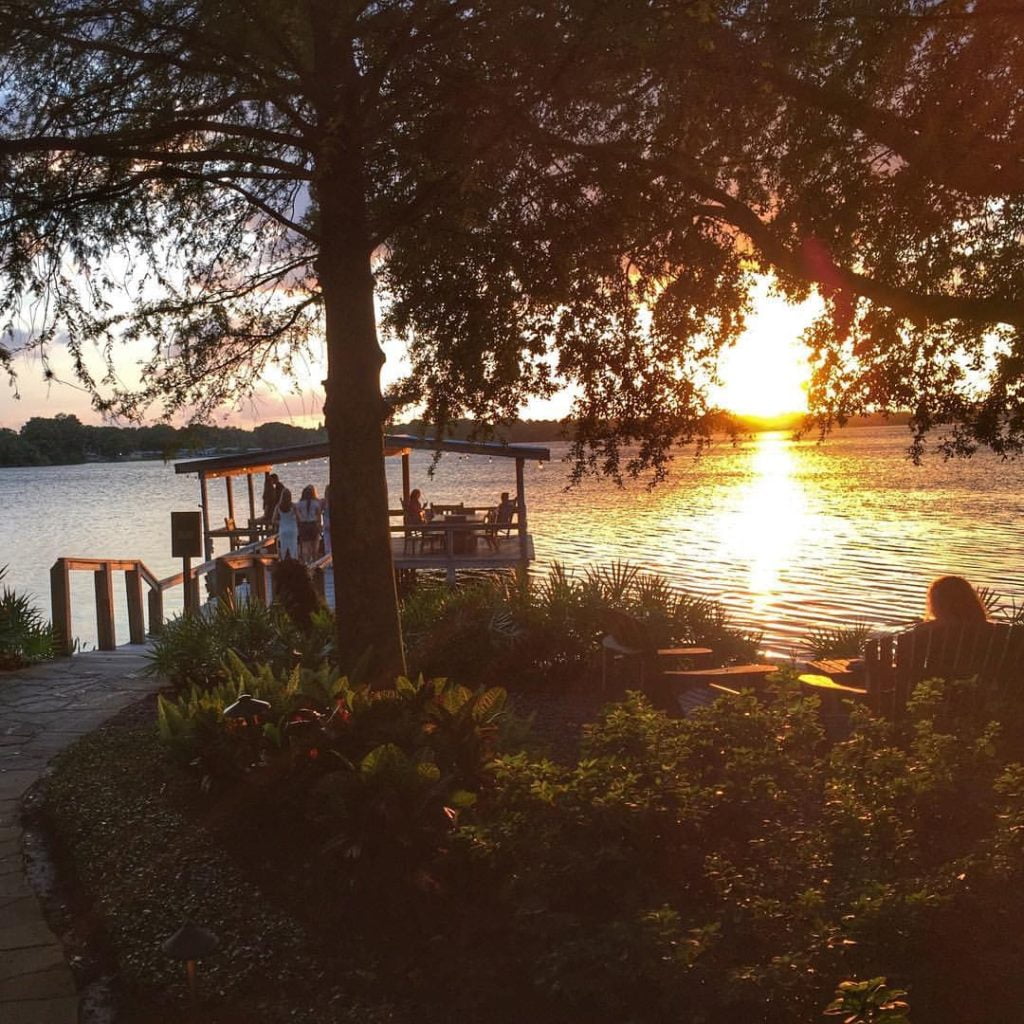 Book your reservation about 30 minutes before sunset if possible so you can enjoy the golden hues reflecting on the lake. It's one of our favorite places to watch the sunset in Orlando.
301 E Pine St, Orlando, FL 32801
Another classic Orlando restaurant, 310 Lakeside is date-worthy. The atmosphere is less waterfront and more about the modern American menu. While the views are not as plentiful as other waterfront restaurants on our list, being near Lake Eola has its moments.
4963 New Broad St, Orlando, FL 32814
While hotspots like Winter Park and Winter Garden get all the attention when it comes to walkable destinations, Baldwin Park should not be overlooked. And Colibri Mexican Cuisine Baldwin Park has some of the best waterfront dining in Orlando.
Sip handcrafted margaritas, nibble authentic Mexican fare, and take in the lakeside views. This waterfront restaurant is perfect for date night or a gathering with friends. Bring out of town guests here too.
Feature image of this article from @colibriorlando
13615 Sachs Avenue, Orlando, FL 32827
Head to one of the most Instagram worthy restaurants in the Orlando area. Canvas Restaurant & Market is a staple of Lake Nona restaurants. Not only does it have waterfront dining and views, but there is gorgeous modern art too, including the iconic Lake Nona Glass House.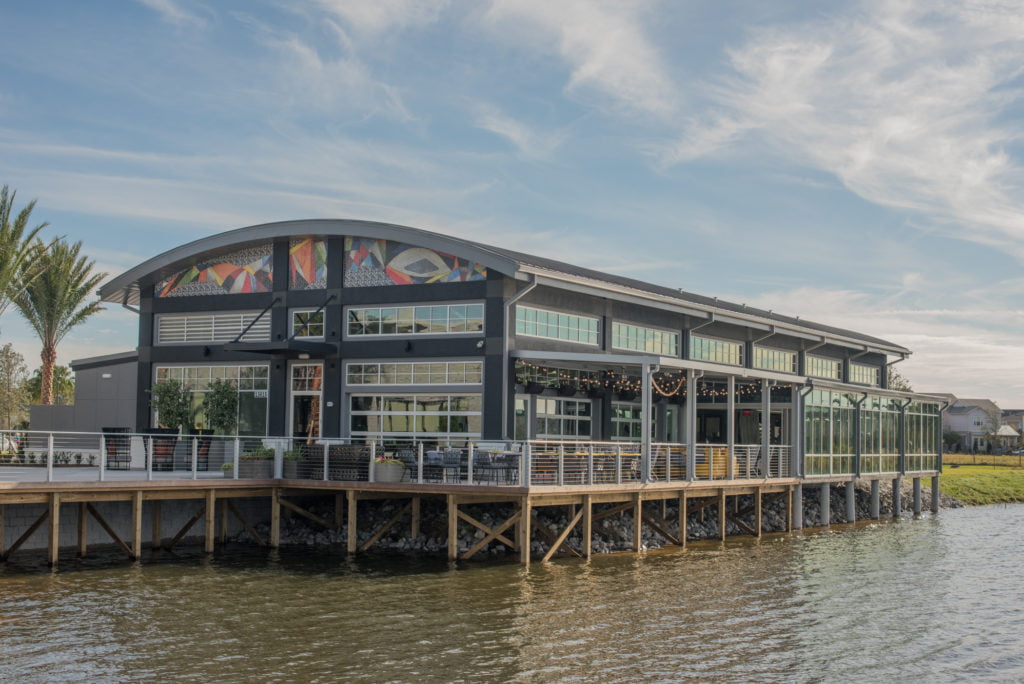 550 N Palmetto Ave, Sanford, FL 32771
The Orlando area can thank the St. Johns River for the plentiful seafood we get to enjoy inland. While the seafood does not come from the St. Johns River itself, its connection to the coastline made getting seafood a lot easier before transit on the highways was an option.
St Johns River Steak & Seafood in Sanford harkens back to those early days. Enjoy dining along this legendary river and raise a glass to a touch of coastal life here in Orlando.
Bonus idea – Cabana Live

Also in Sanford is Cabana Live, this casual restaurant is parts sports bar, part pool bar, and it's right on the water. In fact, to get there you'll drive to the Port of Sanford Marina.
There are cabanas that overlook the water, and usually are available to use at no charge during weekdays – unless there is a special event. Weekdays offer fun happenings or specials, including Kids Eat Free + Movie Night on Wednesdays and Bingo on Fridays.
Plus, Happy Hour is ALL DAY Monday – Thursday.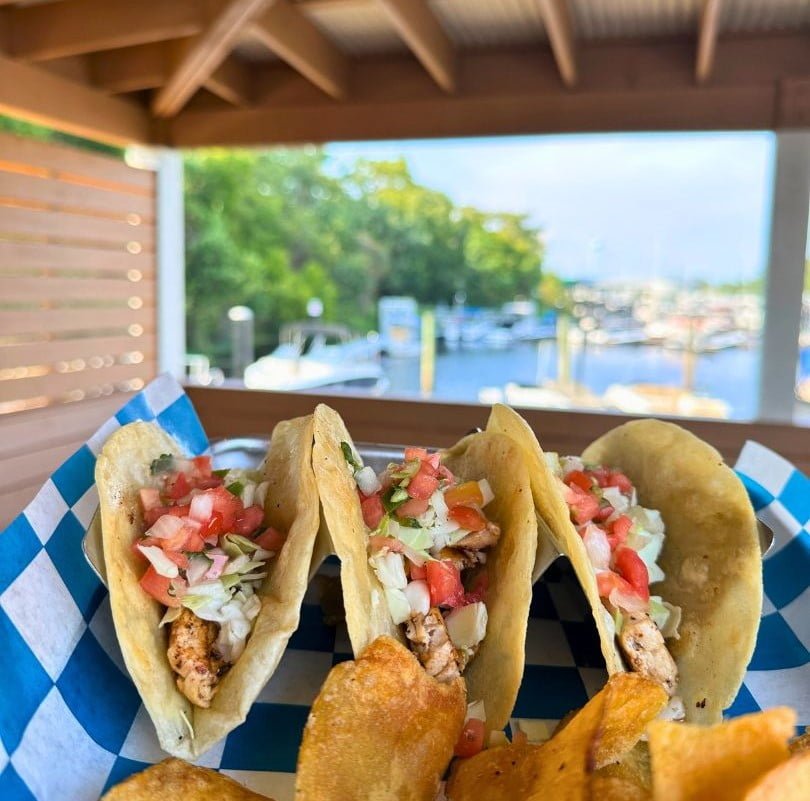 4301 N Orange Blossom Trail, Orlando, FL 32804
Grills Lakeside Seafood Deck and Tiki Bar here in Orlando is part of a small group with two Grills locations on the Atlantic coast of Florida. So they know a thing or two about waterfront dining.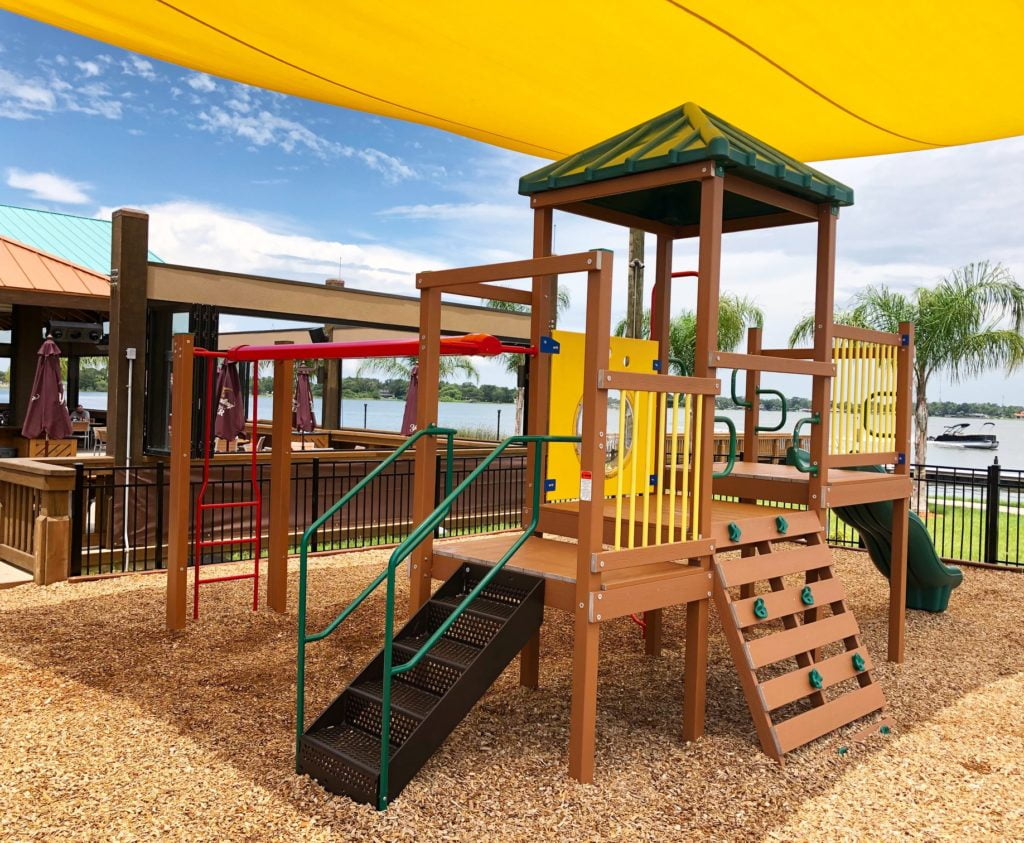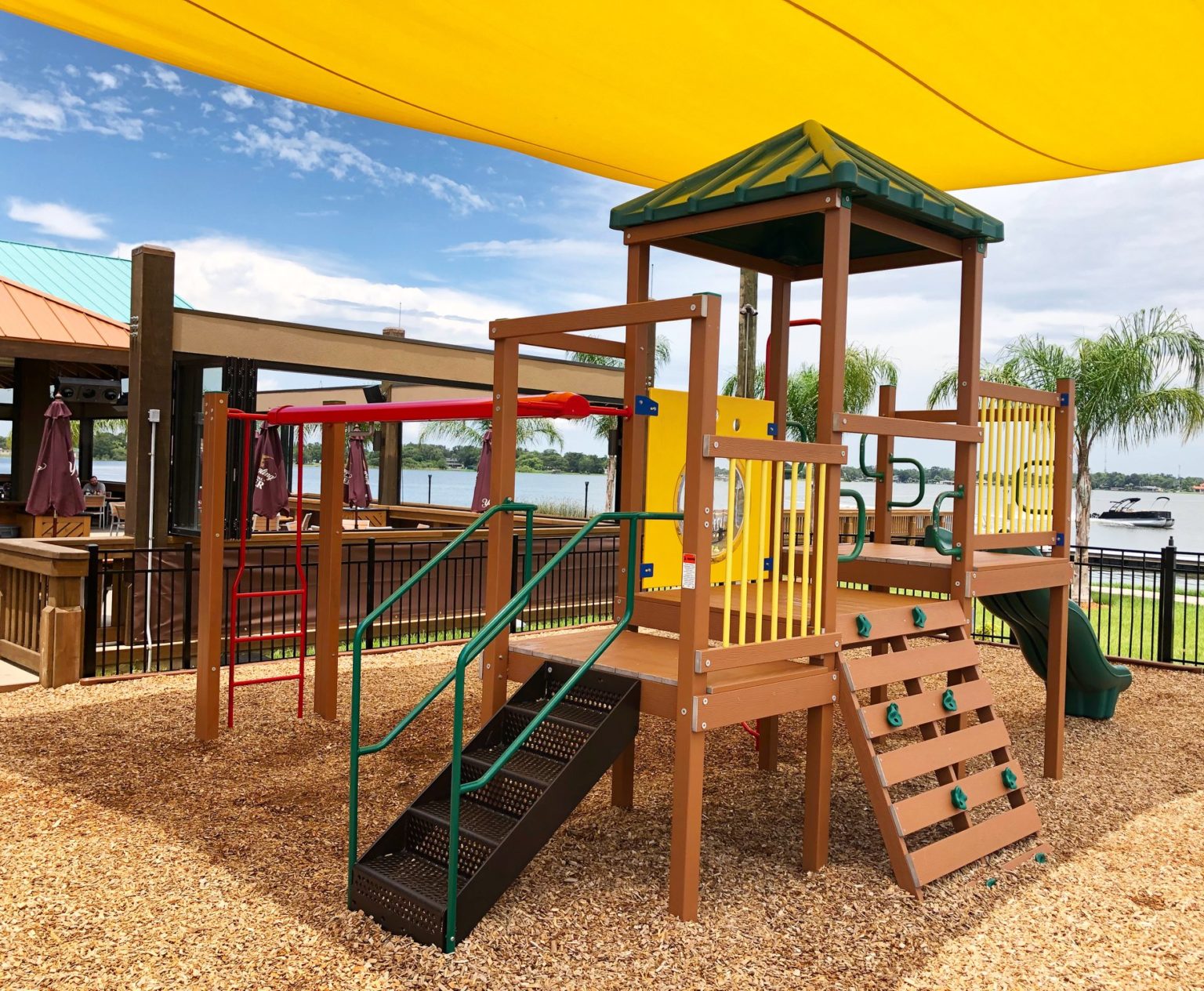 2356 Black Hammock Fish Camp Rd, Oviedo, FL 32765
If you're ready for some backwater adventure, head to Oviedo and the Black Hammock area. OId Florida is alive and well here. You can hop aboard an airboat ride and explore.
The Lazy Gator Bar at Black Hammock has waterfront views, casual eats, and cold drinks.
2997 FL-44, DeLand, FL 32720
If casual and relaxed is your speed, head to the DeLand area for some riverside dining. St. Johns River Grille is as casual as they come. Sit on the screened-in porch, order up some fish dip and cold drinks as you watch the boaters go by.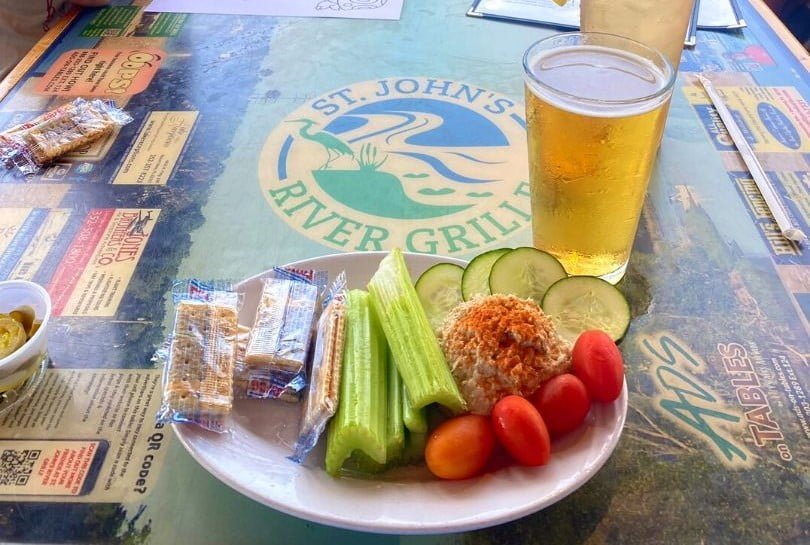 488 W Highbanks Rd, DeBary, FL 32713
Another super casual spot on the water is Swamp House Riverfront Grill in DeBary. Most of the dining room does not actually overlook the water, but it's worth a visit. Even if you're not able to snag a seat with a view, just being on the river is enough to satisfy that craving to dine on the water.
Parking is limited at this popular spot so get here early!
1104 Lakeshore Blvd, St Cloud, FL 34769
Cast your worries away as you dine on the water's edge at Crabby Bill's St. Cloud. Another family owned and operated spot with locations out on the coast, you'll feel like you've gone coastal even though you're inland.
Whether you sit inside or outside you can bask in beautiful views of  East Lake Toho in the Lakefront Park Marina.
700 Bloom St, Celebration, FL 34747
If you prefer to stay sophisticated then Lakeside Bar + Grill located inside the Bohemian Celebration Hotel offers romantic date night vibes. Situated on the small lake of downtown Celebration, Florida you'll experience small-town charm, just down the road from Walt Disney World.
15790 SE 134th Ave, Weirsdale, FL 32195
Experience a beachy getaway for the day, without heading to the busy beaches near Orlando. Not only can you dine right on the massive lake, but at Eaton's Beach Sandbar and Grill you can rent jet skis and more to go out on the water. It is a bit of a drive from Orlando but if you're up for a Florida adventure, this will do the trick.
I stopped here with my husband during a little Florida road trip and we loved it! There are two dining rooms, one upstairs and another downstairs. Plus plenty of outdoor dining and multiple bars make it possible for everyone to enjoy the views. The menu features Florida and Louisiana influences including Fried Shrimp and Gator Tail.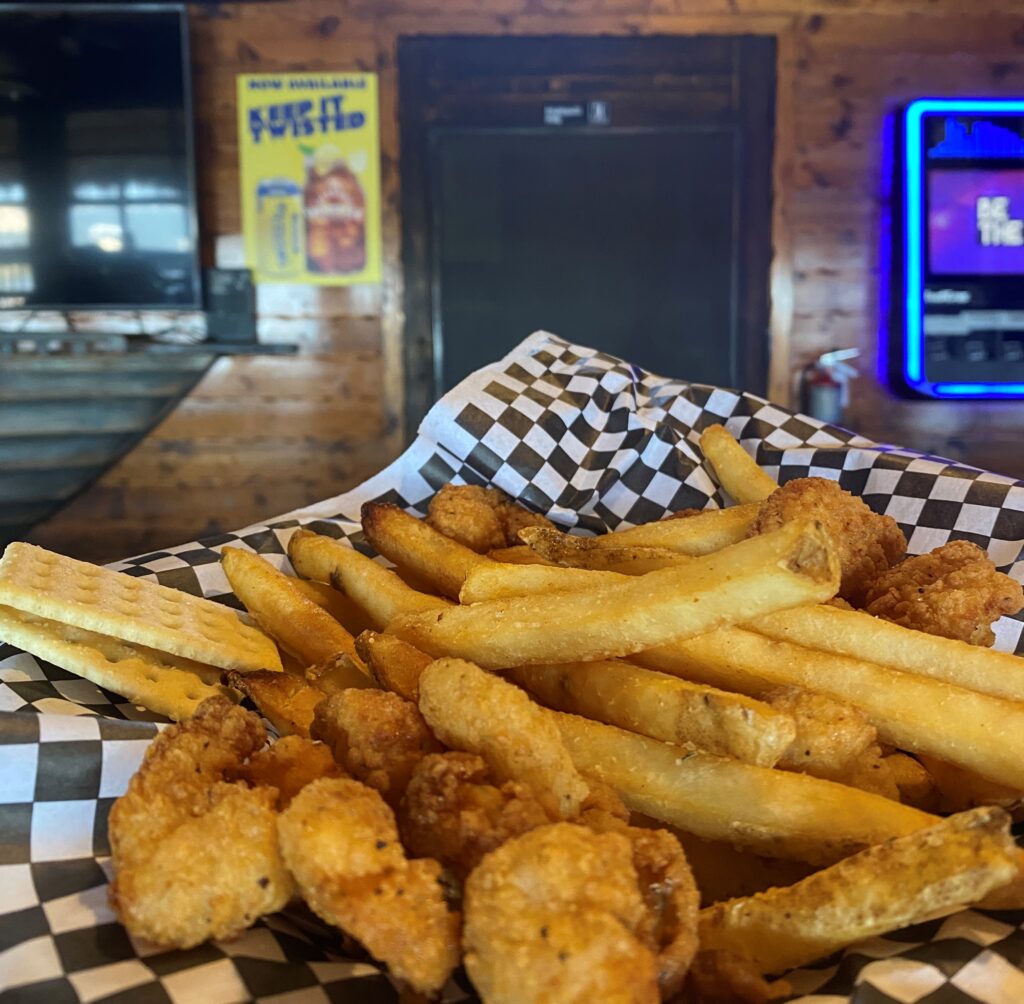 181 S Joanna Ave, Tavares, FL 32778
Mount Dora gets all the love in this part of town, but Tavares is also on Lake Dora and worth a visit. The Kalua Beach Bar is perfect for casual lakeside dining near Orlando. Depending on what side of town you're on, Tavares is 30 – 45 minutes away.
Start your day at the Lake Apopka Wildlife Drive then head 30 minutes down the road to Kalua Beach Bar for cold drinks and casual eats like Chicken Wings, Burgers, or Blackened Fish Tacos. This spot is one of the most quintessential waterfront restaurants.
BONUS IDEA – Tiki Bar & Grill
Local dive situated on the shores of Lake Minneola serving casual fare, gorgeous sunset views
508 S Main Ave, Minneola
(352) 394-2232
BEACHSIDE BRUNCH – If you're interested in a day trip, head to the lively Brunch at Hard Rock Hotel Daytona Beach served every Saturday and Sunday from 11am – 3pm, with a gorgeous view of the beach.
Waterfront Restaurants at Disney World
Soak up the magic of Walt Disney World coupled with dining on the water. These waterfront restaurants at Walt Disney World are date worthy.
Want to road trip? 
Check out Waterfront Restaurants in Tampa Bay