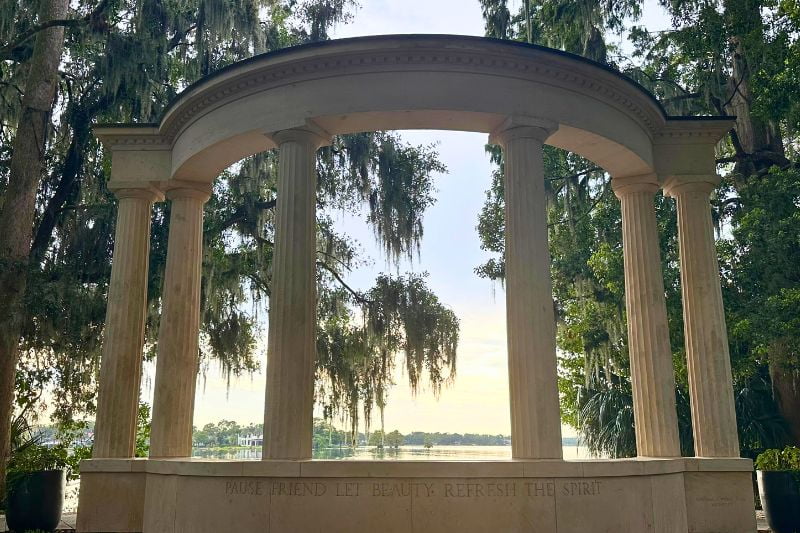 Escape to a small, lovely park in the Orlando area that locals have loved for decades. Kraft Azalea Garden is situated on the shore of Lake Maitland, part of the Winter Park Chain of Lakes. This tranquil place is free and easy to visit. Here's everything you need to know about visiting Kraft Azalea Garden in Winter Park.
What is Kraft Azalea Garden known for?
The park is known for its picturesque scenery. Towering cypress trees, lush greenery, and azalea bushes bloom with vibrant colors during the peak season, typically in late winter – early spring. It is one of our favorite spots in Orlando for a picnic and there are often small weddings in Orlando held here.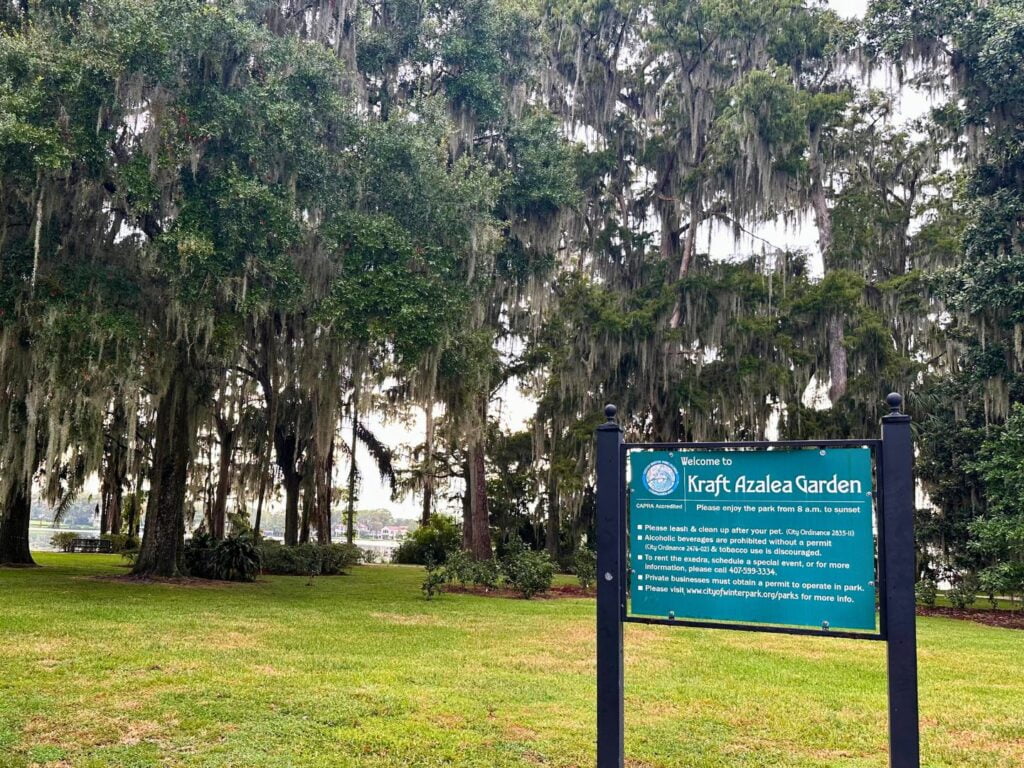 With its location along the shores of Lake Maitland, there are plenty of beautiful views of the lake. First thing in the morning you may be able to spot active Florida wildlife or Catch the sunset in the evening over Lake Maitland on one of the shore-situated benches, or dock on the right side of the park.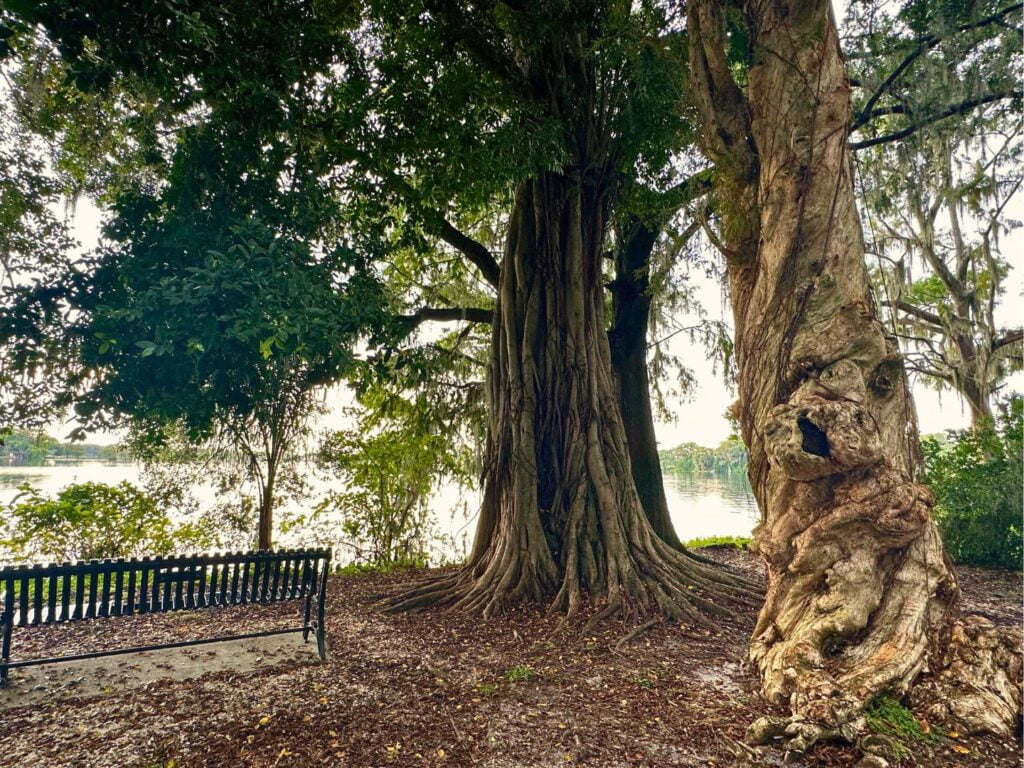 Stroll hand in hand through blooming azaleas, bask in the shade of majestic cypress trees, and embrace the tranquility of Lake Maitland's shimmering waters. The park has a small trail lined with white seashells instead of rocks, the greenery is vibrant and there is a gorgeous arch-like centerpiece.
This structure is called an exedra. This iconic spot is flanked by benches, perfect for sitting and embracing the moment. There's even a quote embossed on it, "Pause friend let beauty refresh the spirit."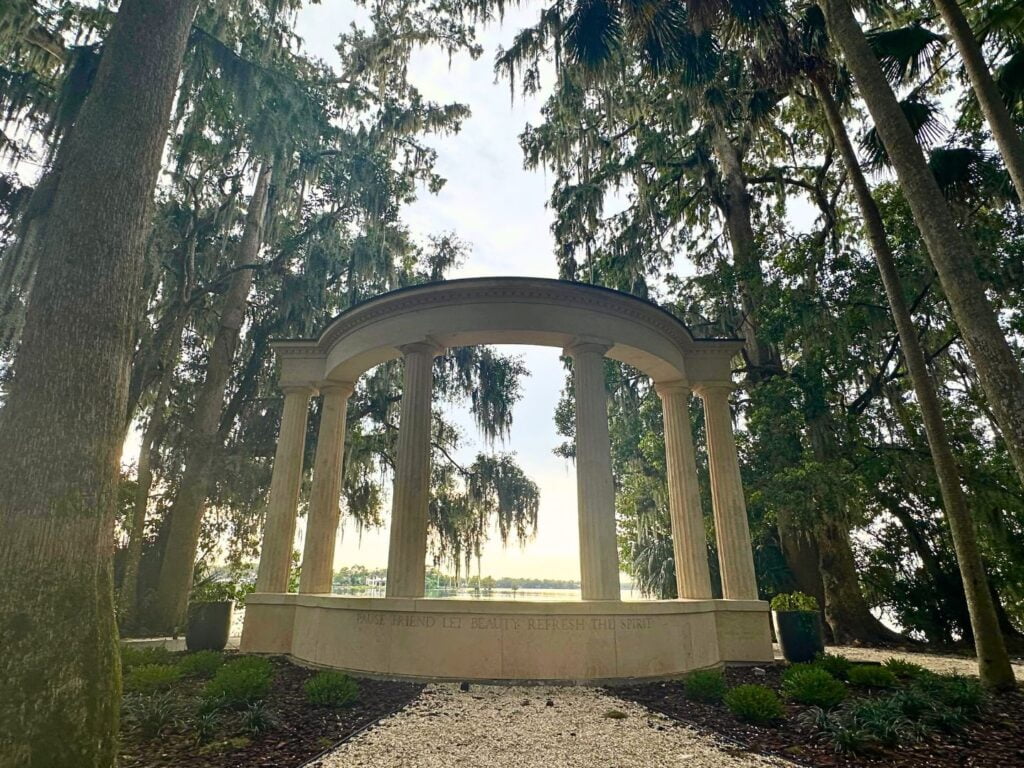 It's easy to make Kraft Azalea Garden part of a special day enjoying Winter Park and Park Avenue. The park is situated in a gorgeous Winter Park neighborhood. Enjoy a stroll around the park and continue through the tree-lined streets of Winter Park for views of absolutely stunning homes.
Plan a Picnic
The park offers opportunities for outdoor activities like picnicking, walking, jogging, and simply relaxing amidst nature. The serene environment makes it a great place for meditation and photography.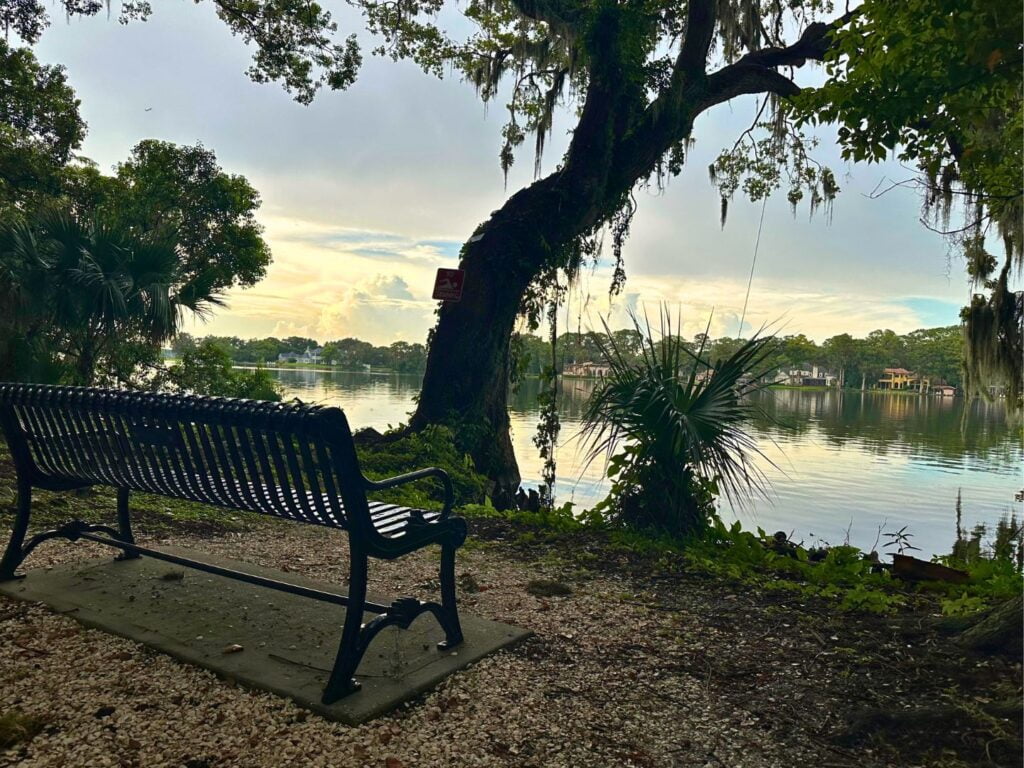 This park is also gorgeous for engagements during the sunset, I witnessed one during this visit and it was heartfelt and lovely. Have a fun photo shoot with your beau!
The park is located in the historic Winter Park area, there are many options to pick up some take-out from a local restaurant for an adorable picnic in the park. One of my favorites is Park Avenue Smoothie Cafe, they have delicious smoothie bowls and sandwiches. It's easy to order online and pick up on the go. They do close at 5 p.m. though so if you're looking for something in the evening for the sunset, I suggest Hunger Street Tacos, a Bento Box from BENTO Winter Park, or Charcuterie Board from Ravenous Pig.
You also can never go wrong with a Publix Sub or Charcuterie box and a bottle of wine (alcohol is permitted but be please drink responsibly). And of course, make sure you do not leave any trash or litter behind.
Photography and Events
Due to its natural beauty, Kraft Azalea Garden is a favorite spot for photographers, especially for engagement and wedding photoshoots. However, it's essential to check local regulations regarding photography permits and event bookings, and make sure to respect the events that are scheduled there – no one wants a wedding crasher.
Small weddings of 20 people or so are permitted and you can contact the number on the website to reserve.
Plan Your Visit
Kraft Azalea Garden
1365 Alabama Drive, Winter Park, FL 32789
Parking is very limited, try to visit during a weekday or early morning.
The park is open daily 8 a.m. until dusk.