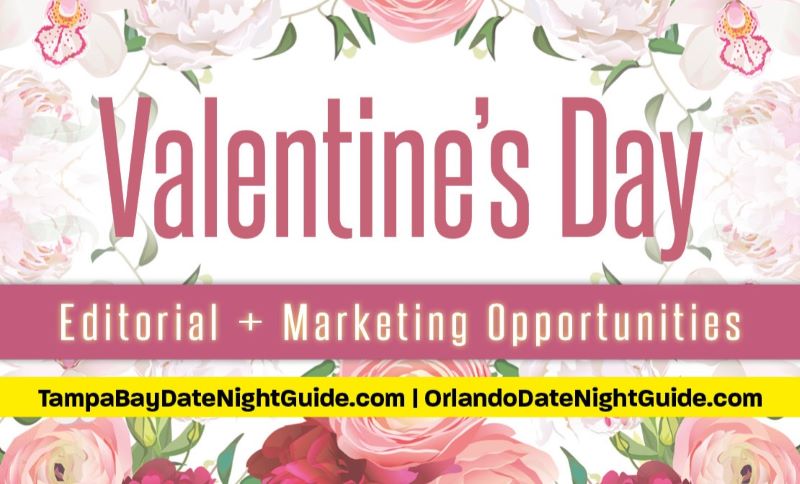 Thanks for your interest in partnering with Tampa Bay Date Night Guide and Orlando Date Night Guide!
Our Valentine's Day coverage is top of the charts – and usually top of Google's organic search rankings – which results in hundreds (HUNDREDS) of thousands of over a million visitors looking for things to do, places to eat, flowers to buy, and new things to try for Valentine's Day!
There is no better or more cost effective way to gain exposure to hundreds of thousands of potential new customers and clients! Insta and Facebook and even TikTok are expensive, complicated…and let's face it, nobody really pays attention to ads. What we offer our readers is different – content that is curated, organized, and makes it easy for people (who want to spend money on experiences) to find new places and opportunities to spend money on! Let's face it – a reader isn't going to spend time reading a curated post about Valentine's Day restaurants or florists if they aren't looking for a restaurant or to buy flowers! So you're catching a prime consumer who wants to spend money, right as they're about to make a spending decision.
Talk about perfect timing!
How Can You Partner With Us?
There are two ways you can partner with Orlando Date Night Guide and Tampa Bay Date Night Guide!
Editorial Sponsor
Get featured on our highest traffic Valentine's Day articles! One sponsorship opportunity is available for each page for $500. And each page can have up to three featured listings for $300 each. Article options include:
Valentine's Day Ideas: Valentine's Hotel Packages, Valentine's Day Spas, Florists, Chocolate Shops
Valentine's Day Events: Free Valentine's Day Ideas, Galentine's Day
Valentine's Day Dining: Romantic Restaurants, Best Valentine's Day Take Out Restaurants, Best Wine Bars, Best Coffee Shops
An Editorial Sponsorship ($500) includes the largest and most visible listing in the entire article, prominently featured at the very top. It includes up to 300 or so words to describe the sponsor's offerings, and image or video, and SEO-friendly "do follow" links to the sponsor's website. For certain articles, a sponsor may elect to exclusivity – which means we won't offer any other featured listings for that article – for a small upcharge.
A Featured Listing ($300) is a highlighted listing of up to 100 words, placed near the top of the article's Top Picks section, and includes a single image and SEO-friendly "do follow" links to your website. Up to 3 Featured Listings are available for each article.
14 Days of Love Contest Sponsor
For the past 10 years, our Days of Love contest is legendary in the Orlando and Tampa Bay area! Each day from February 1st through February 14th we award an awesome prize pack donated by our partners – and hundreds of thousands of people in the Tampa Bay and Orlando area enter to win. Talk about extremely awesome visibility! Contest options include:
Gold Sponsor
We have seven Gold Sponsorships available. Each Gold Sponsor donates the exclusive prize package for a day – for instance a hotel may donate an overnight stay, dinner and spa visit – and our content is exclusively focused on that Gold Sponsor for its day. Gold Sponsorships include a dedicated Instagram and Facebook post, logo placement on the Days of Love contest landing page, and we advertise your prize in a contest newsletter. The cost for a Gold Sponsorship is $1,500, of which up to $500 can be credited "in trade" for the donated prize – for example, a sponsor donating a $600 prize would receive a $500 credit towards the sponsorship cost, reducing the Gold Sponsorship price from $1,500 to $1,000. Suggest prizes should have a retail value of at least $250-$500 or more.
Silver Sponsor
Multiple Silver Sponsor prizes may be combined together to form a day's prize, instead of a Gold Sponsor which is the exclusive sponsor for a day. Silver Sponsors are tagged in their day's Instagram and Facebook posts, a small logo is included on the contest's landing page, and they receive mention in a newsletter. Silver Sponsorships are $750, of which up to $250 can be credited "in trade" for the donated prize (e.g. donate a $250 or more prize and we'll credit $250 towards the $750 cost, dropping the sponsorship price to $500).