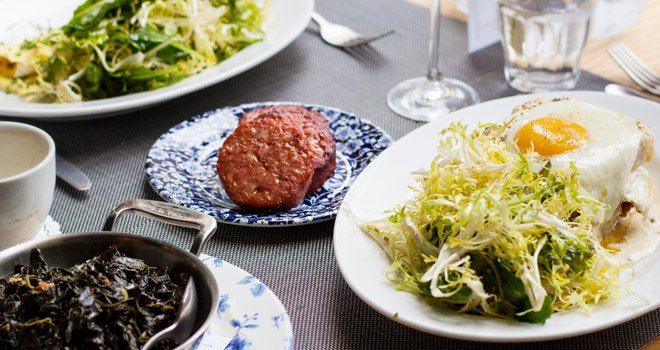 Our picks for the best restaurants for brunch in Orlando!
Brunch is unquestionably one of the best meals of all time. When else can you feast on savory dishes (some being dangerously close to dessert for breakfast) and indulge shamelessly in bottomless adult beverages before noon? Throughout our ongoing brunch research efforts, we've tried everything from fondue to brunch burgers and chilaquiles to homemade pop tarts all in an attempt to unearth the best local restaurants for brunch in Orlando. It's a tough job, but somebody has to do it! Here are a few of our favorites restaurants for brunch in Orlando.
International Drive is a destination that works for any occasion, just as optimal for entertaining out of town guests as it is for girls' night. And for date night the options are endless: lively bars with local music acts, mini golf (a favorite not-so-guilty pleasure), entertainment options, and dozens of quality restaurants. Case in point: Yard House, a cool and casual eatery with an impressive beer list and a front row seat for watching the ICON Orlando Ferris wheel. While previously a go-to for lunch and dinner, the restaurant recently launched weekend brunch service. The verdict? It's a brunch worth braving I-4 for, your rewards being classic brunch dishes with creative (and tasty) twists and little to no tourists in sight. Oh, and free parking!
Brunch hours: Saturdays and Sundays from 10am-2pm
Bottomless deals: Mix and match mimosas, Bloody Marys and house beers for $15
Must-try dish: Bread Pudding French Toast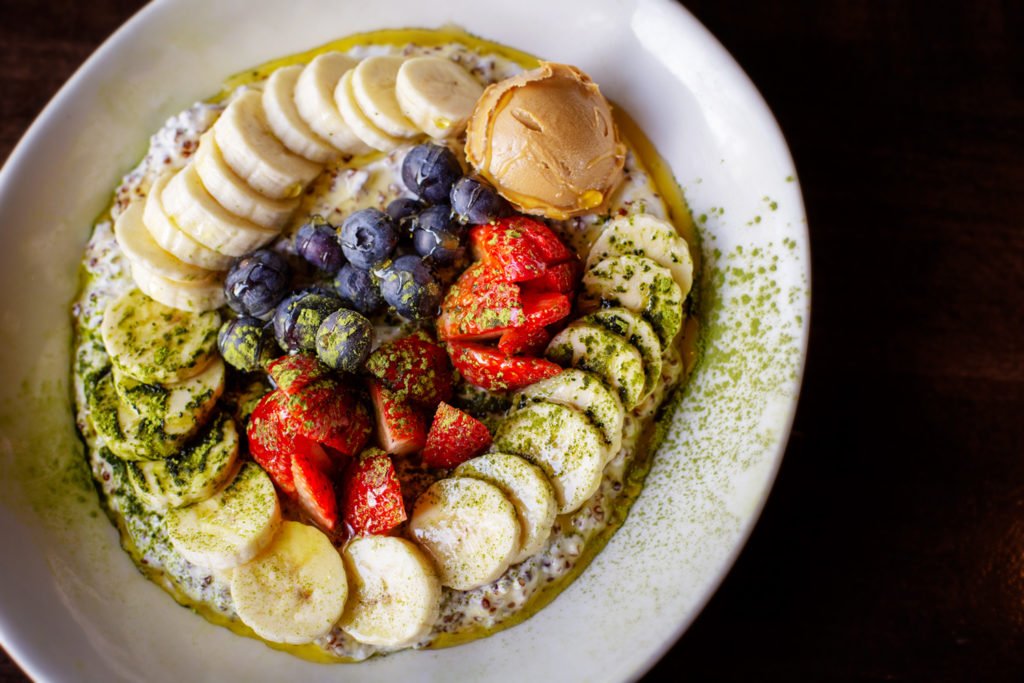 The first time I dined at Bulla, with a steady stream of tapas arriving at the table to be shared amongst new friends, I was hooked. It's since become one of my go-to destinations for everything from weeknight book club meetings to hours-long girls' brunches. There's no wrong time to visit, but brunch hours come with definite perks. Served Saturdays and Sundays from 11am-4pm, brunch includes bottomless mimosas and sangria ($18) plus an extensive $27 three-course prix fixe menu option.
Brunch hours: Saturdays and Sundays from 11am-4pm
Bottomless deals: $18 bottomless mimosas and sangria
Must-try dish: Braised pork hash (also try the octopus salad)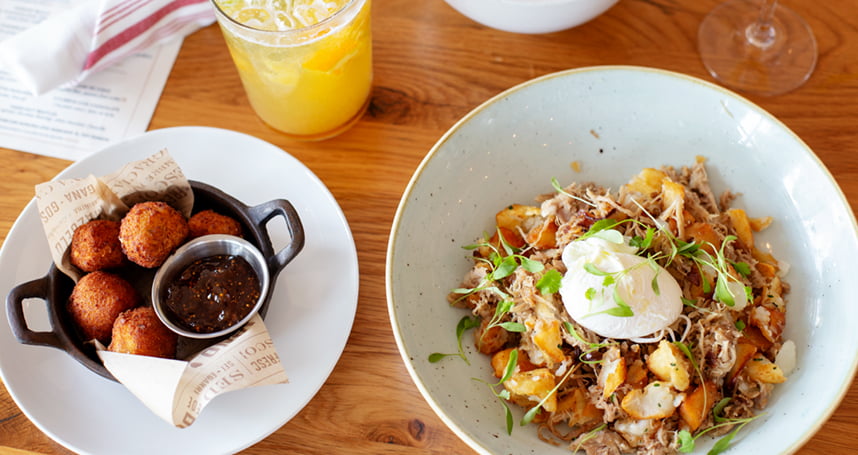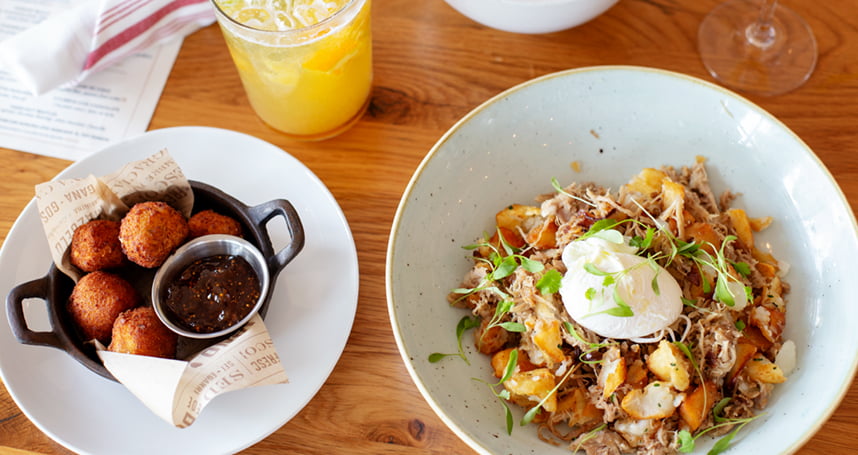 Avid brunch-goers are no strangers to Park Avenue in Winter Park; it's one of Orlando's go-to spots for brunch or a Sunday funday. An abundance of brunch choices also makes it all too easy to miss hidden gems like The Parkview, one of my favorite (and totally underrated) restaurants along this bustling strip of Winter Park. I mean, what's not to love about a cozy, inviting wine bar and restaurant whose wall décor is literally rows of floor-to-ceiling wine bottles? Served every Saturday and Sunday from 11am-4pm, brunch offers something out of the norm. Sip mimosa and rosé flights and nosh on four egg frittatas, creative chef specials and more.
Brunch hours: Saturdays and Sundays from 11am-4pm
Bottomless deals: No, but they do have $10 mimosa flights!
Must-try dish: Seasonal French Toast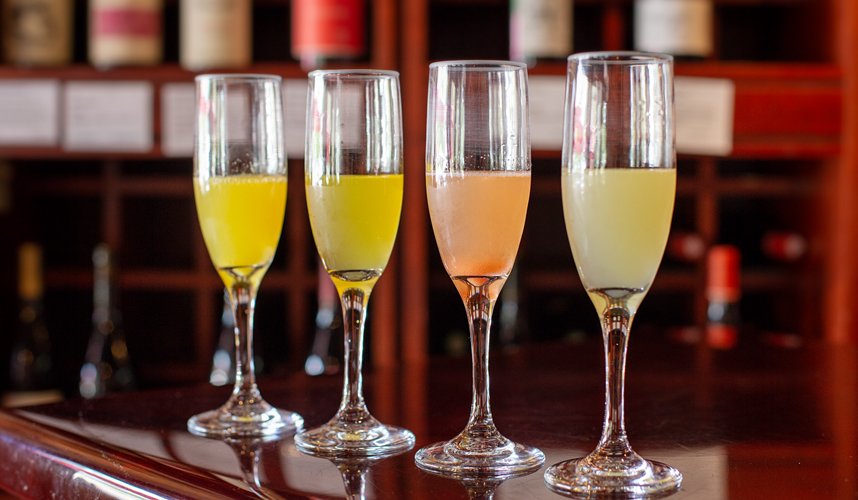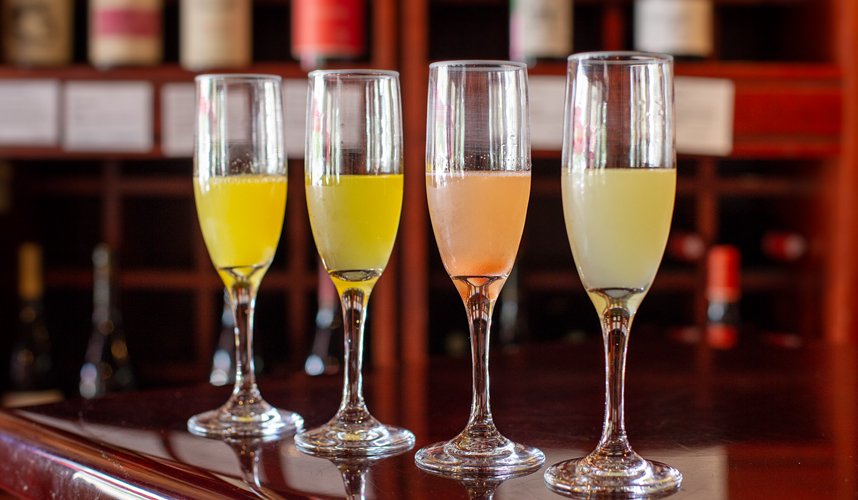 Tempting photos of decadent cakes and handcrafted doughnuts may lure you through The Glass Knife's doors, but the restaurant's more savory side is equally delicious, especially during brunch. Served on Saturdays and Sundays from 7am-4pm, brunch proves that the restaurant packs more than just a sugar-filled punch. I wouldn't frown upon visiting for a meal comprised entirely of indulgent cakes, small-batch buttermilk brioche doughnuts, pastries and other assorted baked goods (like the new macarons). But do so and you'll sorely miss out on Executive Chef Stuart Whitfield's non-dessert creations, like an indulgent avocado toast with a touch of lemon, and Belgian waffles topped with vanilla whip and fresh strawberries.
Brunch hours: Saturdays and Sundays from 7am-4pm
Bottomless deals: No, but mimosas come in four flavors and are $6 by the glass
Must-try dish: Cheddar Biscuit Sandwich (and the Pistachio Orange doughnut)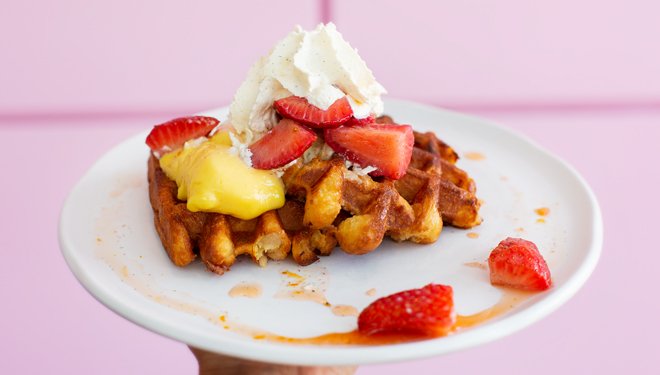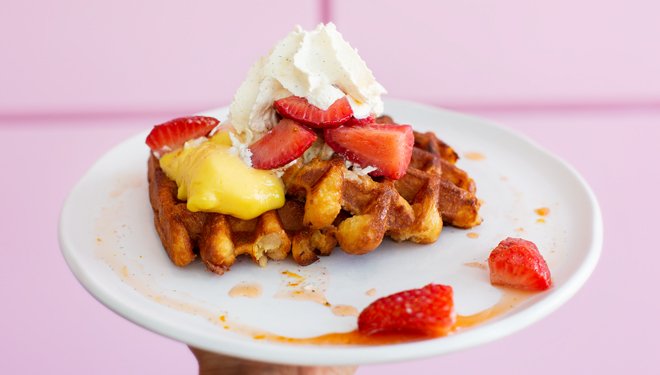 It's been more than a decade since James and Julie Petrakis arrived in Winter Park's food scene with The Ravenous Pig, one of the area's first gastropubs. And while a relocation and the birth of several additional concepts (including Cask & Larder, Swine & Sons and The Polite Pig at Disney Springs) may have given the James Beard Award nominated couple a lot to juggle, we could tell by a recent visit to their firstborn that it might still be the darling of the family. Sunday Brunch is quite something, we discovered. Served from 10:30am to 3pm, the spread includes classics like French Toast and Eggs Benedict with seasonal revisions that make each visit a fresh experience. In fact, the menu changes every Sunday, with only a few staples (like Chicken & Waffles) reappearing from week to week.
Brunch hours: Sundays from 10:30am-3pm
Bottomless deals: No, but there's mimosa bottle service, a Bloody Mary board for two, and $5 brunch punch
Must-try dish: Chicken & Waffles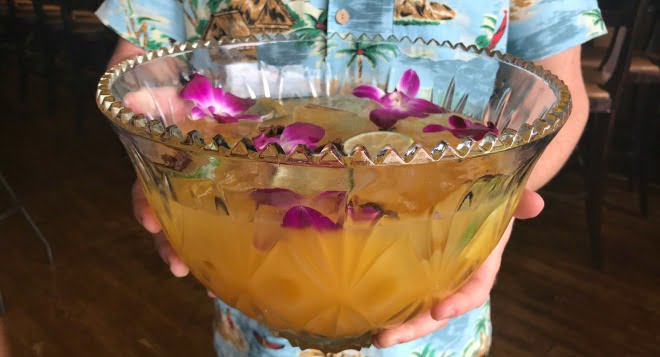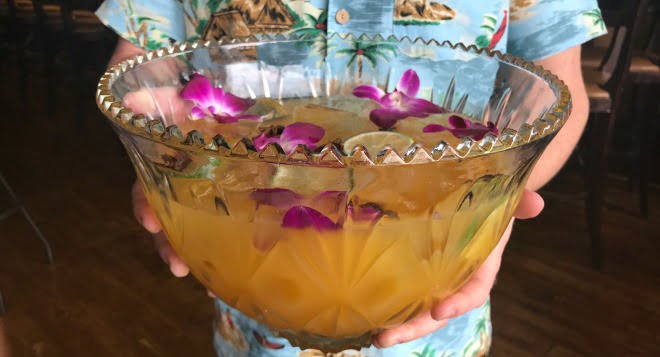 Served Saturdays and Sundays from 11am-3pm, Pizza Bruno's recently launched brunch service covers all of the bases: boozy concoctions, sweet and savory dishes, plus a relaxed atmosphere. While the wood-fired Neapolitan style pizzas are notorious for good reason, brunch invites you to taste the varied capabilities of the pizzeria's talented chef/owner Bruno Zacchini. No matter what you're craving (dessert for breakfast, something savory, pizza, dessert with your breakfast…), you'll find what you're looking for on the well-balanced menu. And don't worry; you can still get your garlic knots fix.
Brunch hours: Saturday-Sunday from 11am-3pm
Bottomless deals: No, but spritzes ($9 each) are 2-for-1
Must-try dish: Dutch baby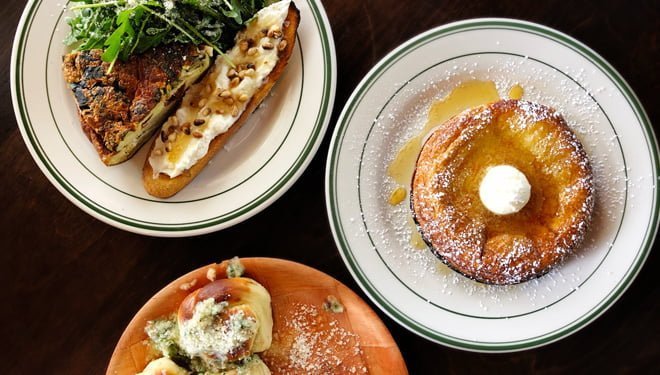 When it comes to convincing you to get to Domu for weekend brunch ASAP, I've got one word for you: boba-mosa. And if that hasn't quite piqued your interest, consider visiting for the top-notch ramen (the hype is deserved), the amazingly friendly and helpful service, the cocktail and "liquid brunch" lineup, special brunch offerings, and the fun playlist, which unite to craft the hip and upbeat atmosphere. Brunch at Domu is your chance to indulge in the dinner menu without the crazy wait typical of the evening hours.
Brunch hours: Saturday-Sunday from 11am-2:30pm
Bottomless deals: $12.95 bottomless mimosas, $5 boba-mosas
Must-try dish: Benedict Bao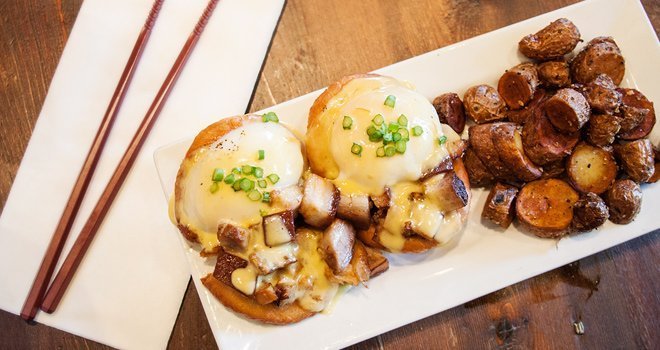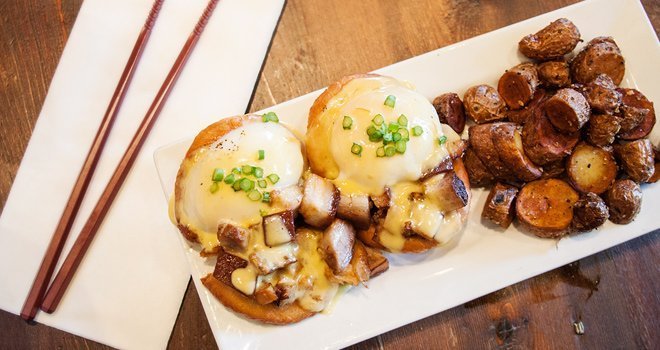 Every Saturday and Sunday from 12-3:30pm, you can feast on the Crave Combo, a three-course feast including your choice of cheese fondue, salad, and chocolate fondue for $19. The Crave Combo is priced and portioned per person, so order two! I recommend ordering a different cheese and chocolate from your partner for maximum tasting and sharing enjoyment. On Sundays, an extra $10 will reward you with fresh, bottomless mimosas.
Brunch hours: Saturday-Sunday from 12-3:30pm, bottomless mimosas on Sundays only
Bottomless deals: $10 bottomless mimosas on Sundays
Must-try dish: S'mores Chocolate Fondue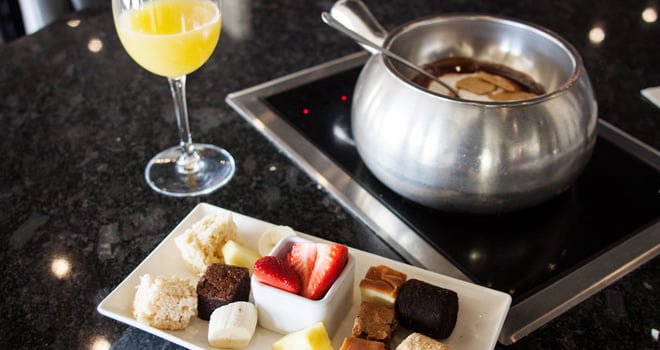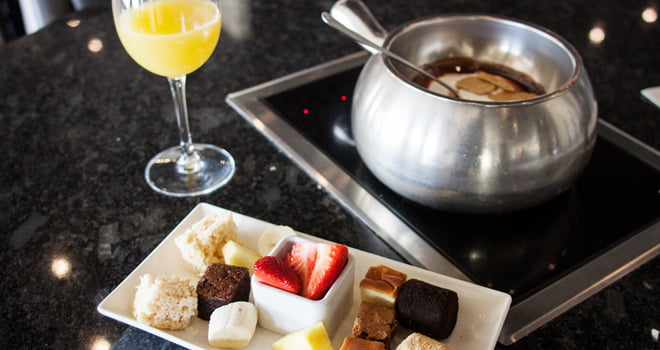 This community-oriented neighborhood restaurant nestled in the Mills 50 District has an atmosphere that welcomes you whether you're a regular or first-time visitor. The servers are jovial, there's a constant buzz in the kitchen, and the light, earthy interior, and large wood tables encourage you to settle in and make yourself at home. While I typically associate brunch with Sundays, brunch at the Strand is a Saturday-only affair, served from 11am-3pm.
Brunch hours: Saturdays from 11am-3pm
Bottomless deals: No, but the fresh mimosas are delicious!
Must-try dish: Grilled Peach Salad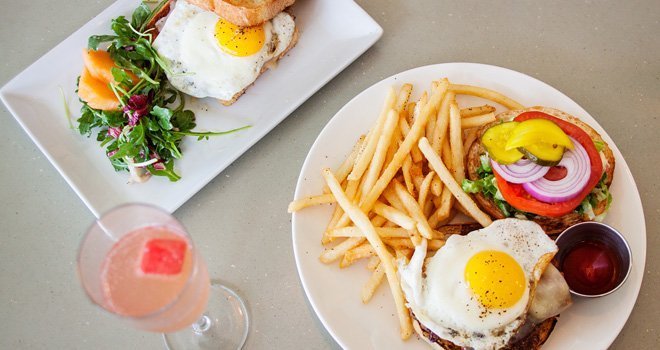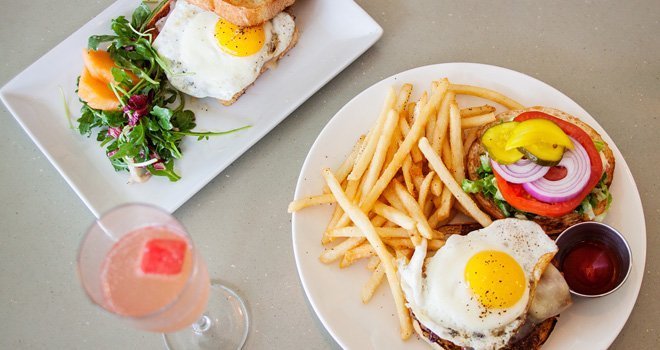 Make the 30-minute drive to Lake Nona from Orlando and you'll land at Canvas Restaurant & Market, a bustling New American restaurant well-poised to become a brunch favorite. The peaceful waterfront setting, outdoor herb garden, and indoor market draw you in while the globally-inspired menu and creative cocktails invite you to stay. The brunch menu is comprised of savory, sweet and spicy, and balanced dishes brought to life by Executive Chef Bryan Thoman. It's well worth leaving the Orlando bubble to taste the expert dishes for yourself.
Brunch hours: Saturday-Sunday from 11am-3pm
Bottomless deals: $12 bottomless mimosas (but you definitely need to try one of the brunch cocktails or frosé)
Must-try dish: Canvas Benedict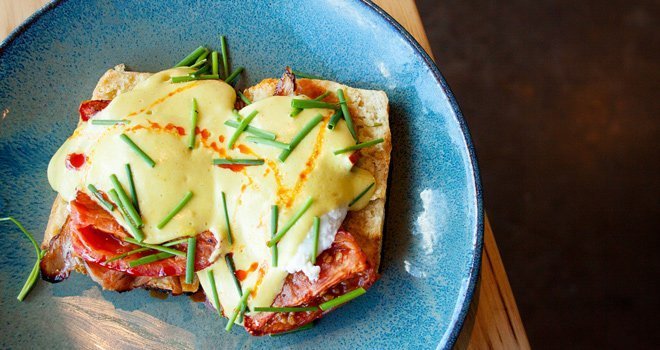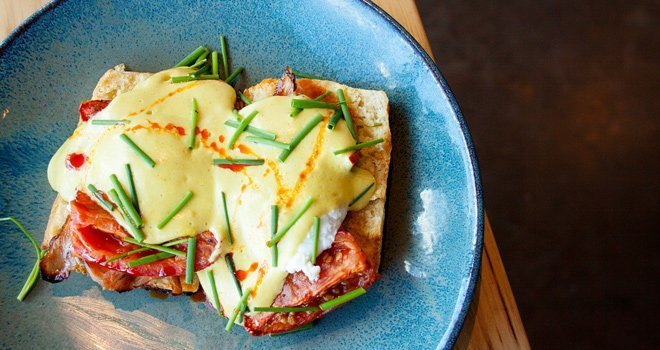 Known for its elevated southern fare and perfect downtown locale, Soco extended its very popular Sunday brunch to Saturday earlier this year. Guests can enjoy everything from homemade pop tarts and strawberry stuffed French toast to lobster benny and southern fried quail and waffles. Bottomless mimosas for $10 are equally enticing. While the menus for brunch and brunch cocktails remain the same for both Saturday and Sunday, you'll discover a live DJ outside on the patio on Saturdays. This creates a notably groovy vibe reminiscent of Hue's bygone disco brunch (for those who recall Soco's predecessor).
Brunch hours: Saturday-Sunday from 11am-3pm
Bottomless deals: $10 bottomless mimosas
Must-try dish: Florida Strawberry Stuffed Brioche French Toast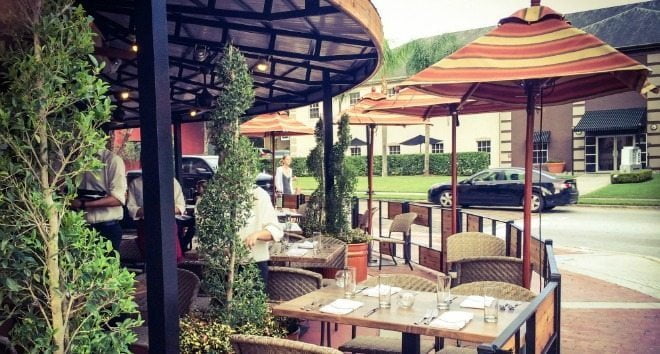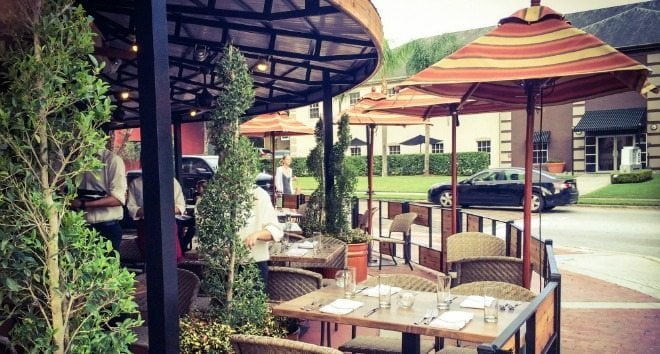 If I had to sum up the brunch experience at DoveCote in one sentence, it'd be "brunch for people who are somewhat tired of brunch". As much as I love chicken & waffles and decadent pancakes that are borderline desserts, sooner or later I begin craving something out of the norm. And on that note, DoveCote's brunch definitely delivers. Served every Sunday from 10:30am-2:30pm, brunch here is exactly as it should be: a savory, indulgent meal to linger over accompanied by cocktails just classy enough to enjoy before lunch. This is one of my absolute favorite brunch spots in Orlando!
Brunch hours: Sundays from 10:30am-2:30pm
Bottomless deals: $18 bottomless Rosé
Must-try dish: Fine Herb Omelet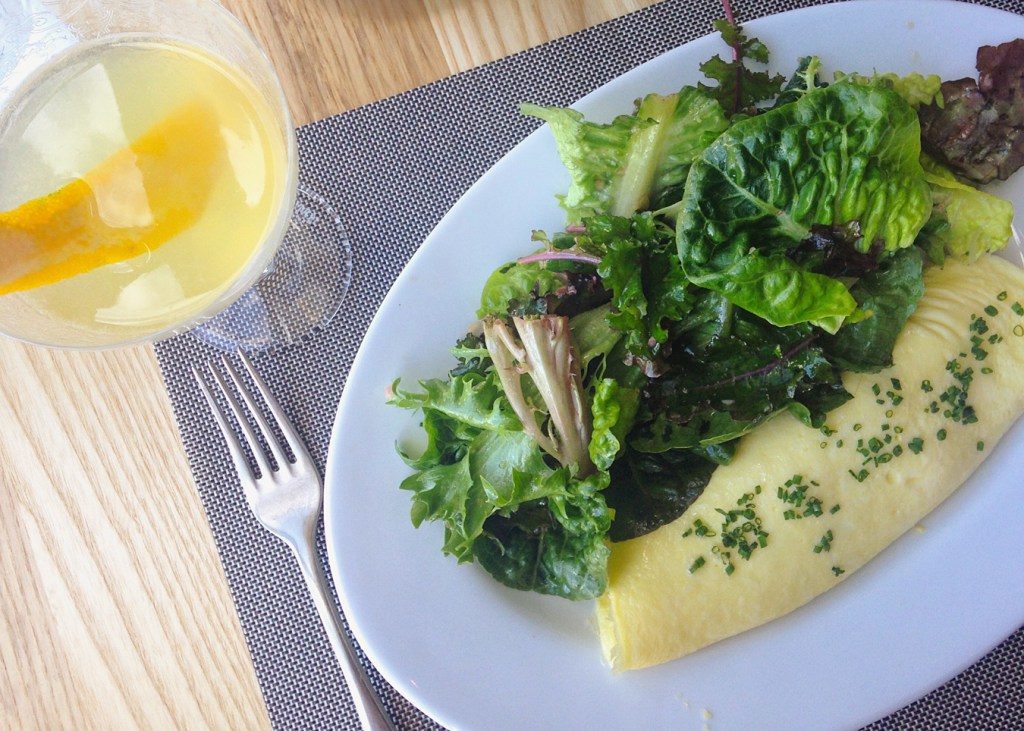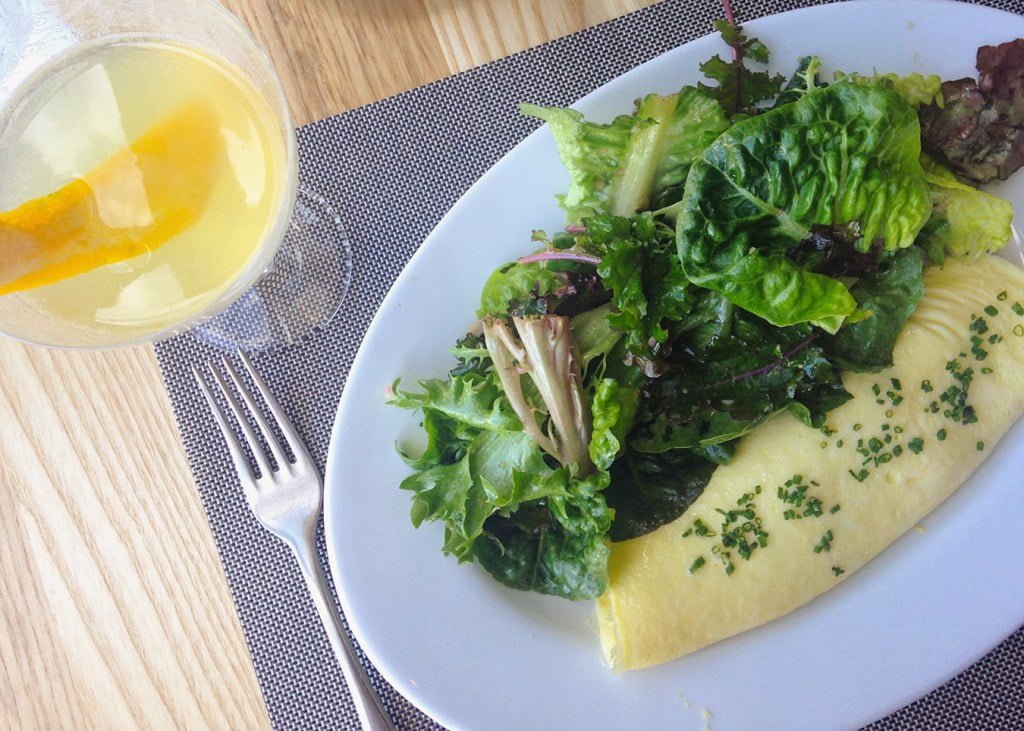 I was a fan before I even sat down and picked up the menu at The Alfond Inn's Hamilton's Kitchen. Brunch here is everything any brunch fan could hope for and more. I'm talking pancakes, waffles, French toast, savory salads, and sandwiches plus loads of crafty egg concoctions. Oh, and a Bloody Mary bar to boot! Live music is playing via an acoustic guitar player in the corner, the breeze is gently blowing on the outdoor terrace and the mimosas are flowing.
Brunch hours: Saturdays and Sundays from 7am-2pm
Bottomless deals: Don't miss the Bloody Mary bar
Must-try dish: Grapefruit Brulee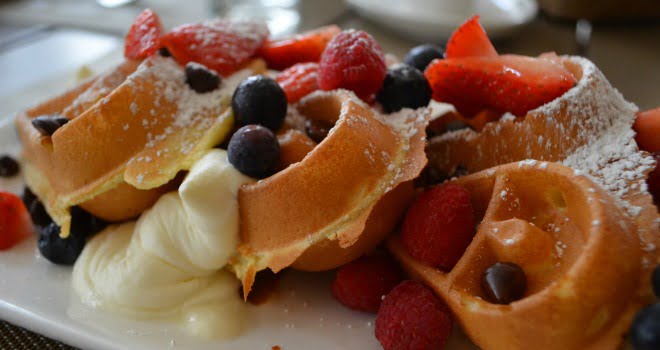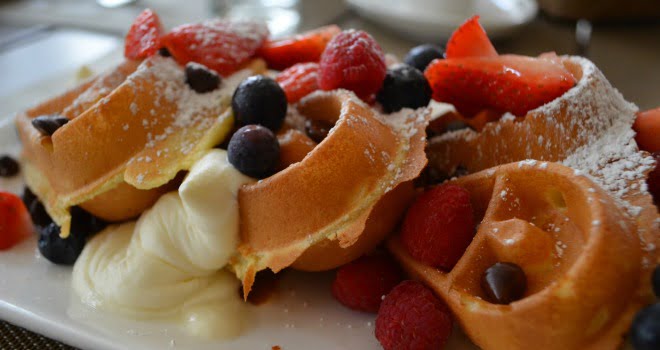 Since opening in 2015, SLATE has made an impact on Orlando's dining scene, especially when it comes to brunch. The modern American restaurant in the Dr. Phillips area is a farm-to-table venture with a menu that changes with the seasons. Brunch is served every Saturday and Sunday. While reservations aren't required, they're highly recommended for brunch.
Brunch hours: Saturdays and Sundays from 10:30am-2:30pm
Bottomless deals: No, but there are plenty of brunch libations to choose from
Must-try dish: Smoked Brisket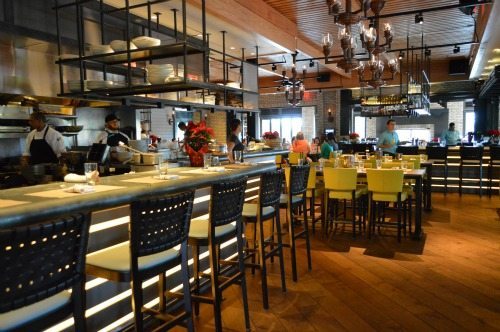 Disney Springs might not be the first place that comes to mind when you start thinking about places to enjoy a Saturday or Sunday brunch. While Downtown Orlando and all of our blossoming Main Street districts offer scores of fabulous eateries for a late morning feast, you might not want to overlook Disney's newly re-imagined dining and entertainment hub, in particular, Raglan Road. With Master Chef Kevin Dundon at the culinary helm, Raglan Road presents its Rollicking Raglan Weekend Brunch every Saturday and Sunday from 10am to 3pm. Featuring a Full Irish Breakfast, as well as dozens of other brunch specialties made with an Irish twist, this brunch is a stellar way to explore hearty Irish cuisine in a setting that's not nearly as kitschy as you might imagine.
Brunch hours: Saturdays and Sundays from 10am-3pm
Bottomless deals: No, but definitely order a Strawberry Fields Mimosa!
Must-try dish: Full Irish Breakfast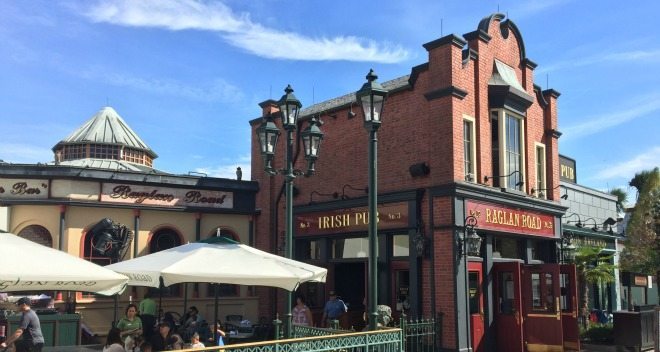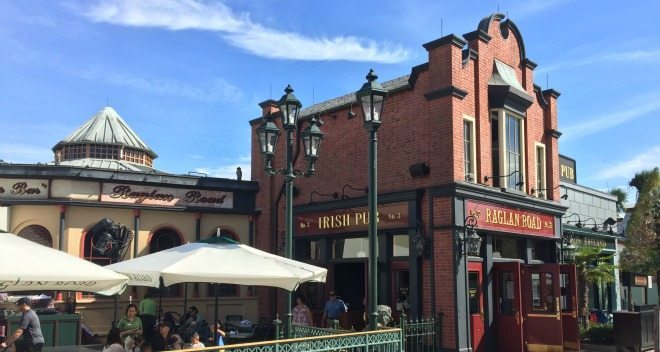 More brunch ideas