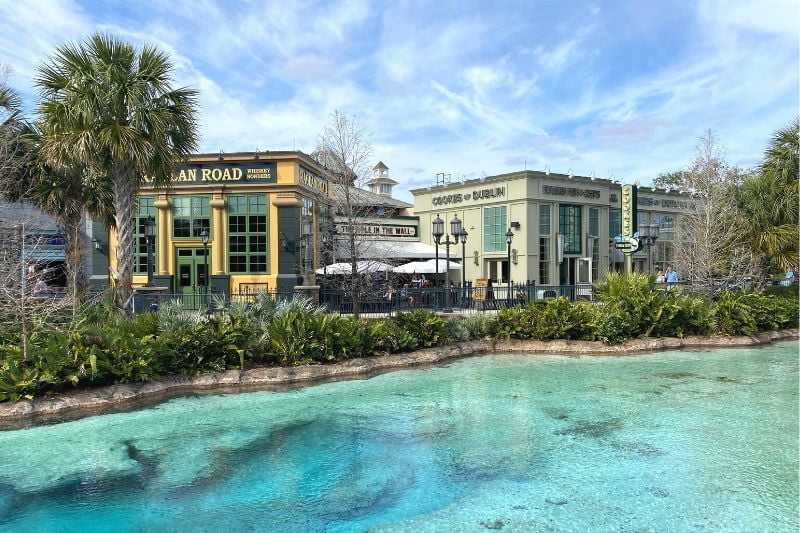 Springtime is starting and Easter is hopping its way here. Easter at Disney World usually means a trip to Disney Springs for many locals and visitors alike. Our quick guide to Easter at Disney Springs includes where to book your Easter brunch or dinner reservation, where to grab a special treat, and some tips on parking and when to visit.
Easter At Disney Springs
If you want Disney magic without the fuss of the theme parks, Disney Springs is a good option. Between the restaurants and all the shops, you can easily take care of an Easter meal and shopping all in one place.
A reservation is not needed to visit Disney Springs, and it's free to park and walk around. Just be prepared that the parking garages may fill up early in the day.
Restaurants with Easter Dinner at Disney Springs
Chef Art Smith's Homecomin'
Raglan Road Irish Restaurant and Pub
Paddlefish
Wine Bar George
Mario & Enzo's
Enzo's Hideaway
Morimoto Asia
The Edison
City Works Eatery & Pour
STK Orlando
While a menu for Easter 2023 has not be announced just yet, Maria and Enzo's is a great choice for Easter dining. And we love Enzo's Hideaway for cocktails and shareable bites.
Paddlefish
Have you ever wondered what it would be like to dine on a steamboat? Paddlefish provides diners with the opportunity to do just that.  We love the waterside dining here. And each evening at 5pm the marvelous rooftop deck opens up for dining and bar service.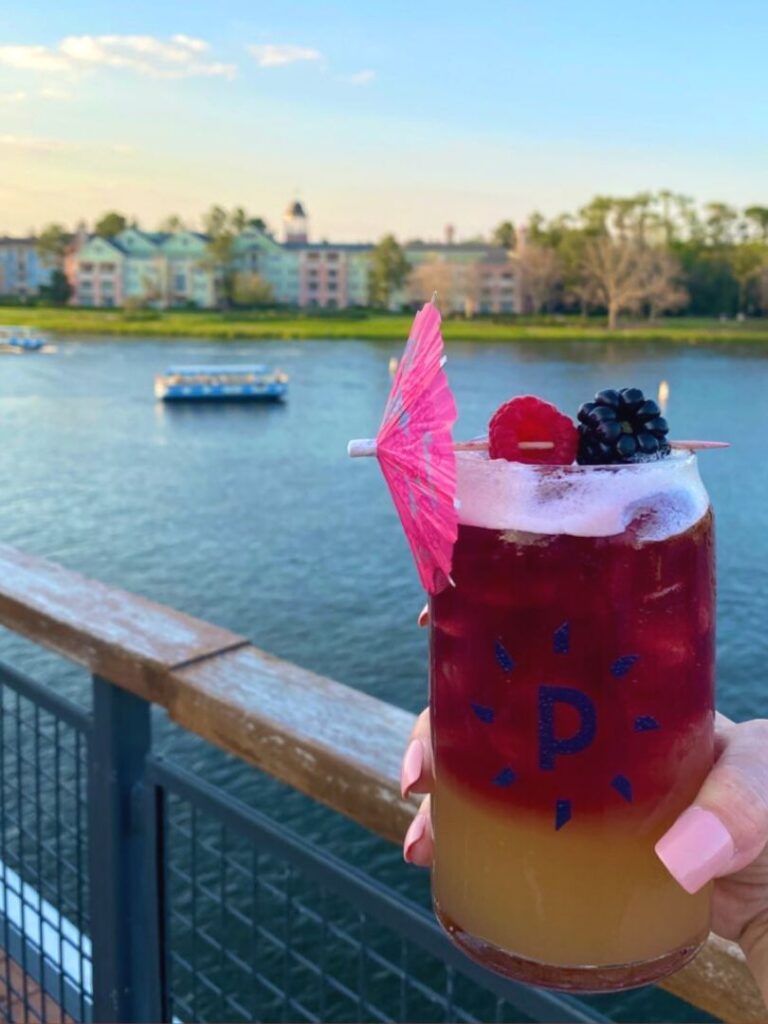 One of the most entertaining venues at Disney Springs, we love The Edison for date night and special gatherings. The Edison has not yet announced a special menu for Easter 2023. However, each month they feature at least one specialty, seasonal cocktail. We will keep an eye out for any announcements.
Reservations are strongly recommended.
RAGLAN ROAD IRISH PUB AND RESTAURANT AT DISNEY SPRINGS
Enjoy Easter dinner with an Irish twist. Or if you're looking for Easter brunch Raglan Road will definitely satisfy.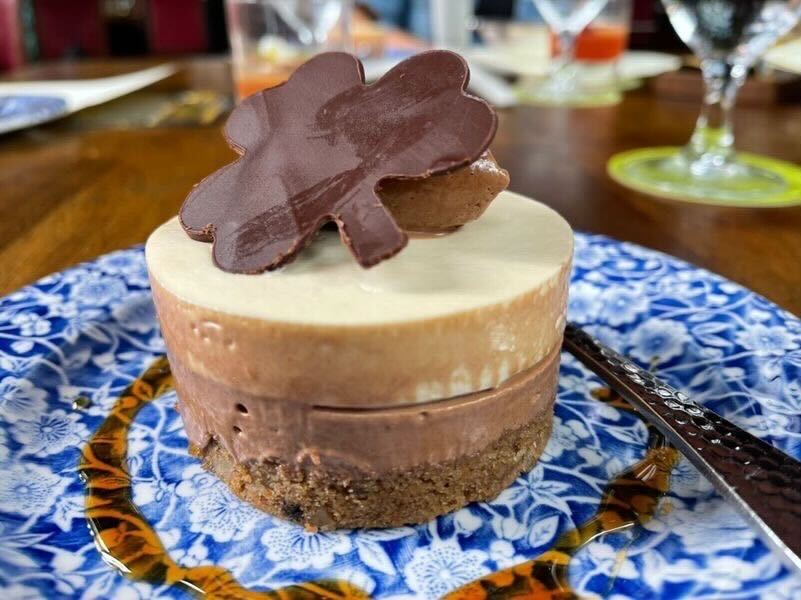 Live Irish music and dance entertains everyone every weekend.
Join Morimoto Asia at Disney Springs for a Pan-Asian-inspired feast this Easter. A special Easter 2023 menu has not been announced yet, but we will update soon.
Morimoto Asia's full menu of delicious traditional dishes will be available as well, including Buri-Bop, Wagyu beef and spare ribs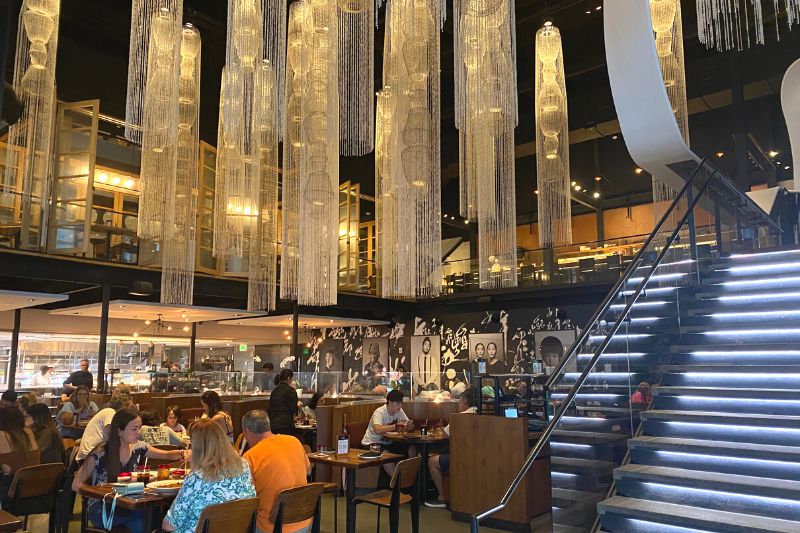 Get more options in our guide to Restaurants in Orlando Serving Easter Dinner
Easter Shopping
Disney Springs is open on Easter Sunday 10am – 11pm, as well as Saturday.
There are dozens of stores at the large entertainment complex and some will likely have sales to help you pick out something fun for spring or Easter.
Expect lots of crowds! If you're willing to traverse the crowds during Easter weekend then don't miss these favorite shops:
World of Disney
Marketplace Co-op (you can make your own candle!)
12 Days of Christmas
Art of Disney
Sugarboo & Co.
UNIQLO
Things To Do
There is more to do at Disney Springs during Easter besides eating and drinking. Be sure to enjoy the waterways and live entertainment. There are multiple stages near the water with live performances throughout the day and especially during the evening.
While you're at Disney Springs for Easter, be sure to pay attention to the beautiful flowers and landscaping. Spring is all around.
If you want to make it a truly special visit then book tickets to the stunning Cirque du Soleil show Drawn to Life.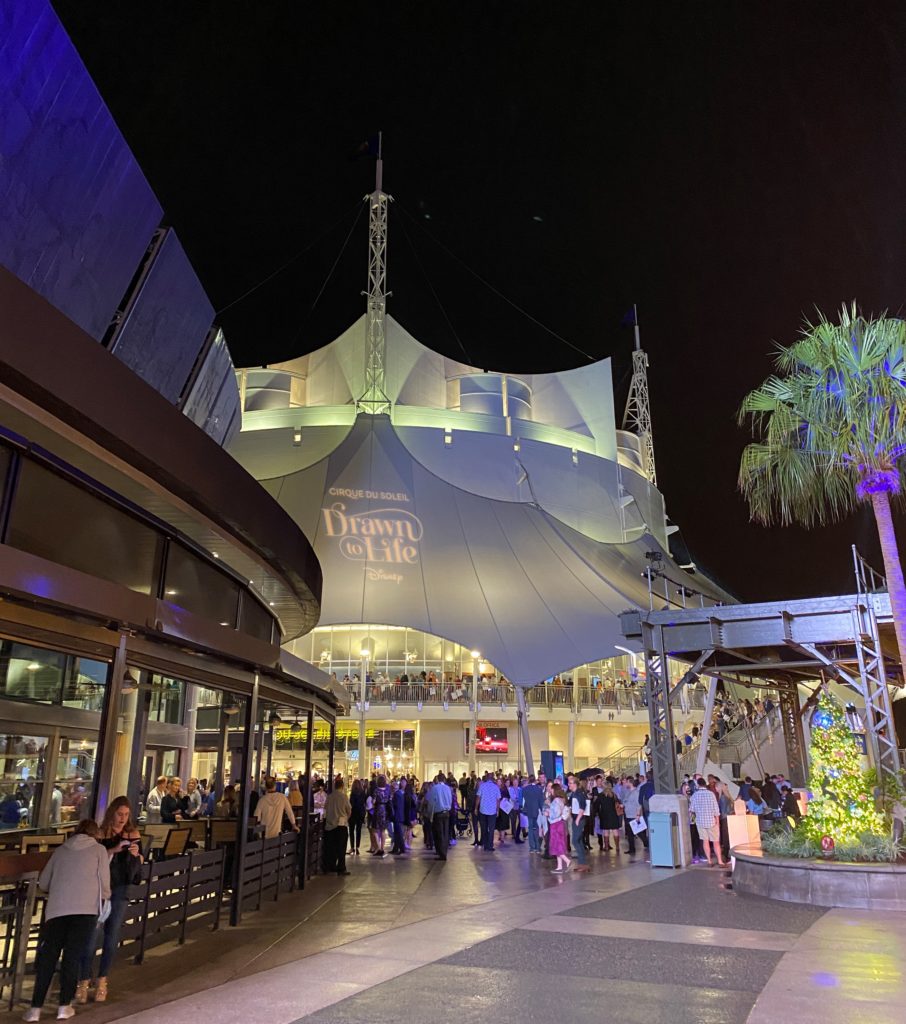 If you're feeling spirited, follow our guide for a Disney Springs Pub Crawl or enjoy these refreshing mocktails at Walt Disney World.
You can also use Disney bus transportation to head to Disney's Grand Floridian where you'll find Easter egg displays and The Grand Cottage selling Easter and springtime treats.
Disney Springs Parking
Expect parking garages at Disney Springs to fill up by midday on Easter Sunday and the weekend.
Lime Garage and Orange Garage are the most popular. Grapefruit Garage is across the street and has a convenient pedestrian bridge. Finally, the surface parking lots near Cirque du Soleil are usually overlooked. Just know these surface lots are at the far end of Disney Springs, and the West Side, and the rows are not as clearly marked as the ones in the garage. So, take extra note of your car's location.
Wear comfortable shoes, you can expect lots of walking on this busy weekend.