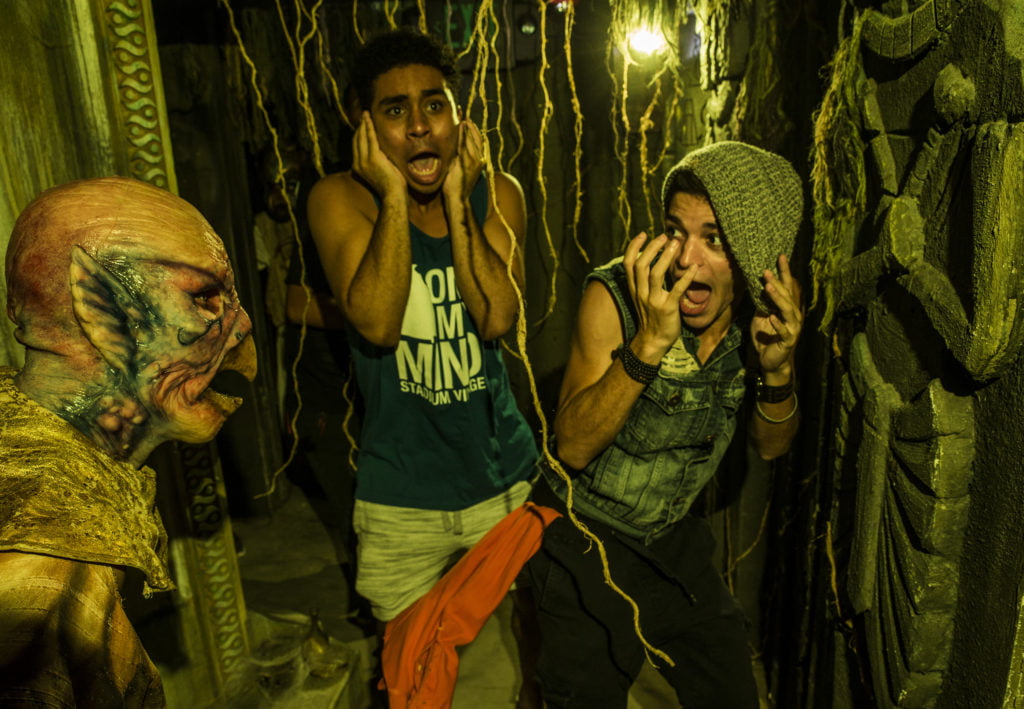 Celebrate Halloween in Orlando with these top picks for the area's most haunted happenings!
Halloween is just around the corner, but you can partake in frightful festivities all month long. Start planning your couples costume, stock up on your favorite Halloween goodies at the store, and do date night at one of these fantastic Halloween events in Orlando. We'll be updating this list frequently, so check back often for new updates.
TOP PICKS FOR DATE NIGHT
Universal Orlando's Halloween Horror Nights
Halloween Horror Nights
Select nights through November 2
Universal Orlando
Get your screams out in an all new houses from Stranger Things and Jordan Peele's 'Us', Ghostbusters, a new "Halloween Marathon of Mayhem" Lagoon Show, five scare zones, themed food specials, and select rides open during the event. Admission to Halloween Horror Nights is NOT included in theme park admission and must be purchased separately.
$67.99/person and up
PS: Check out our tips for a Halloween Horror Nights Date Night!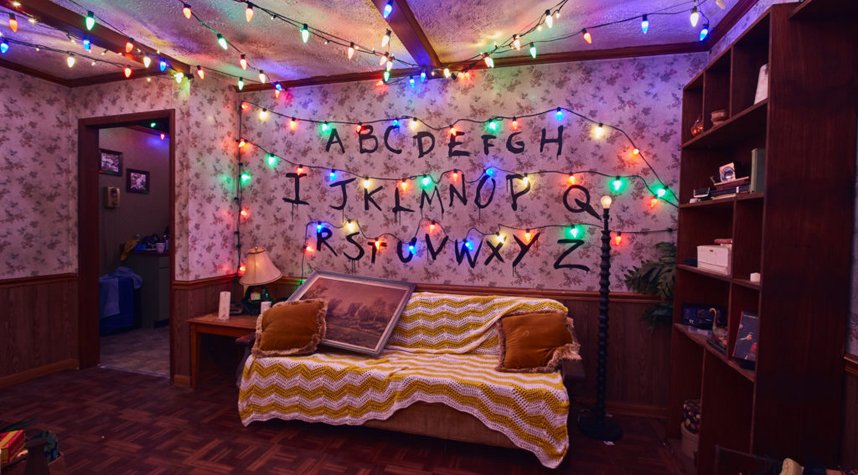 Enzian's 13 Films of Halloween / Eden Bar Halloween Party
Enzian's 13 Films of Halloween
October 1 – 29 (Show times vary)
Enzian Theater
Catch a classic Halloween movie and sip on one of the theater's themed cocktails of Halloween available throughout the month.
$9 and up
Here's the lineup:
For more ideas on where to see Halloween movies, check out our complete guide here!
Eden Bar's Halloween Party
Saturday, October 26, 9pm-2am
Eden Bar
–Come dressed to impressed in your best costume and enjoy a night of drink specials and music. There will be a costume contest with prizes awarded for Best Couple, Most Original and Scariest Costume.
FREE; menu prices vary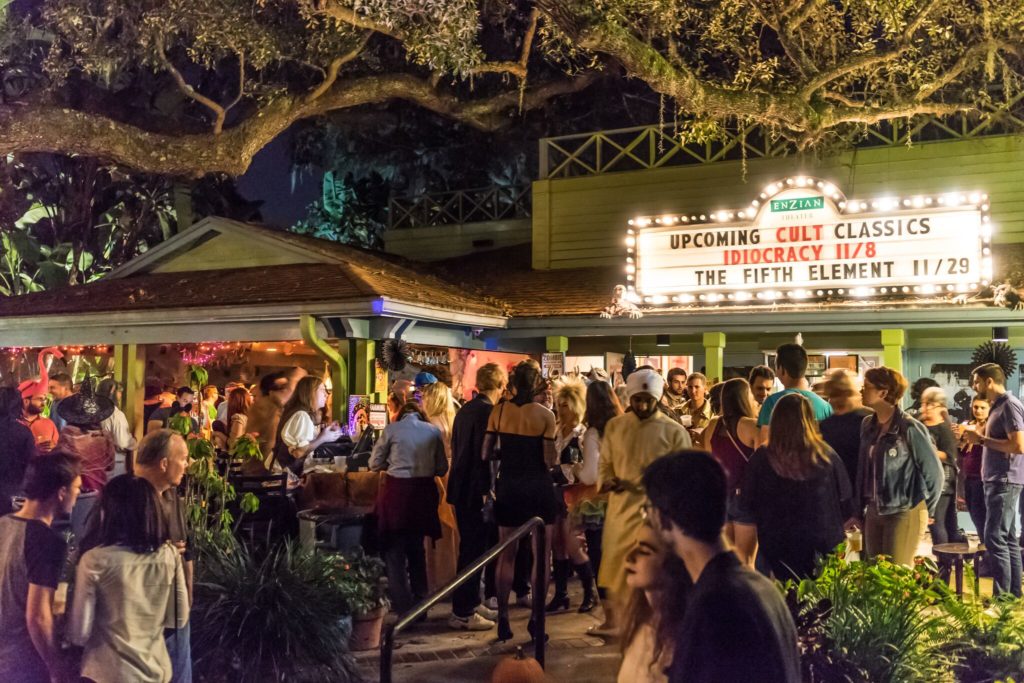 Adults-Only Science Night Dead
Adults-Only Science Night Dead
Saturday, October 5, 8-11:30pm
Orlando Science Center
Enjoy everything you love about Orlando Science Center–without the kids! Find out with traveling exhibit Artificial Intelligence: Your Mind & the Machine. Hear from engaging guest speakers, catch an interactive Synesthesia presentation with Synthestruct, and participate in ghoulishly good trivia for prizes. Spin the Wheel of Torture for a treacherous task, solve the murder during Night of the Chicken Dead, catch a monstrous giant-screen film, look to the stars (weather permitting) and more!
$16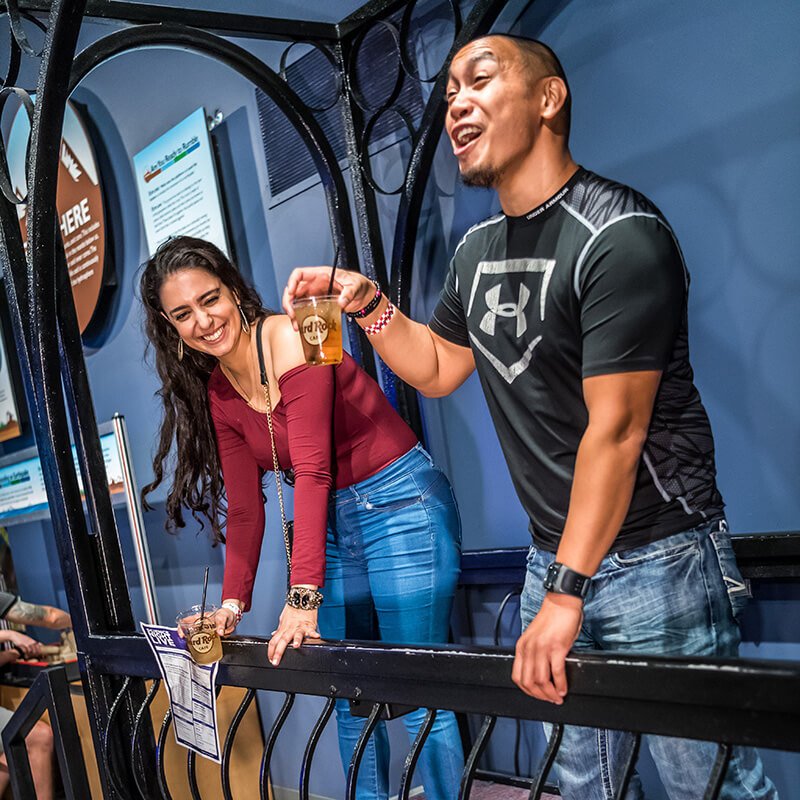 Phantasmagoria X: Reckoning
Phantasmagoria X: Reckoning
October 18 – November 2 (select dates)
Multiple theaters throughout Central Florida
$20/person and up
Theaters and showtimes are as follows:
Orlando – Lowndes Shakespeare Center: October 18, 19, 20, 21
DeLand – Athens Theatre: October 25
Eustis – Historic State Theatre: October 31
Sanford – Wayne Densch Performing Arts Center: November 1
Ocala – Reilly Arts Center: November 2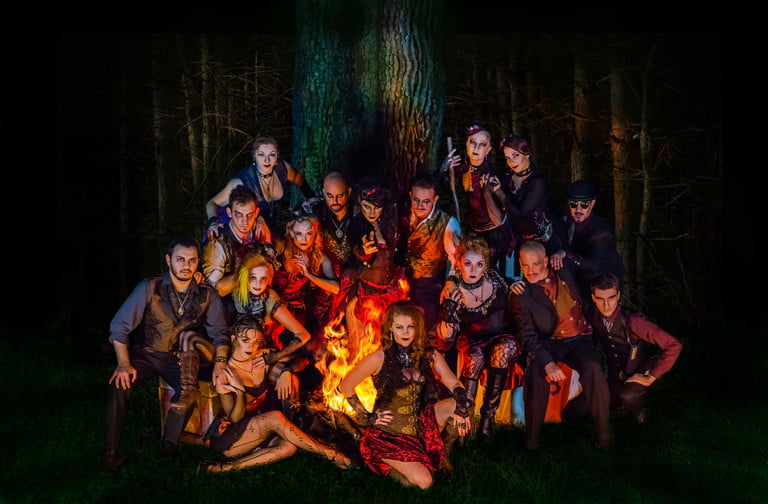 OSC After Dark
OSC After Dark
Friday, October 25, 8-11pm
Orlando Science Center
Have a frightfully fantastic night at the museum as you dance the night away in DinoDigs, enjoying some wicked tricks and treats. Special experiences include a costume contest, live music and entertainment, sweet and savory bites, and booo-z beverages! 21+ only
$35 Early bird price until October 11, $50 General Admission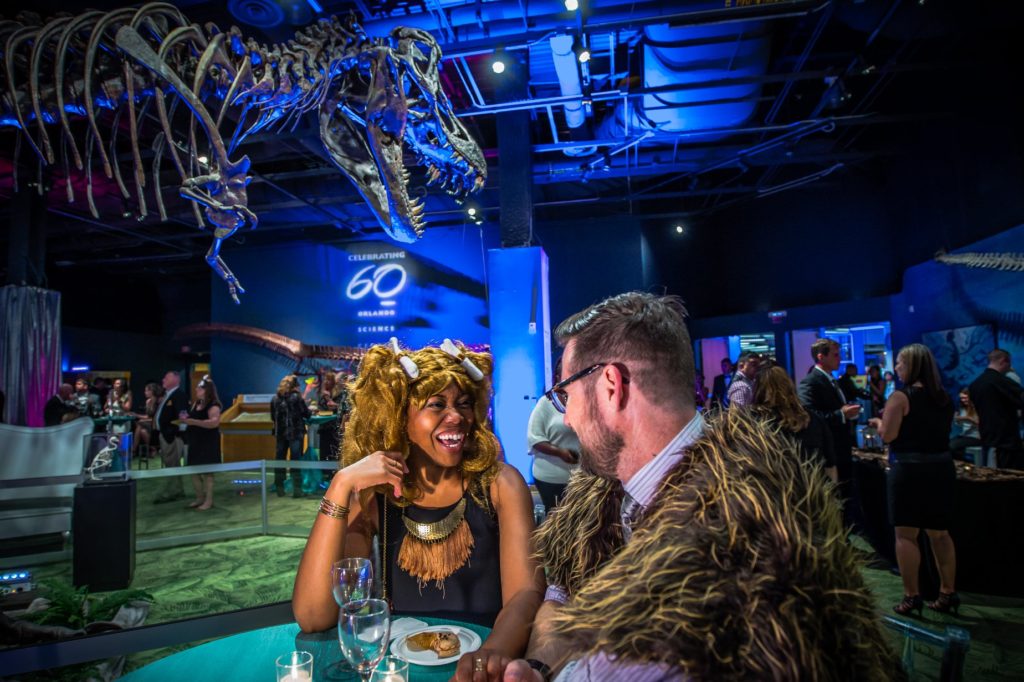 American Ghost Adventures Greenwood Cemetery Tour
American Ghost Adventures Greenwood Cemetery Tour
Saturday, October 26, 7:30pm
Greenwood Cemetery
Enjoy a guided, 2-hour investigative tour through Greenwood Cemetery with history, ghost stories, and a mini ghost investigation.
$40/person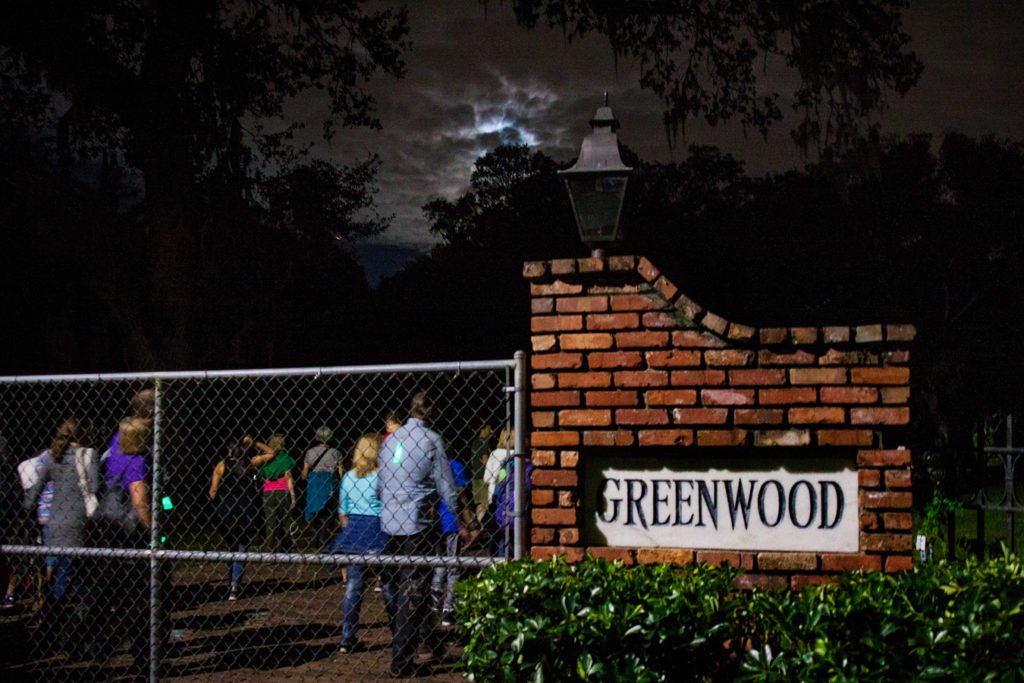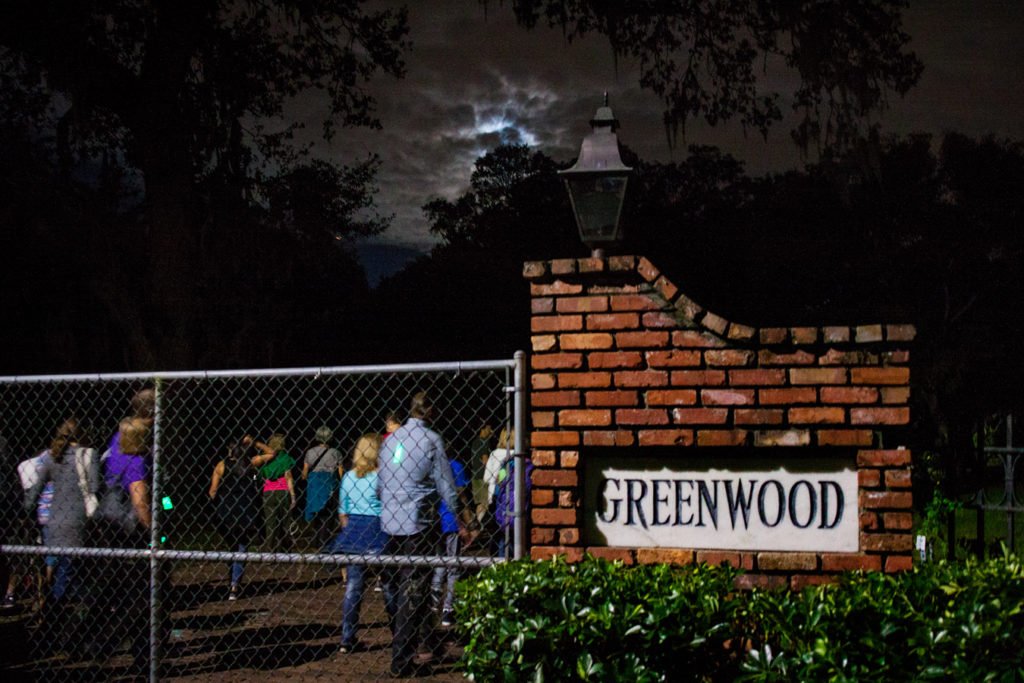 Rocky Horror Picture Show Experience at the Garden Theatre
Rocky Horror Picture Show Experience
Thursday, October 31, 10pm
Garden Theatre
The Rocky Horror Picture Show Experience at the Garden Theatre is a night of interactive entertainment with your hostess, Miss P. Tart! Enjoy the 1975 film, a costume contest with prizes, photo opportunities and more!
$12/person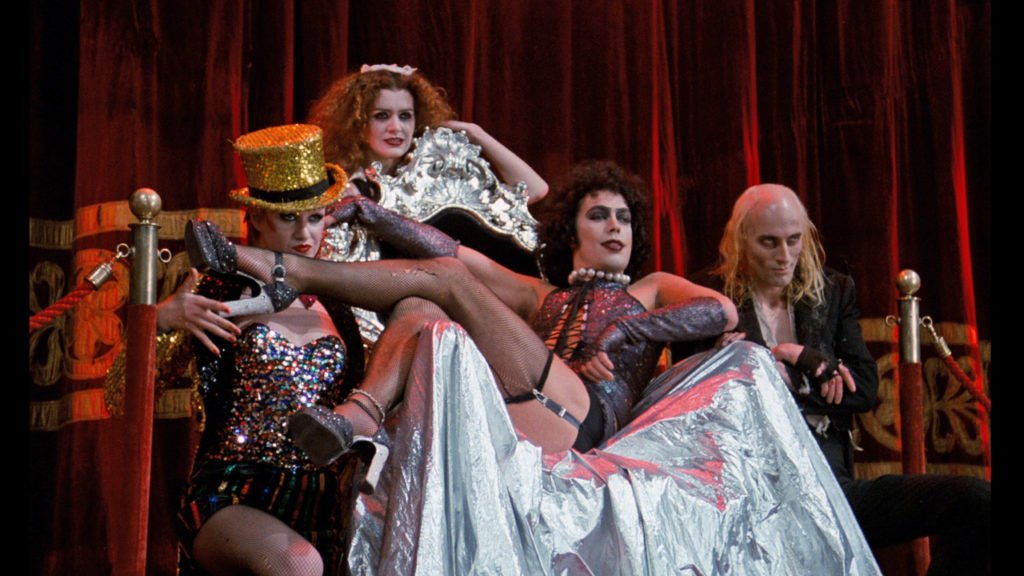 HAUNTED HOUSES
SCREAM-A-GEDDON
October 4 – November 2
27839 Saint Joe Road, Dade City
$21.95 and up
October 10 – November 2
14500 Continental Gateway, Orlando
Florida's first-ever West Coast-style haunt featuring 3 gruesome haunted-houses, 4 immersive bars and 2 stages! Hundreds of monsters await to scare you over 16 terrifying nights.
$34-39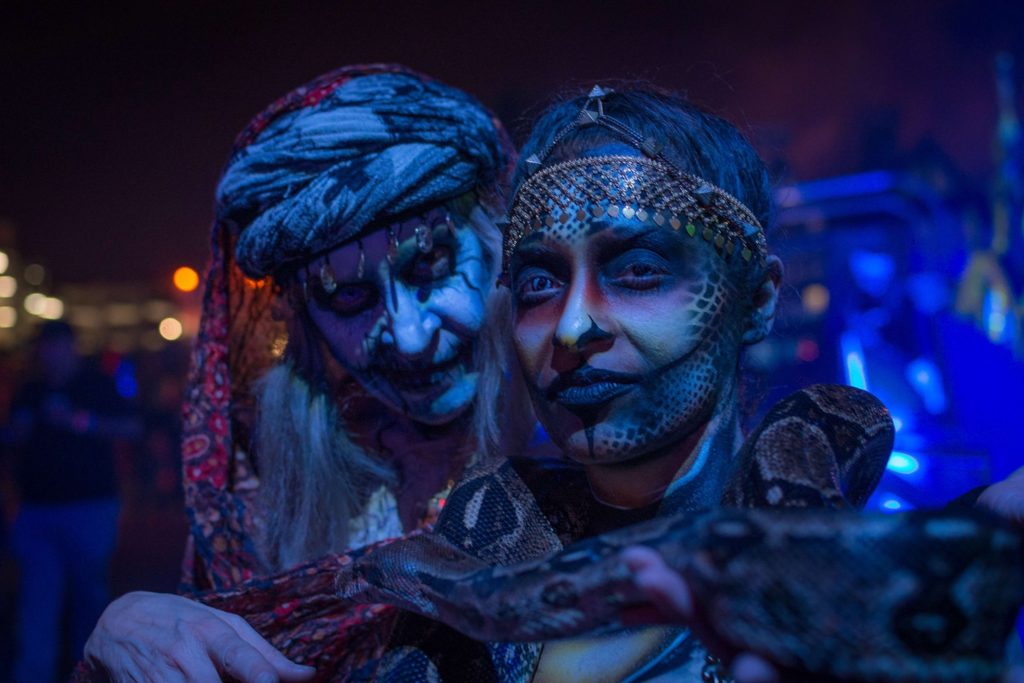 The City of Ocoee's 12th Annual Haunted House
October 13, 19, 20, 26 and 27, 7:30-11pm
Ocoee (951 Ocoee Apopka Rd.)
$5/person
A Petrified Forest
Select nights through November 2
Altamonte Springs
$20 and up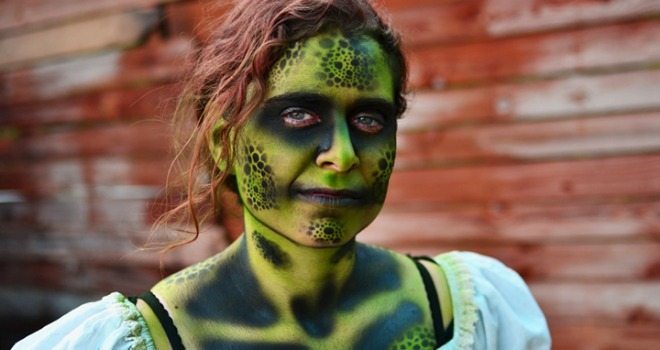 STAYCATION DEALS
Now through November 2
Hilton Orlando
Enjoy daily breakfast (a breakfast with terror-ific options for everyone, late check-out (escape into the night, then rest in peace) and premium Wi-Fi (scare up some fun and post your photos from the night before). Your tomb, uh room is just a click away.
Starts at $167
Halloween Horror Nights Special
Sept 1 – Nov 2, 2019
Book 8/13/19 – 11/2/19
The Florida Hotel
Enjoy a special room rate as well as two Starbucks drink vouchers when you spend the night.
$119
Stranger Things Pop-up Photo Op
Through October 31
Universal's Cabana Beach Resort
Stay where you scream & go further into the Upside Down as Stranger Things comes to select areas of the hotel.
MORE FUN EVENTS
Gaylord Palms Goblins & Giggles Weekends
Weekends now through October 28
Gaylord Palms
Don't miss the The Pirate's Treasure Escape Room which is open to non-resort guests ($16.99/person).
Activity prices and packages vary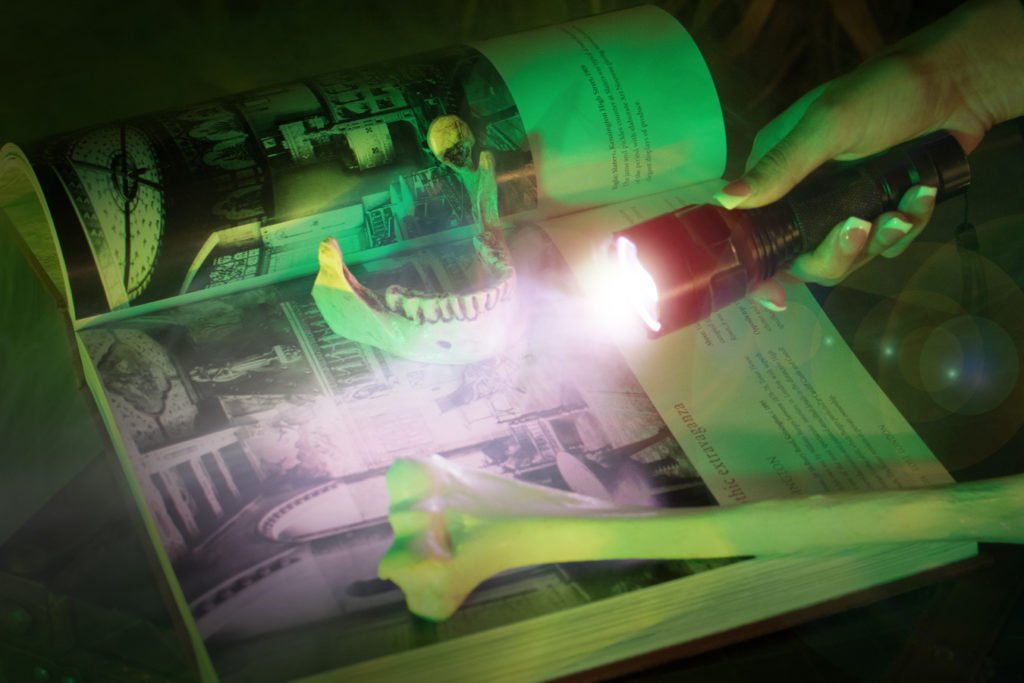 Haunted Tours at the Maitland Art Center
October 4, 11, 18 & 25, 6:30-9:30pm
Maitland Art Center
Named "one of the most haunted spots in Central Florida" by the Orlando Weekly, the Maitland Art Center holds more than 80 years of stories within its walls. On this tour, you will hear the history and ghost stories of the facility from its staff and students.
$10-15
Paranormal Investigations at the Waterhouse
October 4, 11, 18 & 25, 6:30-10pm
Over the years, staff and guests have reported strange experiences in the home, so we invited the team at American Ghost Adventures to check on some of the claims. Join these professionals for a full investigation of the home using their detection equipment – there's no telling who or what you may encounter. Three tours per night at 6:30, 8:00, and 9:30.
$25-30
Ghosts and Galaxies at A Petrified Forest
Friday, October 11, 7-11pm
A Petrified Forest
Join the staff of the Emil Buehler Planetarium for a special night of frights and astronomical sights as we observe the planets Jupiter, Saturn, the Moon, and the Andromeda Galaxy through our large telescope at one of Central Florida's premier haunted attractions. Admission to A Petrified Forest is required to attend the special viewing event. Tickets can be purchased by visiting https://www.apetrifiedforest.com/
$20
Haunting Tales
Friday, October 11, 7:30-10pm
Leu Gardens
Goose-bump stories begin at 7:30 p.m. for all ages followed by an intermission, and then the wickedest of storytellers will come forth, one by one, to spin frightening tales that will raise the hair on your arms.Grilled food, drinks and "treats" will be available for purchase or you may bring a dinner picnic basket. Alcohol is permitted.
$10
Greenwood Cemetery Moonlight Walking Tour
Friday, October 11, 8-10pm
Greenwood Cemetery
The Moonlight Walking Tours take you on a historical stroll through Greenwood Cemetery. The walk is approximately two (2) miles within the 100-acre cemetery, and it will briefly visit about 100 graves of notable individuals in Orlando's history.
FREE Admission, registration through Eventbrite required.
Spooky Empire- The Official Pre- Halloween Party *Captured*
Friday, October 11, 8pm-2:30am
BB King's Blues Club Orlando
DJ's, $1000 Costume Contest, Entertainers, Body Painting, Games, Performers, 4 full liquor bars, Photobooth, Giveaways, Food, Contests, Dancing, Vendors, and more.
$15
Track Shack's Halloween Run 5k
Saturday, October 12, 8-9:30am
Harbor Park at Lake Baldwin
Enjoy photo ops and candy stops along the route. Finish with bounce houses, cold treats, face painters and trick or treating!
$33-40
Milk Mart – Sunday the 13th Market
Sunday, October 13, 12-6pm
2428 E. Robinson Street, Orlando
The Milk District's spookiest market yet; featuring tons of local vendors flaunting their Halloween best. This event is pet friendly and comes with not one, not two, but THREE fabulous bars to venture between; The Nook on Robinson, IRON COW, and Sportstown Billiards!
FREE Admission
CityArts Factory's 10th Annual Dia de los Muertos & Monster Factory
Thursday, October 17, 6-11pm (opening reception)
CityArts Factory
This unique art show will be paired with a street party on opening night that will feature food, drinks, entertainment and spooky art vendors.
$5/person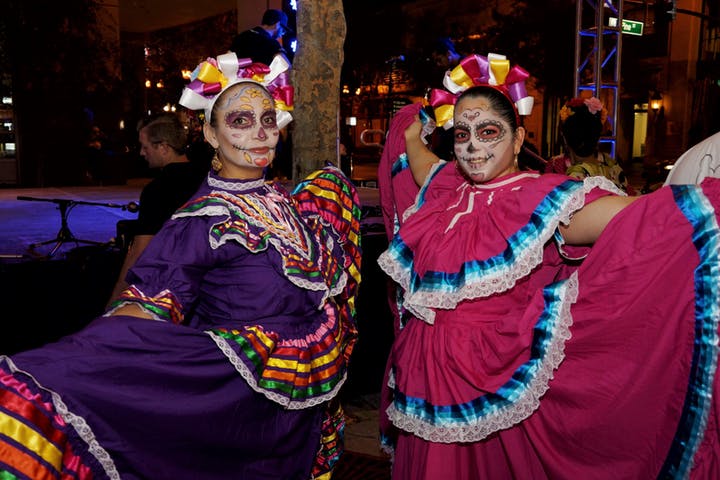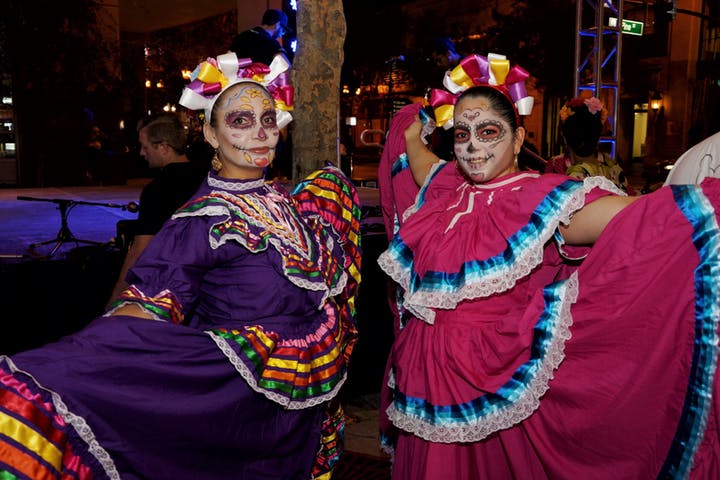 Asylum Haunted Hospital
October 18, 19, 24, 25, 26, and 30
Asylum Haunted Hospital: 108 Taylor St, Ocoee
This haunted hospital is unique as it is in 100% darkness and all you have is a small flashlight to light your way through the halls of the Asylum. Are you brave enough to try it?
$5
Spooky Star Party 2019
Friday, October 19, 5-10pm
Emil Buehler Perpetual Trust Planetarium at Seminole State College
Join the Emil Buehler Planetarium at Seminole State College for an evening of celestial observation, laser shows, spooky crafts, hair-raising science activities, and more. You're encouraged to dress up in your Halloween best, and be sure to catch the special Halloween-themed laser show "Fright Lights" at 6 pm, 7 pm, 8 pm, and 9 pm.
FREE Admission to the star party and science activities; Admission for the laser show is $6
The Haunted Jungle 2019
Saturday, October 19, 6-9pm
The Haunted Jungle – 1419 E Colonial Dr, Orlando
Back for 1 night only, allowing you two trips through the Haunted Jungle.
$10
Gatorland's Gators, Ghosts And Goblins
October 19, 20, 26, 27 and 31
Gatorland
Stroll through spooky areas like the "Graveyard of the Darned", have an encounter with Skunk Ape "the Florida Bigfoot" at the Cryptozoo, then grab your Lederhosen for Frank & Stein's Ooky Kooky Octoberfest, featuring live music from an undead polka band as well as German Beer and food for purchase! Gatorland won't be giving out candy but kids can wear family friendly costumes if they like. (Nothing scary or gory, please). The Halloween activities are included with your regular park admission.
$26.99
Halloween at Boxi Park
October 17-31
Boxi Park, Lake Nona Town Center
Boxi Park Lake Nona is hosting two weeks of Halloween activities, spooky decorations and characters, concerts and specials on select nights through Thursday, October 31. Halloween festivities will feature evening performances from some of Orlando's best DJs and musicians, kid-friendly activities, special food & cocktail offerings to celebrate the fall season, plus costume contests and photo ops with spooky celebs.
FREE Admission
Halloween Festival of Frights
October 25 & 26
Center Lake Park, Oviedo
This is a two-day Halloween Festival for all ages including a Spooky Mansion Slide, inflatables, carnival games, and carnival rides.
$5 for the first 100 tickets, all other tickets are $10 each

Haunted Tram
October 25 & 26
Ellie Schiller Homosassa Springs Wildlife State Park – 4150 S Suncoast Blvd, Homosassa
Pepper Creek Trail will transform at dusk into a trail of haunting scenarios created by local groups and businesses. The tram will take patrons down and back on the three-quarter mile Tram Road, where scare experts will thrill and fright along the way. In addition to the Haunted Tram Rides, the event includes family fun such as Halloween costume contests, a fun slide, and refreshments.
$5 suggested donation
Plazaween 2019
October 25, 26 and 31, 9pm-12am
Wall St. Plaza
3 nights of Halloween block parties featuring live music, light shows, costumes contests and drink specials at 7 venues.
FREE Admission, drink prices vary
14th Annual Freak Show Horror Film Festival
October 25 – 27
EPIC Theaters at Lee Vista
$20-80
OPOP Halloween Block Party
Friday, October 25, 7pm
2513 Industrial Blvd Orlando
A Halloween themed block party with food, vendors, costume contest, a horror film and a thriller flash mob.
$10
The Halloween Pub Crawl
Friday, October 25, 8pm
Downtown Orlando
$10-20/person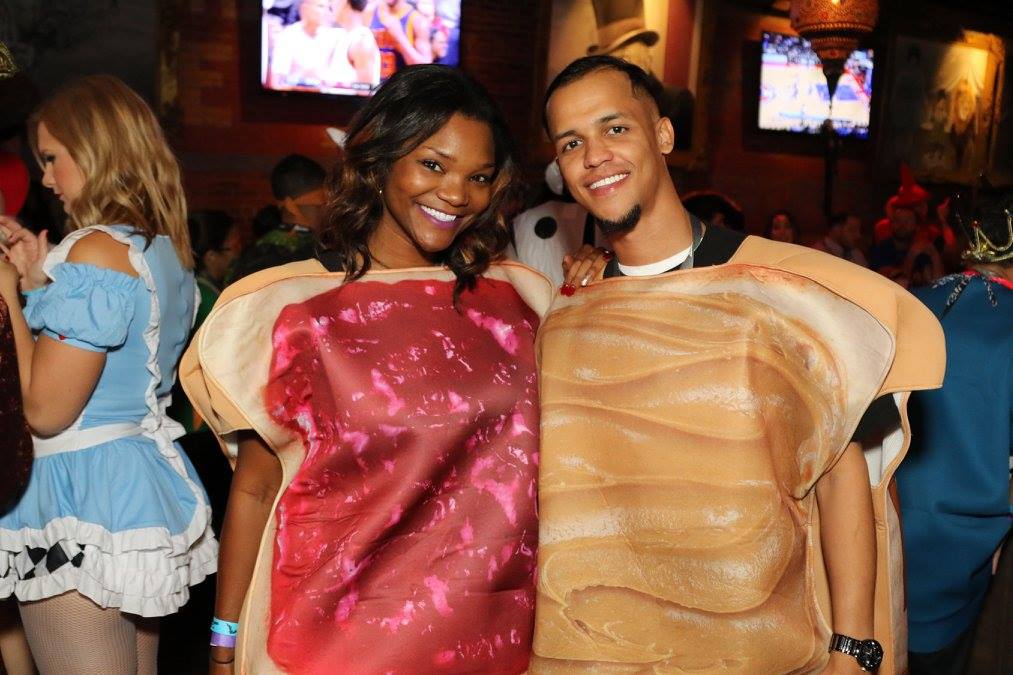 Spooky Skate!
Saturday, October 26, 2-4:45pm
RDV Ice Den
Wear your costume for $1 off admission!
$12.50/person including tax and skate rental
Halloween Spooktacular 2019
Saturday, October 26, 4-8:30pm
Lake Mary Museum
This event will feature live dj, obstacle course, spooky photo ops, and food vendors starting at 4pm, followed by a movie in the park starting at 6:30pm.
FREE Admission
Halloween Bar Crawl
Saturday, October 26, 4pm-12am
Swiggs
Get 2 free drinks, plus drink Specials and food specials exclusive to crawlers at select locations.
$15-30
Spooktacular
Saturday, October 26, 5-9pm
Avalon Park
Downtown Avalon Park's Halloween Event will feature a costume parade, bounce houses, and a number of food trucks.
FREE Admission
Haunted Hike
Saturday, October 26, 7-10pm
Lake Louisa State Park
Head out for a haunted hike at Lake Louisa State Park. This is not for the faint of heart or those below 13 years of age.
$4 donation per person
Laser Fright Lights
Saturday, October 26, 7, 8 & 9pm
Emil Buehler Planetarium at Seminole State College
Sit through the most terrifying laser experience ever with music from Michael Jackson, Metallica, Pink Floyd and more.
Wekiva Island's Halloween Costume Contest
Saturday, October 26, 7-10pm
Wekiva Island
$500 Cash and $500 Wekiva Island Gift Card for best dressed couple!
FREE
Corsets & Cuties present- It's Just a Bunch of Hocus Pocus!
Sunday, October 27, 7-10pm
Theater West End
oin the Cuties as we thrill and chill you with delights and frights in historic downtown Sanford, featuring guest stars Bebe Caliberr and Naome Bradshaw.
$18
Haunted Hotel 6 – Immersive Halloween Party
Saturday, October 26, 8pm-2am
Aloft Orlando
$10-25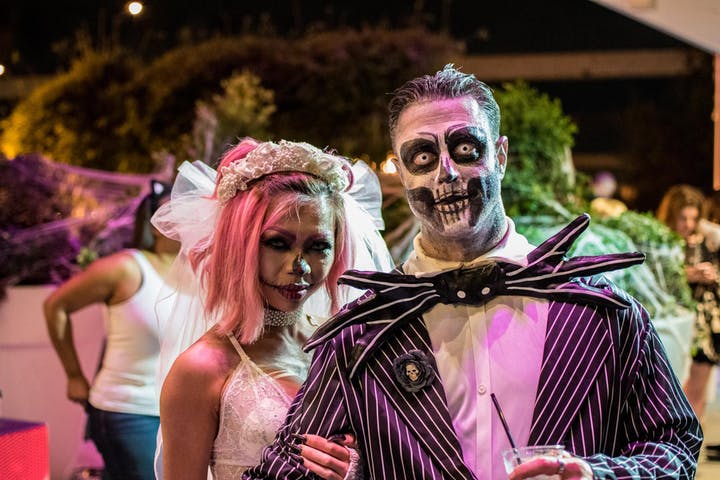 Halloween Block Party 2019
Saturday, October 26, 8pm-2am
Liam Fitzpatrick's Restaurant and Irish Pub
Music, drink specials, costume contest, live DJs, and more.
FREE Admission
Thornton Park District 7th Annual Halloween Block Party
Saturday, October 27, 8:30pm-2am
Thornton Park District
This annual block party includes access to 6 participating area bars, a $1000 costume contest, a Dark Art art market, DJ, fire dancers, stilt walkers and more.
$10 in advance, $20 day of
Beautiful Nightmare – The Halloween Masquerade Soiree
Saturday, October 27, 9pm-1:30am
Orlando City Soccer Stadium
Semi-formal dress code; mask required for entry.
$10 and up
The Rat Pack Undead
Thursday, October 31, 2 & 7:30pm
Osceola Arts
Having come back from the dead, The Pack adds a spookish spin to their biggest hits, changing up their lyrics to honor their undead lifestyles. More comical than creepy, more entertaining than eerie, you'll hear all of your favorite Rat Pack tunes with an "undead" twist, including "Come Die With Me," "Ly Me in the Tomb", "What Kind of Ghoul Am I?", and many more.
$20
Halloween at À La Cart Orlando
Thursday, October 31, 6:45-10pm
À La Cart Orlando
Enjoy adult halloween actives such as $4 drafts for anyone in costume, multiple pumpkin beers, and they will be showing a double feature of scary movies in the yard: Texas Chainsaw Massacre and Friday the 13th (both originals, of course).
FREE Admission
Emo Halloween: The Sequel
Wednesday, October 31, 7pm
Will's Pub
Young Tapes returns to Will's Pub this Halloween for a night of live emo music, a costume contest ($50 bar tab for the winner!), plus a live DJ all night long.
$15
Halloween Improv Torture Show
Thursday, October 31, 9pm
SAK Comedy Lab
$17/person ($14 for Florida residents)
Rocky Horror Picture Show
Thursday, October 31, 9pm-12am
Wayne Densch Performing Arts Center
Live on the wild side with an extremely interactive viewing of the exciting cult classic, Rocky Horror Picture Show! Watch the movie in our historic venue! "Cult movie" prop pack available for sale for only $8.
$12
Nightmare on Bumby
Thursday, October 31, 9-2:30pm
Southern Nights Orlando
All you can drink specials plus enter the costume contest to win $1000 in cash and prizes.
FREE Admission for those 21+ before 11pm
Orlando Ballet's Vampire's Ball
October 31 – November 3
Dr. Phillips Center for the Performing Arts
Hauntingly good fun awaits you at the highly requested return of the newly 'revamped', Vampire's Ball, opening on Halloween night! With striking sets and costumes to dazzle, you're in for a treat so join us if you dare!
Tickets start at $24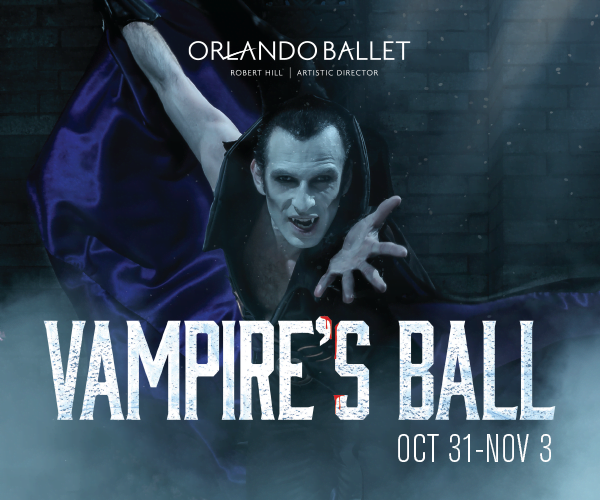 Shriekfest Orlando Film Festival
Saturday, November 2, 2-10pm
Wayne Densch Performing Arts Center
Horror/sci-fi film festival and screenplay competition in its 17th year.
$25/person for a day pass (additional ticket packages available)
Feature Image credit: ©2018 Universal Orlando. All Rights Reserved.